Backstrap and Shrimp Quesadillas
While we don't mix seafood and venison very often, they pair perfectly in this recipe. Fast and simple to make, these quesadillas are crowd pleasers. We used backstrap for this one, but any venison steak cut into bite-sized strips will work.
If you happen to live next to the coast, grab a cast net and hit a tidepool for fresh shrimp. Or head down to the dock and buy directly from a local shrimper. If you're landlocked like us and depend on markets for your seafood, do yourself a favor and look for the Wild American Shrimp logo. You might pay a dollar or two more per pound, but the peace of mind you get knowing the food you are feeding your family is clean and free of pollutants and other issues you can get from imported seafood is worth it.
Make it with your favorite Southwest seasoning or use this recipe to blend your own. Use fresh flour tortillas if they are available in your area. Serve with salsa and sour cream.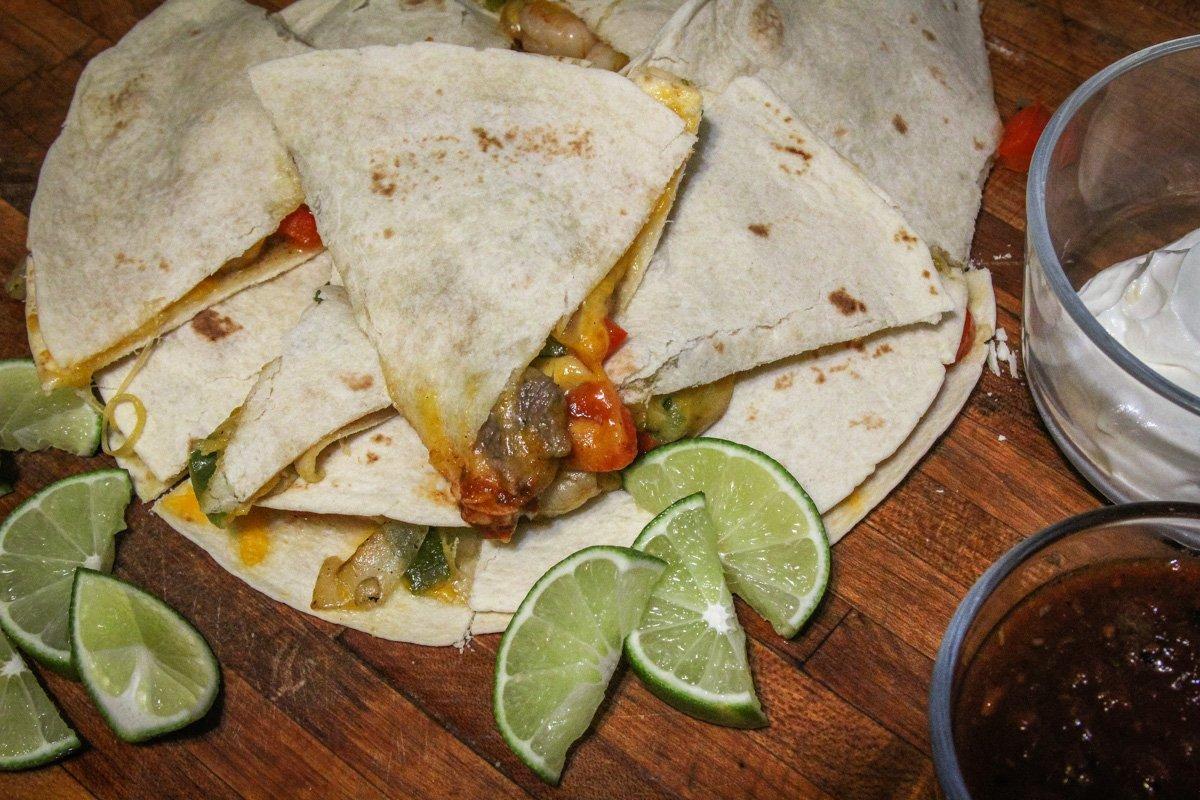 Ingredients
1 pound venison backstrap, cut into bite-sized bits
1 pound peeled and deveined Wild American shrimp
2 bell peppers, diced
1 large yellow onion, diced
3 cups shredded Colby jack cheese
8 each 10 flour tortillas, freshly made if available
Seasoning blend
1 tbsp chili powder
1 tbsp kosher salt
2 tsp smoked paprika
1 tsp light brown sugar
1 tsp garlic powder
1 tsp onion powder
1/2 tsp cayenne pepper
1 tsp ground cumin
(Store extra in a sealed jar for later use)
Cooking Instructions
Start by heating a tablespoon of oil in a cast-iron skillet over medium-high heat. Add the diced peppers and onion. Sprinkle with a teaspoon or two of the seasoning blend and stir well, sautéing for 4 to 6 minutes until the vegetables soften. Remove the peppers and onions from the skillet and set them aside.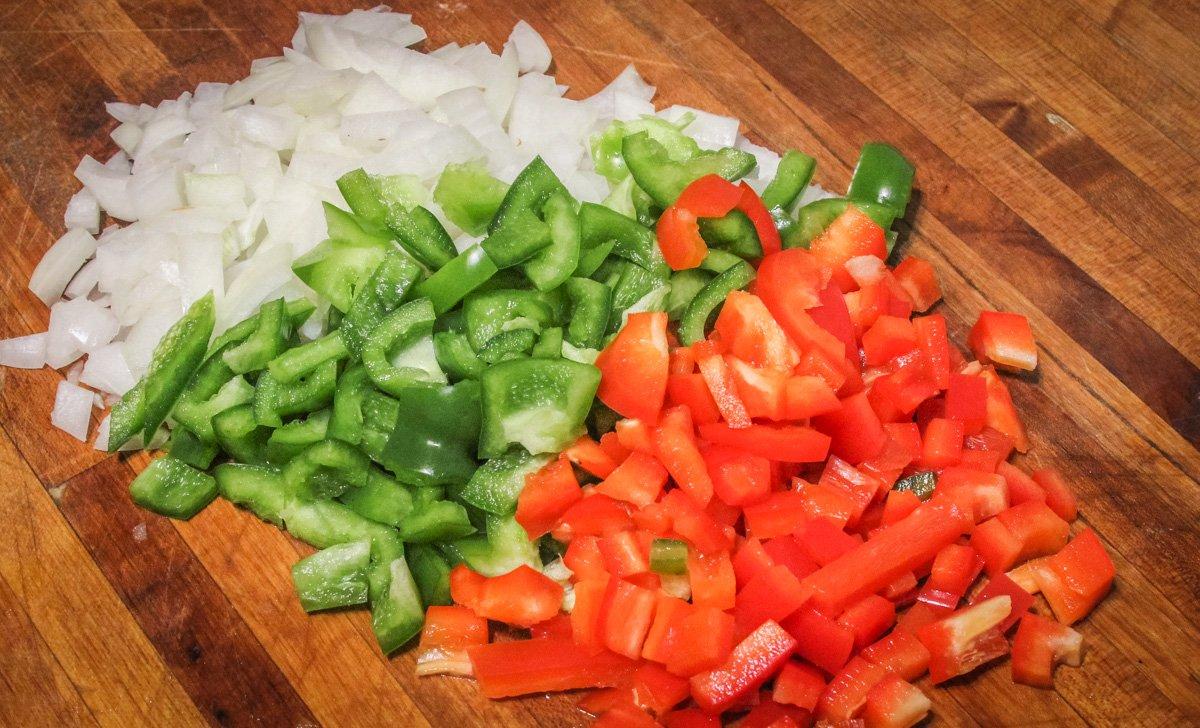 Cut the backstrap into bite-sized bits.
Sauté for 2 to 3 minutes until the meat is just browned. Add the shrimp and sprinkle on more seasoning blend. Cook for another 5 minutes until shrimp are just cooked through.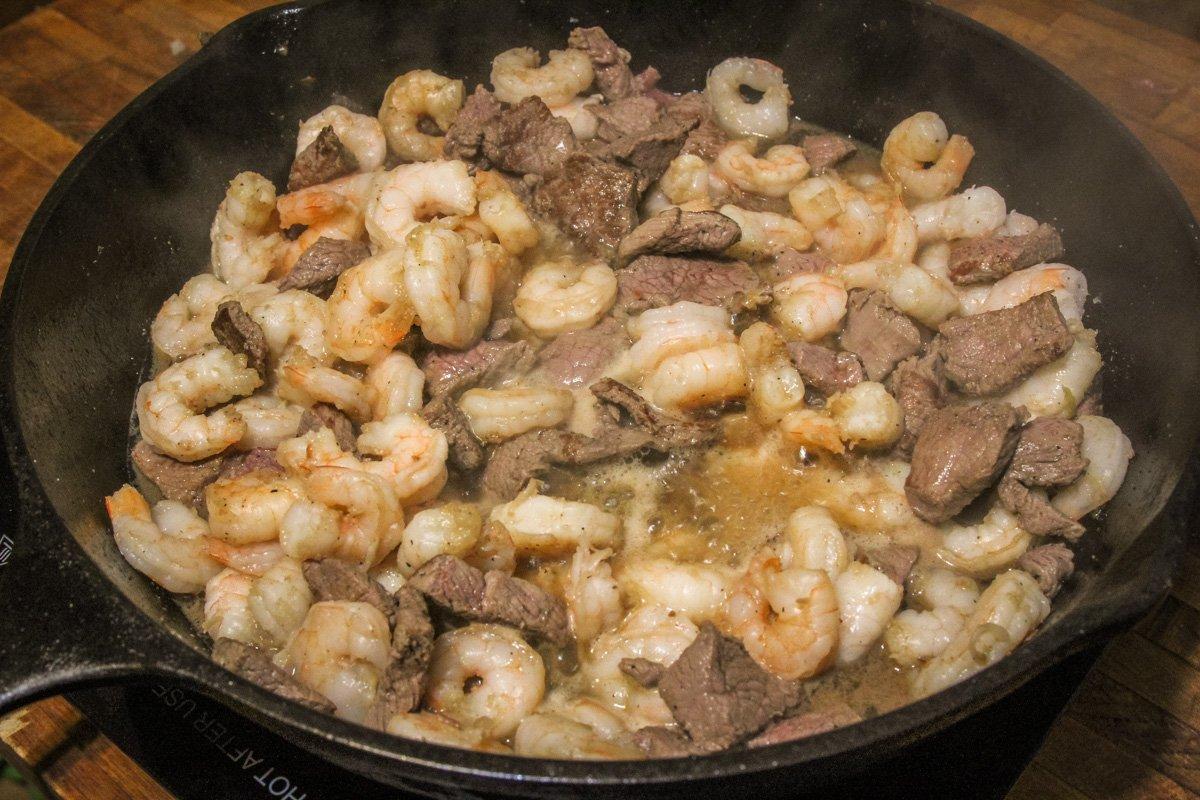 Top the tortillas with sauteed peppers, onions, shrimp, backstrap and cheese."
Top with remaining four tortillas and place the pans into a pre-heated 350-degree oven for 8 to 10 minutes or until the tortillas are lightly toasted and the cheese melted.
To serve, use a sharp knife or a pizza cutter to slice the quesadillas into wedges. Serve with sour cream, your favorite salsa, or freshly made guacamole for toppings.