Butter-Poached Panfish and Redbud Blossom Spring Rolls
I'm always foraging while out hunting or fishing, and a recent trip to the lake was a prime example. When the redbuds around our house begin to bloom, it usually means the crappies and bluegills are biting. This recipe combines tender, flaky, butter-poached panfish with fresh spring vegetables, including lettuce from our garden, and tart redbud flower petals in a tasty and attractive spring roll. I'm calling it a spring roll for its seasonal ingredients, but technically it's a summer roll, which is not fried and is eaten cold.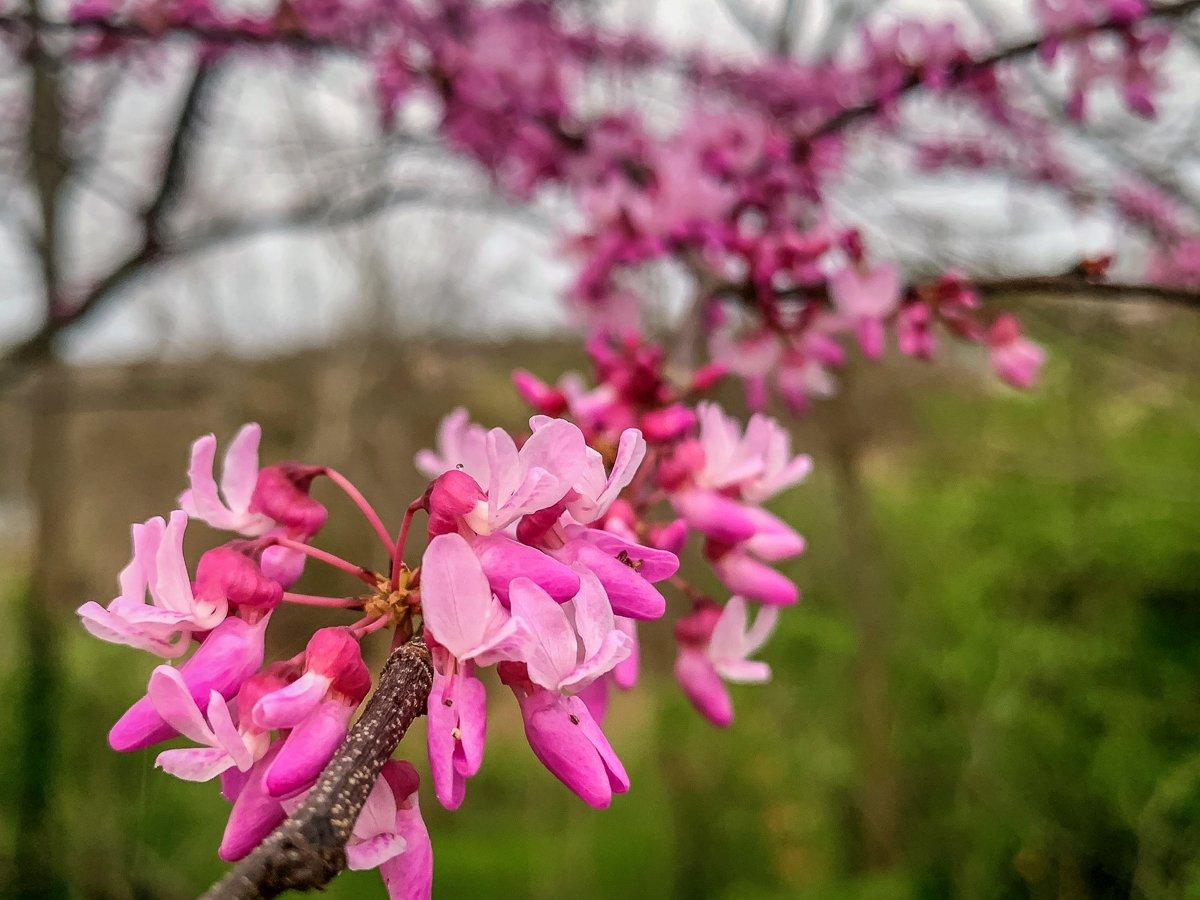 You can make these without the flower petals, but they make a nice visual contrast and add a bit of flavor in the process. To poach the fish, simply heat 1 pound of butter in a saucepan over low heat until the butter temperature reaches 120 degrees. Hold it around that temperature and drop in the panfish fillets to let them slowly poach in the warm butter. It doesn't take long; 10 to 15 minutes should have them cooked through. To test, pull at a fillet with a fork. If it flakes apart, it's ready to go. For a bit of extra flavor, I like to drop a couple of slightly smashed garlic cloves into the butter with the fish.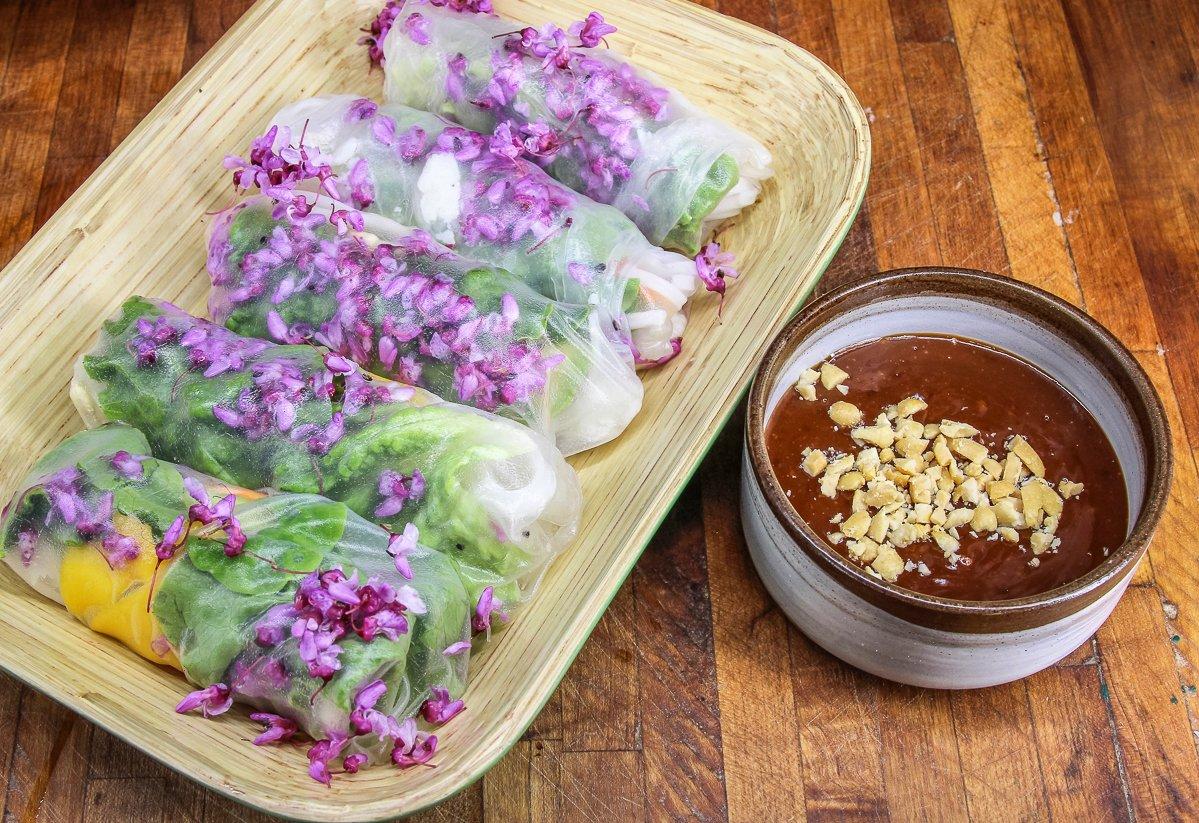 There are no hard and fast rules on what goes into a good spring or summer roll. We like a protein or two — like roasted pork, shrimp, or this buttery fish. A few crispy vegetables, a slice of avocado or mango, some fresh herbs of choice, Thai basil in this case, and a few cooked rice noodles round out the filling. Use what you have available.
We like to dip these rolls in a slightly spicy peanut dipping sauce, recipe included below, for a bit of sweetness. These are perfect as an appetizer or, with the combo of fish and vegetables, even a light meal on a warm spring day.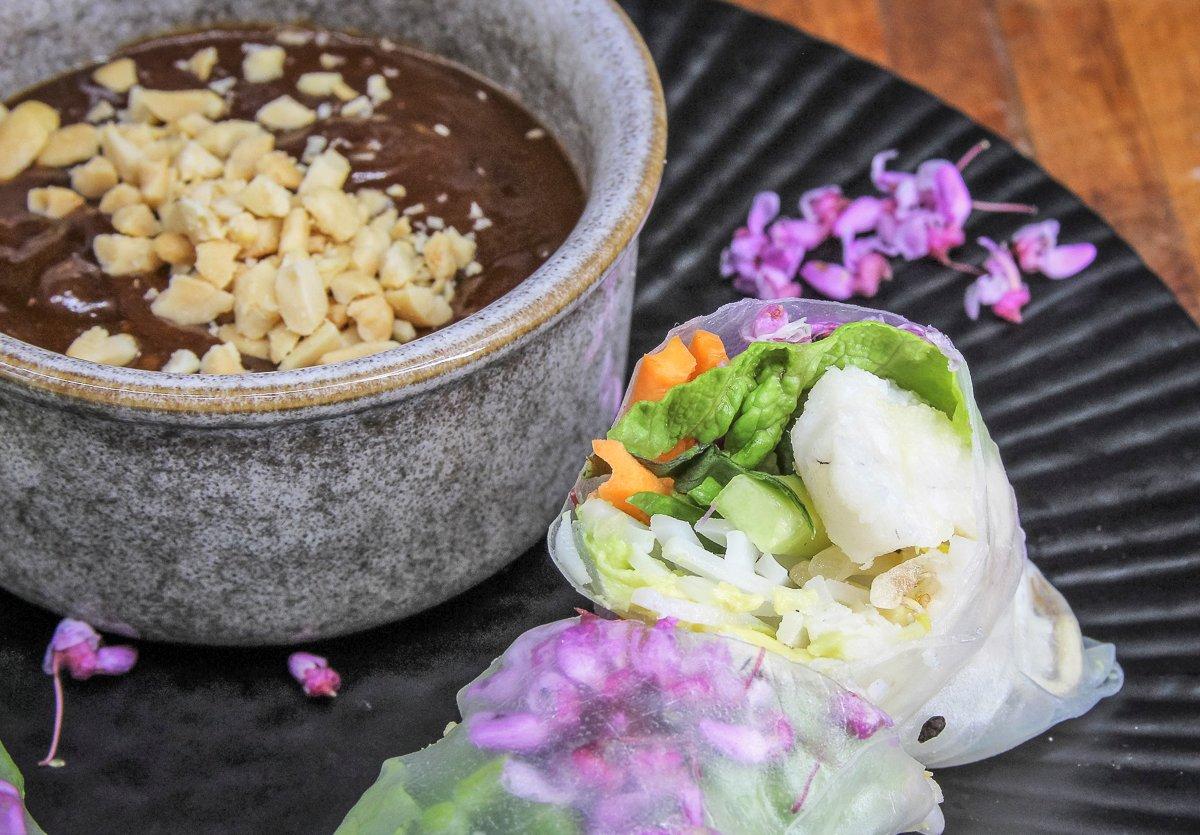 Ingredients
1 pound panfish fillets
1 pound unsalted butter
2 cloves garlic, peeled and lightly smashed
1 package rice paper wrappers
6 to 8 ounces rice noodles, cooked and cooled
1 cup redbud flower petals, cleaned
1 avocado, sliced
1 mango, sliced
1 carrot, julienned into matchstick-sized pieces
1 small cucumber, cut into the same size as the carrots
Fresh leaf lettuce
Thai basil leaves (regular basil or mint also works)
Peanut Dipping Sauce
1/2 cup hoisin sauce
1/4 cup smooth peanut butter
1/4 cup Thai sweet chili sauce
1/4 cup warm water
2 tablespoons soy sauce
1/4 cup roasted peanuts, smashed
Heat sauce ingredients except peanuts over medium heat until they form a smooth sauce. Top with crushed peanuts before serving.
Cooking Instructions
Start by poaching the fish. Melt the butter in a medium-sized saucepan over low heat to about 120 degrees Fahrenheit. A digital thermometer is handy for this step.
Add the garlic cloves. Add the fish, making sure all of it is fully submerged in the butter. Maintain the temperature at 120 degrees for about 15 to 20 minutes or until the fish is flaky.
While the fish poaches, prep the vegetables, fruits, and herbs.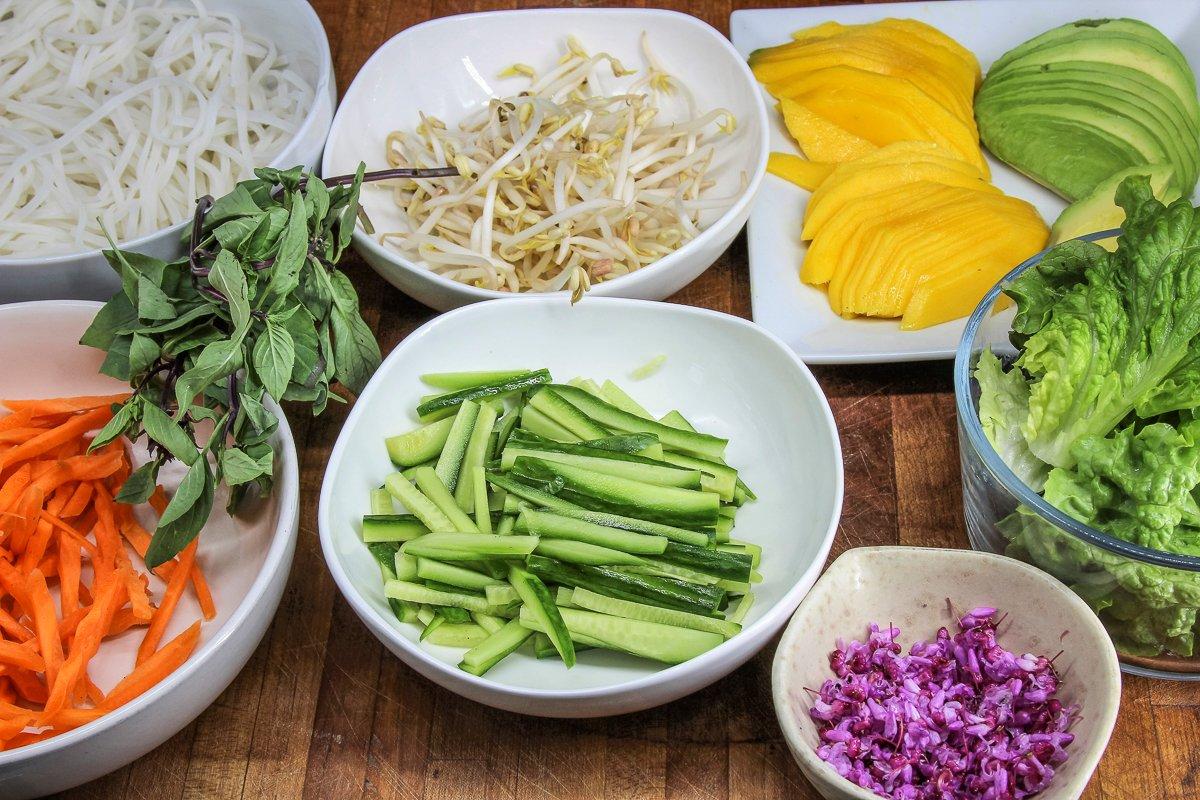 Fill a shallow container that is a bit larger than the rice paper wrappers with very warm tap water.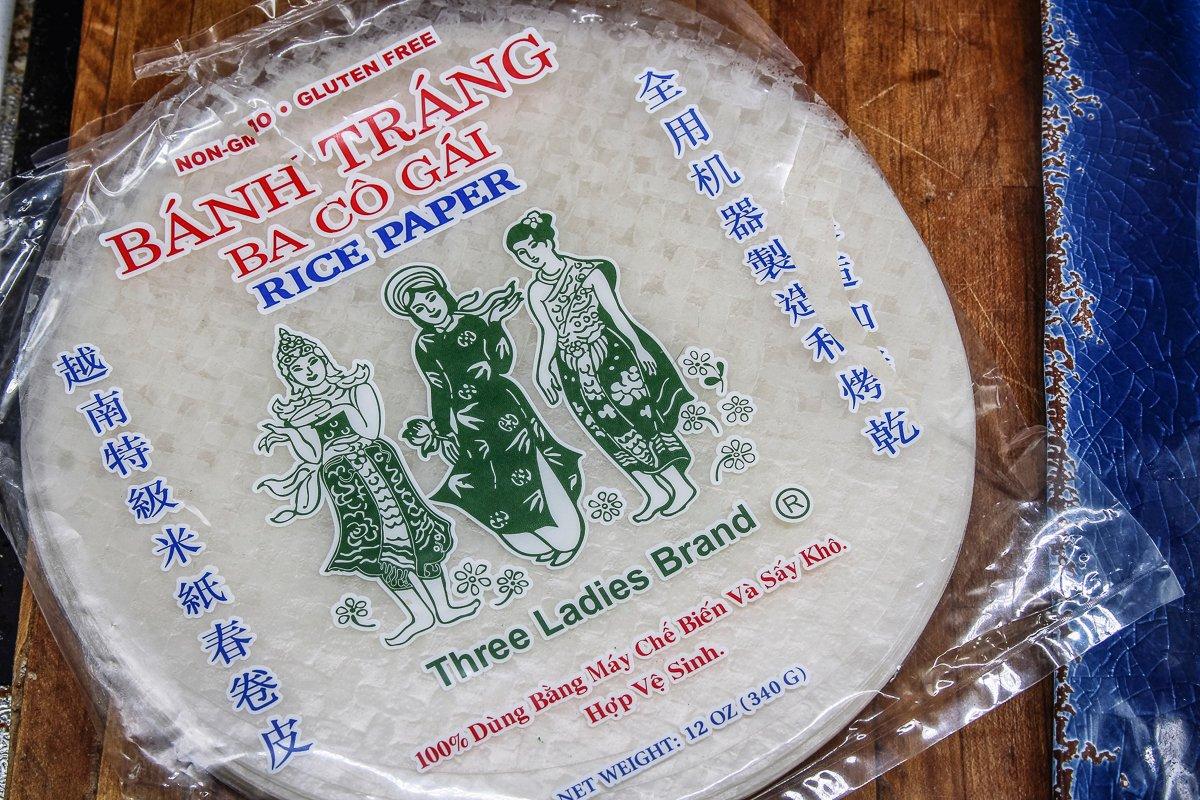 Dip a wrapper into the hot water for 3 to 5 seconds until it is soft. Spread the wrapper flat on a clean cutting board.
I like to start by sprinkling on a few redbud petals or other edible flower down the center of the wrapper so that they are visible outside of the filling once the roll is finished. Place a leaf of lettuce on the lower center of the wrapper. Top with fresh herbs, carrot and cucumber sticks, a slice of avocado or mango, and a few noodles. Take care not to overfill, or you won't be able to roll the wrapper tightly around the filling.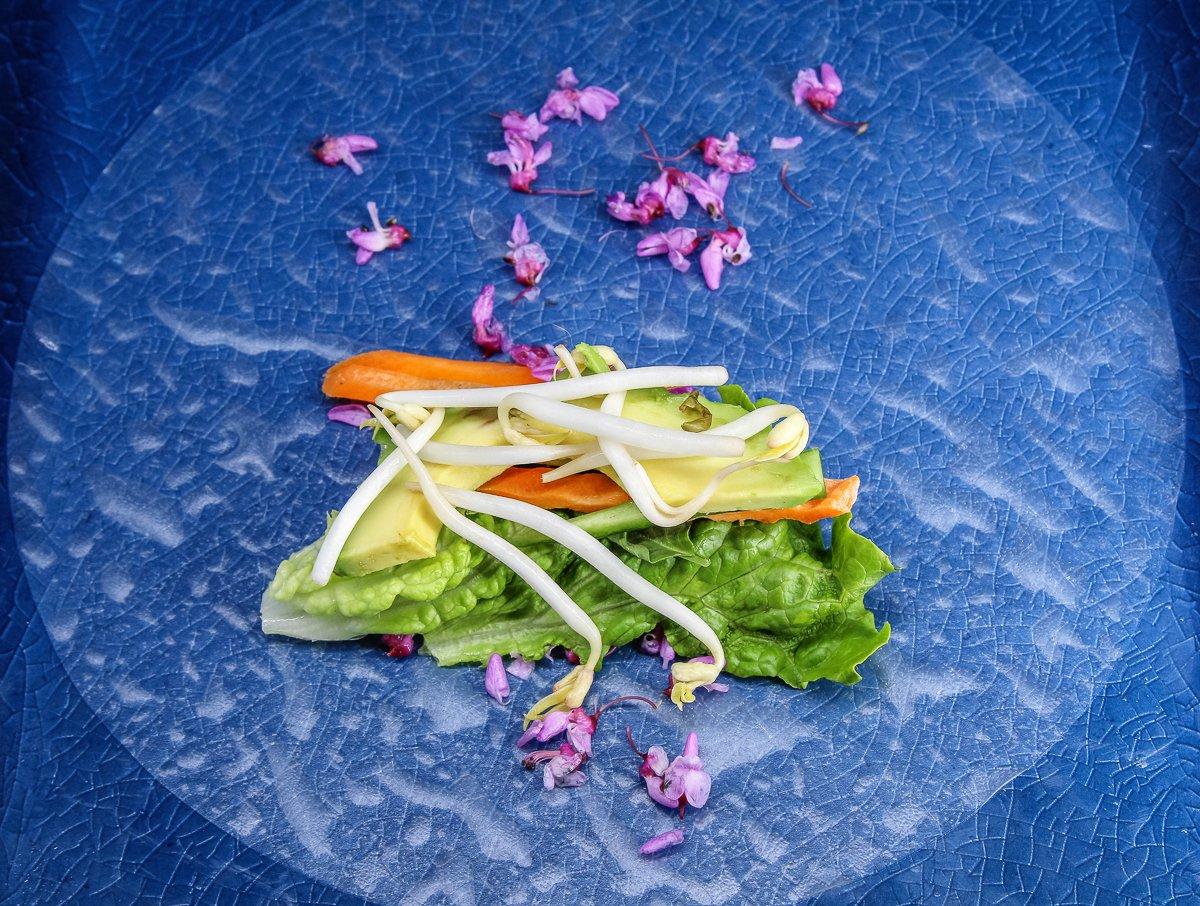 Place 2 to 3 small pieces of fish directly on the wrapper just above the vegetables. Fold in both sides of the wrapper, then, starting with the edge closest to you, tightly roll up the spring roll. Move it off to the side and repeat.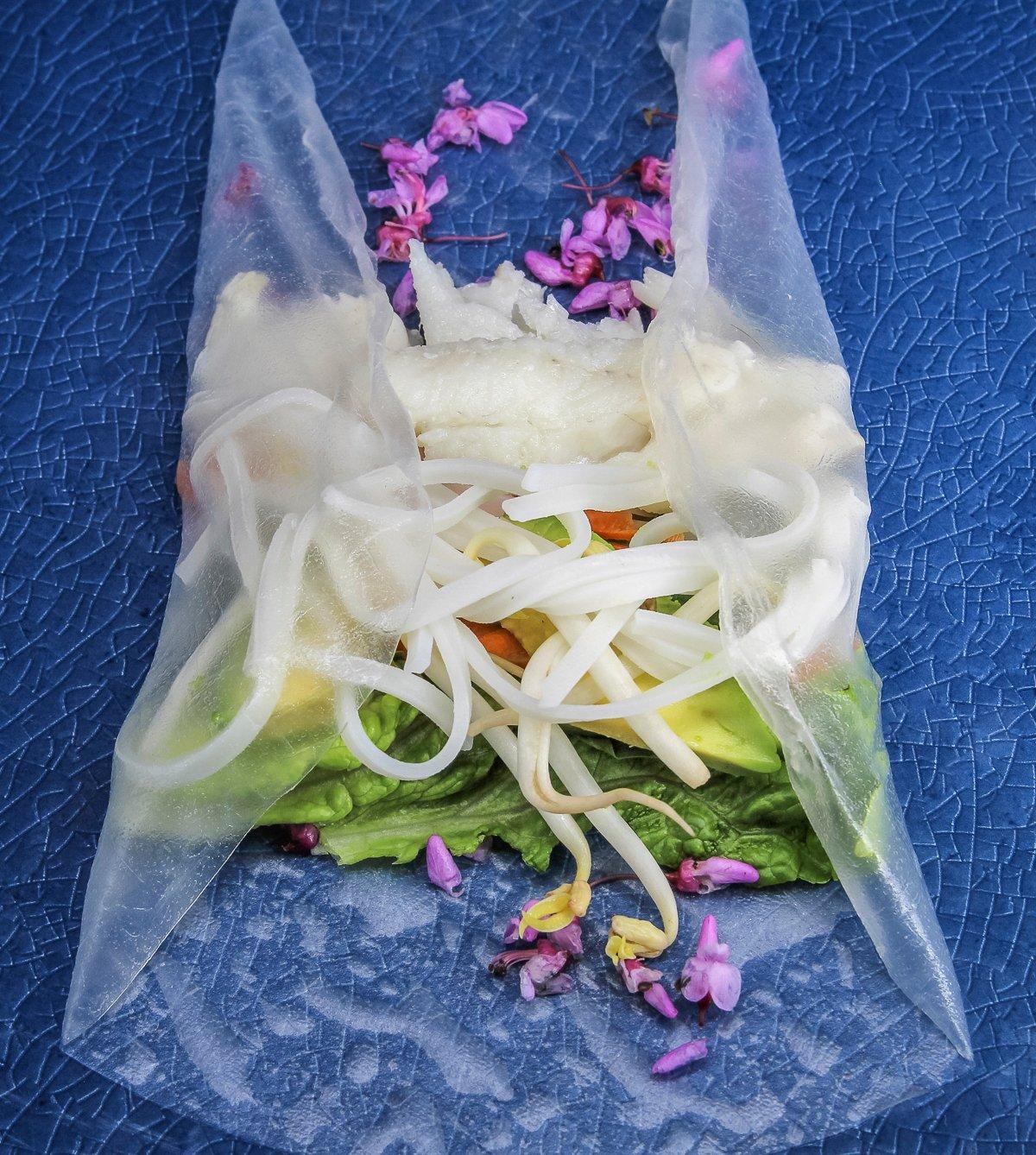 Serve immediately or wrap the rolls individually in plastic wrap and refrigerate. I think they taste even better the next day.