For duck hunting to be good around here — and good is a relative term where I live — the weather needs to be cold. That works out well, though, since one of my favorite recipes for just about any type of duck is a big pot of gumbo, and there's nothing much better on a cold day than a bowl of that.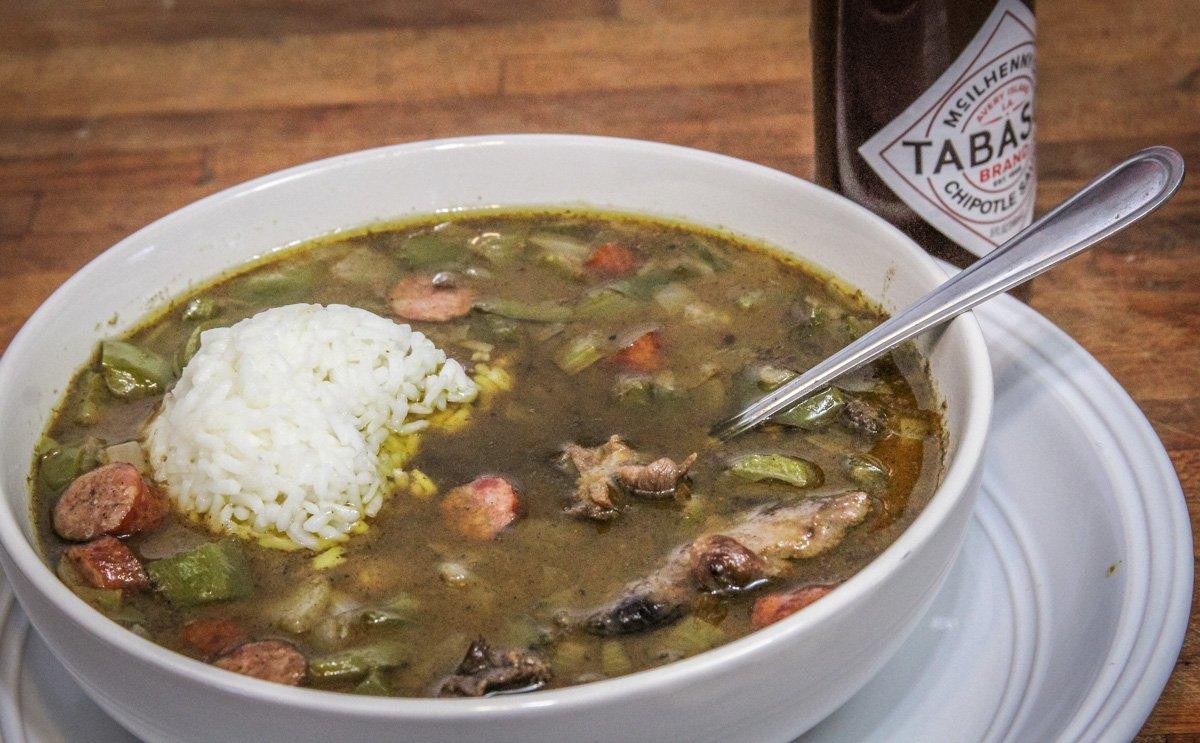 I prefer skin-on, whole ducks for this recipe because the skin and fat add an extra layer of flavor to the finished dish, but skinless breasts or several legs and thighs work as well. We use two whole, large ducks like mallards, gadwalls or big divers, or three to four small ducks like teal or woodies.
This recipe uses a combination of roux and filé powder to thicken the base, not okra, since okra can be hard to find this time of year in much of the country. If your dinner party doesn't yet know their preference for filé powder (everyone here loves it), you can leave the thickening to the roux and pass the filé powder around the table for guests to try individually.
Ingredients
2 large ducks (mallard, gadwall, big diver) or 3 small ducks (wood duck, teal), skin-on if possible, cut up
1/2 cup lard (vegetable oil will work)
2/3 cup all-purpose flour
1 pound smoked sausage, sliced (I use Conecuh Smoked Sausage)
2 large yellow onions, chopped
2 large green peppers, chopped
1 cup sliced celery
2 tablespoons minced, fresh flat leaf parsley
1 tablespoon minced garlic
2 bay leaves
2 tablespoons Worcestershire sauce
2 tablespoons Cajun seasoning
1 tablespoon hot sauce
1 1/2 teaspoons pepper
1 teaspoon salt
1 teaspoon dried thyme
1/2 teaspoon cayenne pepper (optional)
2 1/2 quarts chicken stock
2 tablespoons filé powder
Hot cooked rice
Cooking Instructions
Dice the vegetables and cut up the duck and sausage before starting the gumbo.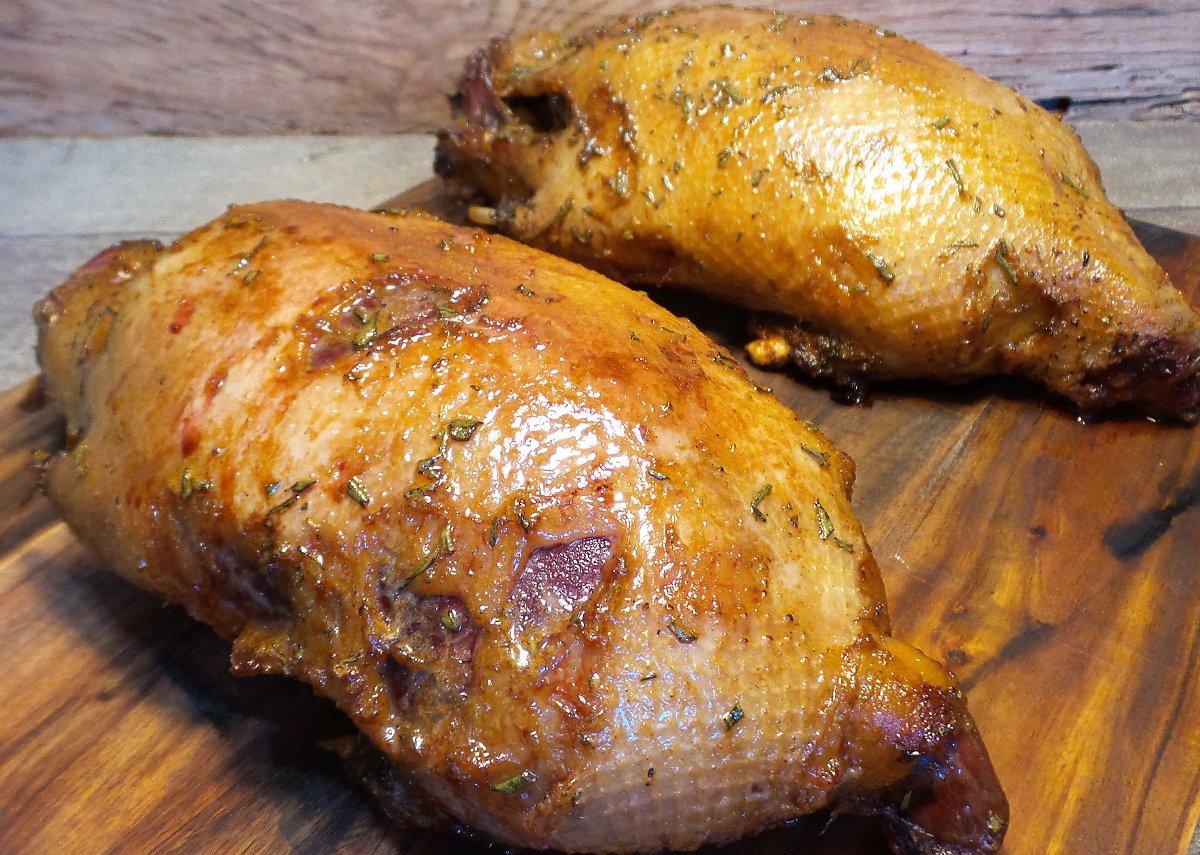 Heat the lard over medium-high heat in a large Dutch oven. Cut the duck into four somewhat equal pieces (leg/thigh and breast/wing for each side). Season the duck well with salt and pepper. Fry, in batches if needed to keep from overcrowding the pan, for 3 to 5 minutes per side, or until the skin is crisp and the duck is a nice golden color. Move the duck to a warm plate and reserve.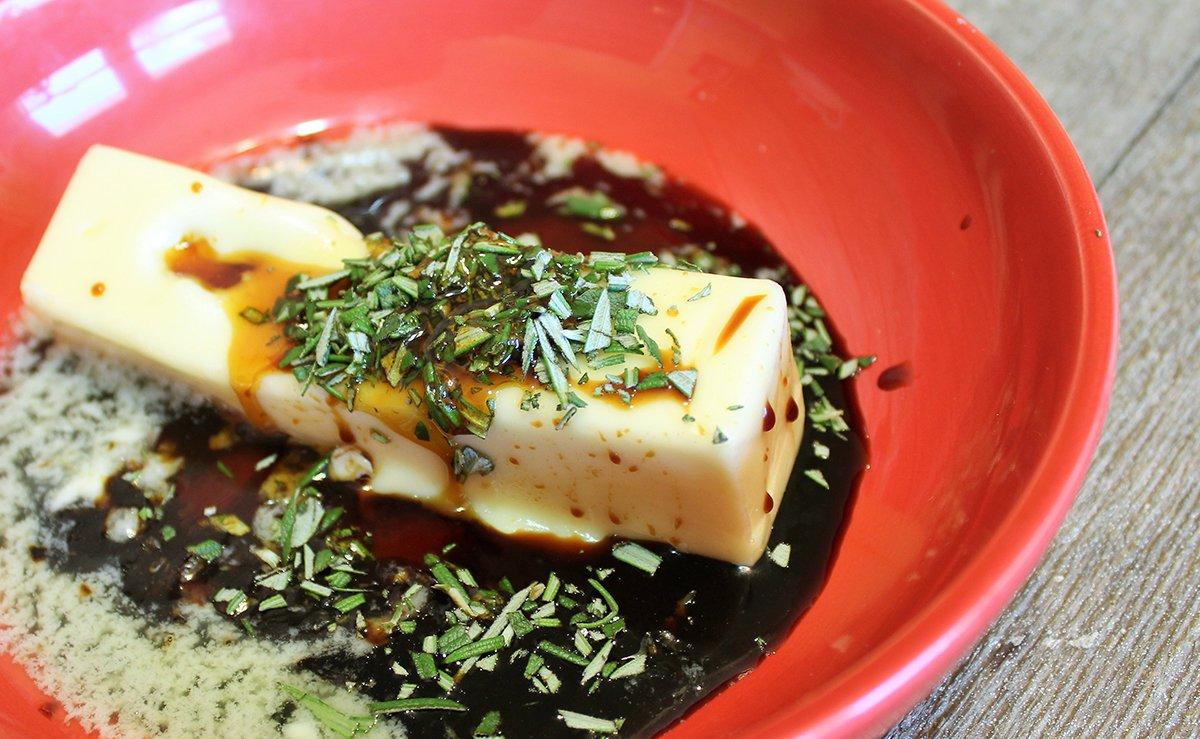 Lower the heat to medium and add the flour to the remaining grease. Stir nearly non-stop for 25 to 30 minutes until the flour takes on the color of dark peanut butter. DON'T leave the pot. Your roux will go from fine to burnt in minutes. And once you burn a roux, the only thing to do is toss it out and start over.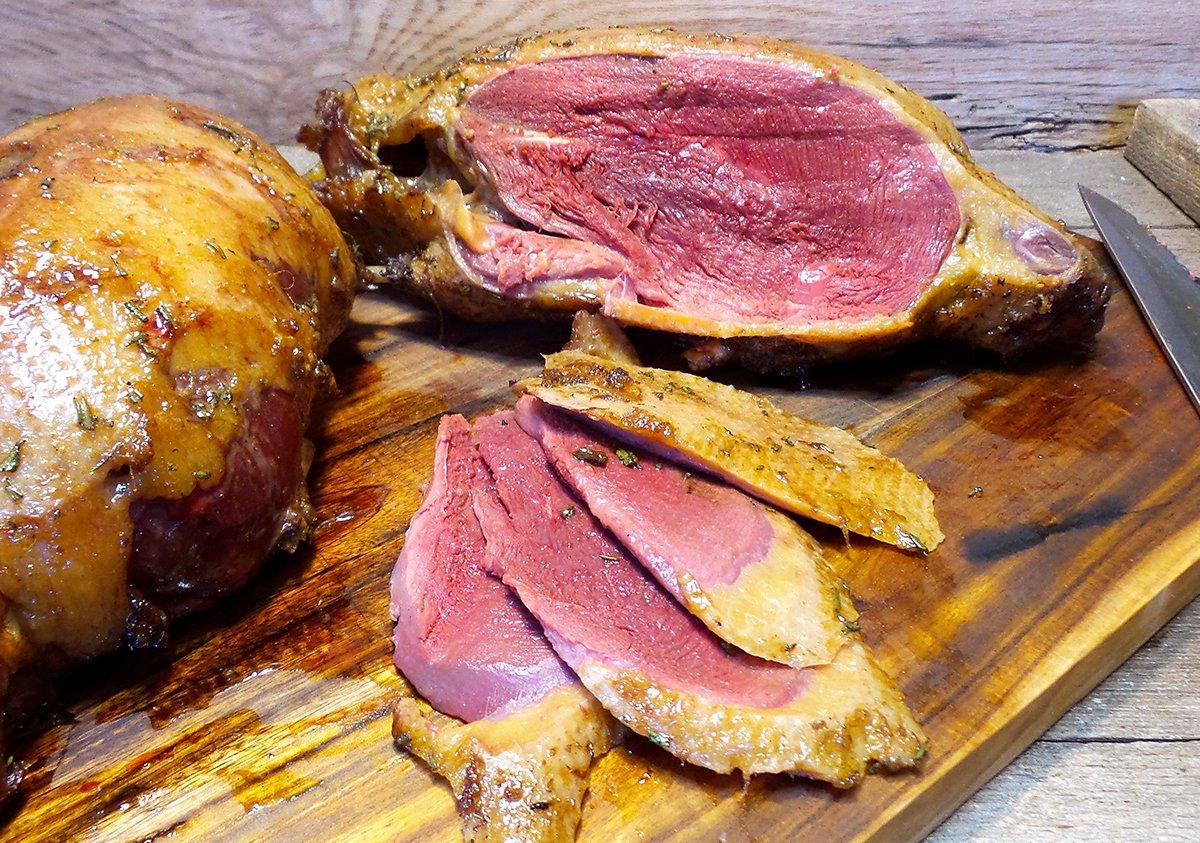 Once your roux has reached the desired color, add the peppers, onions and celery. Stir well to coat the vegetables with the roux and cook until they begin to soften, another 10 minutes or so. Add the sliced sausage, parsley, garlic, salt, pepper, Cajun seasoning, Worcestershire sauce, thyme and hot sauce. Stir well. Return the duck to the pan and pour in the chicken stock. Drop in the bay leaves and cover the pot with a tight-fitting lid.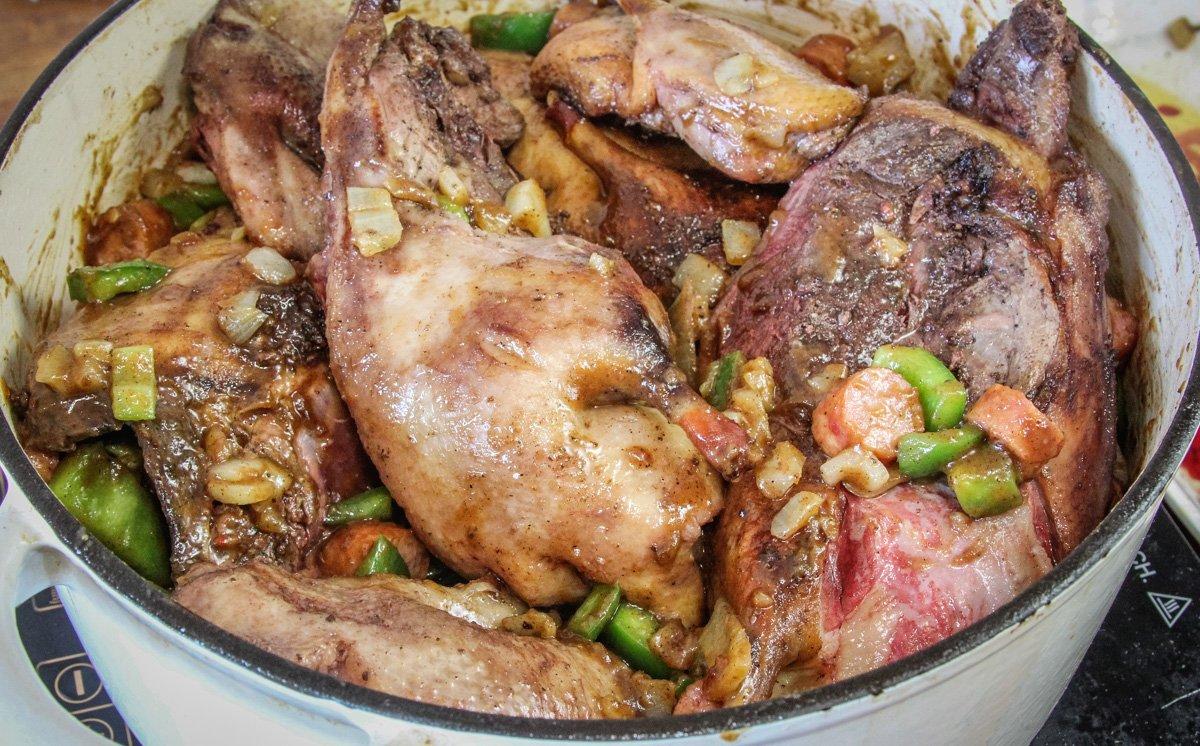 Bring the mixture to a simmer and reduce the heat to low-medium. Simmer for 90 minutes. Use a slotted spoon to remove the duck and allow it to cool until you can pull it from the bone. Return the boneless duck meat to the pot, along with the filé powder. Continue simmering until the gumbo thickens, about another 15 minutes or so. Serve with cooked white rice.