Hunter's Lot Irish Stew Recipe
With St Patrick's Day just around the corner, thoughts naturally turn to everything Irish, including stew. We've made it before with venison, but a good stew doesn't have to be limited to one meat. Most hunters I know tend to have a pretty wide assortment of meats stored in the freezer. A squirrel here, a rabbit there, maybe an upland bird or two, along with a few odd packs of venison tidbits stashed in the bottom corner of the freezer.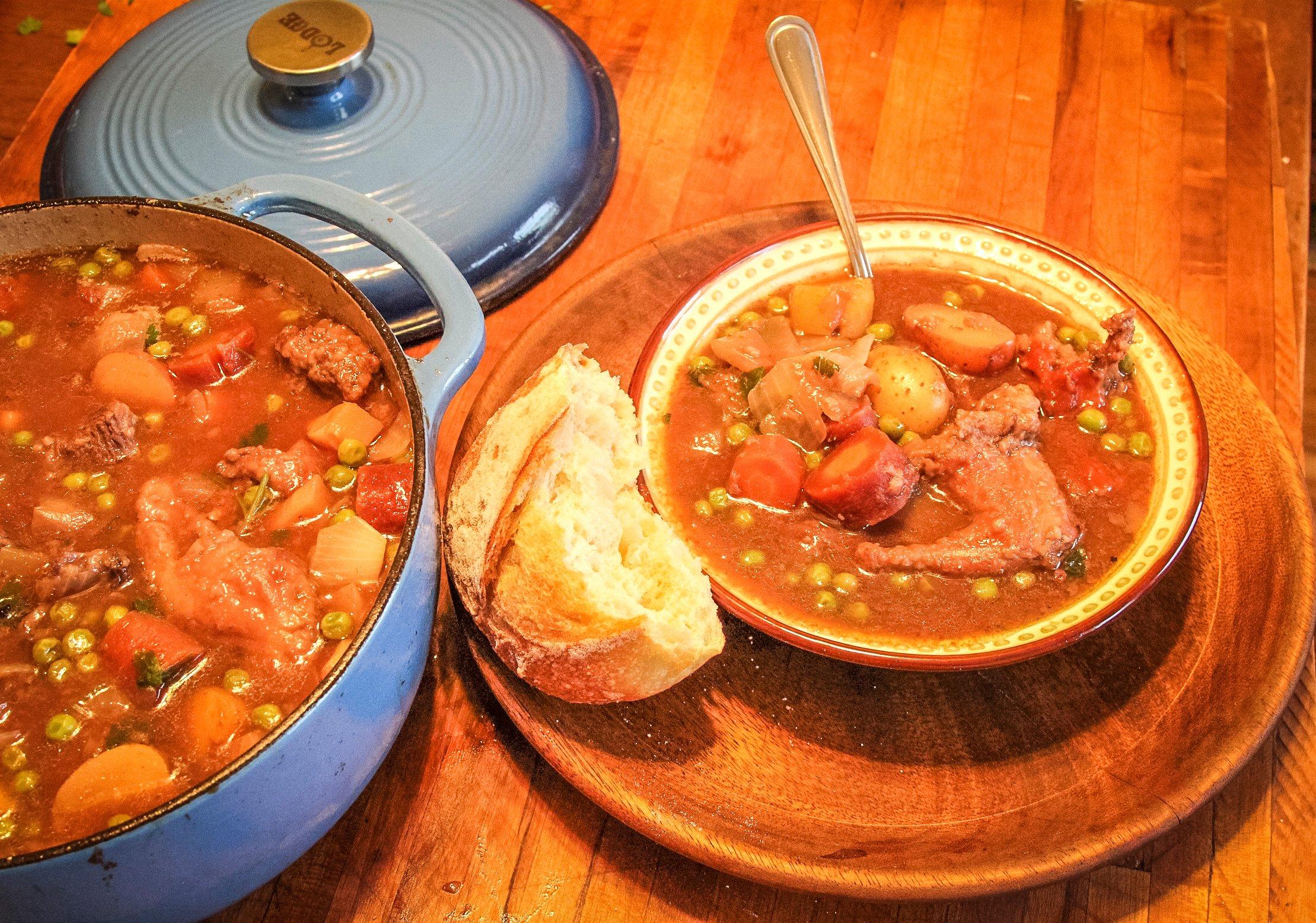 A good Irish Stew can make use of all of these, and do it in just one pot. Mix and match whatever you have that needs to be used. For this batch, we used some venison stew meat and a few quartered squirrels. Feel free to add whatever you have to your stew.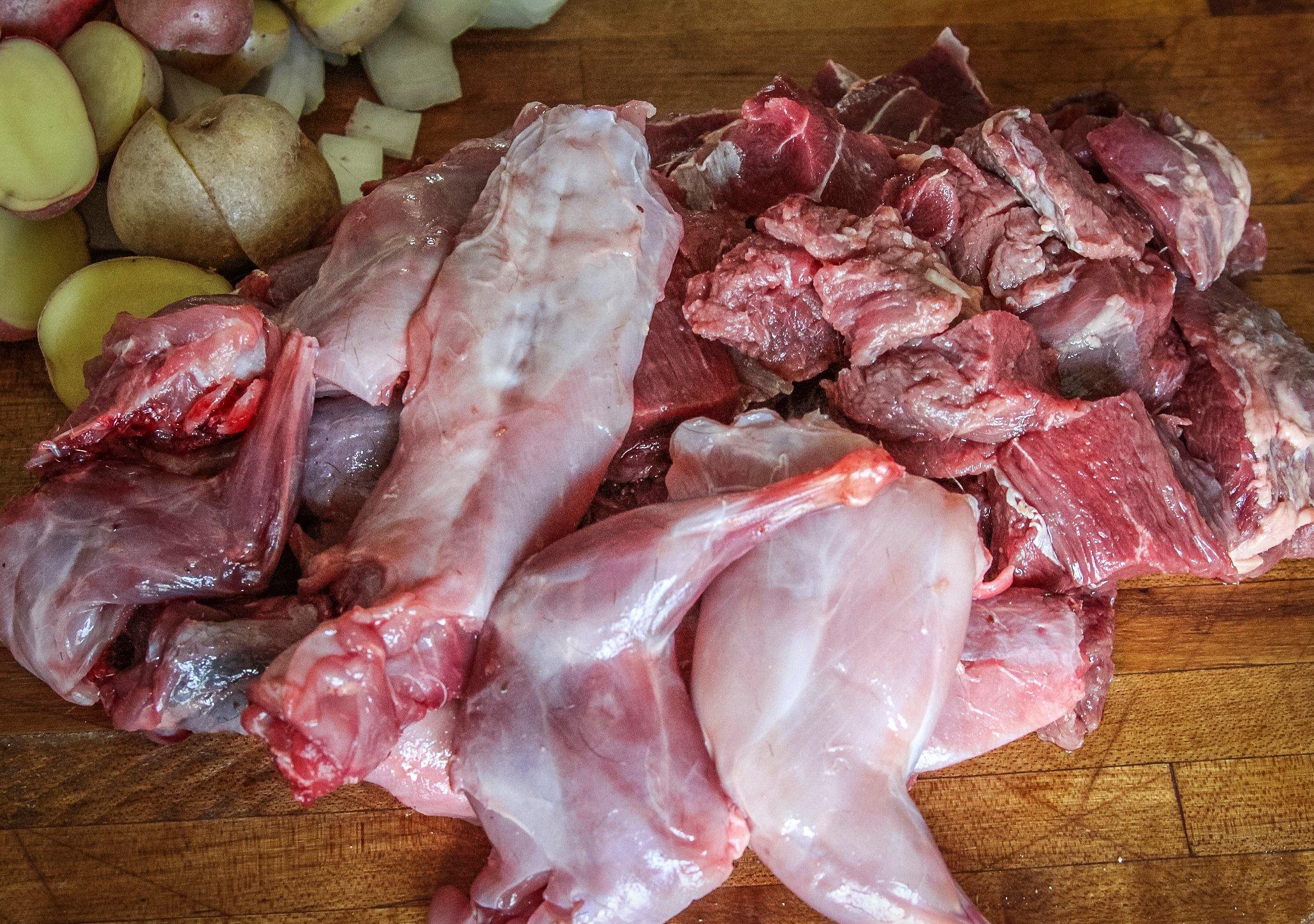 Whatever meat you use, the most important step is a light dredge in flour and a good browning in hot oil. Browning the meat before stewing adds another layer of flavor you can't get with simmering alone. And speaking of simmering, try to keep it at just that level. Hard boils will leave your meat tough.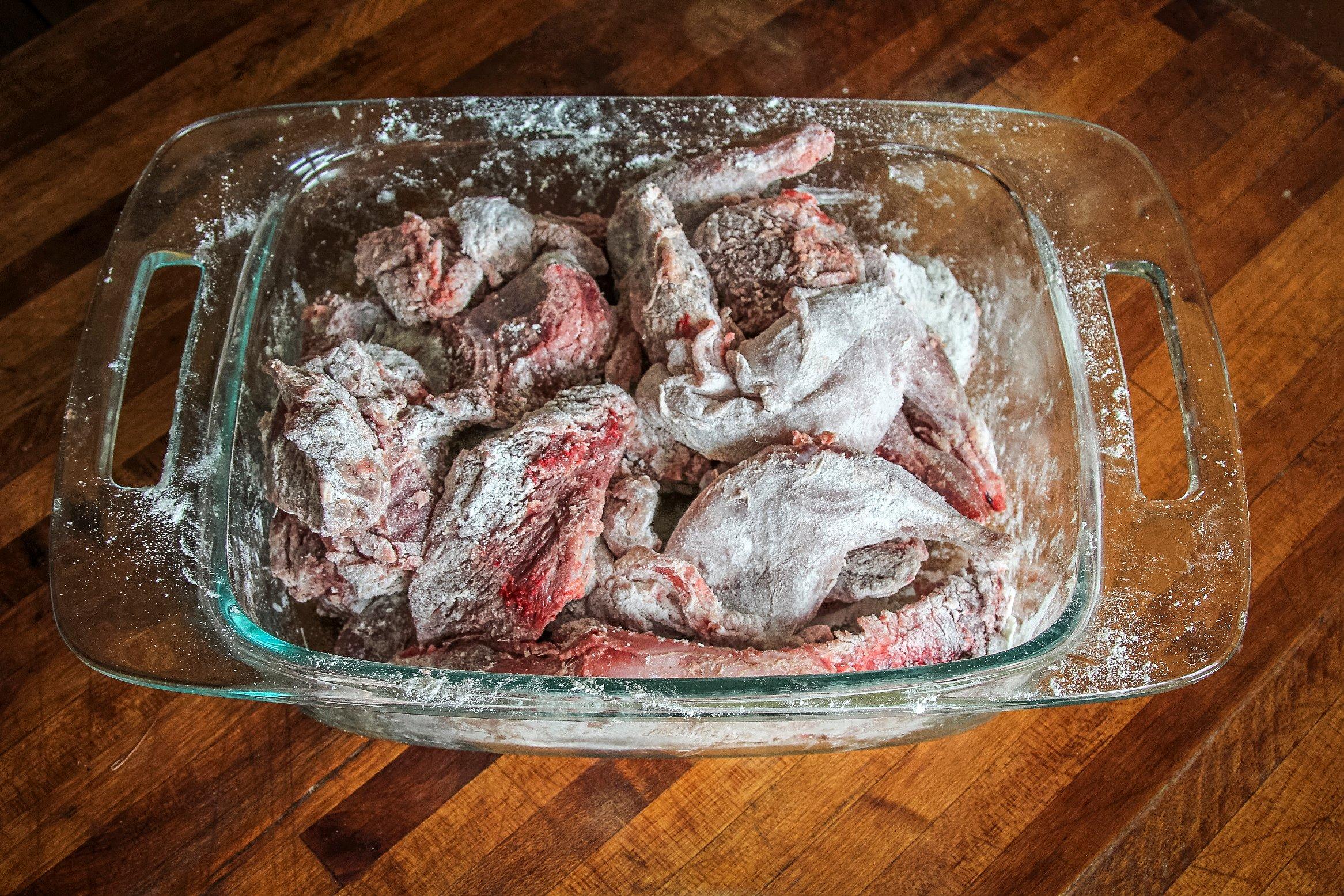 When adding rabbits, squirrels or other small game to stews, soups or dumplings, I like to trim the ribs from the back section before cooking. There isn't much meat on a squirrel rib, and those tiny bones tend to float around in the stew, always showing up as a guest takes a sip.
Ingredients
1 pound venison stew meat, cut into large bite sized chunks
1 large fox squirrel or two or three smaller grays, quartered
¼ cup all purpose flour, 1 tablespoon reserved
6 tablespoons olive oil, 4 tablespoons for browning meat, 2 reserved
2 large or 3 medium onions, chopped
3 garlic cloves, minced
4 cups venison or beef broth
4-6 new red potatoes, quartered
4 medium carrots, cut into 1-inch pieces
3 parsnips, cleaned and cut into 1-inch pieces
1 cup frozen peas
1 teaspoon salt
1 teaspoon dried thyme
1 teaspoon pepper
1 teaspoon Worcestershire sauce
2 bay leaves
2 tablespoons water
Cooking Instructions
Start by heating 4 tablespoons of olive oil in a cast-iron Dutch oven or other heavy pot. Dredge the venison and squirrel quarters in flour and brown, in batches, in the hot oil. You don't need to cook the meat all the way through, just get a good brown on the outside. Move the meat to a warm platter.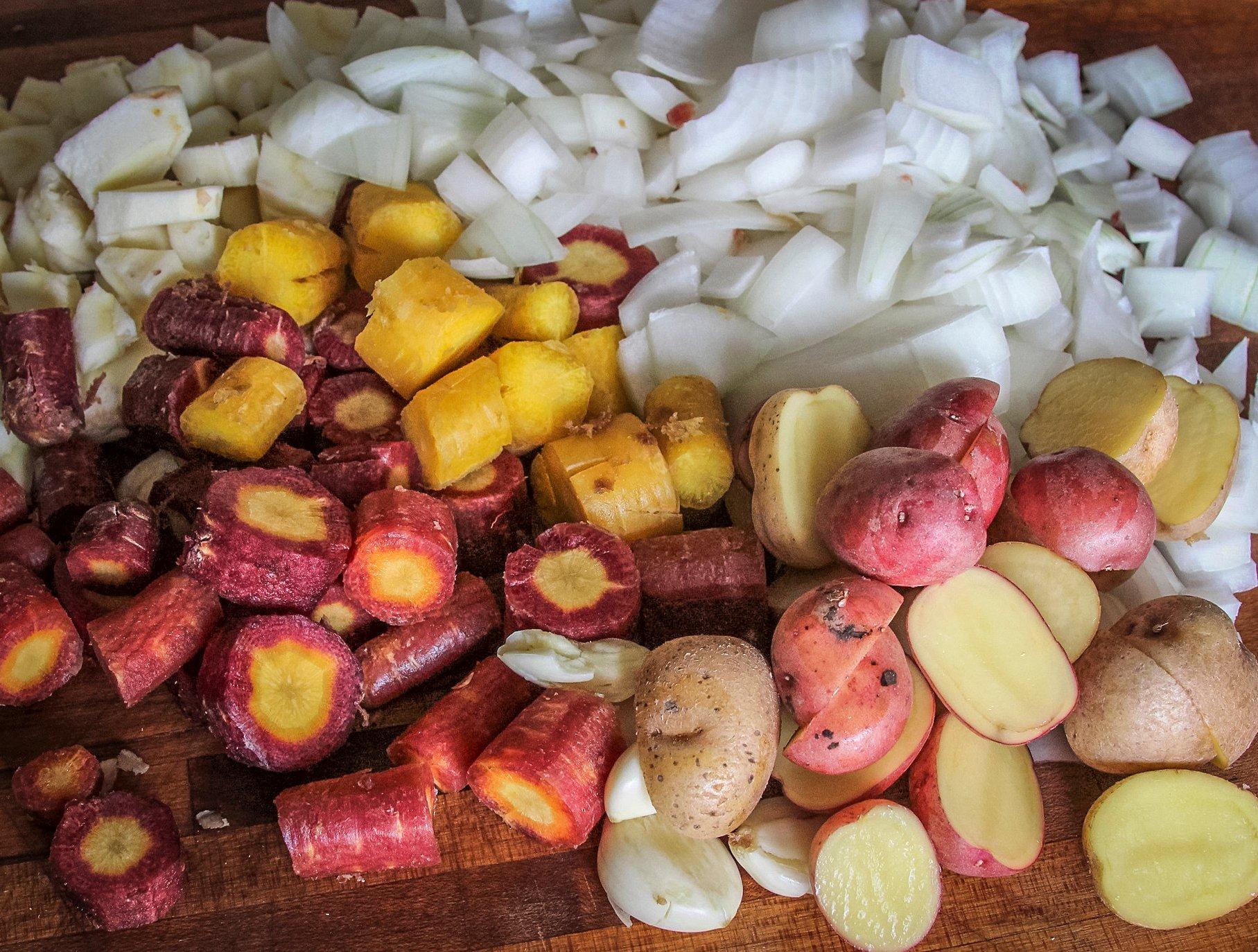 Add the onions, garlic, carrots, potatoes and parsnips to the hot oil. Cook, stirring often, for 5-7 minutes or until the vegetables start to soften. Return the meat to the pot and pour in the wine, stock, and Guinness beer. Add the bay leaves.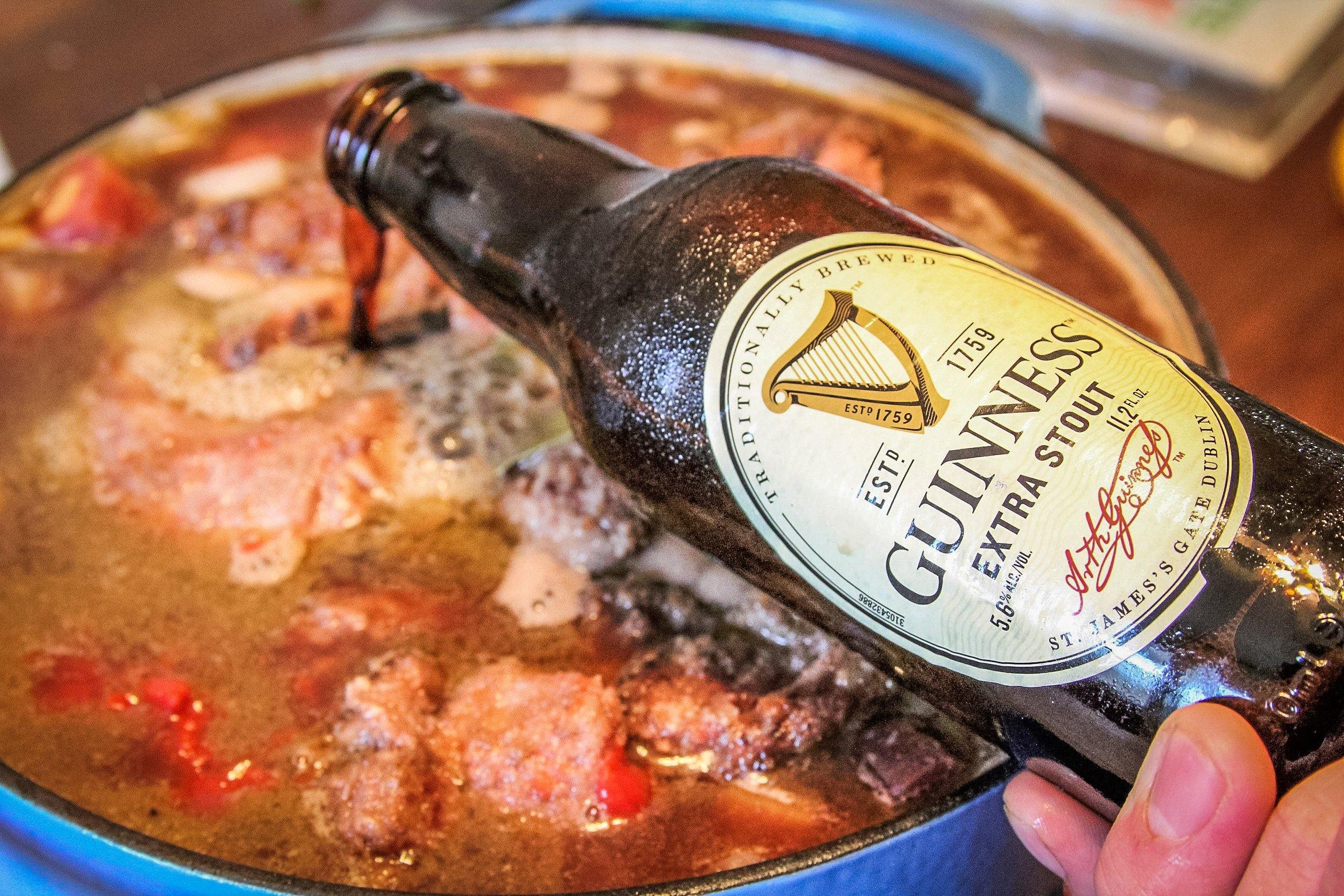 Bring the mixture to a simmer and cover the pot. Lightly simmer the stew for 35-40 minutes. Add the salt, pepper, Worcestershire sauce, parsley, and peas. Mix the reserved tablespoon of flour with two tablespoons of water until the flour is dissolved. Pour the mixture into the stew. Stir well and continue to simmer for another 20 minutes. Stir in the remaining two tablespoons of olive oil. Remove the bay leaves and pick the bones from the squirrel meat, if desired, before serving.