Old Fashioned Venison Mincemeat
I'm not sure why mincemeat has fallen out of favor. There was a time when folks would start eating mincemeat in early fall and continue all the way through the following spring, since the mixture could be safely stored in cooler weather. As far back as 12th century England during the Crusades, recipes described a mixture of meat, suet, dried fruits, spices and distilled spirits that were sweetened with honey or molasses. Since beef suet isn't as readily available as it once was, we substitute bacon drippings for this recipe.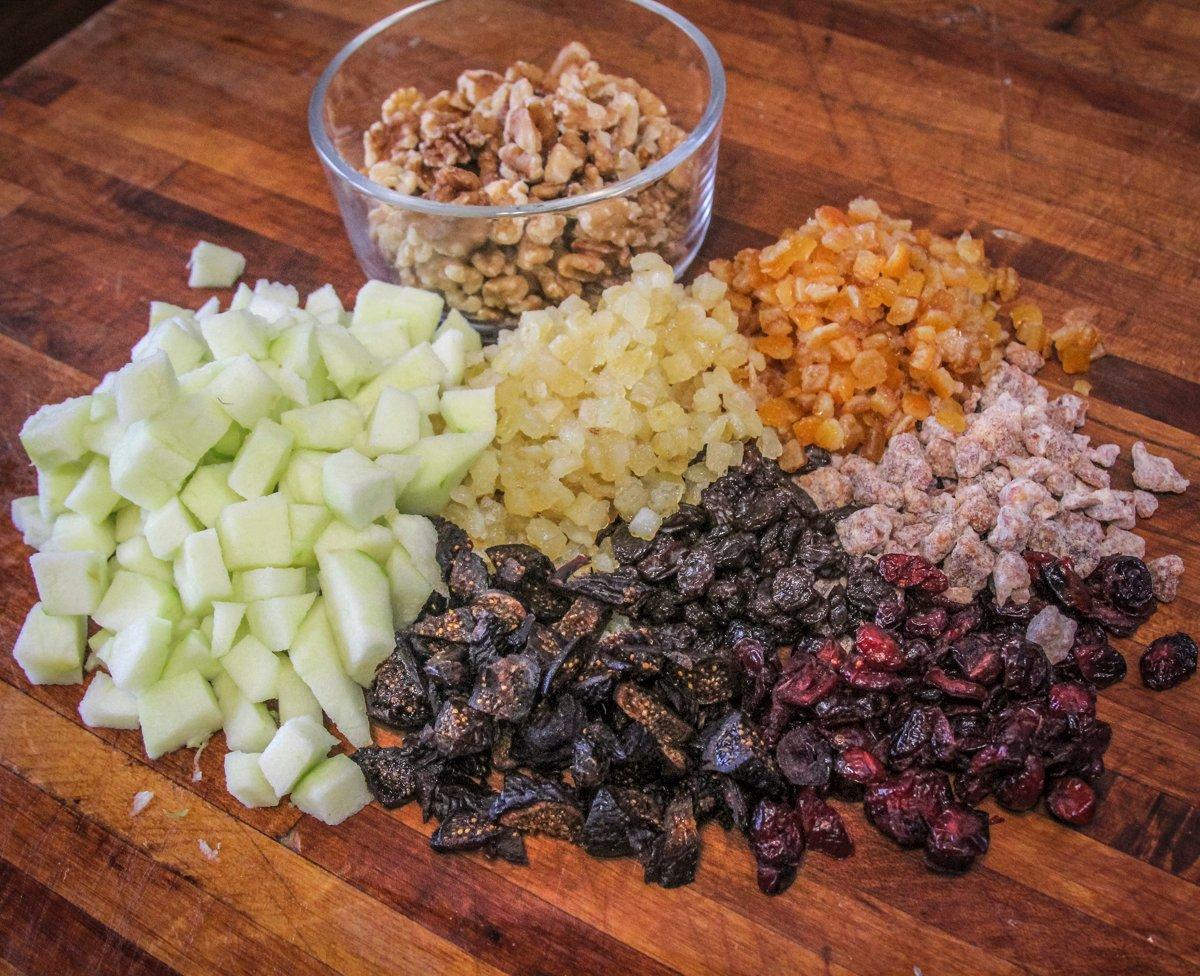 Other recipes existed from around the world and described a similar mixture, with the fruits and spices changing to match local availability. Over time, the dish became associated with celebrations, and then with Christmas. Somehow the sweet and savory dish even ran afoul of the Church when Cromwell's Puritans deemed the dish too raucous and extravagant for the solemn birth of Christ.
Luckily for us, the recipe endured and continued to be a popular Christmas treat. Sometime over the last century or so, the meat was often dropped from mincemeat pies, leaving only seasoned dried fruits and nuts.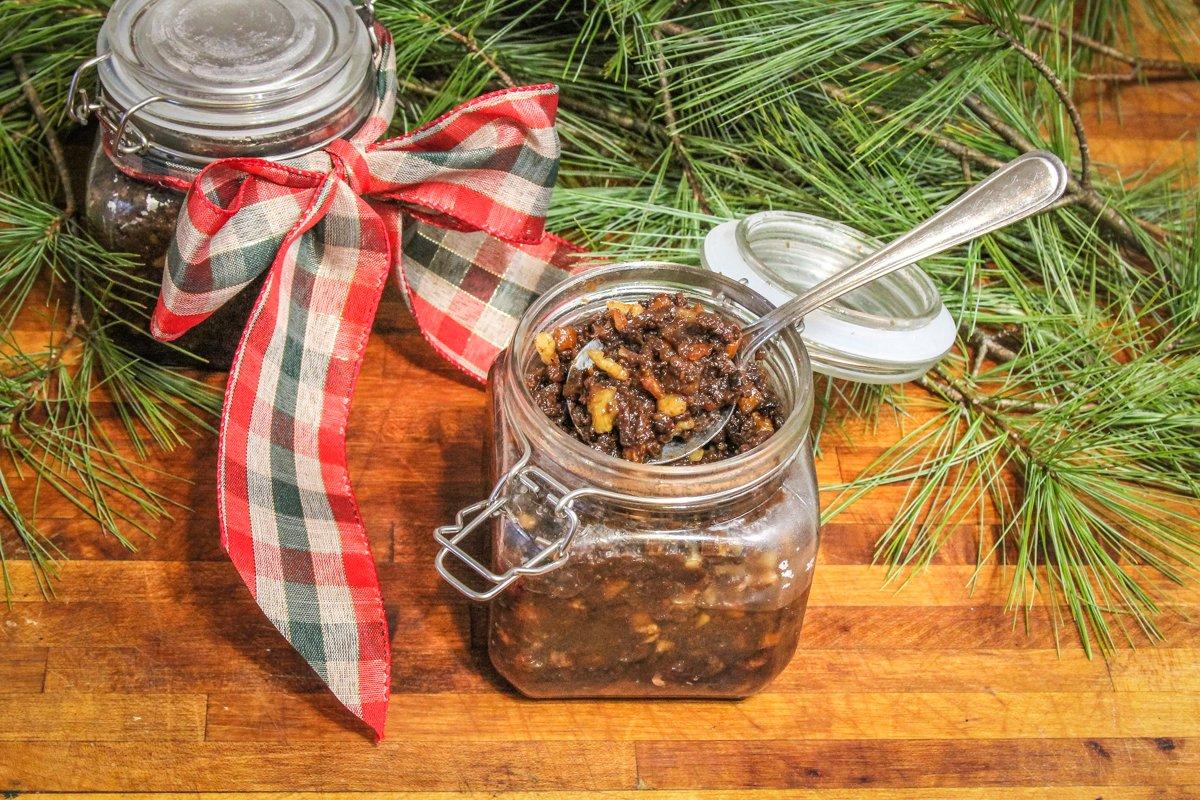 I'm on a crusade of my own. Let's put the meat back, and let's make it venison. Give this recipe a try this Christmas. You can eat it on its own or put it in pies. Mincemeat will keep, refrigerated, for a week or so. Freeze any leftovers, or even pressure can it in jars for long-term storage. Old Fashioned Mincemeat in decorative jars makes a nice gift for a host or hostess at your next Christmas party.
Ingredients
1 pound ground venison
1/2 cup bacon drippings
1/2 cup beef stock
1 cup apple cider
1/2 cup bourbon (optional; just add an additional half cup of cider if you omit the bourbon)
1/2 cup sorghum
1 teaspoon salt
2 Granny Smith apples, peeled and chopped
3/4 cup candied orange rind
3/4 cup candied lemon rind
1 tablespoon brown sugar
1 teaspoon lemon juice
1 teaspoon nutmeg
1 teaspoon cinnamon
1/2 teaspoon mace
1/2 cup raisins
1/2 cup dried dates
1/2 cup dried cranberries
1/2 cup dried figs
1 cup chopped walnuts
Cooking Instructions
Start by browning the ground venison in a heavy pot. Stir in the bacon fat. Add all remaining ingredients except lemon juice and walnuts.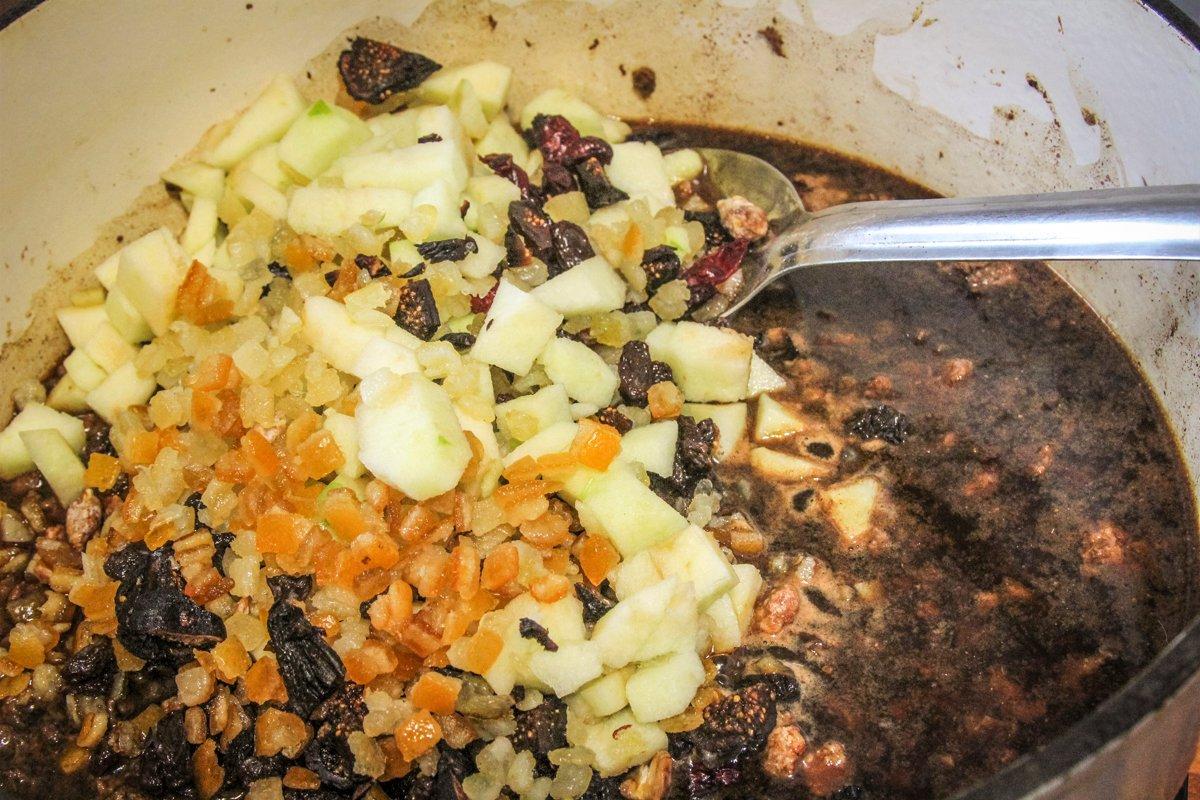 Bring the mixture to a simmer and allow it to cook for 1 to 2 hours, uncovered, until the mixture thickens. Sir in the lemon juice and walnuts, and remove from heat.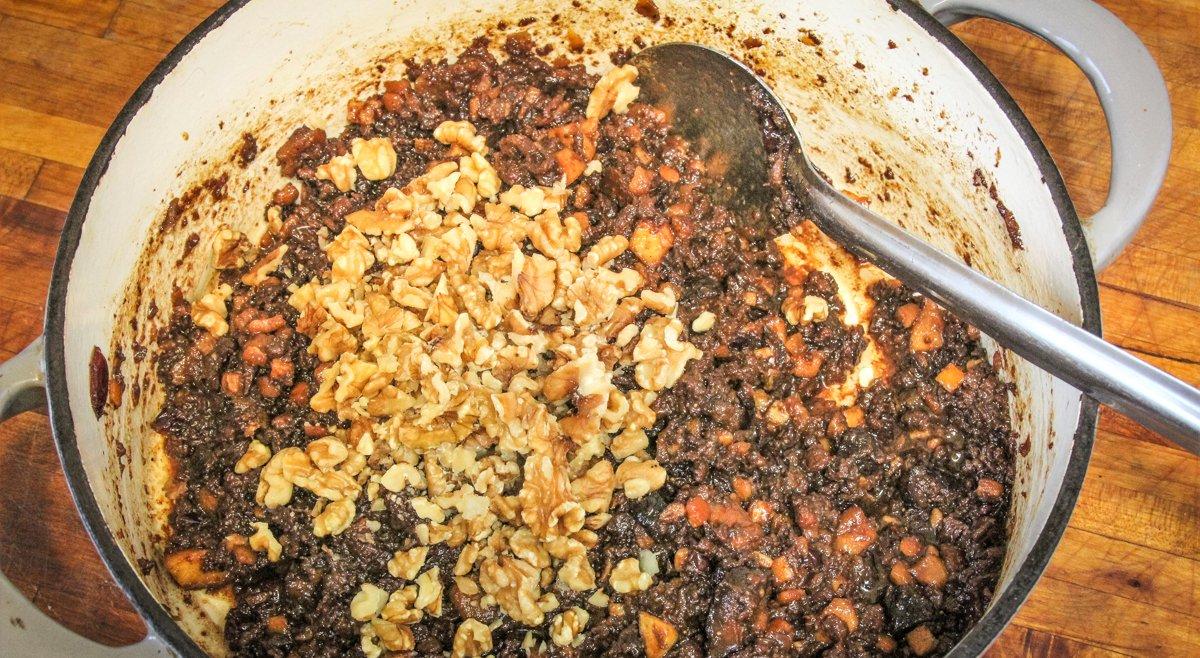 Allow the mixture to cool and pack in jars, plastic freezer containers, freezer bags, or vacuum seal.