Old Florida Fishing Town-Style Smoked Mullet
Ask a fisherman down in Texas what a mullet is good for, and he or she will probably answer with either not much or as bait, at best. But travel along the fishing towns that dot the Gulf Coast starting about Mexico Beach and running down to the Keys, and they will tell you that mullet from those waters are one of the tastiest fish that swims.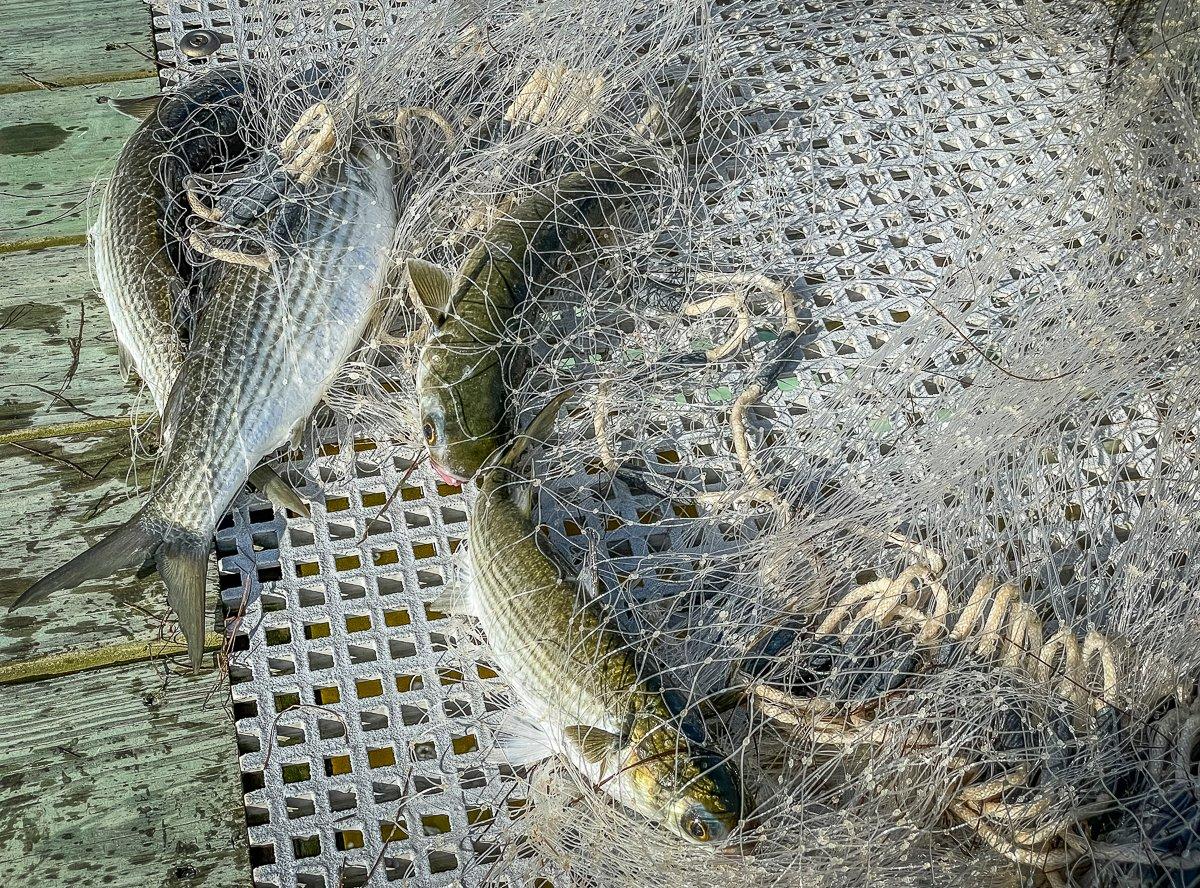 Mullet fishermen traditionally used gill nets to haul in boatloads of fish this time of year, but the Florida net ban of 1995 drastically changed the way they went about making a living. Today, most of the mullet are caught in hand-thrown cast nets. There was a time when every truck you'd see along the coast carried a 5-gallon bucket with a prized, often custom-made, net in the bed. Today, a surging influx of folks moving to these towns from other areas have cut down on the number of folks who still carry a net and know how to use it, but you can still find a few of these born-and-raised fishermen in just about any coastal town.
I'm lucky to count a few of these as close friends. Rusty Crum and his brothers grew up on the Apalachicola River where his family still maintains a generations-old camp. Rusty knows where to find the fattest mullet, and how to catch them once he does.
We tagged along with Rusty and his wife, Donna, on a recent trip down. Rusty expertly separated his net into sections, tossing a third of the weight over his shoulder and cradling the rest across his arm and in his hand. Holding the leading edge of the net between his teeth, Crum stared intently into the slightly tannic waters of the bay, watching the school of mullet cruise along toward our waiting position. Taking his height above the water and the wind speed and direction into account, Crum launched his net into a perfect circle that settled over the bulk of the fish. The mullet flashed and darted as they tried to escape the closing net, but with just about every cast, a few more made it to the waiting cooler.
Once we had enough for several meals, we headed back to skin the fish. For smoking, split the mullet down the back, cutting along one side of the spine all the way down, but not through, the skin of the belly. Fold the fish open like a book, with the belly of the fish acting as the spine.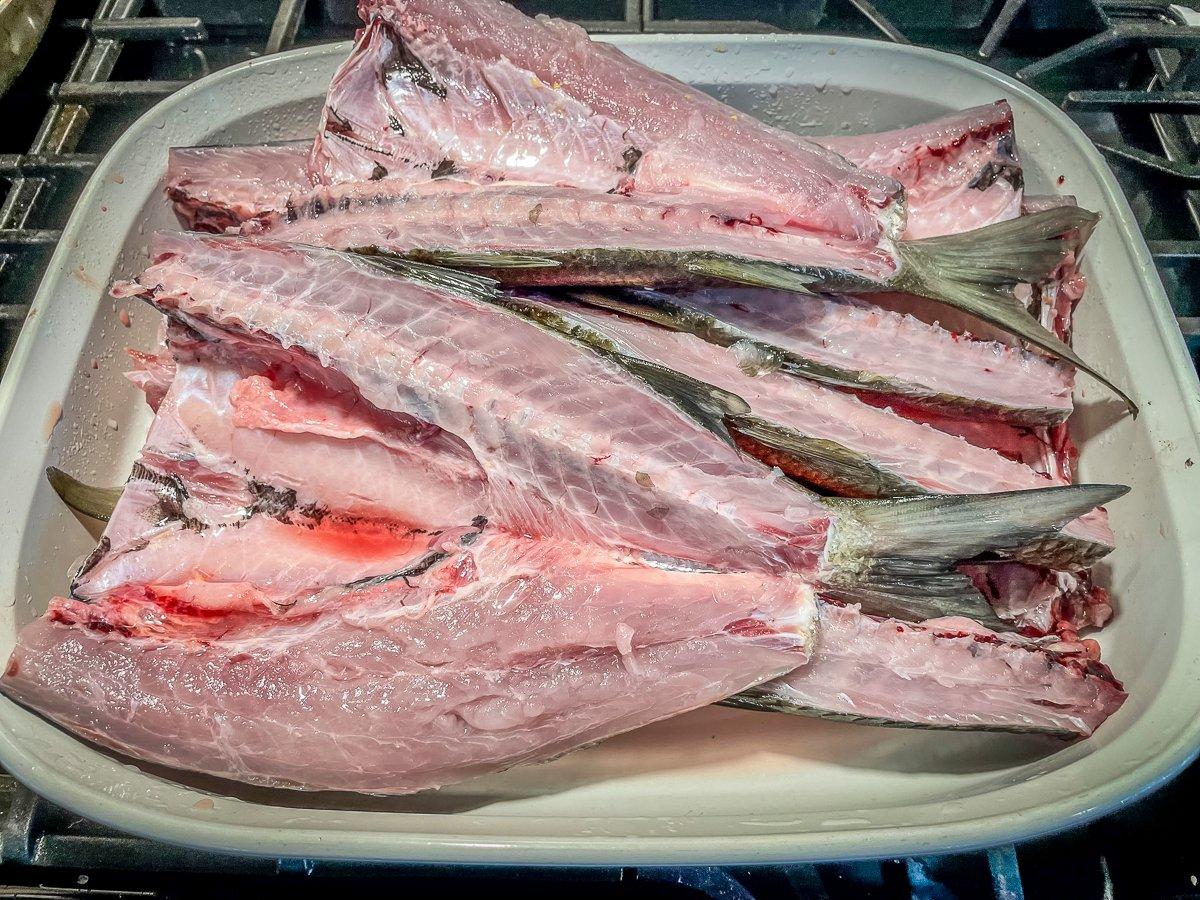 Start the process by brining the fish for 2 to 3 hours. I prefer to use a cooler for this task with just enough ice to keep the brine cold. After brining, the mullet need to dry before smoking. I remove them one at a time from the brine, give each a quick rinse under cold water, then pat dry with a paper towel. From there, I move the fish to wire racks or sheet pans, skin side down, and place them in front of a fan for another hour to dry the fish and form a sticky pellicle on the surface of the meat.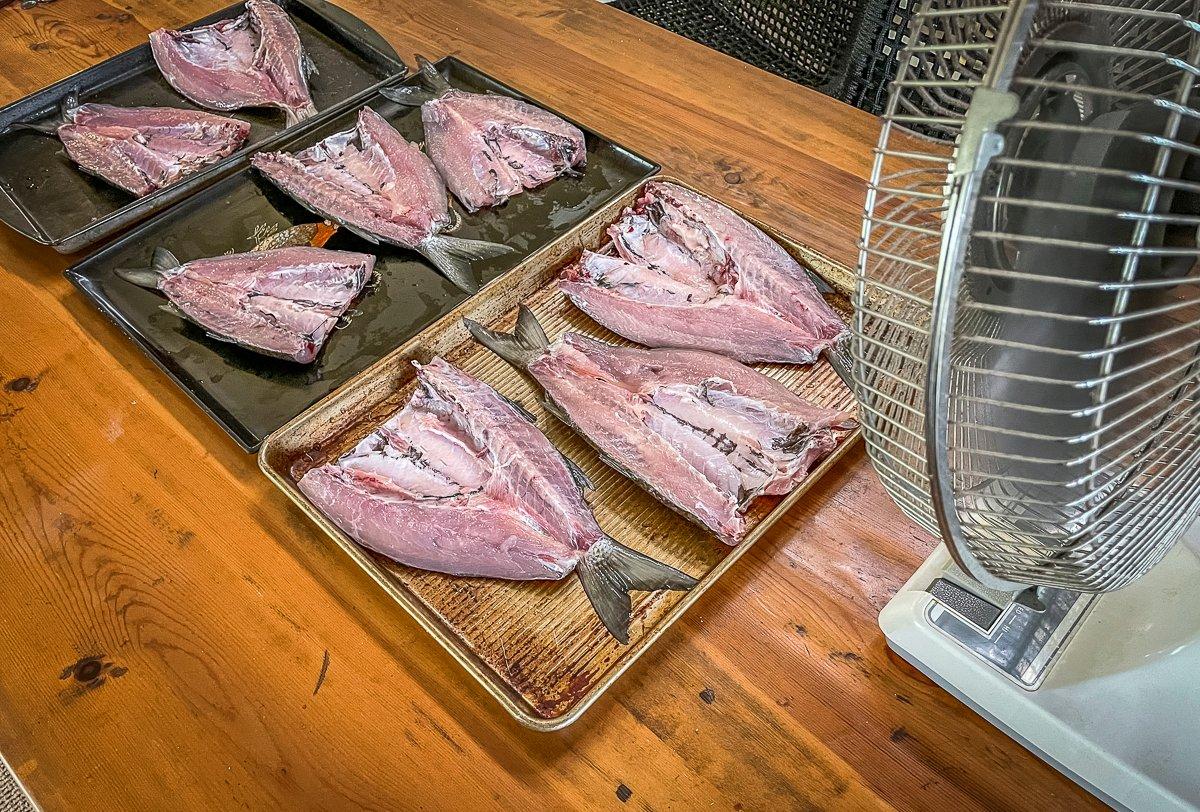 From there, they are ready to smoke. Techniques vary from hot and fast to low and slow, but I like 2 to 3 hours at 185 to 200 degrees over hickory or a mix of hickory and apple. For this trip, we packed along our Traeger Ranger portable grill, and it was perfect for a few batches of smoked mullet.
Ingredients
5 to 10 mullet, butterflied
Everglades All-Purpose Barbecue or other BBQ rub
Brine
2 gallons clean water
2 cups kosher salt
1 cup firmly packed brown sugar
2 tablespoons Zatarain's liquid crab boil with garlic and onion, optional
Cooking Instructions
When it comes to seasoning the mullet before smoking, some are purists, adding only a bit of black pepper. Cajun seasoning is popular, as is Old Bay. My favorite is a good, slightly sweet BBQ rub like the Everglades All-Purpose. Just sprinkle your choice of seasoning over the meat side of the fish.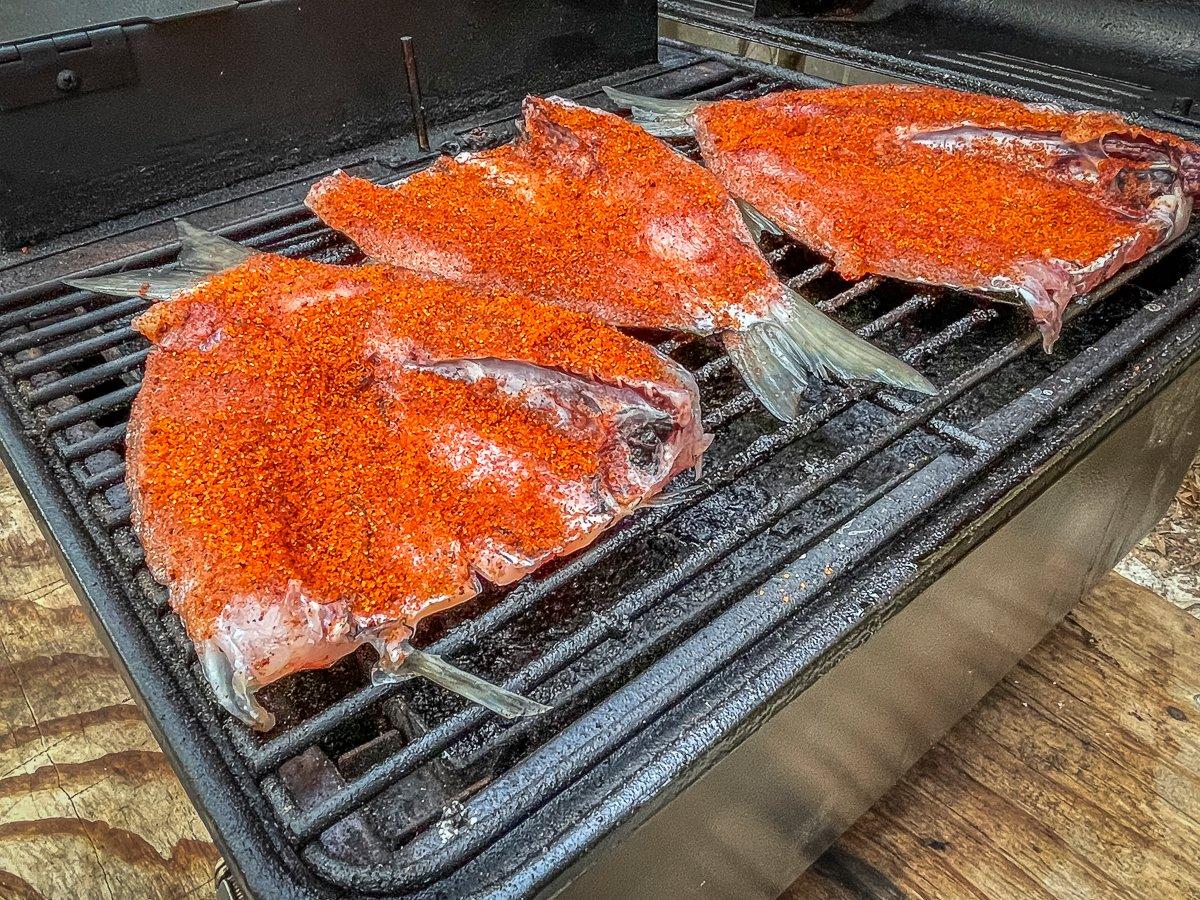 Eat your smoked mullet as is, shred it and blend into your favorite dip recipe, or try these smoked mullet eggs Benedict for a new twist on a breakfast favorite.