Squirrel and Mushroom Ravioli
Most squirrel hunters will think of fried squirrel, or squirrel and dumplings, or even Brunswick stew, when they think about cooking with squirrel. But the meat is much more versatile than just these few recipes. We've barbecued them, grilled them, and cooked them over a campfire. But one of my favorite things to do with squirrel meat is to use it as a filling or stuffing, such as in homemade ravioli.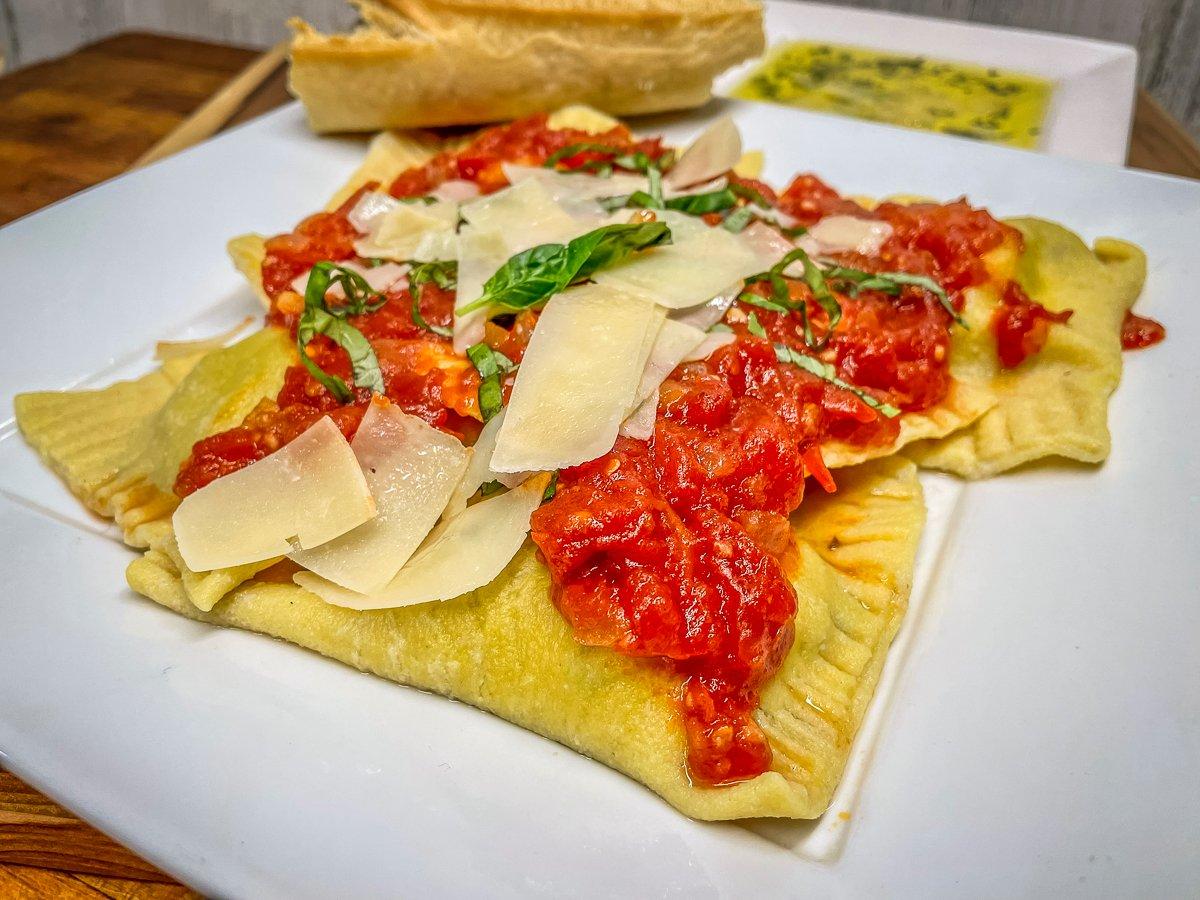 To make the meat tender enough, we cook the squirrels overnight in a bit of stock in our Weston Realtree slow cooker. If you are in a hurry, you can cook them in an Instant Pot in about 30 minutes. Or you can simmer them in salted water for a few hours. Basically, you are just trying to get them tender enough to pull the meat from the bones so you can chop it up.
(Gear Up for Warm Weather Squirrel Hunts: Realtree Edge Camo Short Sleeve Performance Shirt)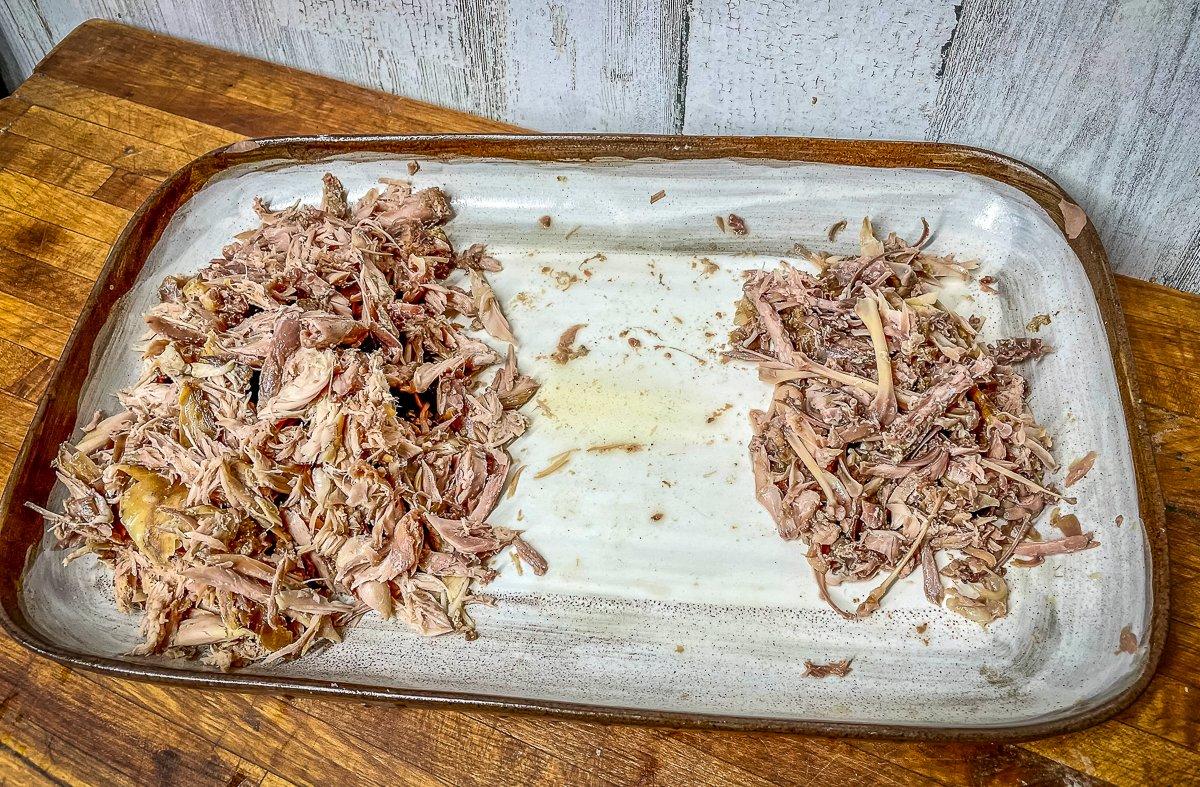 Ingredients
Pasta
3 cups semolina flour, plus extra for dusting
1 teaspoon salt
4 eggs
1 egg yolk (reserve egg white)
2 teaspoons olive oil
1 to 2 tablespoons of water, if necessary
Filling
1 pound cooked and boned-out squirrel meat, finely chopped
1 tablespoon olive oil
8 ounces shiitake or chanterelle mushrooms, finely chopped
Sea salt to taste
1 small clove garlic, minced
1 teaspoon fresh basil, finely chopped
1/2 teaspoon black pepper
4 tablespoons grated Parmesan cheese
8 ounces of smoked mozzarella cheese, cut into 1/2-inch cubes
Sauce
2 tablespoons olive oil
1 small yellow onion, chopped
1 clove garlic, chopped
One 28-ounce can San Marzano tomatoes
1/2 teaspoon sugar
Salt and pepper to taste
Extras
Extra-virgin olive oil
Shaved Parmesan
Fresh basil
Bread
Cooking Instructions
Start by cooking the squirrel until it is fall-off-the-bone tender. I like to do this overnight in my Weston Realtree slow cooker. Simply add the squirrel pieces (2 to 3 whole or quartered squirrels) along with a cup or so of chicken or wild turkey broth and cook on low for 8 to 10 hours or until the squirrel meat shreds easily from the bone. When cool, pull the meat from the bones. You can do this up to a day or two in advance and refrigerate the boneless squirrel meat until you are ready to make the ravioli.
Next, make the pasta dough. Make a mound of flour, then form a small depression in the middle (think volcano shape). Sprinkle on the salt. Crack 4 eggs plus one egg yolk into the center of the crater. Add the olive oil. Use your fingers or a fork to drag the dry flour into the center of the well to mix with the liquid ingredients. Keep blending until all of the liquid is incorporated and the dough is a loose mass. You might need to wet your hands a time or two or add a tablespoon of water to bring the dough together, but it should be on the dry side.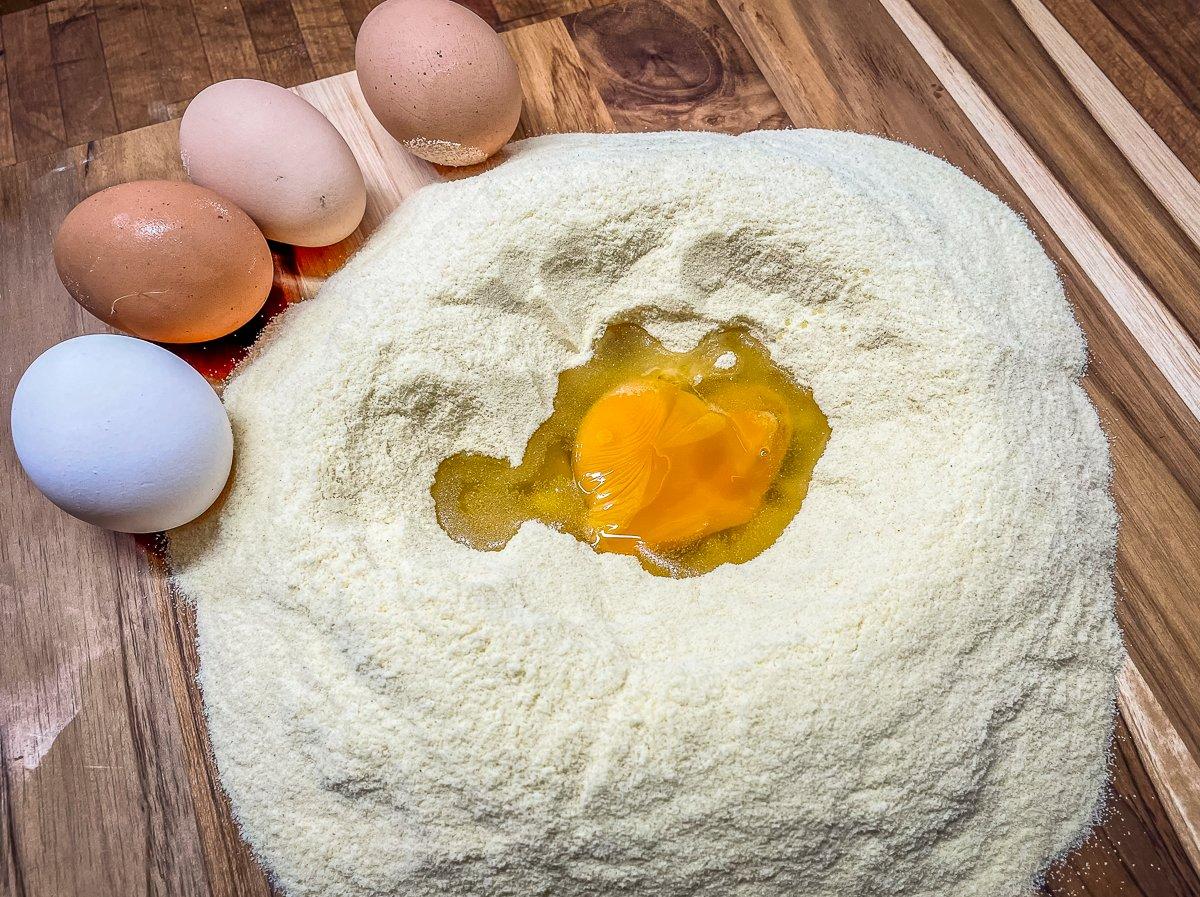 Flour your hands well and work the dough, bringing in any leftover flour from the board. The dough should still be sticky, but firmer.
Flour your work surface well and add the ball of dough. Add more flour to your hands, if needed, and knead firmly for about 10 minutes until the dough is smooth and elastic with a nice bounce back if you press into it with your finger. Press the dough into about a 6-inch disk, wrap with plastic wrap, and refrigerate at least 45 minutes.
While the dough rests, make the filling. Finely chop the cooked, boneless squirrel meat.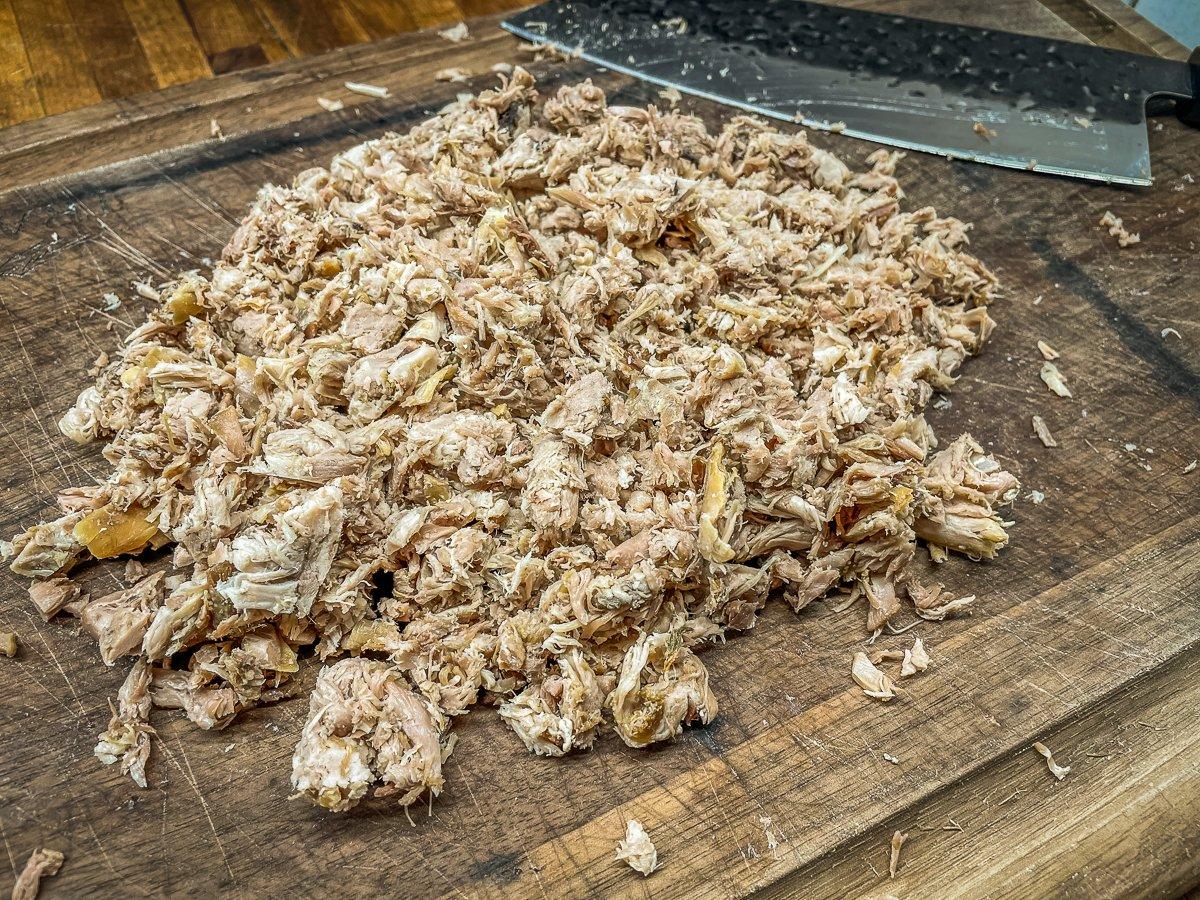 Add a tablespoon of olive oil to a large skillet over medium heat. Add the chopped mushrooms.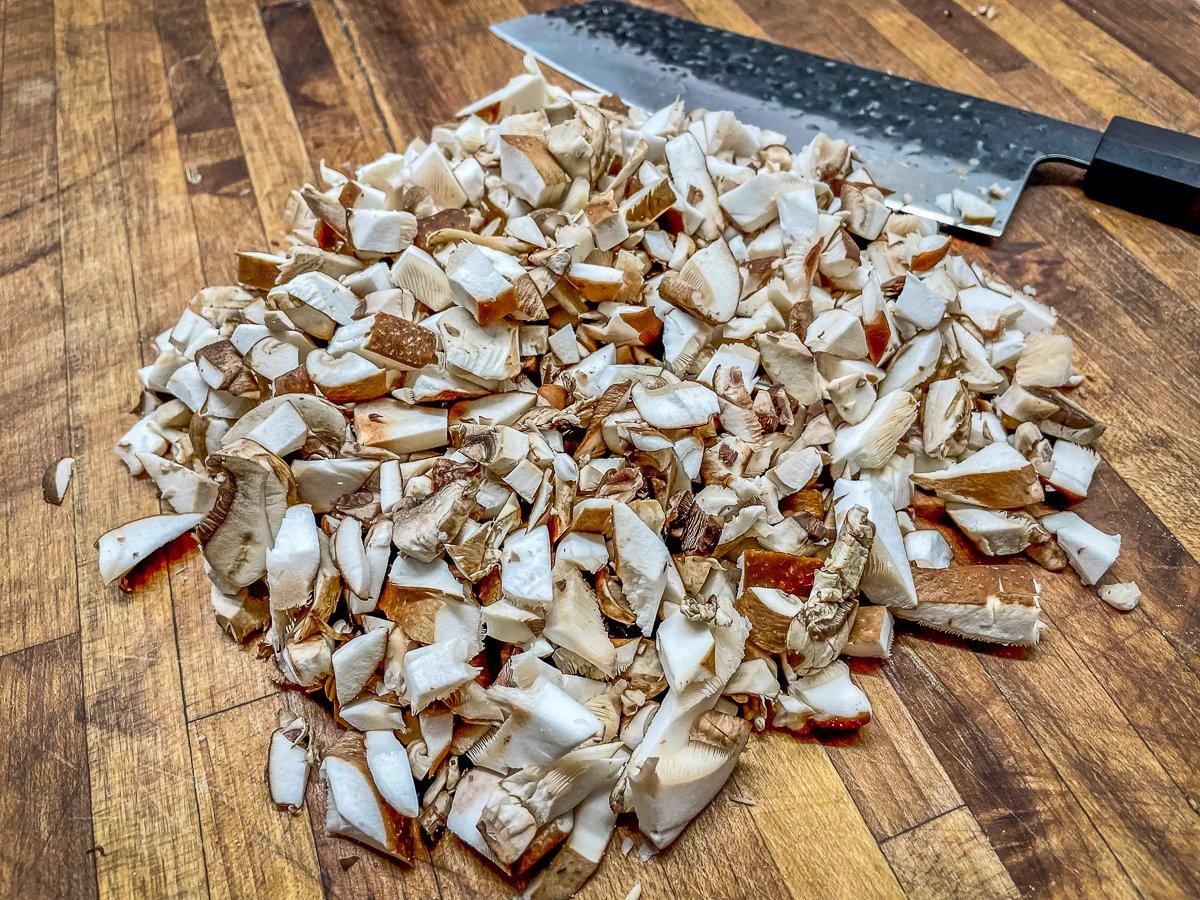 Sprinkle lightly with sea salt and sauté until the mushroom bits are soft and cooked through. Add the squirrel, garlic, black pepper, and basil. Continue cooking for 4 to 6 minutes. Remove the pan from the heat and stir in the Parmesan cheese. Allow the mixture to cool.
Next, start the sauce. In a medium saucepan over medium-high heat, add 2 tablespoons of olive oil and sauté the onions until they are soft and translucent, about 7 to 10 minutes, stirring often. Add the garlic, sauté for an additional minute or two, then add the tomatoes. Bring the mixture to a simmer, crushing the tomatoes as you go. Add the sugar. Reduce the heat and maintain a simmer. Check for seasoning. Add the black pepper and more salt, if needed. Simmer the mixture for 45 minutes to an hour.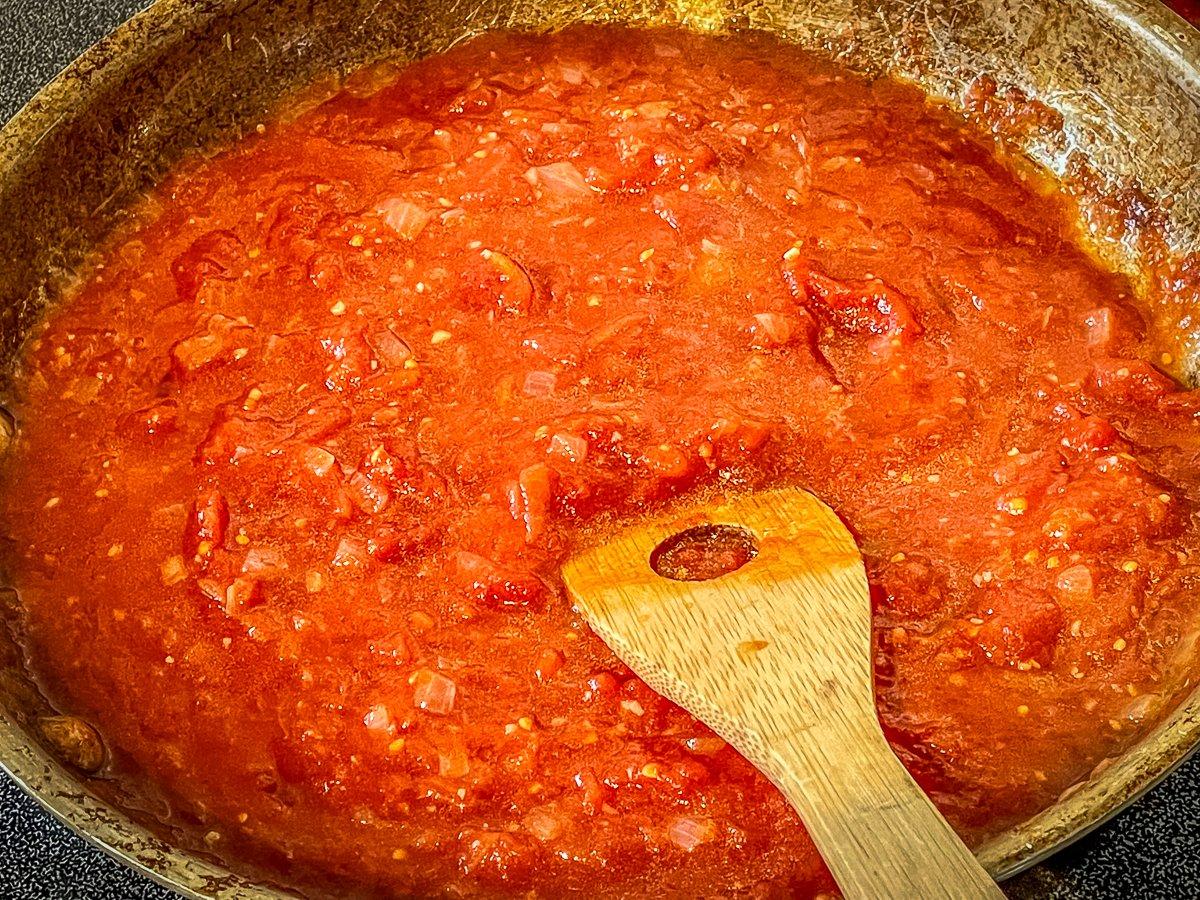 To make the ravioli, divide the dough into 4 equal parts.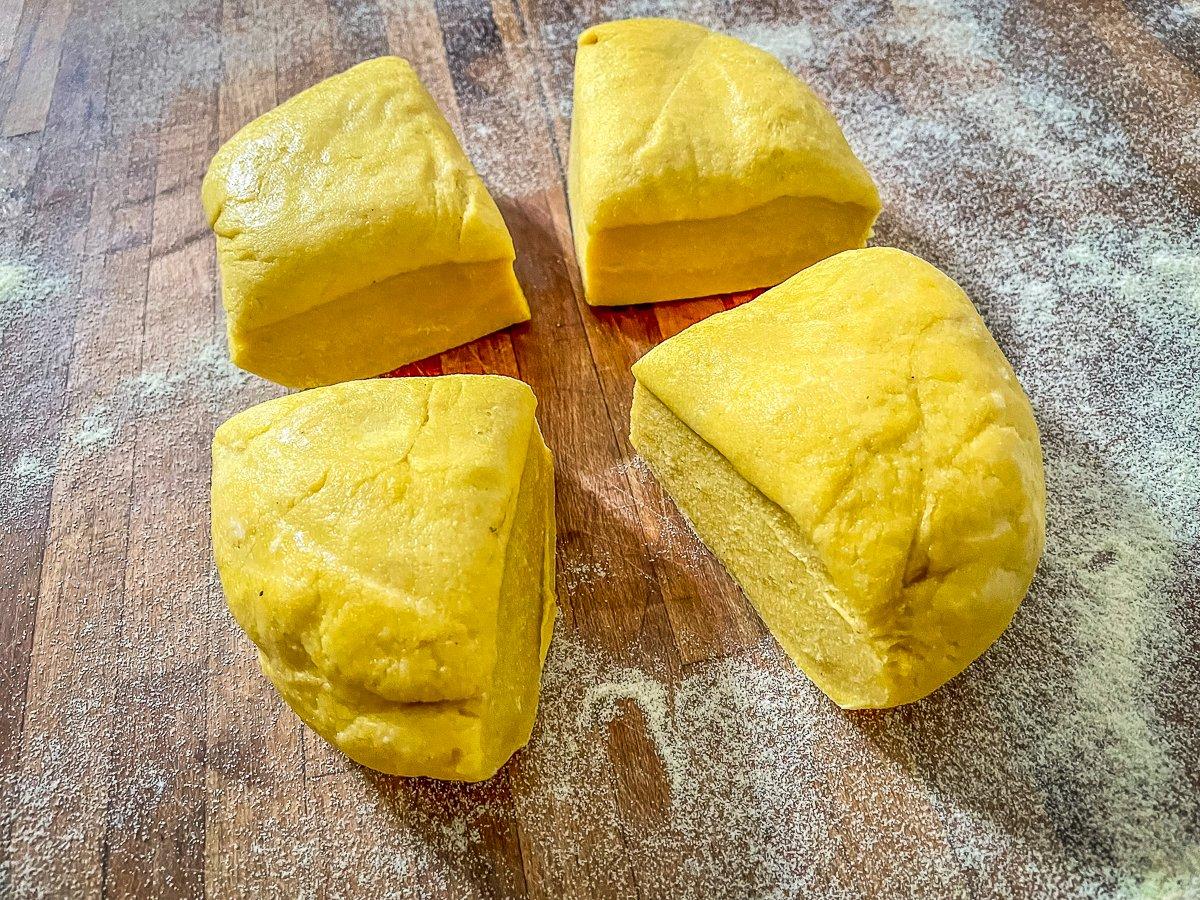 Cover three with a damp towel while you work with one section. Divide the section into two equal parts. Flour your work surface well and use a rolling pin to roll the dough, lifting it from the surface from time to time and turning it over, into a roughly rectangle shape. Roll the dough into a thin sheet; shoot for about a half millimeter. Light should pass through the sheet if you hold it up.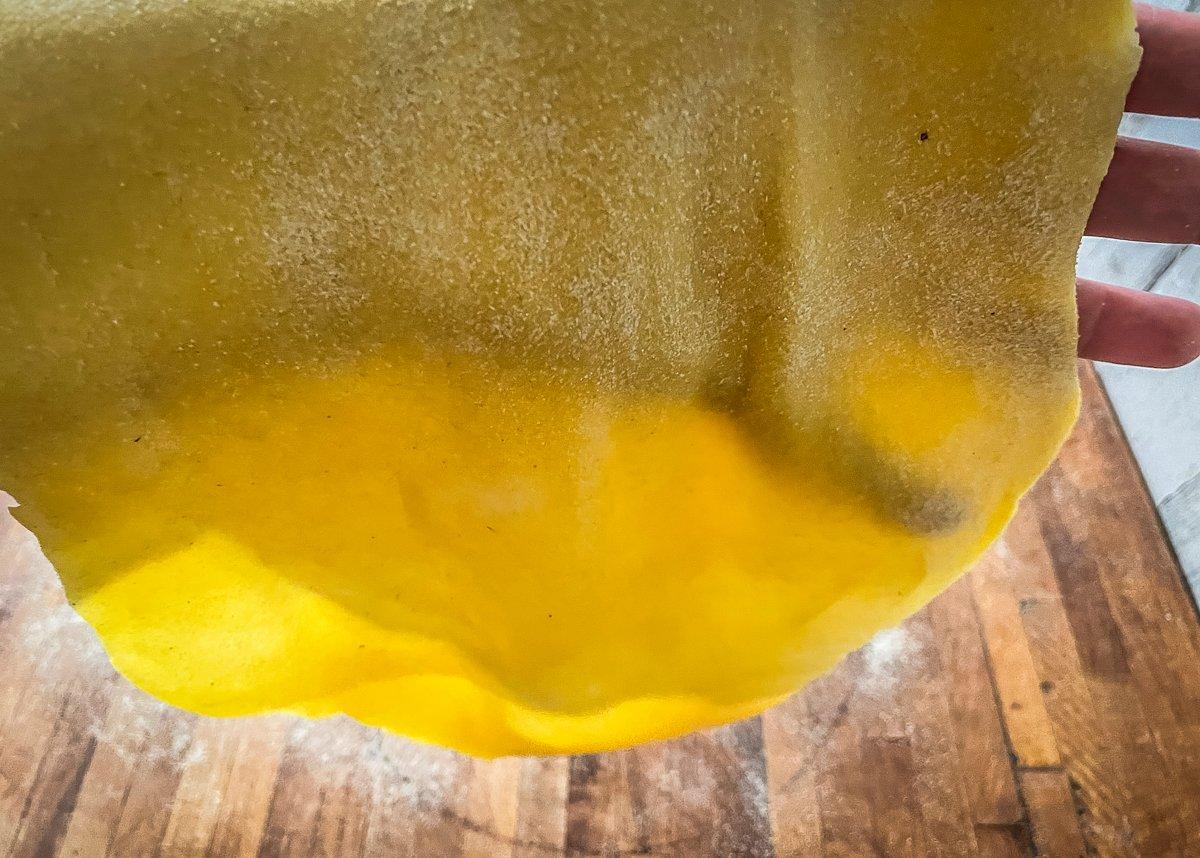 Use a sharp knife or a pizza or pastry cutter to trim the dough into a rectangle about 5 inches wide. Don't worry about length.
Use a pastry brush dipped into the reserved egg white to brush a 1/4-inch strip down one side of the dough. Spoon on a tablespoon of the cooled filling just inside the egg wash. Repeat the filling down the length of the pasta, leaving at least 1/2 inch between each pile of filling. Place a cube of smoked mozzarella cheese into each bit of stuffing. Brush the space between each pile of filling with egg wash.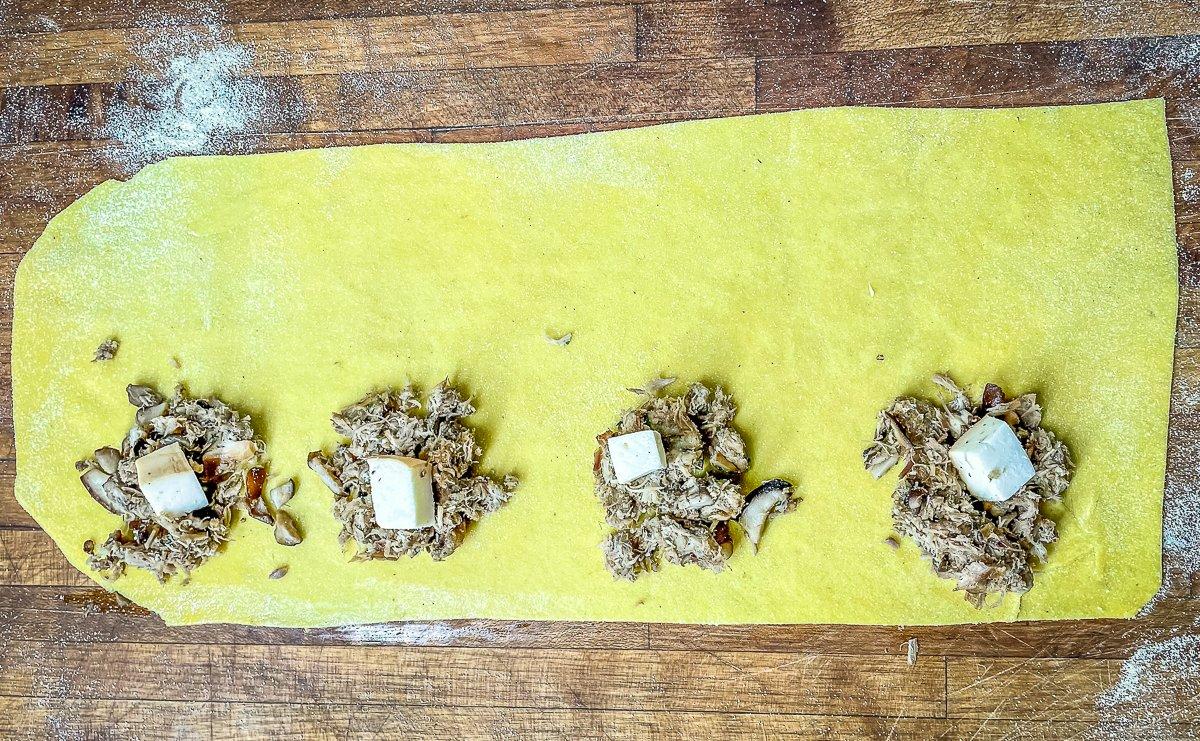 Fold the unfilled dough half over the filling. Press the dough together to seal it around the filling, then use a knife or pizza cutter to separate the individual ravioli. Use your fingertips or a fork to crimp the edges of the dough together to seal the ravioli. Move the finished pasta to a floured tray and dust with a tiny bit of additional flour. Cover the pasta with a clean damp towel and continue with remaining dough until all your ravioli are made.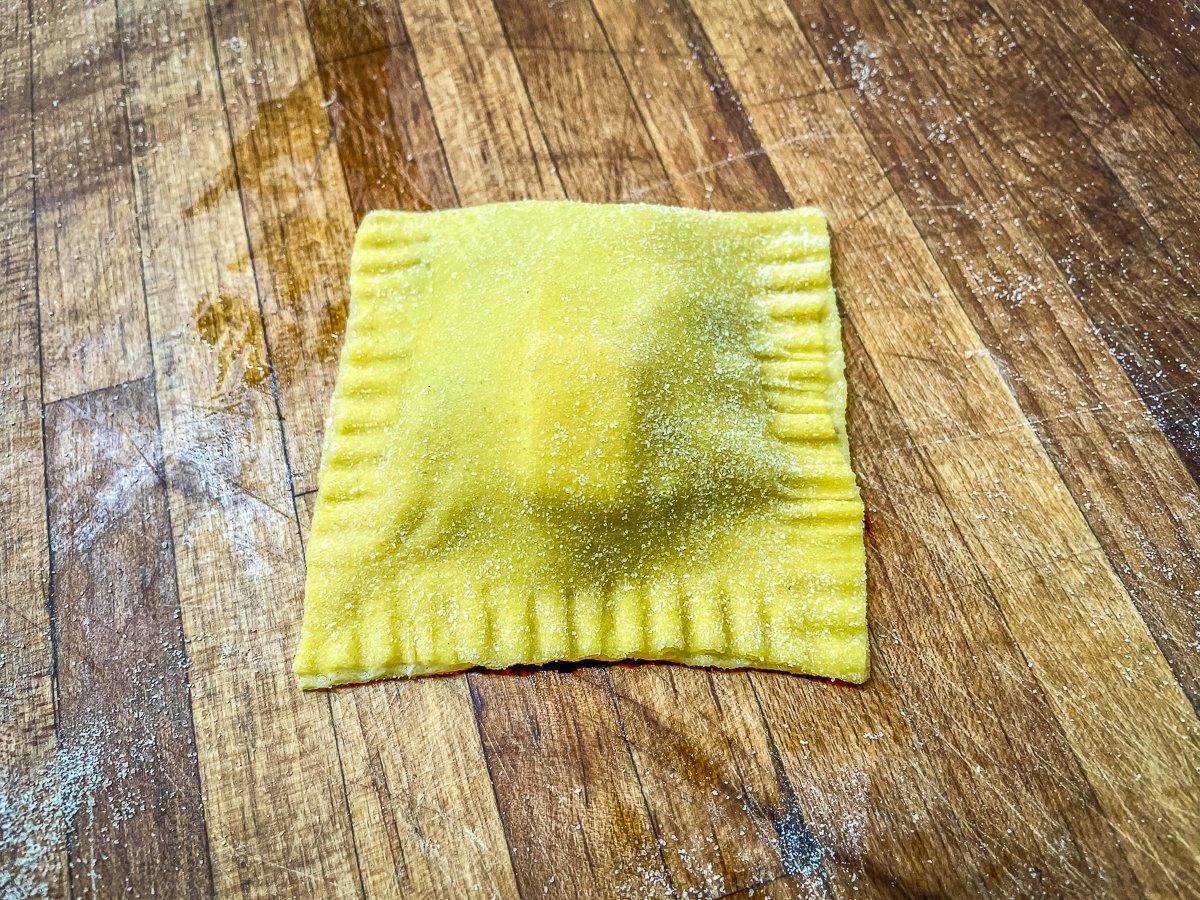 To cook the ravioli, bring a large pot of salted water to a boil. Drop the ravioli in a few at a time and boil for 5 to 6 minutes until the pasta is cooked through. Drain and plate, then spoon over your sauce. Garnish with a bit more shaved Parmesan cheese and a leaf of basil before serving with some good bread and extra-virgin olive oil for dipping.