Steak Tips with Wild Rice, Mushrooms, and Hard Cider
Wild rice (Zizania palustris) is North America's only truly native grain. While it isn't a true rice at all, this grasslike grain does produce a seed head and grows readily around wetlands in clean water, especially in the northern Great Lakes area.
Native tribes have long depended on wild rice as a food staple. The Ojibwe name for the grain is manoomin, meaning good berry. The rice is traditionally harvested by floating a canoe through stands of the aquatic grass and knocking the ripe seeds into the bottom of the boat with a long stick. While the bulk of wild rice today has been domesticated to be grown in flooded rice paddies and harvested with modern equipment, there are still several places around the northern Great Lakes where you can find true native wild rice that is harvested by hand in the traditional way.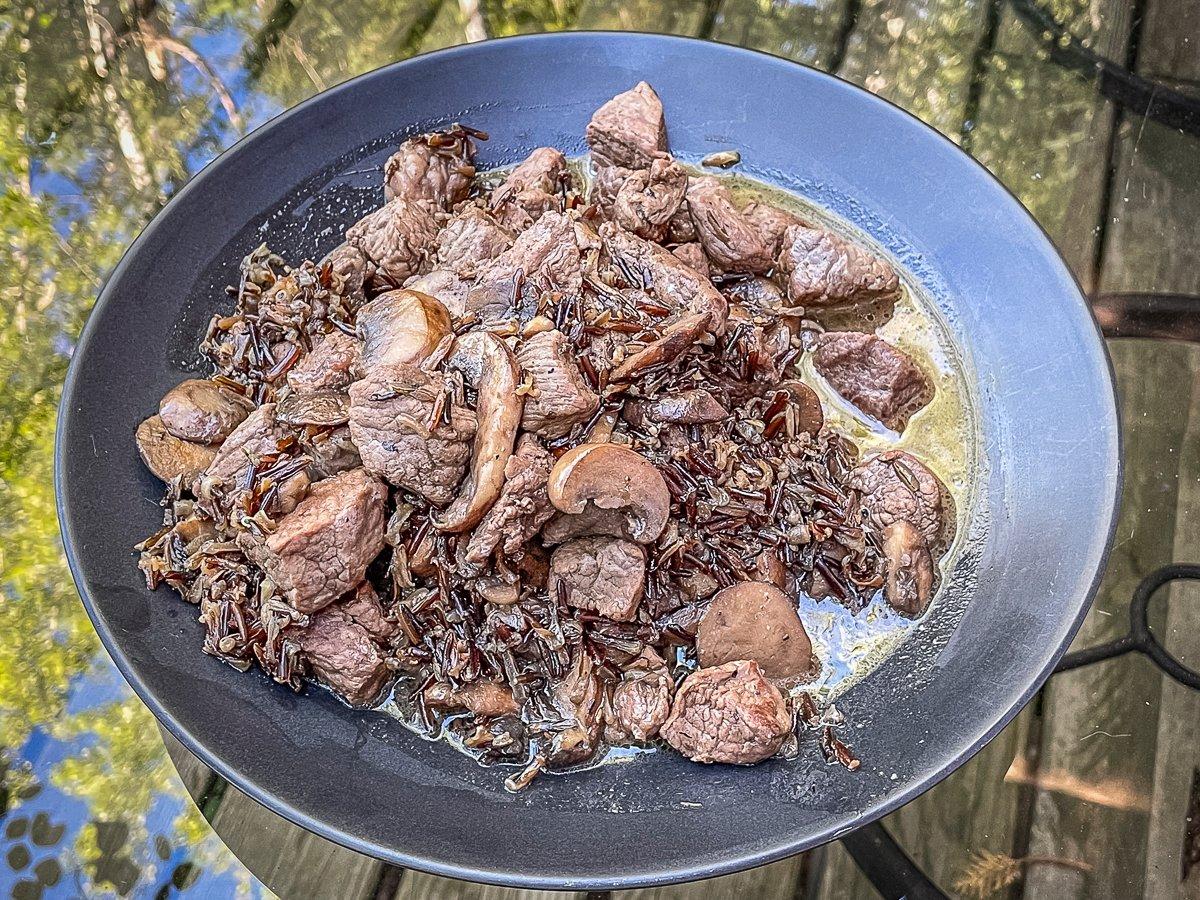 We use some of that truly wild grain in this skillet dish with mushrooms and tender E3 steak tips for an easy meal. The sweet nuttiness of the rice pairs nicely with the tartness of hard apple cider. Since wild rice takes a bit of time to cook, prepare it in advance if you will be short on time when making this dish. We often serve the wild rice as a side for one meal and make enough to have leftovers for this recipe a day or two later.
You can also use venison or elk steak tips instead of beef. Just take care not to overcook while browning so they remain tender in the finished dish. Use your favorite wild or domesticated mushrooms. If you don't want to use hard apple cider, substitute 1/2 cup each of apple juice and chicken stock in the recipe.
Ingredients
2 pounds beef or wild game steak tips
2 or more tablespoons butter
Salt and black pepper to taste
16 ounces mushrooms, sliced
1 clove garlic, minced
2 cups wild rice, prepared according to package instructions
1 cup hard apple cider
Pinch of red pepper flakes
Cooking Instructions
Start by adding the butter to a large skillet over medium heat. Brown the steak tips in batches. You aren't fully cooking the steak at this time, so 1 to 2 minutes per batch should be enough to get good color on each side. Season the steak tips well with salt and pepper as they brown.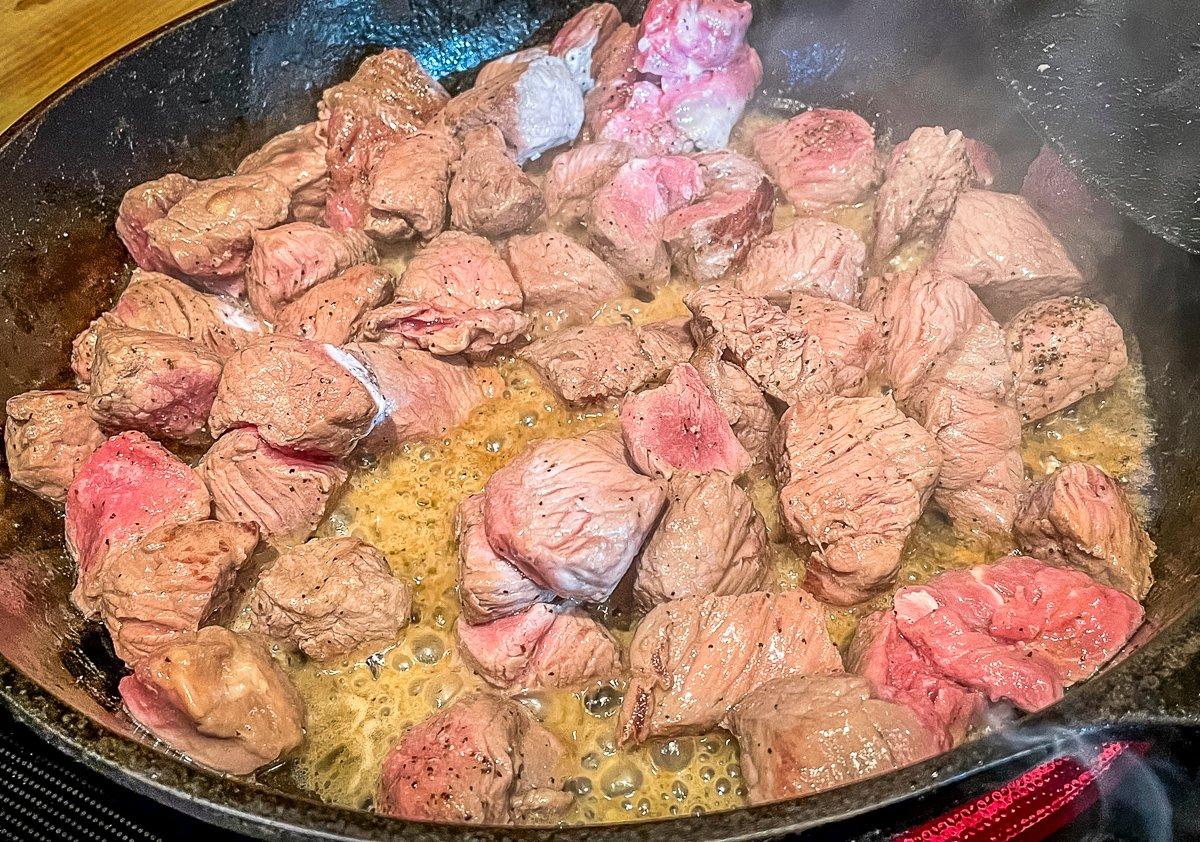 Move the steak tips to a warm platter as each batch finishes. Add additional butter to the pan, if needed, for each batch. Once all of the steak has been browned, add the sliced mushrooms and minced garlic to the pan and season with a light sprinkle of salt to help the mushrooms release their moisture.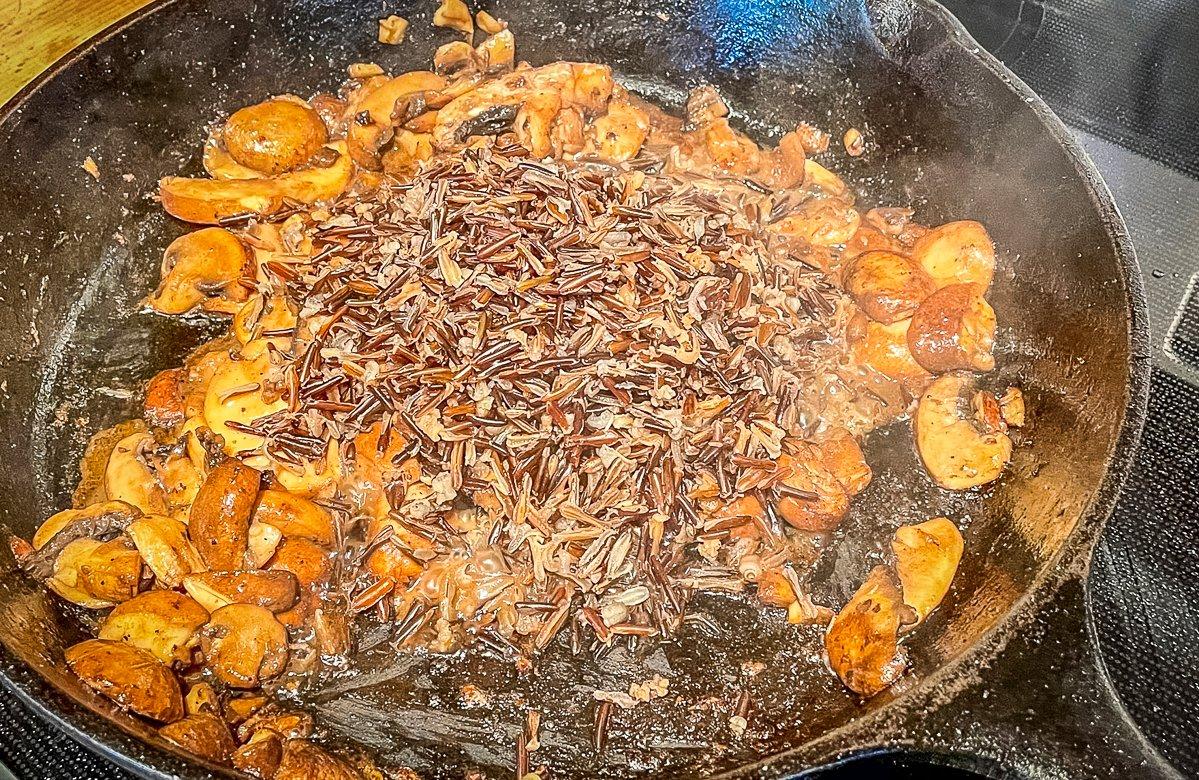 Continue sauteing the mushrooms for 4 to 6 minutes or until they are cooked through and have released a good bit of moisture to the pan. Add the precooked wild rice. Pour in the hard apple cider and bring to a light boil, scraping the pan to release any cooked-on bits from the bottom.
Return the steak tips to the skillet. Season with red pepper flakes, salt, and pepper. Let the dish simmer until the liquid has reduced by half and thickened a bit, about 6 to 10 minutes.