Venison Zuppa Toscana Soup
While Zuppa Toscana in Italian translates to soup from Tuscany, I must admit that my version of it was inpired by a menu staple at a popular American Italian restaurant chain known for endless salad and breadsticks. Trust me. My family doesn't care where my inspiration came from. They absolutely love this rich, tasty soup.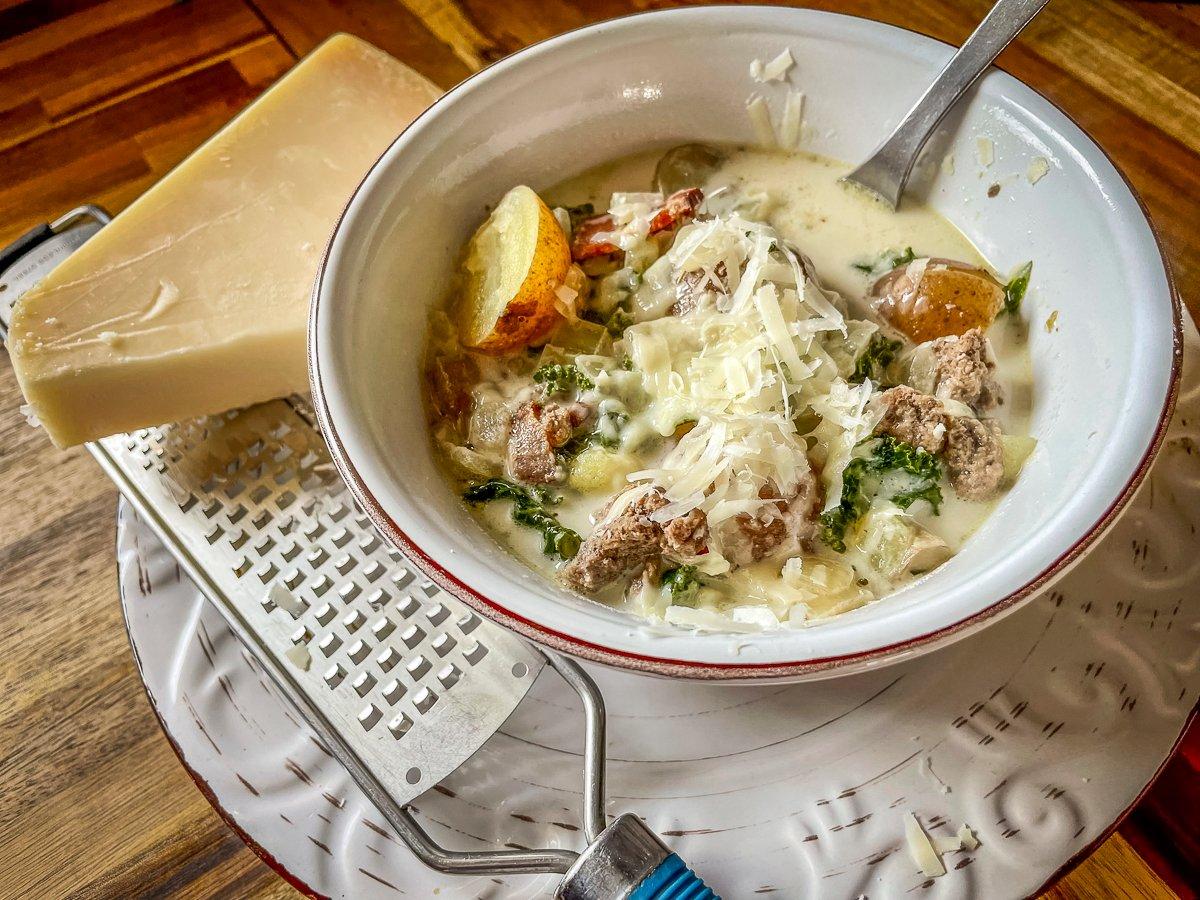 Our version substitutes ground venison for the traditional Italian sausage. With spring in the air, we happened to find some nice dandelion greens at a local farmer's market, so we substituted those for half of the traditional kale in the recipe. If you can't find fresh dandelion greens, simply use all kale or a blend of kale and fresh spinach.
We top the soup with freshly grated Parmigiano Reggiano cheese. If your Parmesan cheese of choice has always come from a green plastic jar, give the real thing a try. You'll be amazed at the depth of flavor. In order to be labeled Parmigiano Reggiano, the Parmesan cheese has to be made in a particular region of Italy with prime ingredients and aged for at least 1 year before being sold. It's worth the extra money.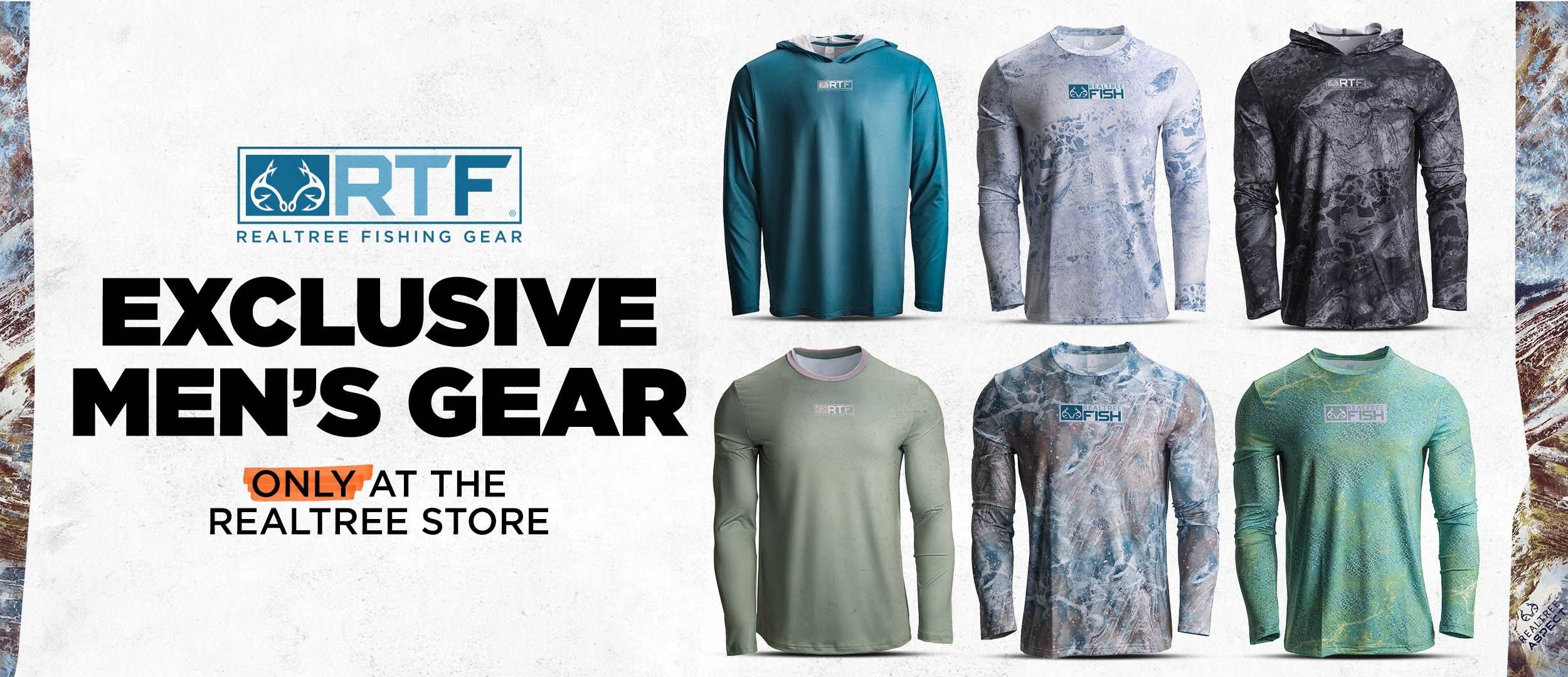 Ingredients
4 strips thick-cut bacon, cut into 1/2-inch pieces
1 pound ground venison
2 pounds new red potatoes, halved or quartered depending on size
3 cloves garlic, minced
1 large yellow onion, diced
1 tablespoon dried Italian seasoning blend
Pinch of crushed red pepper flakes
Kosher salt and freshly ground black pepper
8 cups chicken broth
3 cups curly kale, stems removed and leaves roughly chopped
3 cups fresh dandelion greens, stems removed and roughly chopped
1 cup heavy cream
½ cup sour cream
1 teaspoon white wine vinegar
Freshly grated Parmigiano Reggiano cheese for topping
Cooking Instructions
Dice the bacon.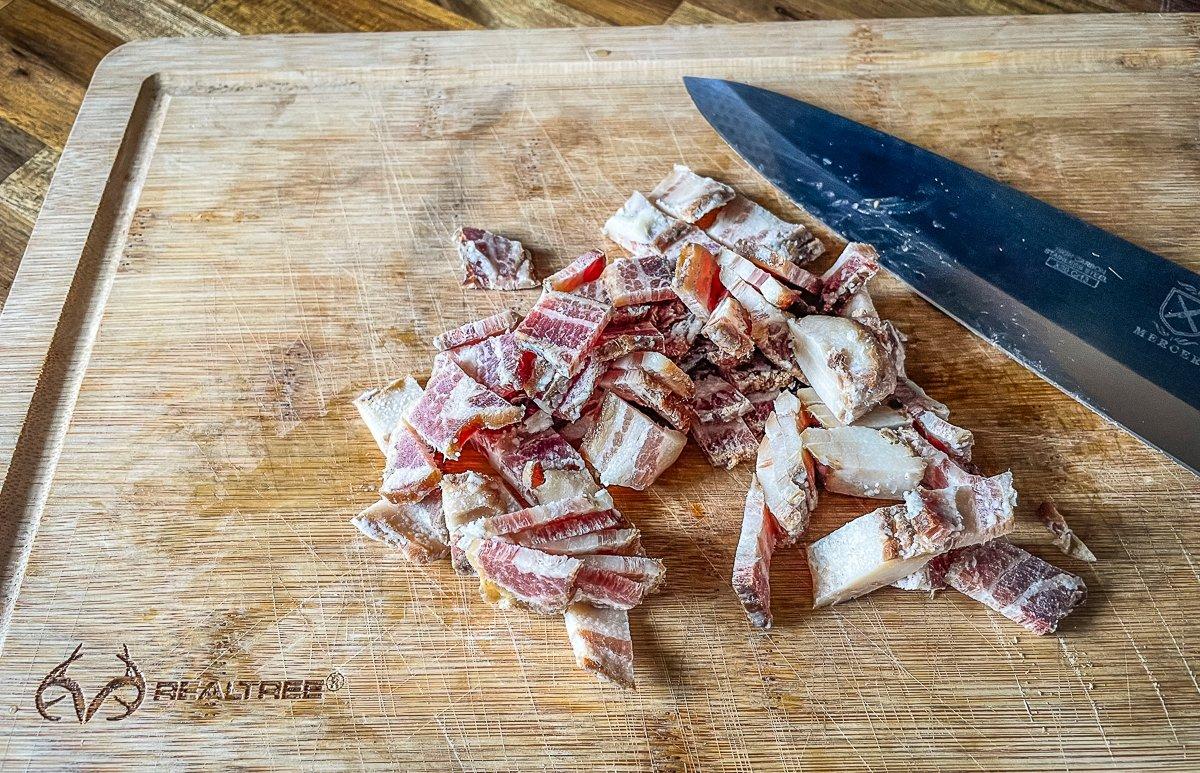 Start the soup by rendering the bacon in a large dutch oven until crisp. Remove the bacon from the pan and set aside.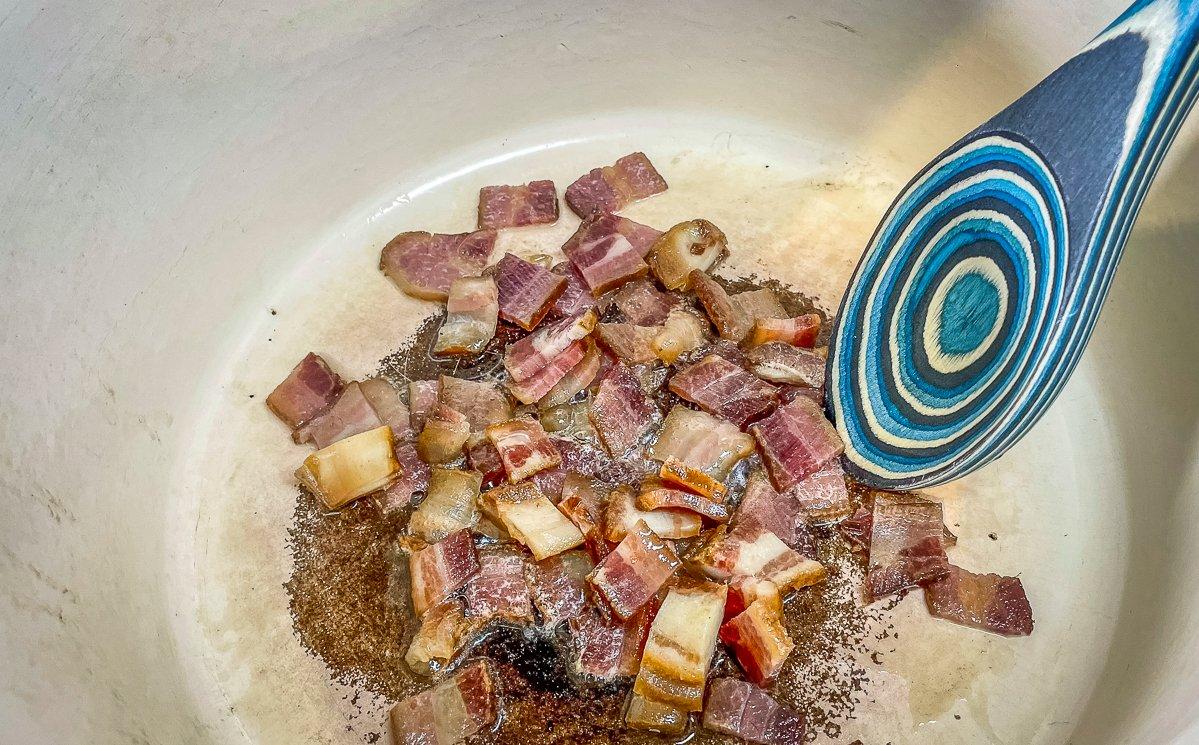 Add the ground venison and onion to the bacon drippings. Add the Italian seasoning blend and salt and pepper to taste. Cook until the venison is browned through and the onions are soft and translucent — about 10 minutes or so. Add the garlic and continue to cook for another 3-5 minutes. Remove the venison and onions from the pot and set aside.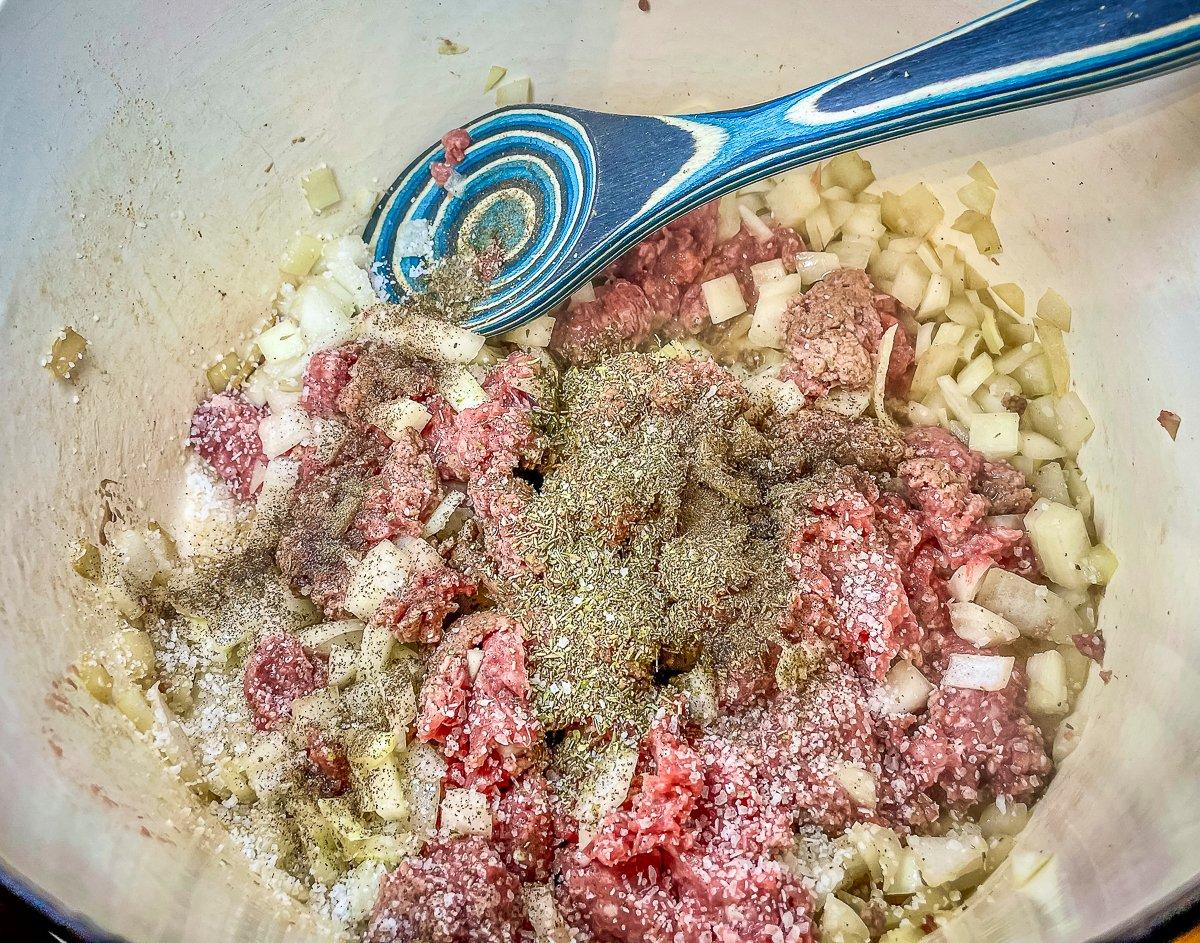 Quarter or halve the red potatoes.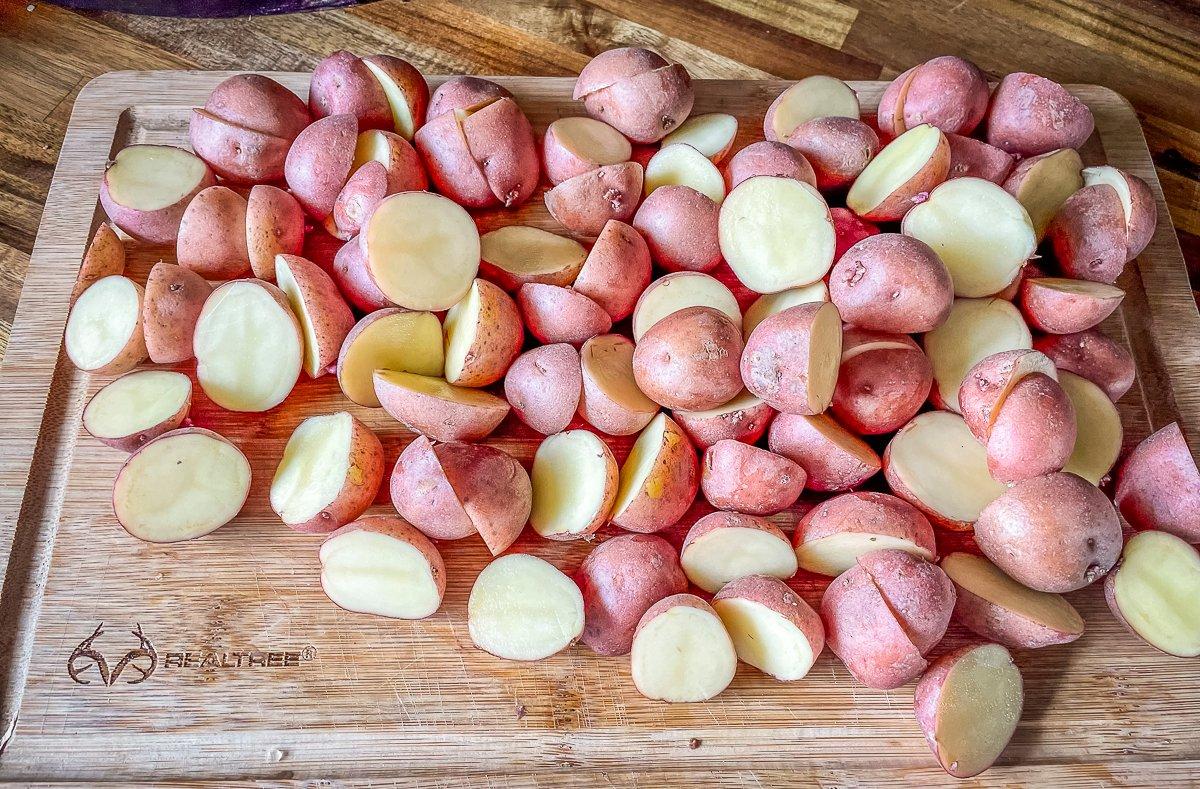 Add the chicken stock and potatoes. Bring the mixture to a boil, then reduce heat to simmer. Cook, covered, until the potatoes are tender, about 25-30 minutes. Add the greens and continue cooking until they are tender.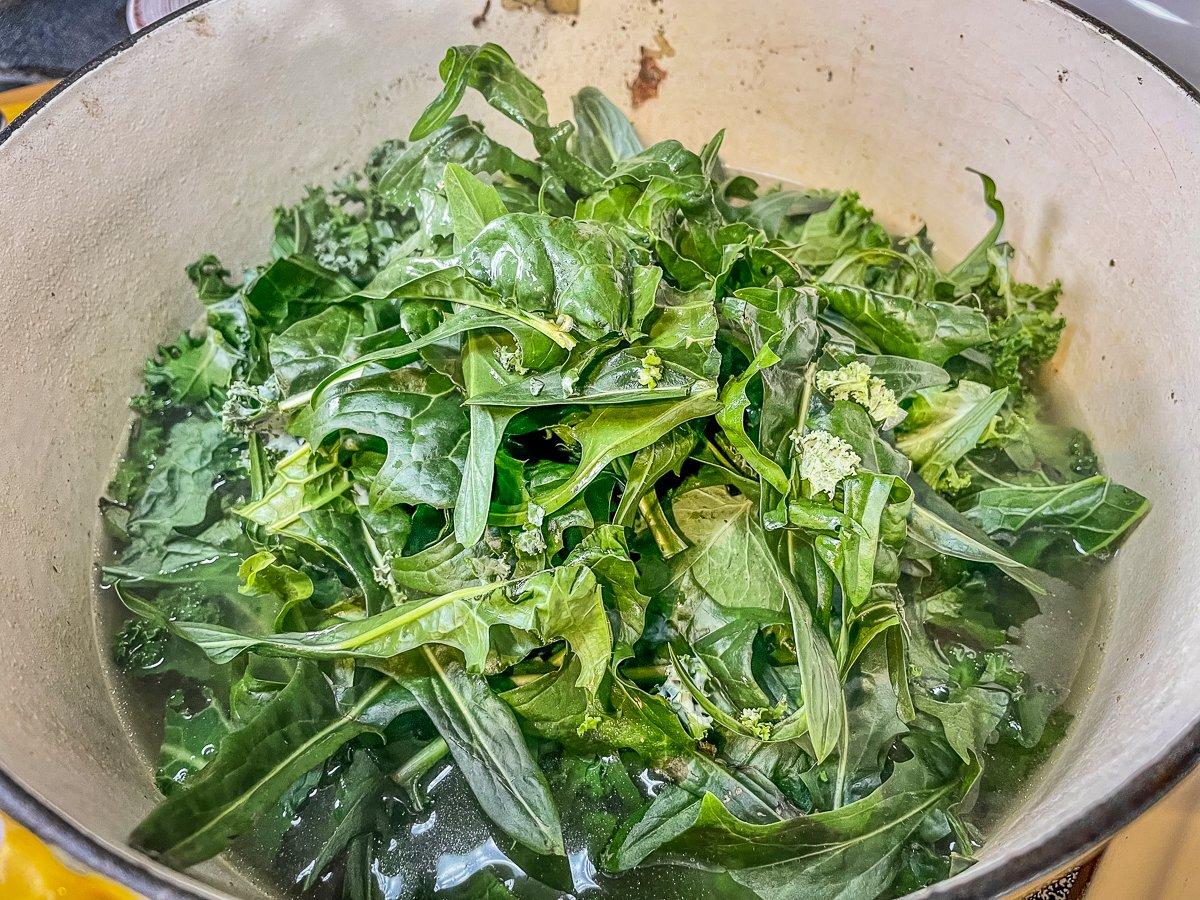 Return the venison and bacon to the pot. Add the heavy cream, sour cream, and red pepper flakes. Stir to blend. Add the white wine vinegar and check for seasoning. Add salt, if needed. Serve topped with freshly grated Parmigiano Reggiano cheese.