Wild Turkey Leg Korean Jjimdak Stew Recipe
Knowing that I'm ever on the lookout for new recipes using wild turkey legs and thighs, my oldest son Hunter recently shared one of his favorite Korean-style dishes. Jjimdak is a Korean stew normally made with braised chicken. We substituted wild turkey legs and thighs (two leg/thigh sections, one turkey's worth) that had spent the day in the slow cooker with 12 ounces of chicken broth.You can cook the turkey up to three days in advance of making the stew. Just pick the meat from the bones and store in a covered dish or zip-style bag in the refrigerator.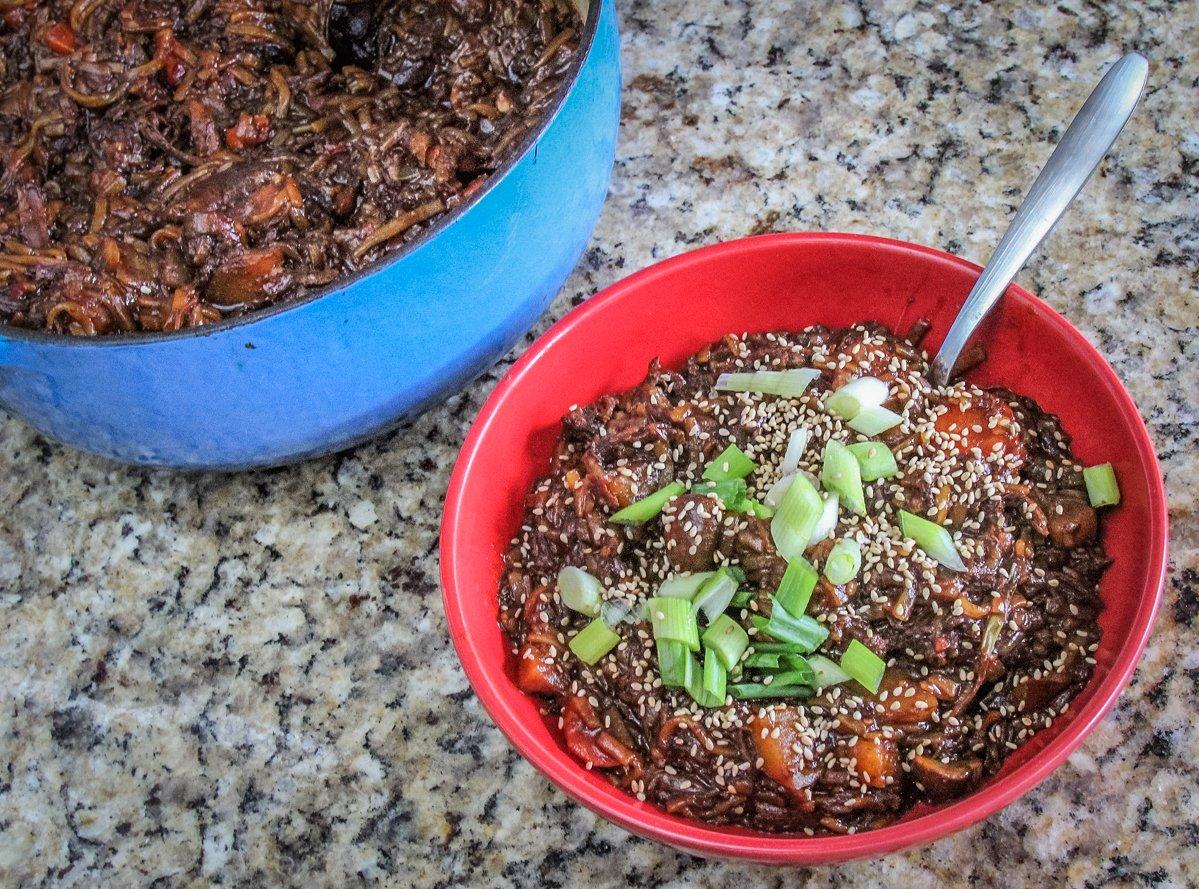 After the turkey had cooked through, we pulled it from the bone, making sure all tendons and other non-edible parts had been removed. The boned-out turkey went into a stockpot, along with diced potatoes, sweet onion, a carrot and the sauce blend. The mixture was brought to a boil, covered with a tight-fitting lid, then the heat reduced to a simmer.
With the addition of mushrooms and softened cellophane rice noodles, the stew makes a hearty and delicious meal. A bit sweet, a bit savory, and with spice from dried Thai chili peppers, this stew makes a perfect meal for the upcoming cool days of fall.
Ingredients
Boned meat from two each wild turkey leg/thigh combos, cooked in slow cooker
3 to 4 medium Yukon Gold potatoes, cut into bite sized pieces
1 medium to large Vidalia onion, roughly chopped
1 large carrot, cut into bite sized pieces
8 ounces button or oyster mushrooms, sliced
3 green onions, cut on the diagonal into 1 pieces
3 dried Thai chili peppers, diced
8 ounces rice cellophane noodles, softened in warm water
3 1/2 cups chicken broth, divided (1 ½ cups for slow cooker turkey, 2 cups for Jjimdak)
Sauce (mix separately)
1 1/2 cup water
3/4 cup soy sauce
2 Tbsp dark brown sugar
2 Tbsp rice wine
2 Tbsp Sesame Oil
2 Tbsp honey
1 Tbsp oyster sauce
1 Tbsp minced garlic
1/2 tsp minced ginger
1/2 tsp ground black pepper
Cooking Instructions
Place two wild turkey leg/thigh sections in a slow cooker. Add 12 ounces of chicken broth and a teaspoon each of salt and black pepper. Cook for 8 hours or until the turkey is tender and falls from the bone.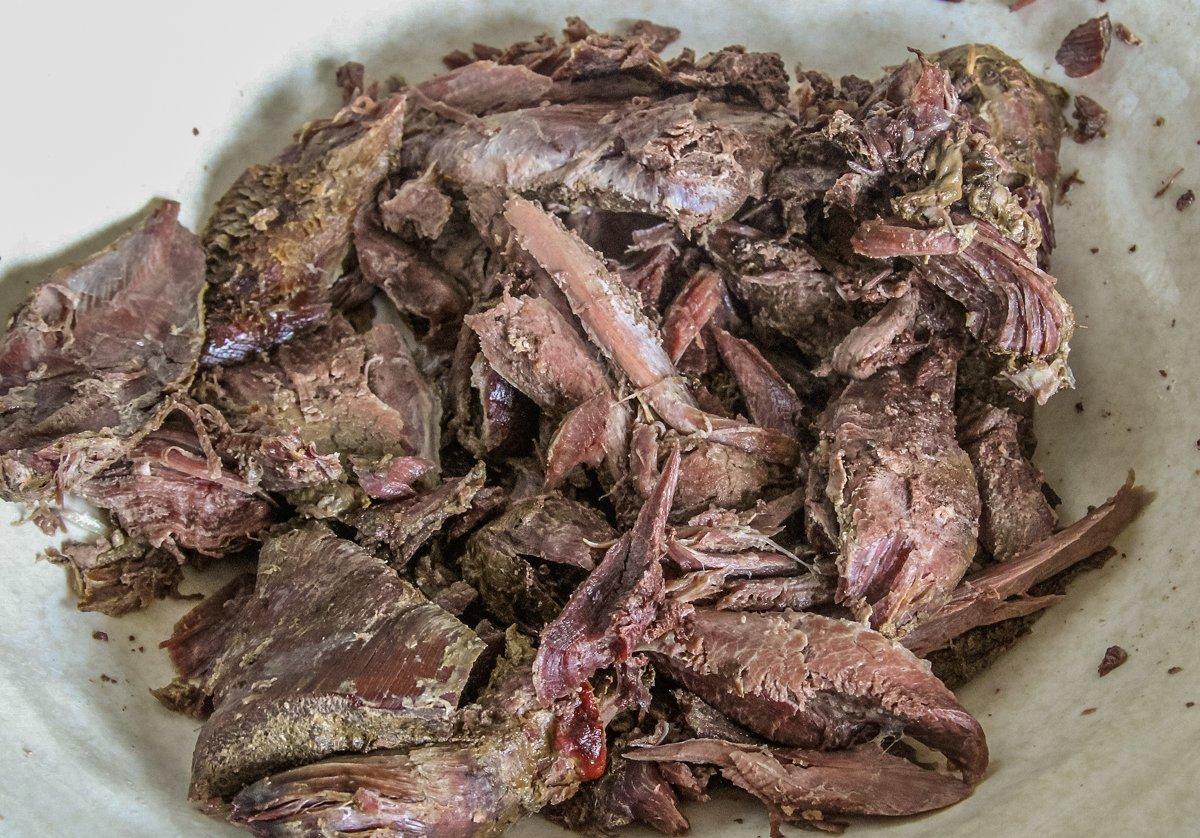 Add the turkey to a stock pot over medium-high heat. Mix the sauce ingredients in a separate bowl and pour over the meat. Bring the mixture to a boil and add the potatoes, diced dried Thai chilis, carrots, and Vidalia or other sweet onion. Reduce to a simmer, cover, and allow to cook for 10 to 15 minutes or until the potatoes begin to soften.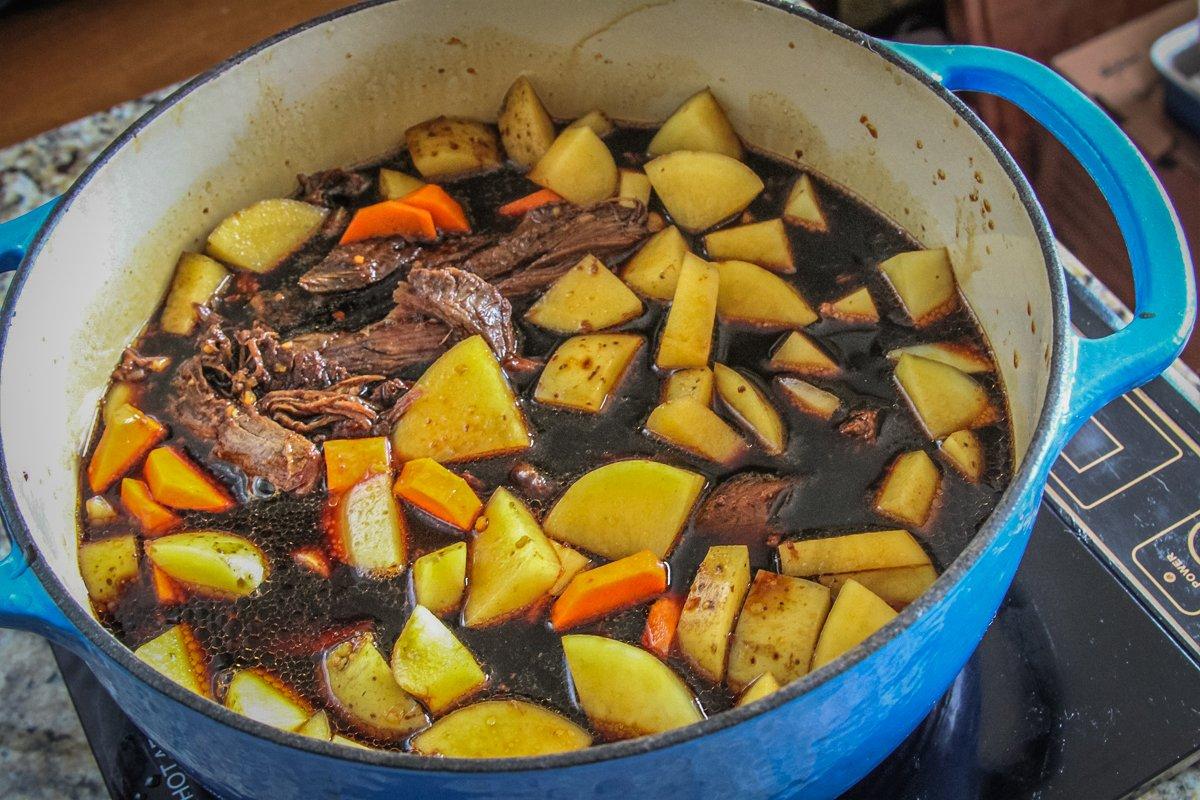 Add the mushrooms, green onions and softened noodles, and 2 cups chicken broth. Return the mixture to a boil, reduce the heat, cover the pot and continue simmering for an additional 10 minutes.