Turkey Hunting Legend Passes
John H. Byrne, Jr. of Lowry, Virginia — arguably the most famous turkey dog man in the history of our tradition — died Monday night, September 3, 2012.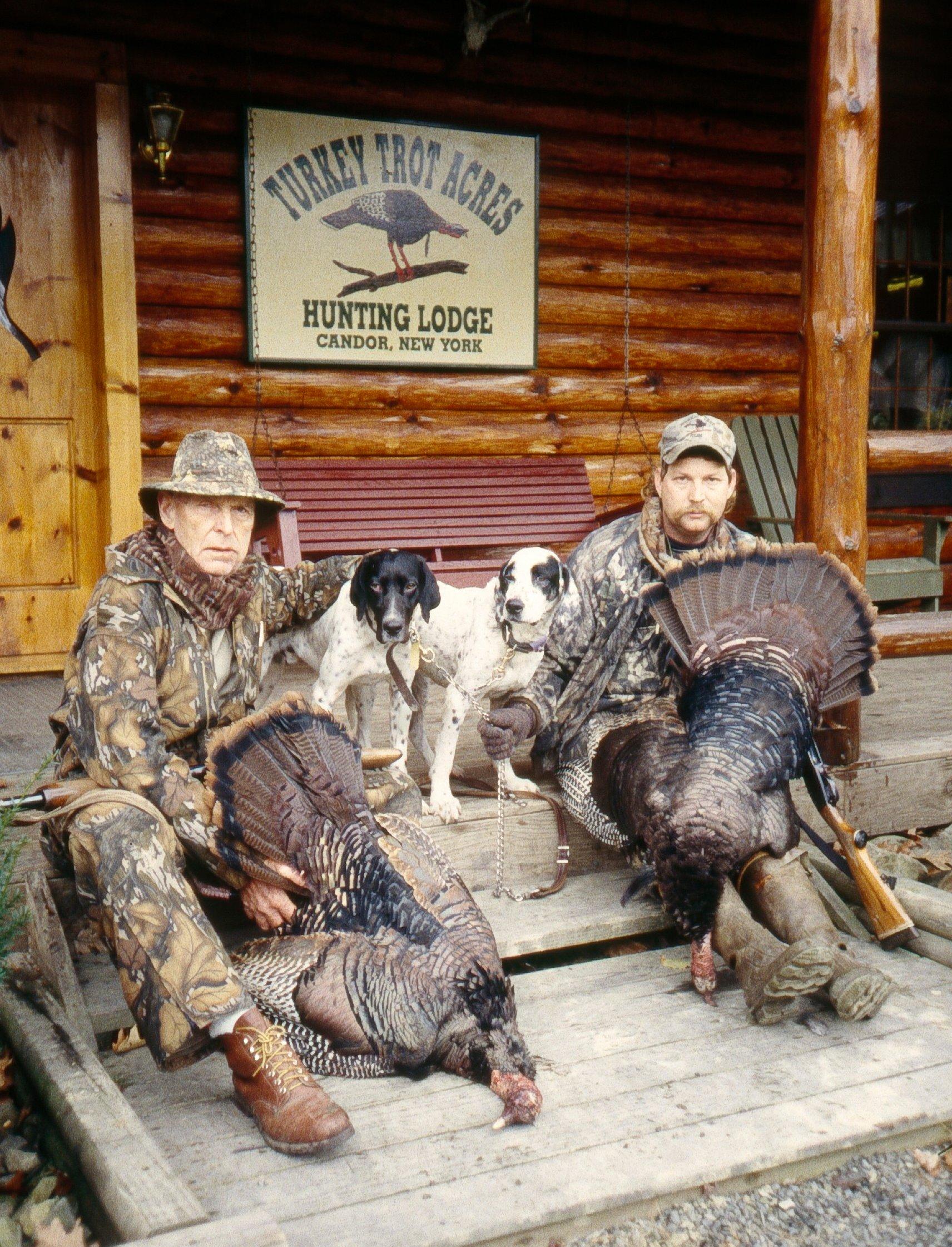 (c) Steve Hickoff photo
When a turkey hunting legend passes, the friends who knew him share the word. According to Pete Clare of Turkey Trot Acres who phoned me that evening, John had visited with a longtime hunting buddy that afternoon, and passed away, surrounded by family. He left the world on the same farm where he was born way back in 1925.
As a breeder, Byrne leaves a legacy of Appalachian Turkey Dogs who will hunt with fall turkey hunters around the country this season. His son J.T. (John Tyler Byrne) and John Tyler's wife Cathy will continue the selectively-bred line of pointer/setter/Plott hound. His legacy also shaped those of us who don't handle Byrne dogs, but run our own preferred breeds to find autumn turkey flocks, scatter them and sit tight for the call back.
Each one of us turkey doggers who uses a zippered camouflage bag of our own interpretive designs to settle our dogs in the blind extend the invention created by John and his wife Miss Sue years ago. John always emphasized you should train but not break a dog's spirit. His strong yet graceful influence was also tempered by thoughtful and humble encouragement, even if you didn't own a Byrne dog, as when he met my snow-white setter Midge years ago during a Turkey Trot hunt. He was a man comfortable in his own skin; tough when he had to be, but also funny, warm and full of wit (Hunting fall turkeys without a dog is like going on a honeymoon without a bride). We'll all miss him but remember the good memories frequently — especially when hunting fall turkeys with our dogs.
It's safe to say that the history of modern turkey hunting was influenced heavily by Mr. Byrne, and also Pete and Sherry Clare of Turkey Trot Acres who continue to promote the fall turkey dogging tradition with Byrne dogs. It's Pete who first brought television show film crews and writers like me to camp all those years ago (over two decades now) to spread the good word. We did then. We still do. There's a whole new wave of modern turkey dog men and women too . . .
Like many over the years, I was fortunate to call John Byrne a friend and mentor. Though I've never owned a Byrne turkey dog, I've hunted with many over the past 20 years at Turkey Trot Acres. My own dogs (English setters) have been serviceable fall turkey dogs as well where it's legal, largely due to the examples of John, J.T. and Pete. All of us turkey doggers — whether we run Byrne dogs or not — represent their tangible influence. Thanks, John. We'll miss you but keep your memory alive.
John H. Byrne, Jr.'s memorial service will be held Friday, September 7 in Bedford, Virginia. His obituary follows here.
Steve Hickoff is the Realtree Turkey Hunting Editor and Blogger.