Tag Last-Chance Gobblers This Spring Season
Shooting a turkey always makes the old emotions flow. There's much joy for the success achieved, some measure of relief from the hunt's intensity (especially those make-or-break closing minutes as a gobbler finishes his approach), and even a little regret for removing such a creature from the face of the planet.
But there's more. When you shoot that bird -- in the context of hunting hour rules, or your hunting day, or a trip you are on, or even the entire spring hunting season -- it adds another level of feelings.
Shoot a bird right away and the fun's over. Hunt until the bitter end without success and, let's admit it, there's a little sadness (and there's nothing wrong with that, for shooting a bird is after all one of the reasons we go).
That all means the last-chance, last-minute gobbler is the almost perfect bird: You get the full fun and thrill of the complete hunt, plus the reward of success to bask in now and savor forever.
Of course, that kind of timing perfection can be rare. But, with effort, it comes along often enough to make for some very memorable turkeys.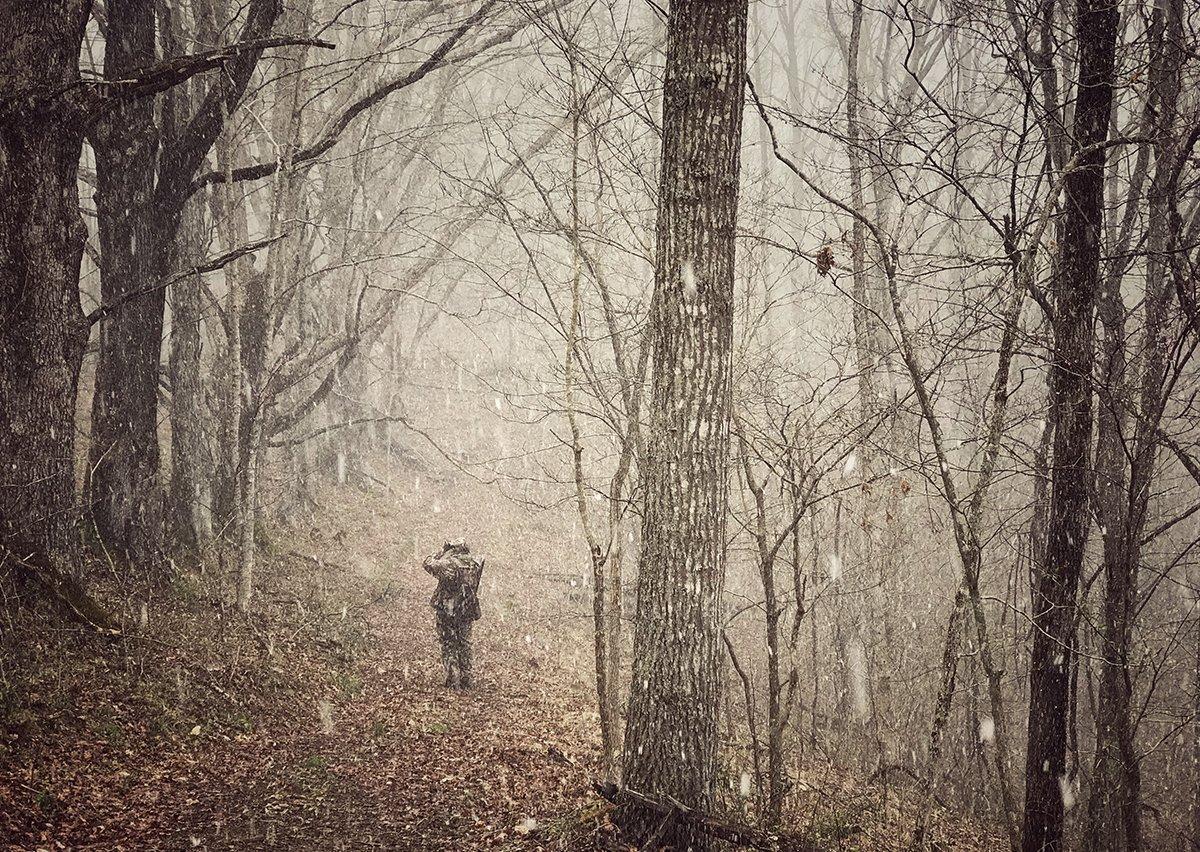 Shooting Hours Cutoff
Sometimes, shooting hours are the cutoff to be beat. My very first turkey, a quarter-century ago now, was such a bird.
I was hunting along the New York/Massachusetts line with my friends and first turkey hunting mentors, Glenn Sapir and Bill Hollister. At the end of a gorgeous and warm mid-May morning, we were working toward the truck with the noon close of shooting hours bearing down.
At about 11:50, in a meadow yet two ridges up from the vehicle, we spied a gobbler's fan pirouetting on the other side of one of the stone fences that traverse the countryside.
Now to me, turkey hunting is hunting, and sometimes you have to go rogue to get your bird. With zero turkeys yet under my belt, that sentiment in me was especially strong.
"Give him a try," Glenn smiled when I told him my plan. "You've got about 10 minutes."
The stone wall was perfect for hiding my approach. I army crawled fast as I could to a crumbly gap in the wall that seemed to be along the bird's travel path. When I peeked over, a hen was feeding maybe 25 yards out. I came up on one knee with the shotgun ready.
There was no gobbler to be seen. But the accompanying jake, with a head as red as cherry, was no booby prize. I shot, and as I was admiring my 14.3-pound prize (I still remember what he weighed on my fishing scale later at the truck), the noon whistle went off in the town down the valley as my friends walked and grinned their way across the meadow toward a grinning me and my trophy.
Hunting Day's End
It was one of those cold, spitting, pesky, persistent rains that just sort of chills a person down to the very bone and soaks them up to every inch, no matter how good your rain gear.
I had stuck it out, though, on my friend's Wisconsin farm, for the morning's duration. But I was done. Extreme shivering had set in. The blood was gone from my now totally numb hands. Six or seven hours in the rain will do that to you.
But, as any good turkey hunter might do, I decided to make one more set of yelps on my mouth call before exiting the timber and crossing the last hayfield to my truck.
GAROBBBLE-OBBLE-OBBLE! And mighty close too.
The story doesn't take long from here. I slithered to my already-soaked butt into last fall's wet leaves at the base of an oak, raised my shotgun, called once again, and shot a gobbler at 35 yards or so not one minute later as he marched up a logging trail to my post.
I didn't feel quite so cold or soaked crossing that field with a gobbler over my shoulder.
Don't Miss: How to Kill Turkeys in Any Weather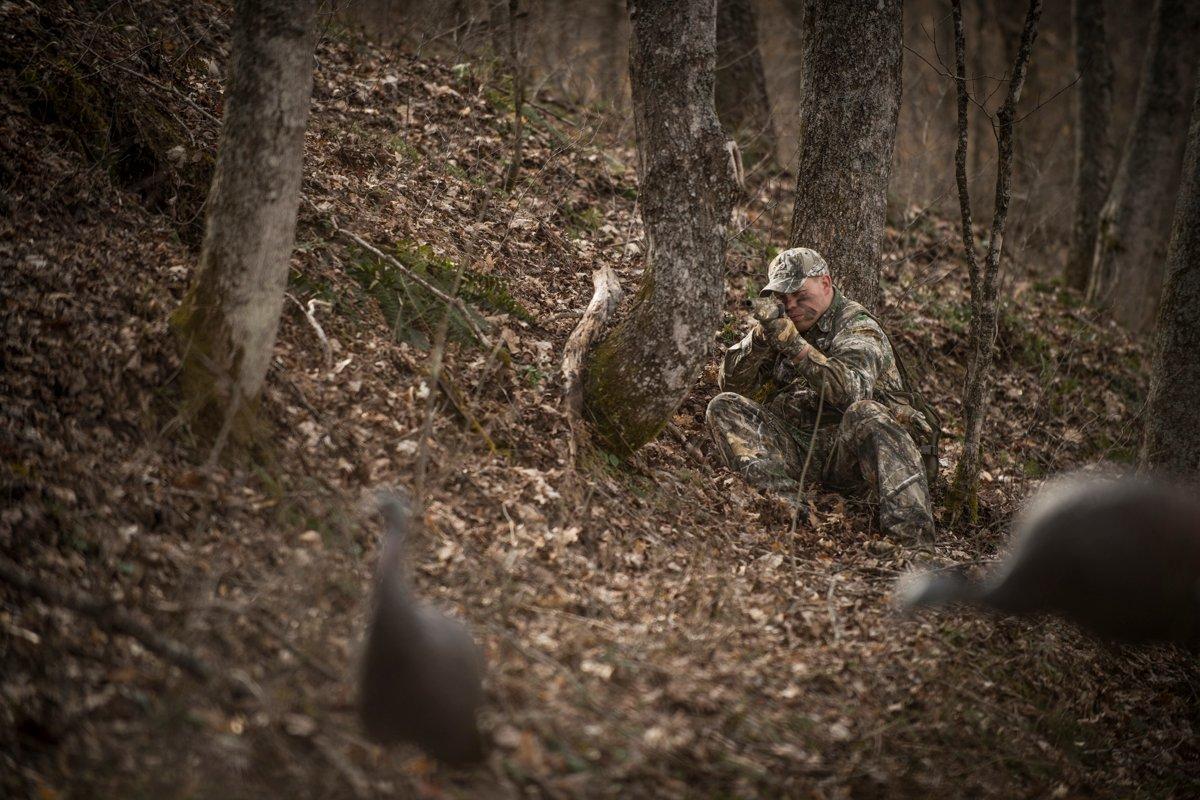 Trip Closer
My middle boy Ethan was in high school. You may know how it is with kids these days: busy. But I had managed a two-days-plus-part-of-a-morning South Dakota hunt right in the middle of his senior spring of high school.
Stuck with must-hit hard starts and ends to the hunt, we dealt with the windy, rainy, sleety, blowy days we got. And our hunting results reflected the weather. But we had maybe two hours of one more morning to hunt.
"Let's just hang by the cabin here tomorrow," I said on the hunt's last evening. Our friend Bruce had regularly seen turkeys crossing at a gap in a pasture fence a mere hundred yards away, so by headlamp I built Ethan a makeshift ground blind of branches and dried grass to hide in.
He was nestled in there before shooting light the next morning, and I went down a different drainage. Shooting light arrived. Bruce had said the turkeys usually showed up around 6:30. At 6:28, I heard a shot that could only have been my boy.
I had to check and see. Crossing the cabin yard, I could see Ethan heading my way and toting a big old gobbler. I didn't even call," he laughed. "They just walked right past."
Sometimes it's good just to be persistent for every minute you have ... and listen to advice from those who know the area's birds better than you.
Season Coda
It had been a long spring. My last hunt -- in my native Wisconsin again -- was about over. There was one more morning to hunt before I had to get back to life's realities.
Bad weather seems to be a theme here, but that may be for a reason -- it hampers our success. But the last evening, skies cleared, wind died, I had a bird roosted, and morning promised great things.
Except my turkey was gone. Who knows how or why, but it happens. Yet there was hope: a whole passel of gobblers was sounding off a half-mile down the valley. I unloaded my gun and took off at a jog.
Twenty minutes later I was set up and calling, but when the birds dropped down they walked off along the ridge's other flank. So I skedaddled down my side in the same direction for a hundred yards or so, before clambering to the top and set up against the buttresses of a big old oak.
F​rom there, it was one of​ my most delightful turkey-​hunting mornings ever. And it's worth noting the date was May 21.
After a few hours of turkey talk, fighting gobblers, chasing jakes, squawking hens, close calls and other coming and goings, one gobbler swung my way for a shot at 8:30 a.m. ... 3 1/2 hours in from the 5:04 start to shooting hours.
There was actually time for breakfast at a cafe in town ... and a few hours to go trout fishing before I had to say goodbye to another spring turkey hunting season for good.
No matter what's driving your turkey hunting last chance, there's still a chance.
Don't Miss: North America's Easiest Turkey Hunts
More Realtree turkey hunting. Follow Realtree on Facebook.