With the finish line in sight, fewer hunters in the field, and nice spring weather, some of the best turkey hunting is still to come across much of the Northern U.S.
Turkey season blows by way too fast, doesn't it? It seems like I just wrote my first Strut Report last week, but that was actually six weeks ago. We're now in the fourth quarter, and this is my final report. But some of the best turkey hunting of the year will happen within the next week and a half in states with seasons that run through the end of May.
Last Wednesday, I hunted opening morning of Wisconsin's time-period D and had a short bowhunt. I heard gobbling from the truck, closed to within 150 yards, and set up my decoys before hiding in the brush along a bean field. The two toms gobbled at everything I said. They flew down in the timber, entered the field and came in on a string. They had no hens, and they approached my jake decoy with purpose. I arrowed the strutter, and my morning was practically over before it began.
With two other time-period D tags, I hunted a large state wildlife area and heard no gobbling, despite popping in and out of several spots with great habitat. Next, I tried some county land and found two toms about a mile from a parking area in a field, but they were on private land. They gobbled hard at my calls and came close, but they evidently wanted the hen to come out into the field. Once they started ignoring me, I backed out.
I called the landowner and was granted permission to hunt the field. Three mornings later, I gunned down a big old limb-hanger. He gobbled at my calls, then spit and drummed his way to within 25 yards of my setup, but ultimately didn't threaten my jake decoy. After shooting him, I noticed he'd incurred some leg injuries, which probably explains why he wasn't confrontational. My third tag went unfilled.
I don't hold time-period E tags, but some are available for Zone 3 if I find the time to get out. Regardless, I have two time-period F tags and plan to get back out on some properties in Zone 5 that I haven't hunted yet this spring. I'll be using a jake-and-hen decoy spread, as I usually do when I bowhunt. The only exception will be if I pattern a tom in the same 30-yard radius for a couple consecutive mornings. Then, I'll just use a single hen. The last week of the season is my favorite. There are fewer hunters in the woods, most hens are nesting and toms are still ready to rumble.
(Don't Miss: What's Causing Poor Hatches of Turkey Poults?)
Moving west to Montana, Levi Johnson of Doggin' With Levi said, Birds are gobbling good in the mornings, but during the days and afternoons, they're not gobbling much and haven't been responding to our DSD decoys. Gobbling activity increases as birds head for their roosts. On a recent outing, I had four gobblers come within 80 yards of the decoys, but they fed away. Temperatures are rising, and birds seem to be seeking shade under pine trees.
I also followed up with Carter Heath, NWTF's New England regional director, in New Hampshire, who recently doubled with his hunting partner, Philip. Our weather practically went from winter to summer, he said. The delayed habitat progression made it difficult to see birds for a while, but now they're out bugging a lot. I've also seen some breeding happening over the last few days. Action has been good, but I believe the best turkey hunting is still to come up here in the Northeast.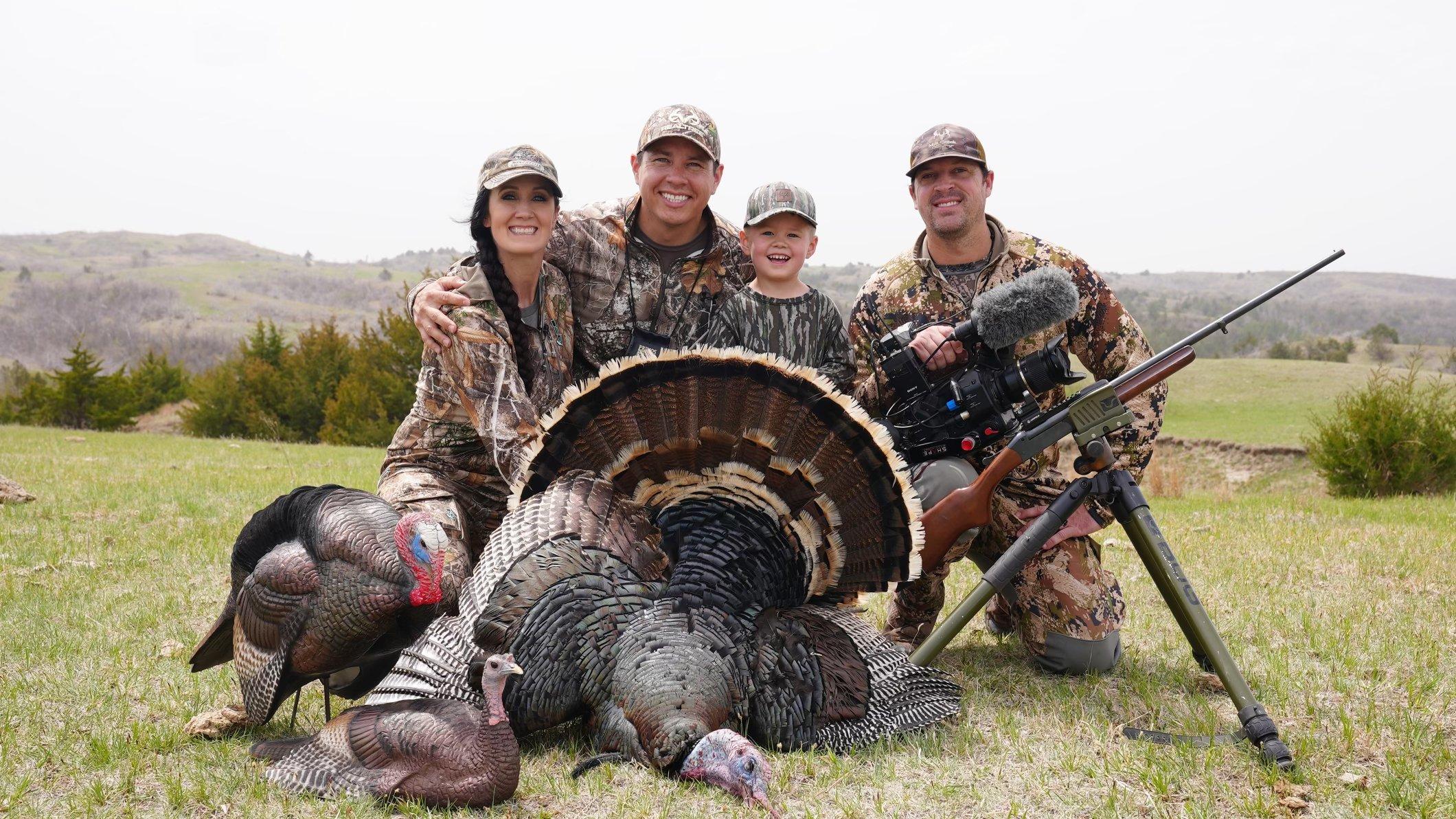 Out in Nebraska, Ben Bearshield and wife, Melissa Bachman, took their 3-year-old son, Jax, to hunt with White Oak Outfitters in Nebraska, where they experienced great decoying action. They hunted an entire day and eventually had a tom come to the decoys. But he was moving too much while beating up the jake decoy, not giving Jax a quality opportunity. Then, some jakes ran him off.
The next day, Bachman said, we heard a bird gobbling and worked him for about an hour. He popped over the hill and came straight to the decoys. He was super interested in beating up our jake decoy, giving Jax the time needed to get make the shot with an old Winchester .410 bore. Pretty impressive at age 3!
For those still chasing spring thunder for the next week and a half, I hope you end your season with a bang, just like young Jax!
Until next spring …
(Don't Miss: Fool a Field Turkey Without a Fan)