Teal Seasons Open Soon. Here's How to Get Ready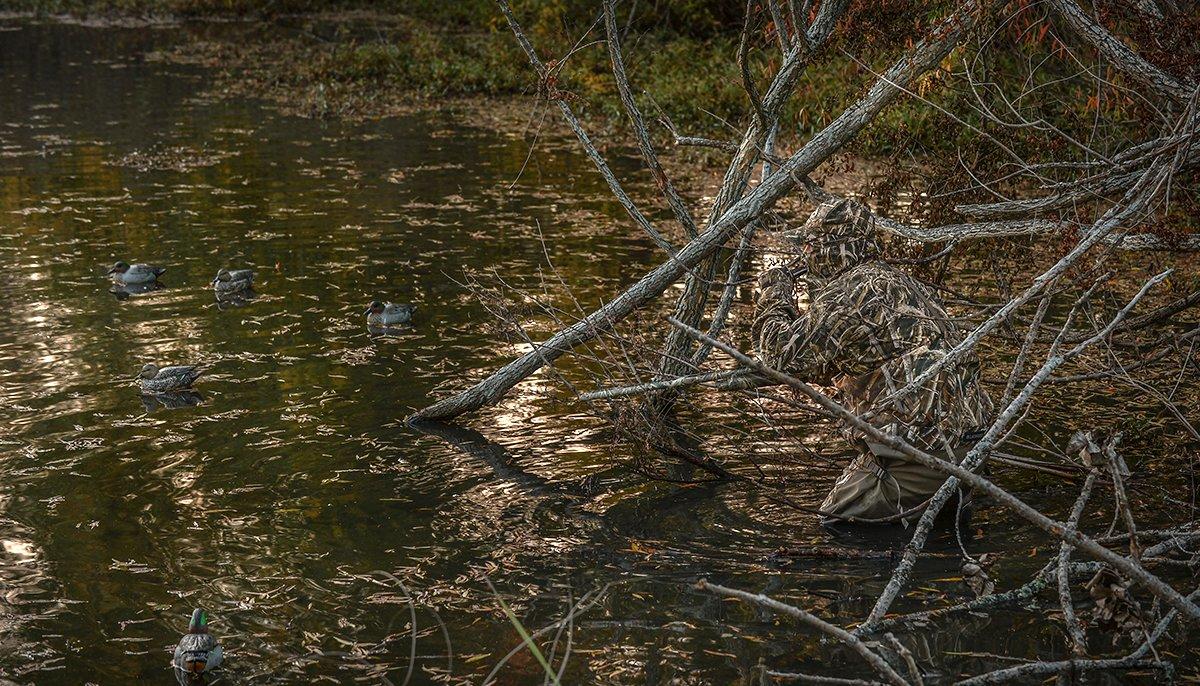 There's no way around it. I love teal. Would I rather shoot seven greenwings or big, fat bluewings than the same number of greenheads? Yes. There, I said it. And that's not because teal are dumb. It's not because they're easy. And it's certainly not because teal fall into the category of other ducks — you know, those ducks that aren't mallards; the ones needed to round out your limit. Ugh.
Nah, teal are just flat awesome. They can be tough. They can be gullible. They're small. They're fast. And for even the best shooter, they're challenging. And teal on the table? Imagine filet mignon wrapped in lobster. With wings. Yeah, they're that good.
But I think one of the best things about teal is, with some exceptions — notably the Pacific Flyway — that waterfowlers can start chasing the speedy little ducks in September, a month before regular seasons open. It's a teal-only proposition, minus a few special cases. Kentucky, for example, lets hunters take wood ducks during its early teal season, making it an even more attractive teal/wood duck event. And wood ducks, at least to me, are darn near as good on the barbecue as teal. Almost.
Teal hunting isn't without difficulties. Conditions are hot. Humid, too. There's the mud. (Note: Teal like mud and mud-related places.) And lest we forget, the mosquitoes. Holy cats, the mosquitoes. Teal season, I reckon, is why the ThermaCell people started their business. And by the way, a ThermaCell unit is a must in every teal hunter's blind bag, to the point of being required by law in some places (I think).
Yet despite those challenges, I still maintain that teal are awesome. Here's a quick run-down on how to throw you into the mix — and marsh — this September.
Where Teal Live
If I could create the ideal teal marsh, it would look something like this. I'd start with a shallow — 6 to 10 inches of water should be plenty — irregularly shaped puddle about the size of a football field. I'd put that in the middle of a cattail marsh, with muskrat houses on all sides so Sadie Mae — she's a black dog — and I could sit, regardless of wind direction. The puddle would be full of smartweed, duckweed and millet, along with untold millions of little bugs, crustaceans and swimming critters, also known as duck food. Throw in a few stray willows and a broken here-and-there border of pin oaks, and you'd have a fairly perfect little teal marsh.
During the 40 years I've chased teal, I've found them in some fairly odd places. Odd, that is, for teal. I've seen them on big rivers and small rivers. I've chased them in narrow creeks and isolated, snag-filled beaver ponds — waters much more suitable for wood ducks than bluewings. I've jumped them off pasture ponds and watched them battle wind and waves on storm-tossed Midwestern impoundments. But those are strange places to find teal. They're creatures of the aforementioned marsh; shallow, quiet, weedy, food-filled waters. Puddles where they can tip up and muck around a bit in the soft bottom. Blue-wings adore such puddles. The smaller greenwings are more mallard-esque in their approach to habitats. That is, they'll sit just about anywhere there's food. Still, even greenwings are partial to marsh-type environments. True, it can be a backwater bay to a flow as large as the Mississippi River. Still, if it's a marsh — even a marsh measured in square miles —it has potential as teal habitat.
Trust the Weather Channel
With the possible exception of mourning doves, teal — blue-wings especially — are the game bird most influenced by changes in weather — that is, decreases in temperature. A passing cold front two days before the season opener can transform a marsh teeming with the little ducks into a vacuum of avian emptiness.
My advice? Watch The Weather Channel. Ideally, you're looking and hoping for a weak cold front from the north just before the opener, followed by moderating temperatures. In the utopian scenario, that brings birds south, lets them get acclimated to their new surroundings — and gives you time for some up-to-the-minute scouting — and then keeps them around for a few days before another weather shift and hunting pressure pushes them southward. How cold is too cold for bluewings? Frosty mornings will do it. So will see-your-breath temperatures. The bottom line is if mosquitoes have ice on their wings, birds are coming. Or they're going, depending on what side of the line you're on. Remember — The Weather Channel.
Decoy Spreads
I have teal decoys; lots of teal decoys. However, I seldom use them specifically for attracting teal. Why? Because teal, in my experience, really don't care what kind of duck they're rubbing wings with; only that they're safe, warm and well fed.
Mallard decoys work fine for teal. So, too, will a mix of mallards, wigeon, gadwall and shovelers. Again, the little ducks really don't seem to care. Bigger decoys — that is, mallards — are just that: big. They show up well among the vegetation and abundant teal food of a September marsh. Teal decoys are, like the birds, small and can get lost in the smartweed, lily pads and spike grass.
I'll set a dozen to 15 mixed puddlers on short Texas rigs; a carnival spread of dabblers, including a handful of teal, simply because I have them. I use no special arrangement. The random placement theory works fine for bluewings and greenwings. Usually, I'll include a jerk cord, especially on still days. Plus, a cord gives me something to do when things are slow. Most significantly, though, my teal spread will feature a centrally located, high RPM spinning-wing decoy — something configured like a teal, dove or even pigeon, retro-fitted with a 9-volt battery for added spin. Teal, like wood ducks, seem to be suckers for a spinner, and where legal, I'll set one or two just above the surface.
Calling Teal?
Occasionally, teal will circle around to investigate hen mallard quacks and highballs emanating from a clump of cattails. Sure, mallard sounds work on teal. Sometimes. Better, though, are teal sounds: high-pitched, fast-cadence quacks that sound more like meep-meep-meep-meep-meep than what hunters traditionally think of as quacks.
Consider teal-specific calls. Many manufacturers, including Duck Commander, make them. Any mallard call will work, too. Just pinch down the airflow, and blow it hard and fast. I always hang a whistle on my lanyard, too. Many commercial models work, although I've had plenty of success peep-peep-peeping at teal, especially greenwings, with a referee's whistle played upside down or with the pea removed.
Shot Size: The Right Choice
Several years ago, as I prepped for a dove hunting trip, I discovered many of the state-owned areas I'd be visiting require gunners use nontoxic shot, regardless of the species. So enlightened, I tossed a case of Remington 2-3/4-inch, 1-ounce steel loads of No. 7s into the truck, and discovered the little loads performed tremendously well. Since then, I've experimented with the light loads for teal and find the results equally satisfactory.
Steel No. 7s work well on teal — and doves — for several reasons:
Pellet count and, therefore, pattern density: One ounce of steel No. 7s contains 422 steel pellets, compared to 315 steel No. 6s and 243 steel No. 5s. That outnumbers even traditional lead No. 7-1/2s, which post only 350 pellets per ounce. More pellets equal denser patterns. And in my book, that equates to an increased chance of hitting something that flies at the speed of light.
Velocity: Steel is light. Therefore, ammunition companies can make it quick, with 1,290 to 1,350 feet per second being common. Remember, however, objects that start fast also shed velocity and retained energy more quickly than slower loads of larger pellets. What's that mean? Although exceptions occur, steels No. 7s are an up-close proposition, with 35 yards — perhaps 40 — being the limit.
Penetration: Steel No. 7s are hard, tiny, needle-like projectiles. As such, they don't ball up on impact. Rather, their size doesn't let them be surrounded by feathers, flesh and muscle before punching into vital areas. They don't lose their oomph before getting the job done. True, as mentioned, these small pellets shed energy quicker than larger pellets. However, a shotgun is a short-range waterfowling piece, remember?
Although steel No. 7s work well, are readily available and are inexpensive (at $7.50 per 25-round box, on average), you can find other nontoxic teal alternatives. Kent Cartridge Co. (kentgamebore.com) offers teal hunters a choice between the company's aptly named TealSteel, available in a 12- or 20-gauge format in Nos. 5 or 6 shot, and its latest addition to an already well-stocked waterfowl lineup: a 2-3/4-inch hull filled with 1-1/4 ounces of No. 4 bismuth. It's a bit more spendy but undeniably effective. Hunters might want to take a gander at Kent's Steel Dove loads, also new, which throw 1-1/8 ounces of No. 6 steel out of a 2-3/4-inch case. Hailing from Sweet Home, Oregon, the folks at Environmetal/Hevi-Shot (hevishot.com) provide teal hunters with another option: Hevi-Teal, a 12-gauge 3-inch hull filled with Nos. 5 or 6 steel. And new for 2018, Federal Premium (federalpremium) has expanded its Speed-Shok line of nontoxic ammunition to include teal-friendly choices, such as a 2-3/4-inch, 1-1/8-ounce load of No. 6 steel (12-gauge) or a ¾-ounce load of No. 7 steel in 20-gauge.
Click here for more Realtree waterfowl hunting content. And check us out on Facebook.