Mild conditions dominate; hunting pressure increases
Date: Dec. 12
Location: entire Pacific Flyway
Weather Trends/Water Conditions
Weather conditions have returned to mild after a brief cold snap through Thanksgiving, wrote Washington state calling champ Mike Callian, of the Eastside and Tri-Cities area. Fog has been almost a daily factor, hampering much of the goose hunting. Water is mostly open. A few areas still have rotting ice from the cold snap, but with the current rain and above-freezing temperatures, it's melting quickly.
Closer to home, the weather is similar. We had a brief cold spell after Thanksgiving, but warmer temps — 40s and 50s — have returned, along with frequent blue skies and little to no wind. The 10-day forecast for western Washington calls for intermittent rain showers with a mix of sun and temps in the 40s and 50s. Fields aren't dry, but I'm not seeing much sheet water. The tides have been surprisingly nice the past couple of weeks.
To the north, Geff Duncan, an Avery/Banded staffer, said he has very little water near his part of Lewis County and the I-5 corridor.
It's supposed to rain a bit this week, but right now, unless it's already a swamp, you're not looking at much in the way of water, he said.
To the south, back-to-back weather systems have moved quite a bit of water into southern Oregon and most of California. Inland, those storms dumped snow in varying degrees across eastern Idaho, Wyoming, Montana and parts of Utah and Colorado. According to the Old Farmer's Almanac, the Intermountain West — essentially eastern Washington south to northern Arizona — will see slightly above-normal temps throughout December, with only moderate snowfall. I'd guess the Old Farmer is spot on.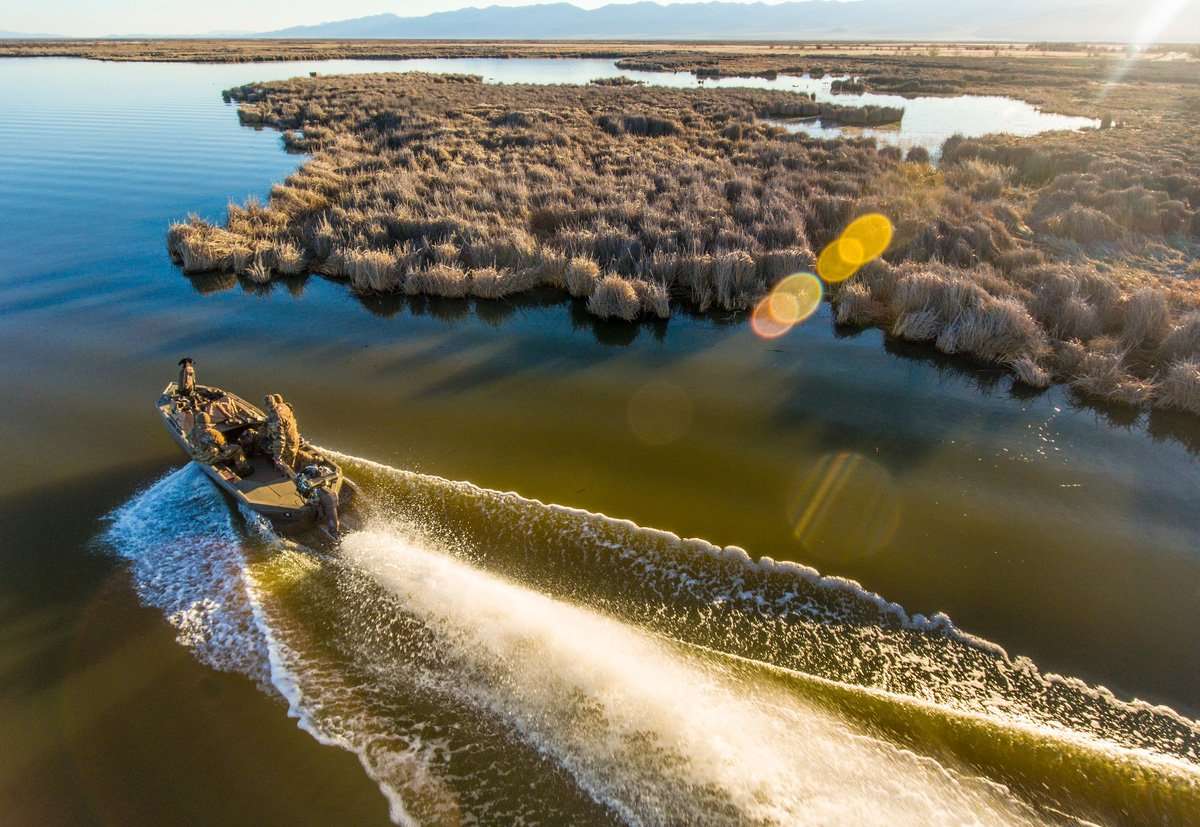 Personal Hunting Report
In November, my story was hero or zero. That's still the case. Geese abound, including a ton in some places. However, I continue to struggle with the Canadas. Often, it seems I have permission in one area but the birds want something a half-mile away. But there's a lot of goose season left.
Ducks? It's been really good or really slow. I took a high-school senior to a small tidal marsh Dec. 1, and we had a bang-up shoot, getting 11 greenheads and two drake green-winged teal. I also saw what I think was a drake mallard packing a transmitter, or so the whip-like antenna trailing behind him suggested. K.C., my sidekick, saw it, too. Overall, we saw a lot of ducks, many of which wanted to play. Green-winged teal led the numbers, with mallards a close second, along with a handful of northern shovelers and four pintails.
Five days later, I returned during similar weather conditions — mild temperatures, light breezes and blue sky — and killed the only two birds I had in the decoys. It was enjoyable but extremely slow compared to the previous hunt.
I was encouraged Dec. 9 by the number of pintails and wigeon I saw on Willapa Bay during an impromptu scouting trip. The wigeon have been here for a while, but not in the numbers I saw that morning. As for pintails, the U.S. Fish and Wildlife Service might be right about the pintail population being down and, as a result, spot-on with its one-sprig daily bag limit. Incidentally, I've heard from reliable sources that will continue into the 2020-'21 season, perhaps along with a reduction in the daily Pacific Flyway scaup limit from three to two.
Chatter/Future Hotspots
Folks believe there's an increase in hunting pressure, but they can't determine a reason. Maybe YouTube influencers are prompting folks to jump on the duck and goose bandwagon. Waterfowl populations, with a couple of exceptions, are doing well, so it makes sense that more people would take advantage.
Elsewhere, prospects vary.
It's been slow until this past week, when we had a good push of birds, Duncan said. We actually have quite a few wood ducks around, which is somewhat unusual for this time of year. They've normally moved on by now. Mallard numbers seem good, with a few teal. I haven't seen many pintails or wigeon yet, but there are a lot of geese in the area, big and small. The season, it seems, is finally here.
Callian said duck numbers are good in some areas. Teal, wigeon, gadwall and a few mallards dominate.
A few guys are still limiting out on wood ducks in a few spots, he said. The ducks, though, have become noticeably stale, with many flaring from pull-strings (jerk cords) and calling. I'd really suggest digging deep into your bag of tricks to fool the birds here now. Canada goose numbers are great in the Moses Lake and Othello areas. Snow goose numbers are incredible, with thousands of birds moving through the Tri-Cities and Patterson, and across the Columbia into Oregon.
High pressure and high humidity right now, said Travis Lyle, an Avery/Banded pro from Nevada, and bit warmer than average, but we're right about were we should be. Good numbers of spoonies and wigeon. Quite a few swans. And I'd say more cinnamon teal than normal. A buddy of mine just shot three back-to-back (seven-bird) limits of cinnamon drakes. But I think we're peaked out right now in terms of bird numbers. We might see a little spike toward the end of the season, but we're at a plateau right now.
And Travis Madden of Utah wrote: Cold, then a warm spell, and now we're headed back into another cold week. It's started to freeze up. The edges are soft, but we have ice starting (to form). Hunting was good until the warmer weather hit. Now, we're dealing with fewer birds, and those are stale. This last storm, though, brought in a little bit better hunting.
Click here for more Realtree waterfowl hunting content. And check us out on Facebook.