Hunters report good bird numbers despite crazy weather
Date: Oct. 17
Location: Pacific Flyway
Major Weather Trends
The weather west of the Rockies has varied wildly recently. Montana got dumped on with early snow. A good friend was in eastern Washington the first week of October chasing moose and said the area received about 18 inches of snow in some spots. Miserable road conditions across the game-management unit, he wrote via text. And no moose.
California's dry and on fire — again. Hats off to the wildland fire personnel who are working to contain the Saddle Ridge fire and other blazes. Here in western Washington, we're about right for this time of year, albeit a bit dry. There's almost no temporary water, and the borrow ponds and sloughs are a bit low, although not alarmingly so. Washington saw a small cold front the week of Oct. 7, which spurred a small migration of little geese (lessers and cacklers), along with quite a few specklebellies, into the area and south.
Water/Habitat Conditions
Opening weekend was Oct. 5 and 6, said Travis Madden, an Avery pro from Utah. Hunters had good success and were out in force. We had a good water year, so (levels) are high, which creates plenty of backwater sloughs, something we haven't had in a few years. But the weather's been a little chilly for this time of year compared to previous years.
Gene Carter, a Banded pro, from Yuba City, California, Water will be very good in the valley. Duck numbers are pretty solid for this time of year. A lot of specklebellies showing up, but we'll have to wait and see as far as numbers go. I heard several groups flying over the house this morning. Rice harvest is what I'd call normal and on track.
I'd echo Carter and say Washington is on track. This year's is calling for a normal precipitation year in western Washington, with slightly above average temperatures throughout fall and winter.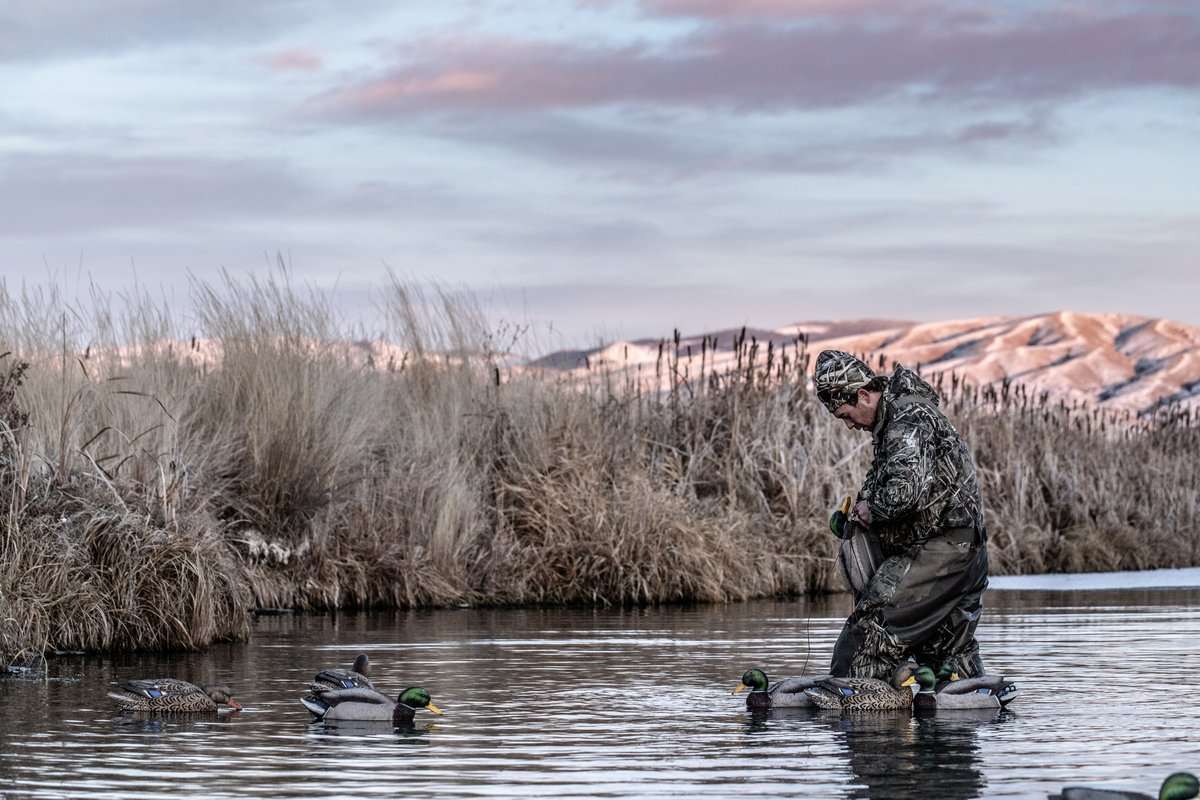 Species and Numbers
Washington call maker and Big Guns outfitter Bill Saunders hosted clients on the Oct. 12 opener near the Tri-Cities, and described duck numbers as abundant.
Lots of everything, Saunders wrote after he'd gotten clients into a pit on Day 2. Lots of mallards.
Avery/Banded pro-staffer Geff Duncan, of Chehalis, Washington, called me from the blind Oct. 13.
No water yet up here, he said, and no ducks to speak of (this morning), but we do have lots and lots of cacklers in the area. We haven't done anything yet, and the guys hunting the next farm over have roughly 35-dozen Greenhead Gear full-body cacklers out. We'll see how this goes.
Haven't seen any (white-fronts), but we did hear a big group of specks going over before shooting light.
Brad Bortner, former chief of the Migratory Bird Division of the U.S. Fish and Wildlife Service, just returned from Alberta with good reports.
I'd say average numbers of ducks, he said. We only killed a handful of Canadas, but there were lots of white-fronts, including a lot of young white-fronts.
That should bode well for hunters in the western portion of the flyway, particularly through Halloween and maybe into early November.
Personal Hunting Report
I enjoyed a great early September goose season in western Washington, with plenty of big locals to keep things interesting through opening weekend. It was a coin toss whether to hunt blacktails or waterfowl on the Oct. 12 opener, but geese won the flip. Hunting was slow, with only one Cackler riding back to the house. I expected to see more based on the number of Canadas we'd seen during salmon fishing trips to the coast. However, the birds didn't materialize. We saw three or four flocks of big (western) Canadas and equal numbers of little geese. There was a minor migration throughout the morning, with the birds seemingly knowing what part of the river they wanted to hit. Surprisingly, I saw no white-fronts on the opener. Given the speck movement we'd seen the week before, I'd anticipated some activity. Ducks were almost non-existent in my area, with only two woodies seen. On the Columbia, however, it sounded like World War III was in progress, so someone must have seen something. I've heard positive reports from Willapa Bay about the number of ducks on the salt.
Flocks of greenwings, a buddy said, that look like shorebirds. Hundreds if not thousands.
He also reported seeing excellent numbers of wigeon, pintails and mallards on the bay. Sounds like it's time to pack up and head west.
Boat Ramp Chatter/Upcoming Patterns and Hotspots
It's early and theoretically should get better. As with 2018, weather will be the determining factor throughout the Pacific Flyway. In 2018, we experienced no significant weather events in western Washington, and the birds weren't pushed inland. You hunted the coast or the Columbia, an old-timer said. I know folks who did one or both, and saw and shot lots of birds. For the next two weeks, I'll focus on blacktails and, to a lesser extent, black bears. The lessers and cacklers will be here soon. Hopefully they'll drag a handful of specklebellies with them.
Click here for more Realtree waterfowl hunting content. And check us out on Facebook.