Have You Ever Hunted Aoudad?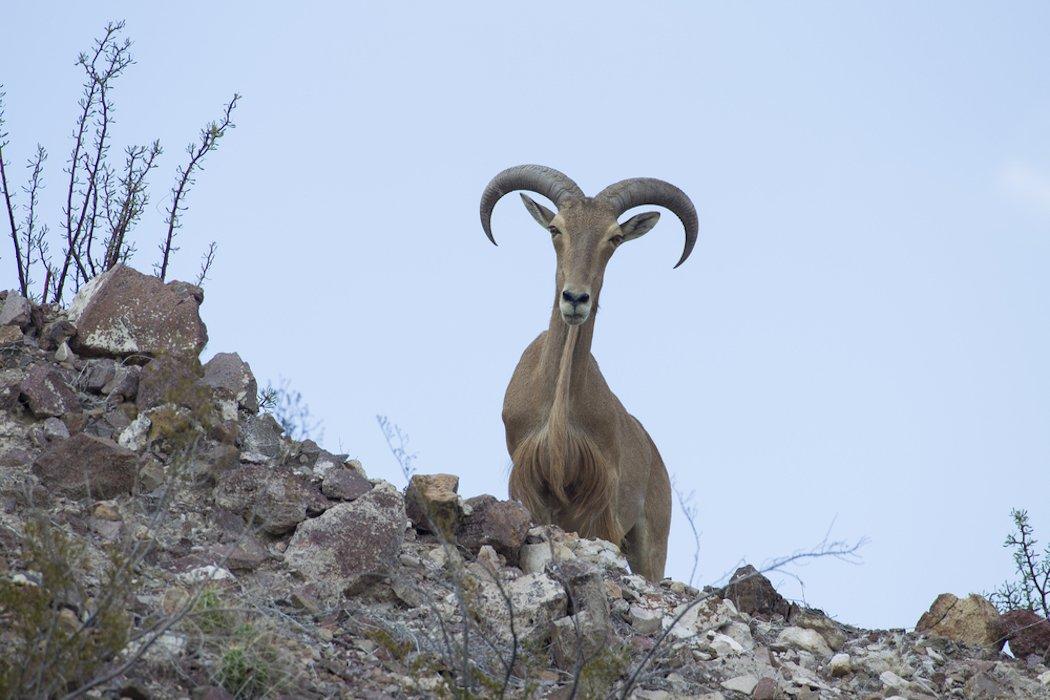 Like countless other big game hunters across the U.S., I dream of one day roasting tenderloins in a high-altitude camp as the flickering firelight casts its glow on a set of wild sheep horns strapped to my backpack. Be it a fully curled Rocky Mountain bighorn, Dall, Stone or Desert, I don't care — I just want to be a sheep hunter, the kind that the legendary Jack O'Connor was as he roamed the withering heights with his .270 in hand.
Unfortunately, being a sheep hunter is my dream, not my reality thanks to staggeringly high hunting costs and precious few tags available through state draws. But there is hope for a wannabe sheep hunter like myself, hope that comes in the form of a beautiful nomadic animal with sweeping horns that have found their way to American shores.
Those sheep are the imported aoudad sheep, or Barbary sheep. Native to the rocky, desert mountains of North Africa, the sheep have made themselves quite at home in the similarly dry and rugged mountainous terrain found in portions of Texas and New Mexico where they were released many years ago.
Today, huntable populations of free-ranging, wild aoudad sheep can be found roaming the Texas Panhandle's Palo Duro Canyon, the mountains of southwestern Texas, and the nearby craggy peaks of southern New Mexico.
With a beautiful sandy-brown coat, shaggy chaps and golden, semi-circle horns, the aoudad offers a supreme hunting challenge and a price tag in the range of a Midwestern whitetail bowhunt. Call an aoudad adventure a poor man's sheep hunt if you will, but the aches and pains that a trek into the rugged outback of Texas or New Mexico are real and the photos and memories from such a hunt are priceless.
If chasing aoudad sheep in the rugged mountains of Texas and New Mexico interests you, consider these recommendations:
Hire the Right Guide: North Texas big game hunter Doug Rodgers says that since these animals are hunted on private land — primarily during the more temperate fall, winter, and spring months — finding an experienced outfitter with access to good mountainous property is a must.
Use Top-End Equipment: If you're rifle hunting like I was, you'll need a good flat-shooting and lightweight rifle, Rodgers said. You'll also need some very good boots and top-end optics. The hunter's optics package included 10x42 binoculars, a spotting scope and a 3x10 scope.
Be in Top-Flight Shape: This is a physically demanding and mentally challenging hunt, Rodgers said. This type of hunting involves plenty of mind over matter when you find yourself climbing in spots where you are six-inches from falling off a 200-foot cliff.
So says Doug Rodgers, a big game hunter from Whitesboro, Texas, a small town just north of Dallas/Fort Worth.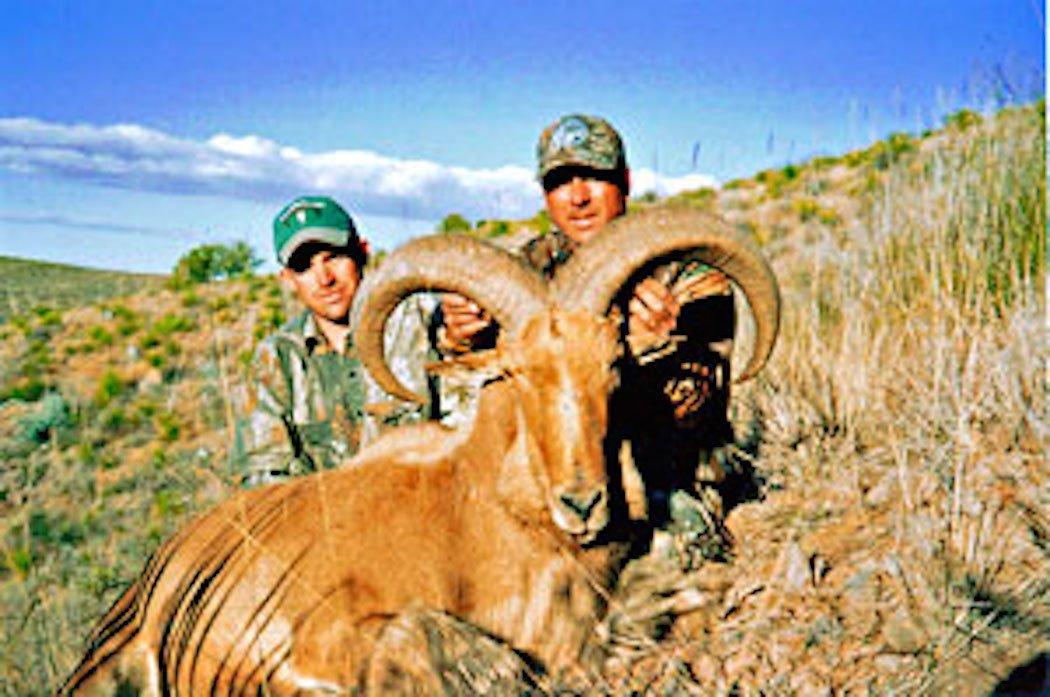 Hunting with guide Bubba Glosson of Southwest Trophy Hunts, Rodgers lived out his sheep-hunting dream in the rugged Chinati Mountain range between Presidio and Marfa, Texas.This is a really good introduction to sheep hunting, Rodgers said. Bubba knew that I had a dream to hunt sheep and this is relatively inexpensive when compared to other sheep hunts. I'd highly recommend it for that reason. There are no special permits and you can go every year if you want.
After hunting hard and climbing through steep, prickly countryside at some 7,000 feet, Rodgers and his guides were finally able to spot a 31-inch aoudad with their optics. When the crosshairs settled into place, the hunter touched off the shot with his .300 rifle and the ram was his. This was pure hunting in big country, Rodgers said. As with any other sheep hunting, you basically hunt with your eyes and anything that you'll use is carried in on your back.
Don't Miss: 5 Realtree Big Game Harvests from 2016
While he still yearns to hunt Rockies, Deserts, Dall or Stone sheep one day, Rodgers says there was nothing subpar about his first wild sheep hunting experience.
I think it's as authentic an experience as you'll ever have, said the mule deer hunting fanatic with a couple of Booners to his credit. I've been in some of Arizona and Sonora, Mexico's sheep country, and this is the same kind of country (and experience).
The North American Hunting Club's Bill Miller found that to be true on his aoudad hunting experience a few years back, again in southwestern Texas.
The Davis Mountains are mountains like an outsider would never expect in Texas, the Minnesota resident said. They are very steep and the elevation is surprising for Texas. It's the perfect environment for those sheep.
Maybe so, but the NAHC man notes that it is certainly not the perfect environment for filming a hunt with heavy and expensive cameras being toted around.
The climbing, some of it is straight up and down, Miller said. While some of these cliffs are only 40 to 50 feet tall instead of 400 to 500 feet, I still think it would hurt quite a bit to fall off. We definitely went to places that I've never taken our good cameras before.
With superb eyesight, smell and hearing to go with their inhospitable home turf, Miller found out that these sheep are certainly no pushovers for hunters. Surprisingly stout, mature rams can weigh as much as 300 pounds on the hoof and can be difficult to bring down. In fact, Miller recommends that hunters bring big-caliber rifles from a 30.06 on up or a .50 caliber muzzleloader.
For those looking for the ultimate sheep hunting challenge, bowhunting aoudads might be it. Bowhunting aoudad sheep is a tough proposition admitted Miller's guide, Steve Jones of Backcountry Hunts in Carlsbad, New Mexico. Challenging for sure, but not impossible.
Rocky Athletic Mobility Women's Waterproof Insulated Bib in Realtree Xtra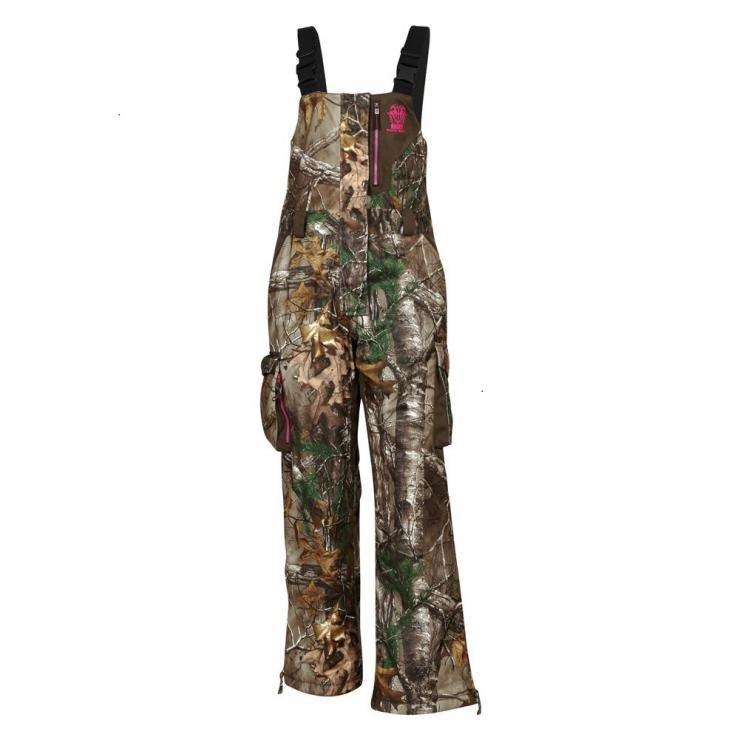 It is a tough hunt for a bowhunter, said Jones, who like Glosson, has been guiding hunters since the mid-80s. We had a bowhunter (a few years ago) who was the first truly dedicated bowhunter who came only with his bow. He came and got his sheep with a bow, and got a pretty nice one, too.
While aoudads typically go through the rut during the month of October, for the most part, Jones said that hunters see aoudads as an off-season diversion. He also said that veteran sheep hunters who have chased more famous sheep species in rugged mountain ranges much farther to the north and west will find that searching the Davis Mountains for a trophy aoudad is the real deal.
I've personally hunted Dall sheep and I've found aoudads to be every bit as difficult to hunt, Jones said. It's amazing how they've adapted to this desert country out here. They look like they belong out here, be it Texas or New Mexico.
Rodgers fully agrees, noting that he is already looking to make a second aoudad hunt a reality.
There is nothing poor about an aoudad sheep — it's a beautiful trophy that lives in challenging terrain where everything you touch is jagged and sticks to you, he said. This is a trophy that you earn by your boot leather and by plenty of muscle aches.
Just like Jack O'Connor did.
Don't Miss: Big Game Hunting: The Sheep Hunting Slam
Editor's Note: This was originally published on February 18, 2008.
Are you a big game hunter thirsty for knowledge? Check out our stories, videos and hard-hitting how-to's on big game hunting.