With a little lumber and handy know-how, you can build a blind that'll keep you comfortable during deer season's coldest days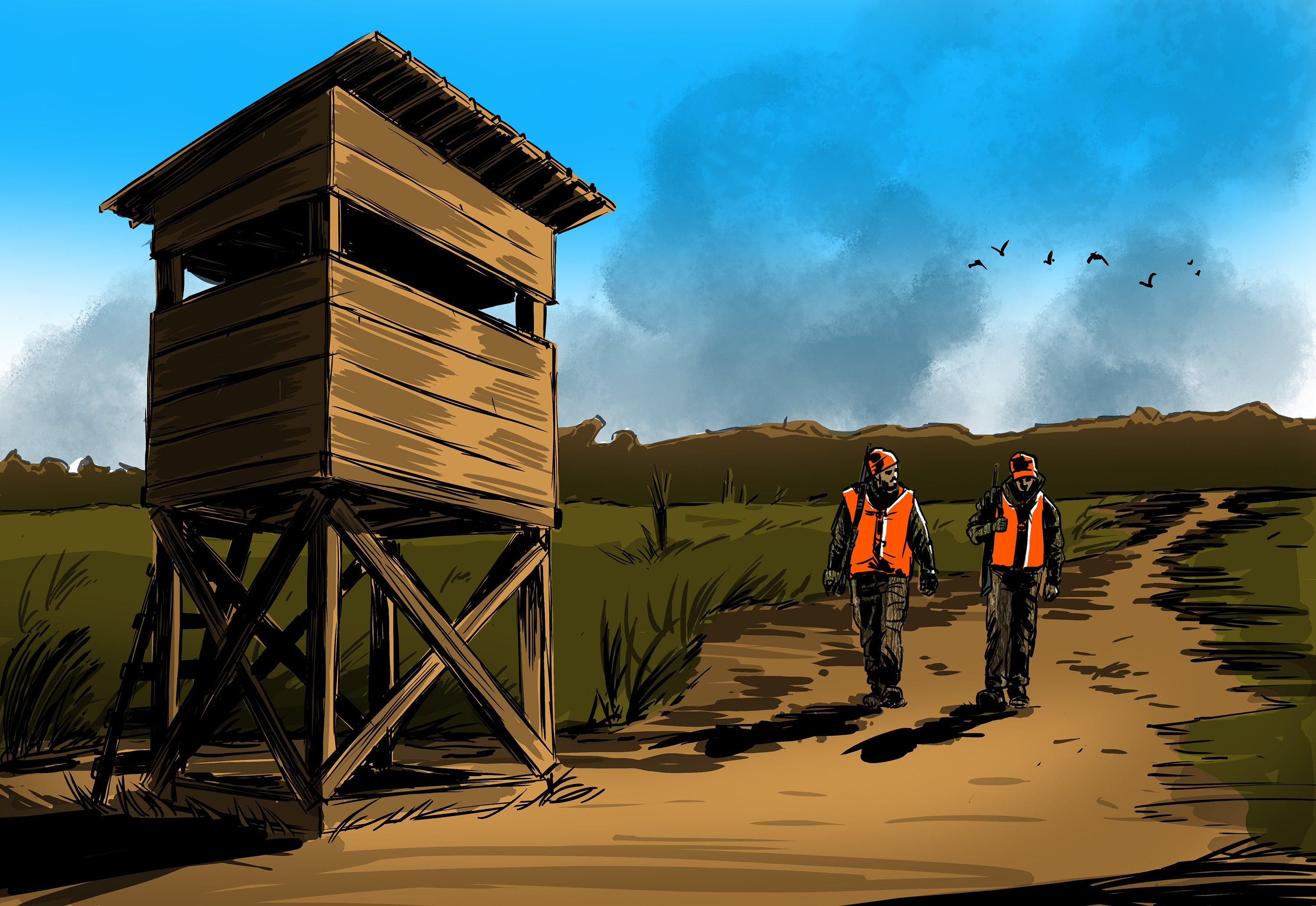 Potroast sat next to me, rubbing his hands back and forth in the glow of the small propane heater at his feet. We'd been sitting about an hour on that December hunt, and it was cold when we got there. As the evening wore on, the temperature was descending into skin-numbing territory.
But it was late muzzleloader season, and my son was on a quest to kill a deer with the flintlock rifle — dubbed Flint Eastwood — that he had built from a Traditions kit. We knew the deer were feeling the cold as well and would probably be hitting the food plot well before the end of legal shooting hours. The plan worked. A lone doe soon made her way into shooting range and Potroast touched off the powder. The smoke cleared just in time to see the doe's white belly flash as she went down just inside the woodline.
The wind chill was hovering near zero. Had we had been anywhere but inside an enclosed shooting house, Potroast probably wouldn't have killed a deer with Flint that evening. That is one of the great things about an enclosed box blind. Even young hunters can stay warm and dry in just about any weather condition.
Over the years, we have installed a number of shooting houses on our family farm. We place them next to crop fields, food plots, and along natural funnels that tend to hold deer year after year. The deer have gotten used to them over time, and they pay them no mind as long as the wind is in our favor.
While commercially built shooting houses are nice, they can be expensive. Putting up more than one or two on a farm can be cost prohibitive for many deer hunters. Luckily, with a little bit of searching for used or low-cost building supplies, you can build your own shooting house on a budget. Here's how.
Plan the Size
How big should your shooting house be? That depends largely on the number of hunters using it at one time. While a 4-foot-by-4-foot size is comfortable for one person, it will be way too crowded for a pair of hunters. If you plan on hunting with a partner, even a young hunter, aim for 5-foot-by-5-foot, 4-foot-by-6-foot, or even larger.
You only need a shooting house to be high enough to provide a good view of your hunting area. The higher you build it, the more it will cost and the harder it will be to construct. For most areas, a platform 4 to 6 feet above the ground will get the hunter high enough to provide a good view of the surrounding area.
Regardless of size, shooting windows should be around 34 inches above the floor for a comfortable gun rest for an average-sized adult from a seated position. Young hunters might be more comfortable with a lower window height. You can always use a small sandbag under the forearm of your rifle if your window height is a bit low.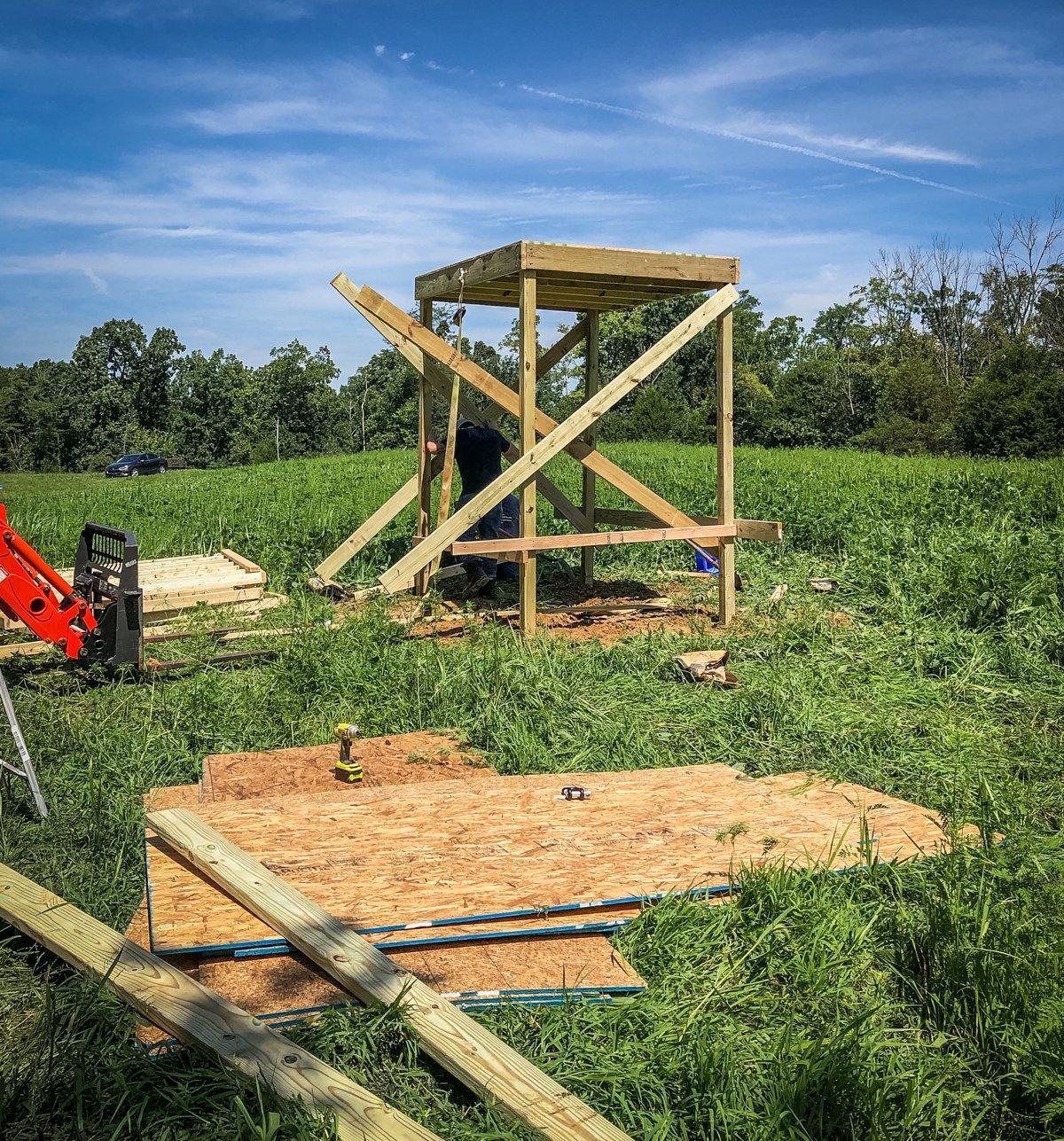 Get the Materials
The Frame: This is one place where you don't want to skimp. Go ahead and buy new, quality lumber for the base of your blind. For blinds with a platform less than 6 feet off the ground, you can go with treated 4-by-4 posts as your legs. Depending on location, an 8-footer should run about $10. If you plan on going higher, consider upsizing to 4-by-6 or 6-by-6 posts to minimize swaying in strong winds.
For the base frame, treated 2-by-8 boards will give a solid platform for years of life. Again, depending on store and location, a treated 2-by-8-by-10 should run in the $10 to $15 range. Treated 2-by-4s are the best choice for framing up walls in your blind. They will last for years, even if rain blows into the blind.
Choose flooring that will stand up to moisture over time. Treated 5/4 decking boards make a solid floor and are much more water-resistant over time than plywood or untreated pine.
After experimenting with several different fasteners, we have settled on 3 1/2-inch stainless deck screws for assembling our shooting houses. Even with solid posts, blinds tend to sway back and forth in the wind a bit, causing nails to work loose. Non-stainless screws will rust over time, possibly weakening in the process. Stainless screws hold well and will remain rust free even after years in the field.
The Skin: Once you have your blind frame finished, you will need to cover it with something. This is where you can really save some money. Look for recycled construction materials like old barn siding or metal, recycled vinyl or aluminum siding, and even leftover roof shingles.
Check with metal roofing or building supply companies for sheet metal that's blemished or discolored. These seconds might have a scratch or dent in the sheet, off-color paint, or a faded spot, none of which affect their weather-resistance or make any difference to deer. They can often be purchased for much less than first-run metal.
While metal or vinyl make for a weatherproof outer covering, even wood will work if you weatherproof it well. A good coat of outdoor paint in a drab color will help to protect any exposed wood. Picking paint in a drab color will also help your blind blend in a bit better. Check with local paint stores for mismatched or gallons that weren't tinted correctly. You can often find them for pennies on the dollar if you aren't set on a single color for your blind.
(Don't Miss: The Best Times to Deer Hunt in 2022)
The Roof: For maximum lifespan, top your blind with a material designed for the purpose. Sheet metal or roofing shingles both work, but you can think outside the box for roofing options, too. One of our favorite box blinds is topped with an old truck camper top that we picked up for free.
The Windows: Blind windows can be left uncovered all the time, or they can be fixed with windows that open and close for better heat retention and scent control. Sliding Plexiglas panels are an inexpensive option for a working window, as are used wood- or vinyl-framed windows leftover from remodeling jobs. Find a window and door replacement company and see if you can make a deal on some of the older windows they have replaced. Sometimes, they will let you have them for free to avoid the cost and hassle of disposal.
By scavenging used, leftover or defective building materials for your blind roofs, windows and outer coverings, you can often build a complete blind for $150 or less.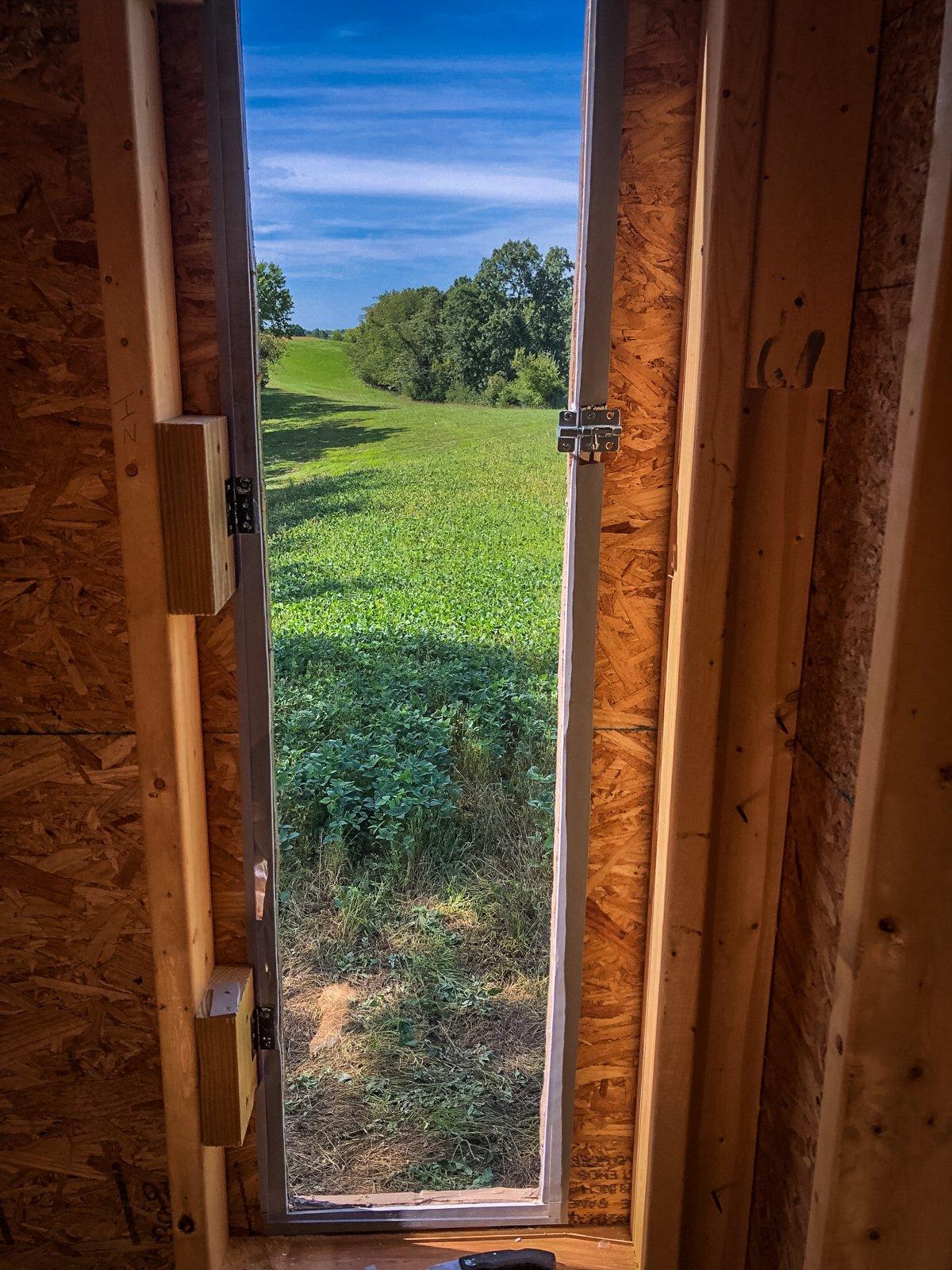 Getting It There
One downside to homemade blinds is that they are big and heavy. For that reason, it's easier to pre-measure and cut your lumber at the house and haul it to the field in pieces rather than build the blind in the driveway and try to transport it to the field.
Once you get to the field, a tractor with a front bucket can be invaluable for lifting and standing blinds. If you don't have a tractor, or can't get one into your hunting spot, erect the platform first and build the blind on it one wall at a time instead of trying to lift entire sections into place.
(Don't Miss: Mother-to-Be Arrows 17-Point Buck)
Take a Seat
Once your blind is built, you will need something comfortable to sit on. We are constantly searching yard sales and used furniture shops for good deals on gently used swivel-type office chairs, too. They are quiet, comfortable enough for an all-day sit, and they spin easily if a deer slips in from an unexpected direction.