A
990,000
Est. Whitetail Population
300,000
No. Licenses Sold Annually
$62
The annual resident hunting license is $27. The deer permit is $35.
Resident hunting license and deer permit
$335
The annual non-resident hunting license is $150. The deer permit is $185.
Non-resident hunting license and deer permit
204 2/8"
Taken by Robert W. Smith in Pendleton County in 2000, ranked as No. 7 of all time.
Record B&C Typical Stat
807
Total B&C Typical Entries
274 5/8"
Picked up in Christian County in 2019.
Record B&C Non-Typical Stat
396
Record B&C Non-Typical Entries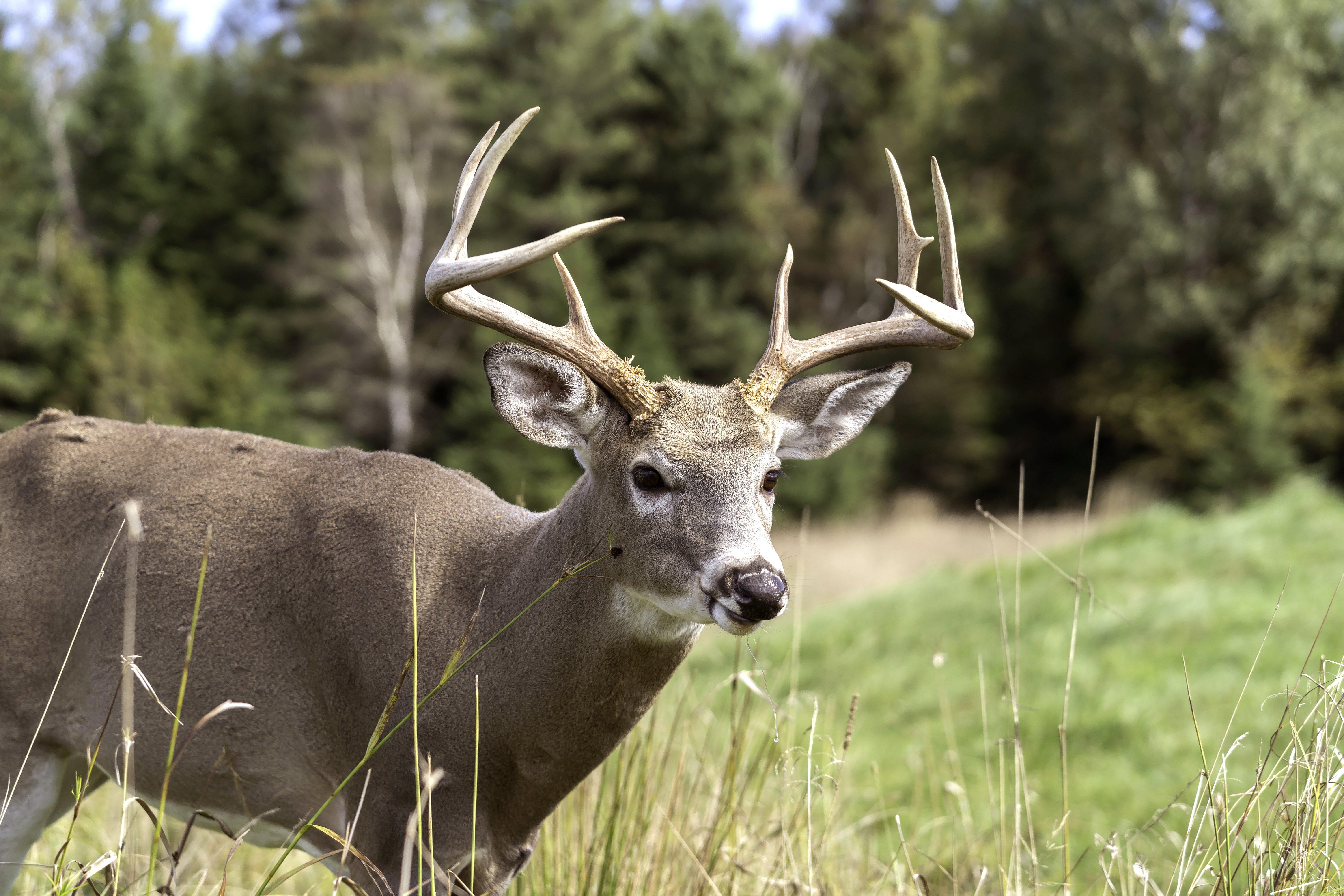 Check out the latest info for Kentucky. Image by Patrick Messier
Season Dates (2023):
Although season dates are still tentative as of this writing, archery season is Sept. 2 to Jan. 15. Crossbow season spans Sept. 16 to Jan. 15. Modern firearms season is Nov. 11 through 26. Early muzzleloader season is Oct. 21 and 22, and late muzzleloader runs Dec. 9 through 17. Youth weekend is Oct. 14 and 15 and Dec. 30 and 31. Please check the Kentucky Department of Fish and Wildlife Resources WEBSITE to confirm.
The Grade: A
Kentucky used to be a secret. Not anymore. Hunters travel from afar to see what the hype is all about. Some go home empty-handed, but many experience what they came here for — great deer hunting.
Fortunately, although chronic wasting disease is not currently in Kentucky, it is closing in along several borders, having been found in all but one of the neighboring states. "A notable development is the CWD surveillance zone in response to the positive Tennessee deer within 10 miles of our border," said Joe McDermott, acting deer program coordinator for the Kentucky Department of Fish and Wildlife Resources. "Look at Page 19 of our deer report."
Other recent changes included a crossbow expansion in 2019, when the season was expanded from about 70 days to 122. It now opens the third Saturday in September and runs until the end of archery season. Some hunters like that, but not all of them.
In all, it's hard to not give Kentucky an A based on Antler Nation criteria, especially considering it might be the best place in the country to tag a velvet whitetail. "All signs point to an increasing population throughout the majority of the state," McDermott said. "If mast cycles are consistent, hunters should see an average or good mast crop in 2023. Hunting can be difficult in years where there are bumper crops since deer don't have to mush as much in search of food. However, if you find the white oaks, you will find deer."
Antler Nation Knowledge
The Bluegrass State is diverse. Western Kentucky offers flat agricultural land not unlike the Midwest. The entire northern and western edges of the state are bordered by rivers, which produce fertile soils and great river-bottom whitetail hunting. Large expanses of forests are found in the central and eastern portions of the state, and eastern counties harbor some rugged mountainous terrain. Central Kentucky has a good mix of rolling hills, hardwoods, crops, and pasture fields.
"Every county in Kentucky has produced trophy whitetails and continues to do so annually," said Kyle Sams, deer and elk program biologist for the Kentucky Department of Fish and Wildlife. "However, I would focus on the Green River Region counties, where we typically get more trophy whitetails. Our hunters do a great job of letting younger bucks and buck fawns walk, as 71% of the males harvested are adults (2.5 years or older), 19% of the males harvested are yearlings (1.5 years old) and 10% of the males harvested are fawns (0.5 years old)."
When it comes to top-end bucks, it's hard to beat counties that border the Ohio River and those in the western half of the state. Some of the best include Breckinridge, Butler, Christian, Daviess, Edmonson, Grayson, Hancock, Hardin, Hart, Henderson, Hopkins, Logan, Muhlenberg, Ohio, and Todd. Bullitt, Henry, Jefferson, Oldham, and Shelby are good, too, if you can find a place to hunt in these heavily populated areas. Still, a giant is possible anywhere in the state. Kentucky ranks behind only Wisconsin when analyzing Boone and Crockett entries from the past decade.
Trophy bucks can be found on ground open to all. More than 1.5 million acres of public land are available, but much of it receives heavy pressure. Some of the larger WMAs in the Bluegrass and Green River regions offer the best chance at a trophy. However, pockets of private property are where most big bucks roam. Secure a decent piece of private ground in the state and you're well on your way to tagging a big whitetail. Interestingly, Boone and Crockett bucks have been taken in every Kentucky county except one.
"Eastern Kentucky has more than 1 million acres of public hunting access," McDermott said. "Many folks focus on our westernmost and central counties, so there is a lot of quality hunting ground in the east that is grossly underutilized."
And don't forget, a statewide deer permit allows hunters to take up to four deer. If you don't want all that meat, consider donating a deer or two to the HUNTERS FOR THE HUNGRY PROGRAM. People will appreciate it.
Watch all the latest video episodes