Hunting whitetails requires extreme patience and time afield, which makes choosing a boot that keeps you out there longer even more important
Passionate deer hunters are prepared for whatever Mother Nature throws at them. From bowhunting on a hot, humid September afternoon to sitting quietly in a treestand on a frosty November morning, deer hunting requires patience, persistence and the right pair of boots for the conditions.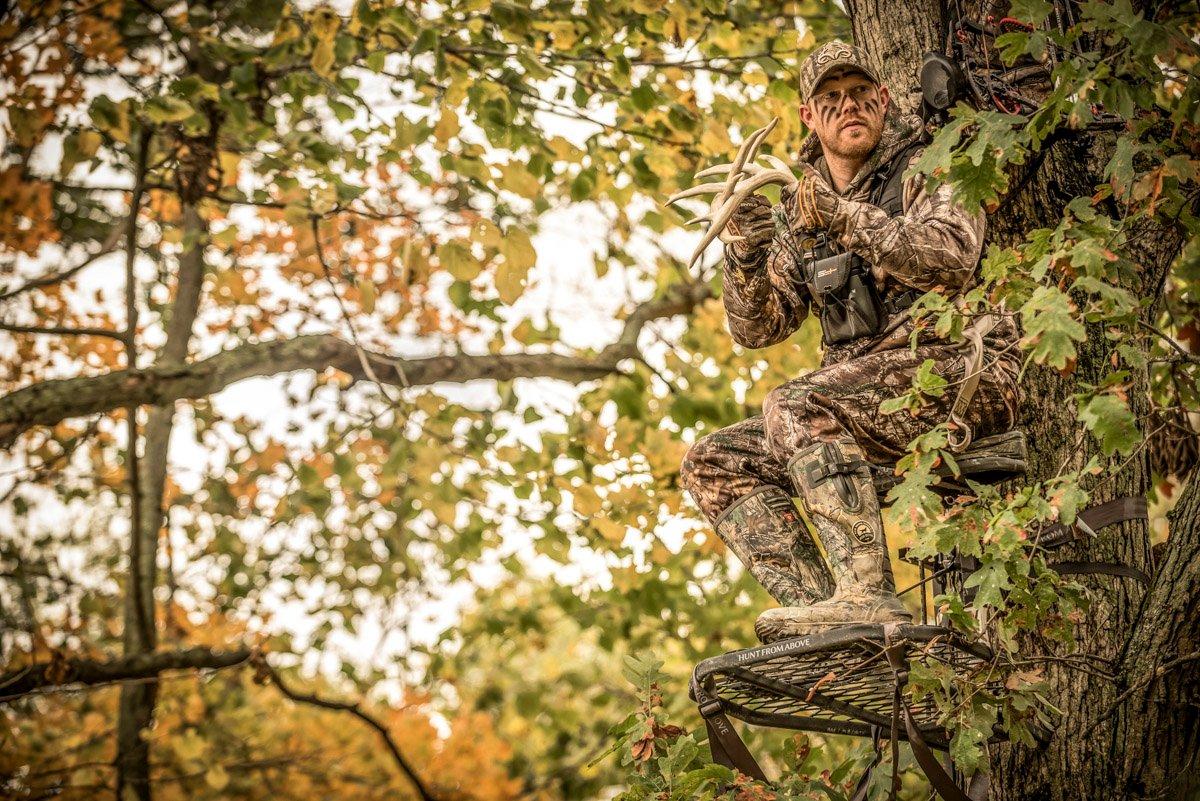 Your hunting boots should be as carefully chosen as your firearm or bow, so when you bag that big buck you can safely return to register him. If your feet are wet or cold, the last thing you'll be thinking about is holding steady aim when it matters most. Your boots play a critical role in making sure you return to camp in good shape.
A number of factors need to be considered when selecting your next pair of deer hunting boots, say the experts at Irish Setter, a Minnesota-based company that's been making hunting boots since 1950.
The last thing you want to happen is to have your boots fail, requiring you to cut your hunt short, says Charley Bryant, Irish Setter product merchant. You need to be able to trust your boots like your life depends on it, especially when deer hunting in extreme heat or cold.
When shopping for a new pair of deer hunting boots, consider these factors:
Fit and comfort
Season and location
Moisture management
Hunt type
Fit and Comfort
Some boots offer comfort right out of the box. Others, such as those made with premium leather, may require a short break-in period to feel comfortable. The most important thing is choosing boots that allow you to go all day, anywhere you want to go.
Look for boots that help you maintain energy as you walk mile after mile. Find a pair that reduces your chances of experiencing foot discomfort or blisters.
Consider that, as you walk throughout the day, your feet can actually swell — sometimes up to a full size larger. That's because as you're walking, your feet flatten and lengthen. When you shop for boots at your local retailer, try them on in the late afternoon or evening, when your feet will be at their largest. Look for a snug fit around the ankle, heel (no slipping) and instep. You should also be able to wiggle your toes.
Don't forget your socks in this equation. When trying on boots, wear the socks you'll actually hunt in. Choose moisture-wicking socks of the appropriate length for the boot height you're considering. Also, consider the thickness of the sock. If you plan on wearing heavy wool socks, make sure to wear them when trying on boots to ensure correct fitting.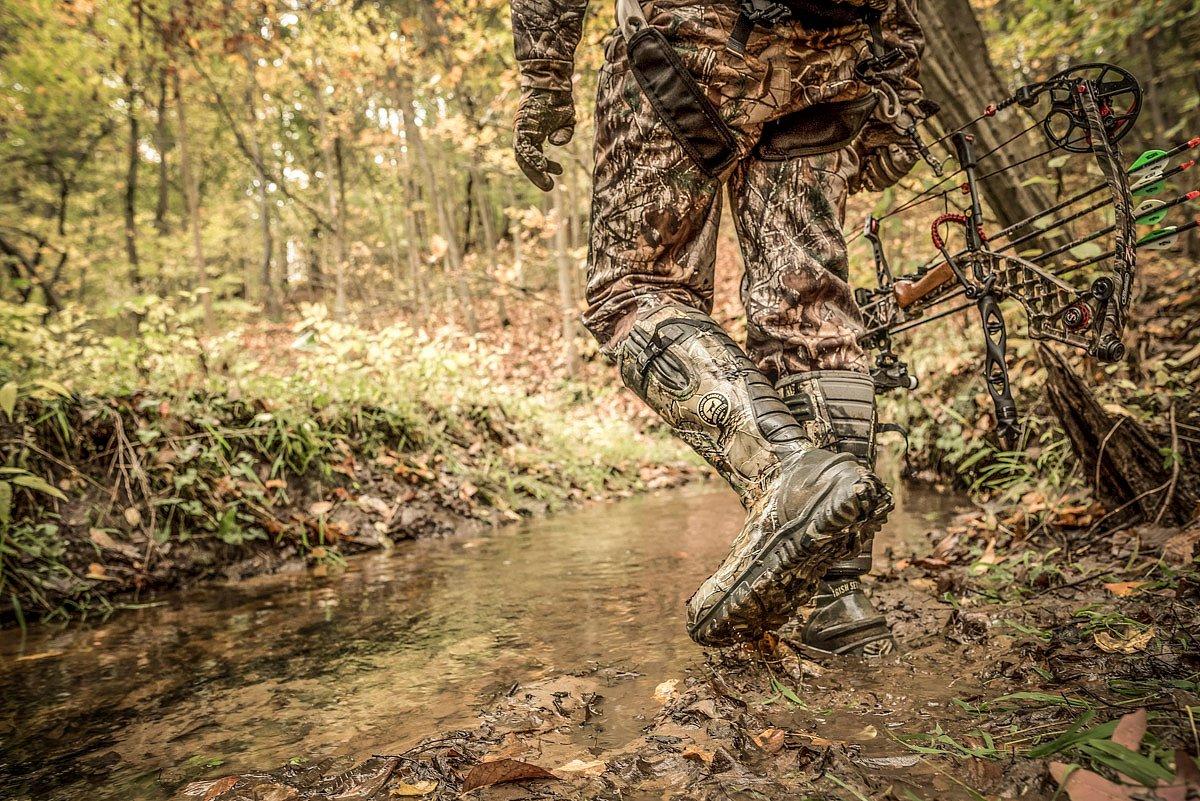 Right Boot for the Season
Depending on what part of the country you hunt deer in, the season typically starts with rather warm, dry conditions and progresses to colder temperatures and wet or frozen conditions later on. Hard-core, season-long hunters may even own multiple pairs of boots to handle those changing conditions.
Early Season (Warm, Dry Conditions): Select from lightweight, breathable, uninsulated choices like new Irish Setter Vaprtrek boots to help keep you comfortable all day in those conditions.
Mid-Season (Cooler Temperatures): Mid-season hunts may require boots with some insulation (400-800 grams) to protect against chilly mornings while not baking your feet as temperatures rise throughout the day. In addition to keeping your feet warm, your hunting boots must also keep them dry. This season can bring rain at lower elevations and snow higher up. Rubber options like Irish Setter Rutmaster 2.0 boots can provide the comfort and protection you can depend on.
Late-Season (Cold Temperatures, Snow/Ice): Consider heavily insulated (1,000 grams or more) boots to protect against harsh winter weather. Irish Setter Vaprtrek LS boots will help keep you warm and dry throughout the day as you endure a long, cold sit or track a blood trail through snow.
If you're hunting in rugged, uneven terrain, consider boots with sufficient ankle support and an aggressive sole pattern to reduce the risk of slips and falls. For these conditions, look to Irish Setter Elk Tracker boots. For less challenging terrain, lightweight, flexible styles, such as new Irish Setter Vaprtrek boots, will be more appropriate.
Keeping Your Feet Dry
Wet feet can ruin a hunt fast, especially if it's cold and you're sitting or standing for any length of time. Walking through dew-drenched grass and underbrush, stepping into a muddy puddle, or crossing a creek to get to your spot is all it takes. That's why, whether you're bowhunting from a treestand or rifle hunting on a long stalk, you need waterproof boots to keep your feet dry.
Irish Setter Vaprtrek and Rutmaster 2.0 boots are great waterproof options, and range in height and insulation levels to keep you comfortable and dry all day in wet conditions.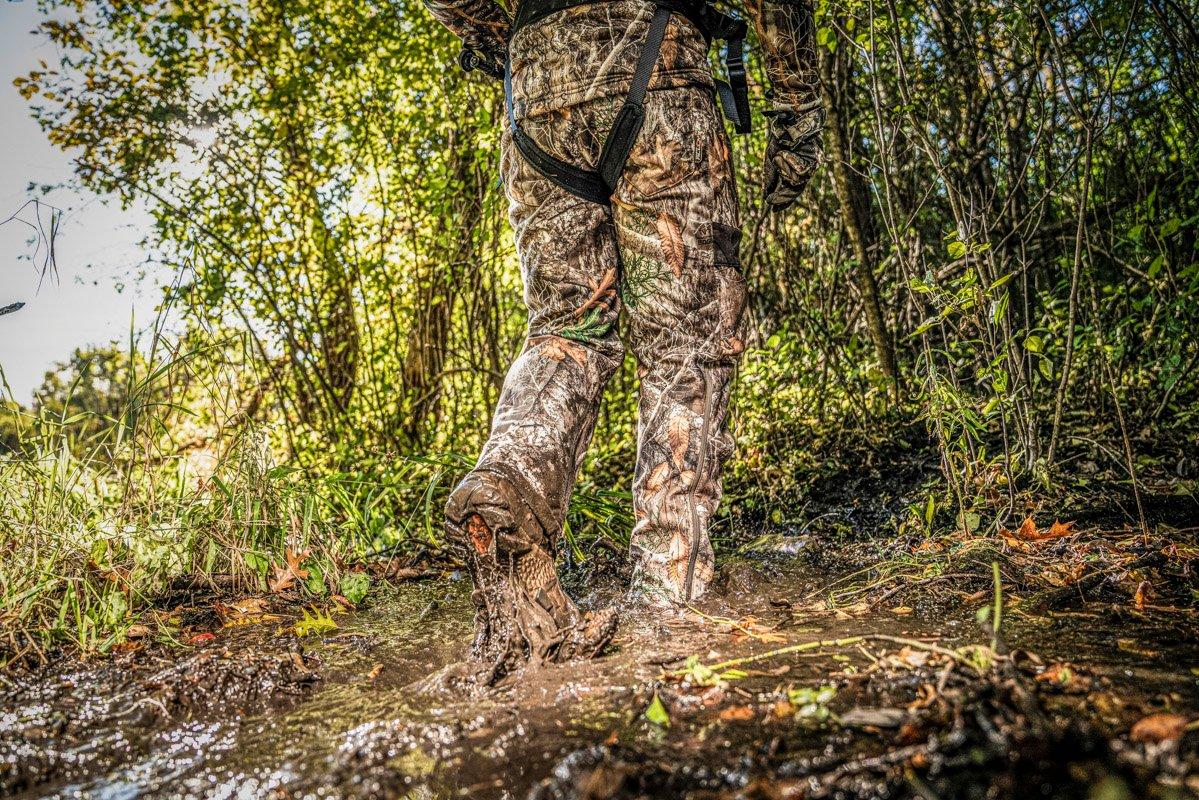 Protect Your Feet
The last thing you need is for your feet to be taken out of the game. Rocks, tree roots and deadfall are just the beginning of what you have to put up with. The soles of Irish Setter Vaprtrek boots are built with RPM technology, a breakthrough composite material that significantly reduces the weight of the boot while providing the strength and durability needed to deal with hunting obstacles.
Venomous snakes and other critters don't exactly put out the welcome mat for you. To protect yourself from such hazards, consider Vaprtrek snake boots. These tall men's and women's styles are built with SnakeGuard protection, a non-woven material combined with leather or nylon that impedes fangs, thorns and other nasty things from penetrating the boot.
Active vs. Sedentary Hunting
Many deer hunters enjoy the tradition of sitting in a deer stand. Others prefer to spot and stalk their big buck. Either way, once you've taken your shot, you'll need boots you can trust to track a blood trail through thick underbrush or over rugged terrain.
Lightweight boots can help keep active hunters from feeling weighed down while hiking long miles. Insulated Irish Setter Vaprtrek LS boots are lightweight, waterproof and breathable, so you'll be comfortable and dry all day, no matter the conditions.
Stand hunters often don't require rugged, abrasion-resistant leather boots, but they do need protection from the cold. Irish Setter Rutmaster 2.0 boots help you combat the cold with up to 1,200 grams of insulation. For serious cold, consider IceTrek boots from Irish Setter. They're built with 1,600 grams of PrimaLoft® insulation, with added zonal insulation where most foot heat is lost - all to keep your feet warm on even the most brutal, bitter days.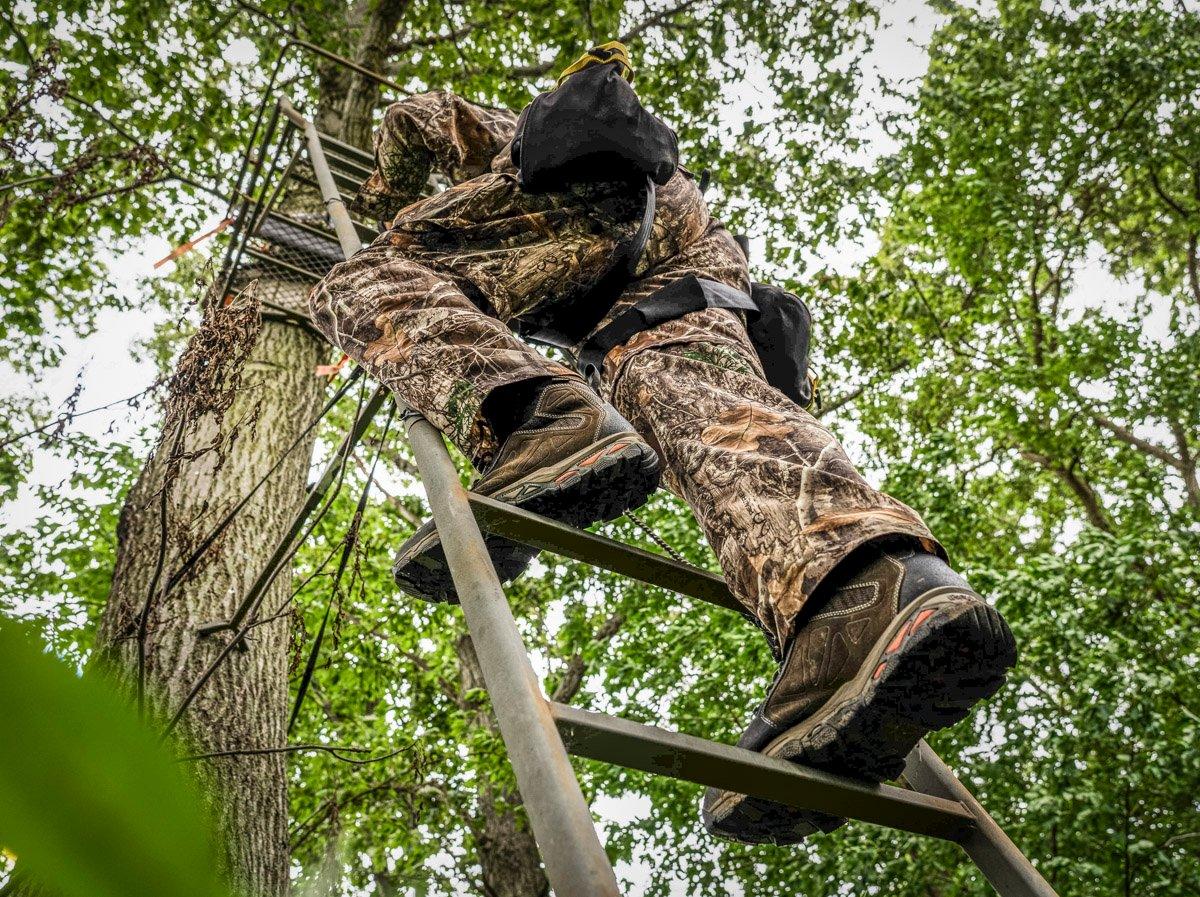 Go-All-Day Performance
Boots play a critical role in the enjoyment and success of your deer hunting experience. That's why it's imperative to take the time to find the right boots, so you won't need to think about them during the hunt. Irish Setter boots provide all-day comfort and go-anywhere performance. They're boots you can count on to get you out in the field and back home in comfort.
Learn more about Irish Setter boots for deer hunting. Visit IrishSetterBoots.com or stop by your nearest Irish Setter retailer.