An all-inclusive report for each state, including season dates, license costs, population trends, up-and-coming counties, public-land hotspots, and more
Summer is here, and deer season isn't far off. After contacting every wildlife agency and department of natural resources (DNR) in the region, it's clear that some states are shaping up quite nicely, while others are lagging. Luckily for you, we've sifted through the data to produce in-depth reports.
If you're interested in the latest whitetail information, check out detailed reports for each destination, including season dates, license costs, population trends, up-and-coming counties, public-land hotspots, and more, courtesy of Realtree's Antler Nation.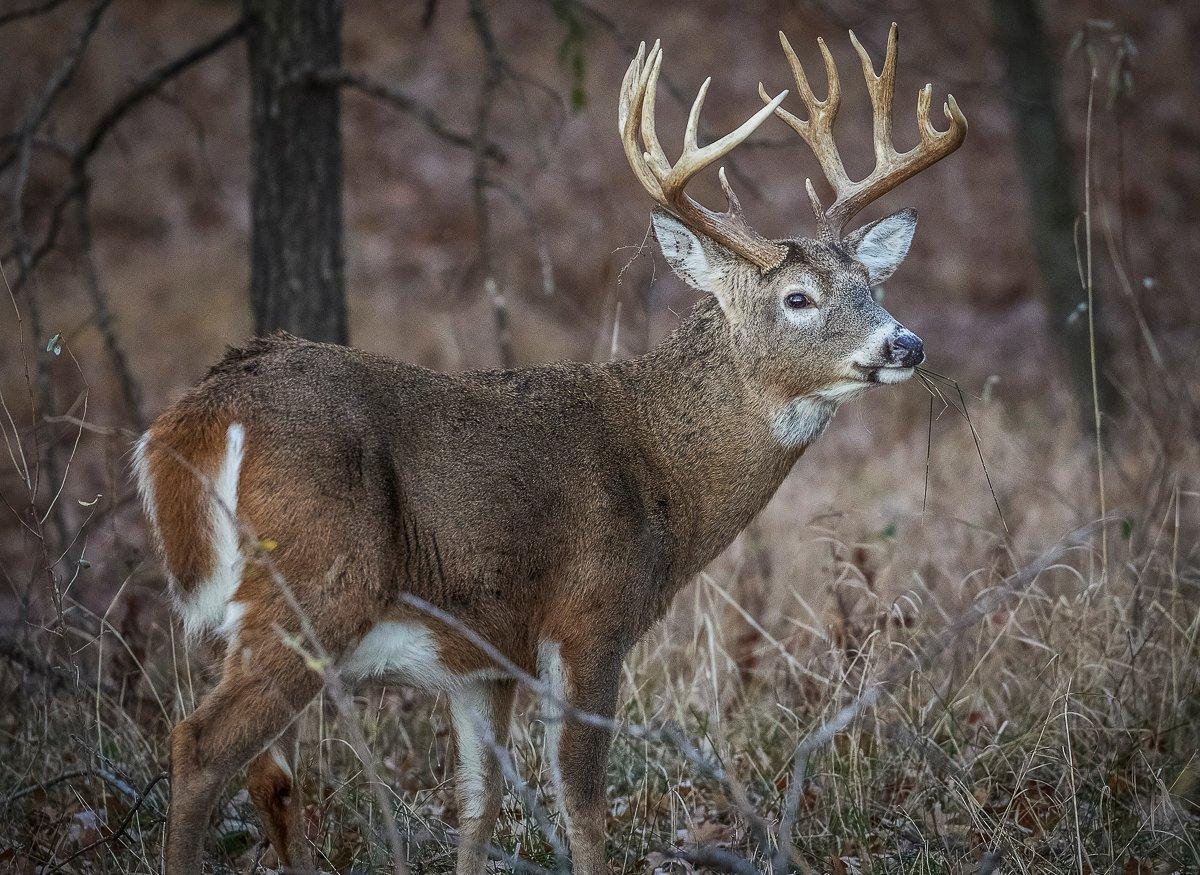 Illinois
Illinois isn't quite what it once was, but there's still pretty awesome deer hunting here.
General statewide population trends are stable — we manage deer at the county scale and we are working to reduce the population in some areas and increase it in others, said Peter Schlichting, deer project manager for the Illinois DNR. It's hard to predict at this point, but with good rainfall this spring, we are expecting an average 2021 season, barring drought later in the summer.
Indiana
One of seven states to get the coveted A grade, Indiana is firing on all cylinders. It's really cranking out big deer, has a healthy deer population, and doesn't have CWD yet. What's not to love?
There are many northern counties known for producing large bucks, but we see big deer coming from across the state, said Moriah Boggess, deer biologist with the Indiana DNR. The less-known counties are significantly underrated and have great trophy potential. Southern Indiana should see older deer in the coming years as this part of the state recovers from EHD in 2019 and many of the deer that survived that outbreak have immunity to the disease.
Iowa
Things are still looking pretty good in the Hawkeye State. They've dealt with recent bouts of EHD and still have CWD, but all else looks good. After all, Iowa is still Iowa. It gets a solid grade yet again.
I anticipate harvest will be fairly similar to last year considering our stable to slightly increasing population trend statewide, said Tyler Harms, biometrician with the Iowa Department of Natural Resources. I'm most curious to see what happens with the number of licenses issued. Last year we saw a 6% increase in licenses purchased, which is the largest increase we've seen since 2005. This drastic increase was likely the result of the COVID-19 pandemic and people having more time, interest, and opportunity to hunt. It will be interesting to see what happens this year. As with any year, however, weather has a significant influence both on harvest and on the number of licenses purchased, so we always hope for Mother Nature to be somewhat reasonable during the hunting season.
Kansas
Though Kansas has historically been a top state, in general terms, it seems to be on the downtrend. It's now heavily pressured, and leftover tags are virtually a thing of the past. Still, the hunting is pretty good here, even if it isn't what it was 20 years ago.
I expect a fairly average season if we get summer rains as needed. If not, we have the potential to see an EHD outbreak, said Levi Jaster, big-game program coordinator for the Kansas Department of Wildlife, Parks and Tourism. 2020 was the first time in several years that resident hunter numbers increased, so there may be strong hunter numbers afield this fall. Nonresident applications increased 27% in 2021 year over year from 2020. While it is still reasonably possible to draw a permit with no points in Kansas, it is likely going to get harder in coming years.
Michigan
It may be one of the most pressured states in the nation, and Michigan's deer herd reflects it. It can be hard to find a mature buck. In general deer hunting terms, there are a lot of whitetails on the landscape, though. Here, it's quantity over quality.
On the upside, there is a lot of public land to roam around on. But many of these acres are in the northern half of the state where the hunting isn't as good. Still, if you spend enough time scouting, it's possible to find a place with less pressure and decent hunting opportunities.
Minnesota
A lot of people don't think about Minnesota as a great deer hunting destination, but it's solid. Those who spend time here often fare well. And those who become very familiar with the areas they hunt tend to enjoy the most success.
It does struggle with CWD, though. And it has had recent run-ins with EHD. These things, along with heavy hunting pressure, certainly bring down its grade. Still, don't sleep on the North Star State.
Missouri
Missouri isn't a top-tier state, but it's close. Overall, deer herds are doing well, other than where pockets of CWD exist. Unfortunately, it's still a two-buck state, though, and we'd like to see that change.
Chronic wasting disease has the potential to greatly affect Missouri's deer herd, said Jason L. Isabelle, cervid program supervisor and certified wildlife biologist for the Missouri Department of Conservation. First detected in the free-ranging deer population in 2012, CWD has now been found in 18 Missouri counties. Evidence from some other states has shown that when CWD prevalence rates become high enough, the disease can cause deer populations to decline. The Missouri Department of Conservation has taken an aggressive CWD surveillance and management approach to protect the state's deer herd by limiting disease spread and maintaining low prevalence in affected areas.
Nebraska
The Cornhusker State is a surefire destination for deer hunters. The deer herd is doing extremely well, and quality deer densities are becoming more common. An increasing buck age structure doesn't hurt anything, either.
It also offers unique opportunities to bowhunters. Take advantage of the early seasons and certainly the high-quality public land that can be found here. A giant potentially awaits.
North Dakota
While whitetail populations are quite the mystery here, hunters seem to do well. Some big ones are coming out of this state, and success rates are solid. There are plenty of opportunities.
The downfall? Tags are issued on a lottery system. Fortunately, it's easier to get a bow tag than anything else. Those who secure a tag should enjoy a good hunt.
Ohio
The Buckeye State gets top marks across the board. It's a top-three state in the nation, and the secret is getting out. Hunters are flocking here to find giant bucks and plenty of public lands to chase them on.
From all indications, the public-land restrictions had the desired effect on the harvest, which should translate to some additional opportunities this fall — both antlered as well as antlerless, said Michael Tonkovich, a wildlife biologist with the Ohio DNR. I'm cautiously optimistic that we will see some nice deer taken from public lands as early as this year, but more likely over the next couple of seasons.
Oklahoma
People overlook Oklahoma, and that's a mistake. This place has the goods and gets the grade to show for it. Big bucks are falling here, and many of them aren't being talked about. Folks who know how good it is don't want the secret to get out. But it's leaking.
These are the good old days, said Dallas Barber with the Oklahoma Department of Wildlife Conservation. Deer numbers are good, quality of bucks is on the rise, [and] doe harvest is within our management goals.
South Dakota
The Mount Rushmore State continues to restrict access to nonresident deer hunters, making it harder for them to get tags. Resident hunters who hunt locally, however, and those nonresident hunters who can secure a tag still find solid opportunities in South Dakota.
General trends for deer populations are increasing, said Steve Griffin, big-game wildlife biologist for South Dakota Game, Fish and Parks. There are areas that experienced some deer loss to disease last year, but these populations are expected to rebound quickly.
Wisconsin
Plagued with CWD, Wisconsin is seeing some of the country's highest prevalence rates for the disease. That's a huge blow to hunting here. Still, overall, the hunting isn't terrible, and big bucks are still hitting the dirt.
Be aware of county-level regulations regarding baiting and carcass transport, said Wesley Ellarson, a deer biologist with the Wisconsin DNR. Use DNR dumpsters for butchered carcass disposal. Wisconsin continues to grow trophy bucks and supply hunters with a classic deer hunting experience. We also have several programs and price incentives for first-time hunters.
For more information on these states, and the rest of America, check out the latest information available on Realtree's Antler Nation.
Special Reports
The 2021 Southeast Deer Hunting Forecast
The 2021 Northeast Deer Hunting Forecast