An all-inclusive report for each state, including season dates, license costs, population trends, up-and-coming counties, public-land hotspots, and more.
Deer hunting in the Southeast isn't what it once was. It's now much better. Many southern states have taken aggressive steps — at the urging of hunters — to better manage their deer herds for older bucks and better opportunity. It's paying off, too, as more monster deer stories are popping up from states like Georgia, Louisiana, and Arkansas than ever before. Mississippi has a higher percentage of 3 1/2-year-old bucks in the annual harvest than any other. As several deer biologists have told us, the good old days of southern deer hunting are right now.
With another deer season just around the corner, we've pulled together detailed reports and hunting forecasts for every state in the country within Realtree's Antler Nation. Within each state writeup you'll find updated season dates, license fees, deer population trends, public-land hotspots and more. The Southeast Region is up first.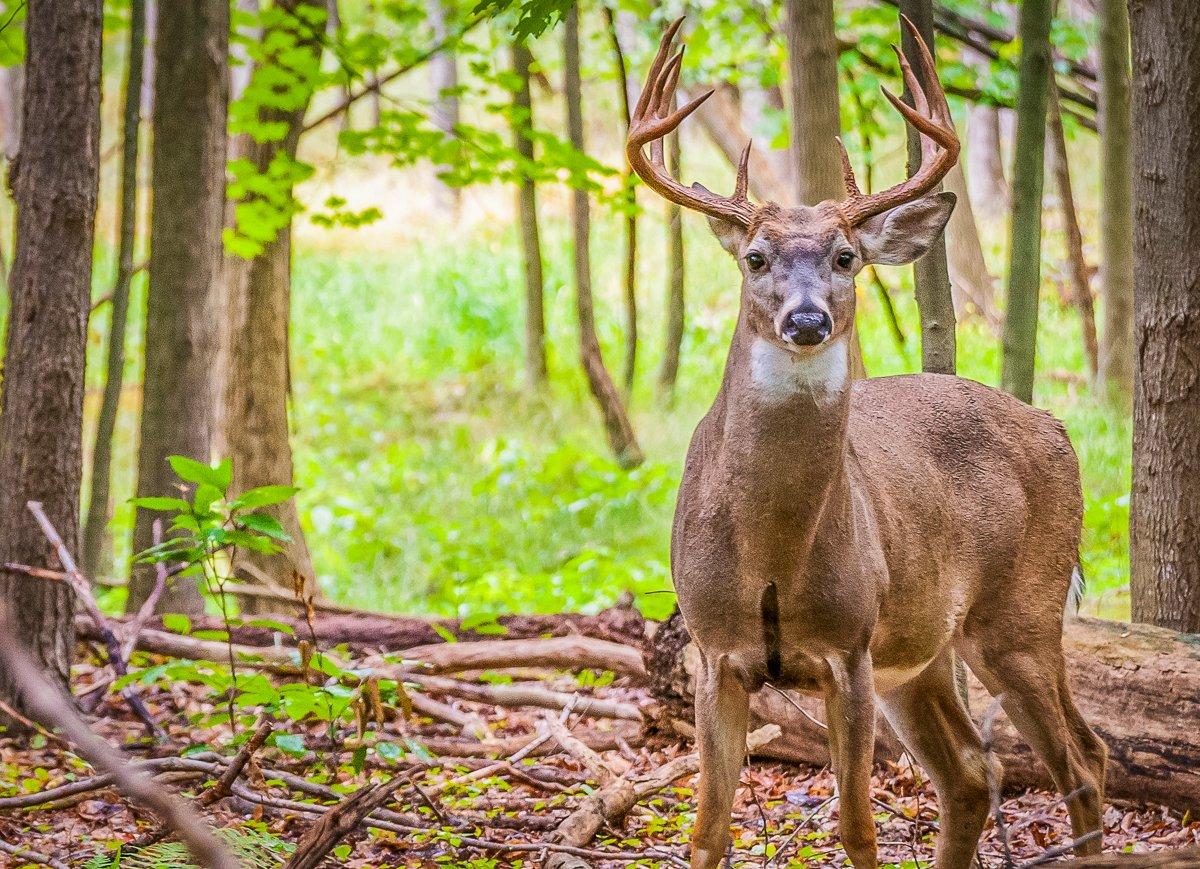 Alabama
Alabama's deer hunting hasn't had a great reputation, but things are seemingly improving each season. Deer populations are building, and bucks are getting older.
Those who want the best hunting should look to the Black Belt region, where deer have better food, habitat, soil, and genetics.
Arkansas
Most people think of ducks when Arkansas comes to mind, but there's some solid deer hunting, too. The state manages land to focus on quantity of deer in some areas, and quality of deer in others. While 2020 saw an incredible harvest, some expect it to fall a bit this fall.
We saw a record harvest for the 2020-21 deer season of 216,835, said Ralph Meeker, deer program coordinator with the Arkansas Game and Fish Commission. We suspect that harvest will drop back down closer to 200,000.
Florida
Most people head to Florida for the beach, not the whitetails. But with abundant public land and some unique opportunities, Florida isn't a bad destination to shop for venison.
Florida has one of the largest wildlife management area (WMA) systems in the country at 6 million acres, said Tammy Sapp with the Florida Fish and Wildlife Commission. FWC is the lead manager or landowner on over 1.46 million acres and works in partnerships with other governmental or private landowners on another 4.54 million acres. Florida's WMAs offer a wide range of hunting opportunities including quota and limited entry hunts, special opportunity hunts, and public hunting areas where people can walk on to hunt. Two new areas were added to Florida's 6-million-acre WMA system: Orange Hammock WMA, a 5,777-acre area in Sarasota County, and Everglades Headwaters WMA, Kissimmee Bend Unit, a 5,305-acre area in Okeechobee County. Both areas provide new quota permit deer hunting opportunities.
Georgia
Georgia is trending up to produce some very good deer hunting. The buck age structure and buck-to-doe ratios are improving, too. And according to the Georgia experts, public-land hunting continues to get better as well.
Those who love hunting public should consider using the Georgia DNR's interactive public-land map, which shows available wildlife management areas (WMAs), public fishing areas, and more. According to Charlie Killmaster, a wildlife biologist with the GDNR, all of the WMAs in the Piedmont area have the best average of deer numbers and quality bucks. Find a good spot here, pattern the deer, and fill that tag.
Kentucky
The Bluegrass is still the best state in the region, especially in terms of trophy bucks. It has a lot of deer, and plenty of opportunities to find them. It does offer less public land, especially in central Kentucky, but other than that, it's hard to talk negatively about it.
Overall, the statewide deer population estimate shows a stable to slightly increasing trend, said Kyle Sams, deer and elk program biologist for the Kentucky Department of Fish and Wildlife. In eastern Kentucky, where deer numbers took a hit from the 2017 Hemorrhagic Disease outbreak, the deer are rebounding, although growth is slow. This is primarily due to the lack of available forage and cover that is associated with forested habitats in eastern Kentucky.
Louisiana
Like Arkansas, Louisiana is a popular place for waterfowlers. It's improving in the deer hunting department, too. That's in terms of both quantity and quality. Just last year, Tyler Jordan tagged a giant there. Others are, too.
The 2020 harvest was the highest reported harvest in the past 10 years, said Johnathan Bordelon, deer program manager with the Louisiana Department of Wildlife & Fisheries. There is no reason to think that 2021 can't offer the same success.
Mississippi
One of the best destinations of the South, Mississippi also offers one of the best opportunities at a mature buck. It consistently ranks among the top states for having 3 ½-plus-year-old bucks in the harvest.
It also offers a significant percentage of older age class bucks on public land. And there's a lot of public land to roam on, too. Surely hunters can find great hunting opportunities on its 2 million acres of ground.
North Carolina
Historically, North Carolina deer hunting hasn't been that good. While better than its neighbor to the south, every other state around it offered better hunting. That's slowly changing.
North Carolina Wildlife Resources Commission Deer Biologist Jonathan Shaw says the buck age structure and adult sex ratio continue to improve. Bag limit changes in 2018 continue to improve the buck age structure, adult sex ratio and have stabilized or increased deer numbers in most of the state, he said. Some areas need additional changes in either-sex harvest opportunities to meet density objectives (increased deer numbers warrants increased antlerless harvest opportunity in some Western Zone counties, continued decline in deer numbers warrants decreased antlerless harvest in some Northeastern Zone counties). Additionally, the timing of blackpowder and gun harvest relative to the timing of the peak rut continues to be an area where improvements are needed across the state, most notably in western North Carolina.
South Carolina
One of the worst-graded states in the nation, South Carolina is taking steps in the right direction. They're helping lead the charge in research on how predators — specifically coyotes — impact whitetails. They're also taking measures like lowering the buck bag limit to improve the herd dynamics.
We don't talk about having bad deer seasons because we rarely do — I expect the harvest to be similar to 2020, said Charles Ruth, deer biologist with the South Carolina DNR. The good old days are now.
Tennessee
While the Volunteer State has several record-class deer to its name, including a few that are high on the charts, it isn't a great big-buck state. There are a lot of Pope & Young whitetails there, though. And with the discovery of CWD, it creates a lot of problems with the state, as well as new hunting opportunities and restrictions.
"Hunters should learn about CWD and the differences between Unit CWD versus CWD positive and CWD high risk counties, said James Kelly with the Tennessee Wildlife Resources Agency. At present, these are the same group of counties, but once testing begins for the season, the latter could change depending on the location of positive test results. If this occurred, the associated carcass transport and feeding restrictions apply immediately and automatically. However, the counties included in Unit CWD would not change midseason. Hopefully this makes sense.
Texas
The Lone Star state is an incredible destination for many reasons. It's limited in the public-land department, as the state is 95% private, and what isn't doesn't all offer good deer hunting. But it gets high marks in virtually all other categories.
Those looking for the best buck hunting should look to South Texas and the Western Rolling Plains. Within these regions, a group of approximately 15 counties create the best opportunities for record deer, but almost all of Texas can produce a big one. You just have to start researching the hunt.
Virginia
Old Dominion gets pretty high marks from us, and for good reason. Deer populations are stable, numbers are doing pretty well, and it's getting easier to find mature bucks. There are plenty more reasons to like Virginia, too.
Statewide, the deer population has been fairly stable overall for several decades, said Matt Knox, deer project coordinator for the Virginia Department of Wildlife Resources. Our new deer population estimate of 1.27 million is higher that our traditional 1 million estimate, but is primarily a result of a change we have made in how we calculate the buck age structure and resultant buck mortality rate, not an actual change or increase in the deer population (i.e., a recalibration).
For more information on these states, and the rest of America, check out the latest information available on Antler Nation.
Special Reports
The 2021 Midwest Deer Hunting Forecast
The 2021 Northeast Deer Hunting Forecast