What else are you going to do? Make sure your stands are safe, your broadheads are sharp, and gear for next fall is ready to go right now
I'm not a big fan of February. It's dark when you leave for work, it's dark when you get home, and it's too cold to putter around outside. What's the bored deer hunter to do to wile away those slow days until the spring gobblers start to hammer and strut? Take a deer gear inventory and review. Now's the perfect time. Season is still fresh enough in your mind to remember the little irritations that you swore to fix before next year's deer hunts rolled around.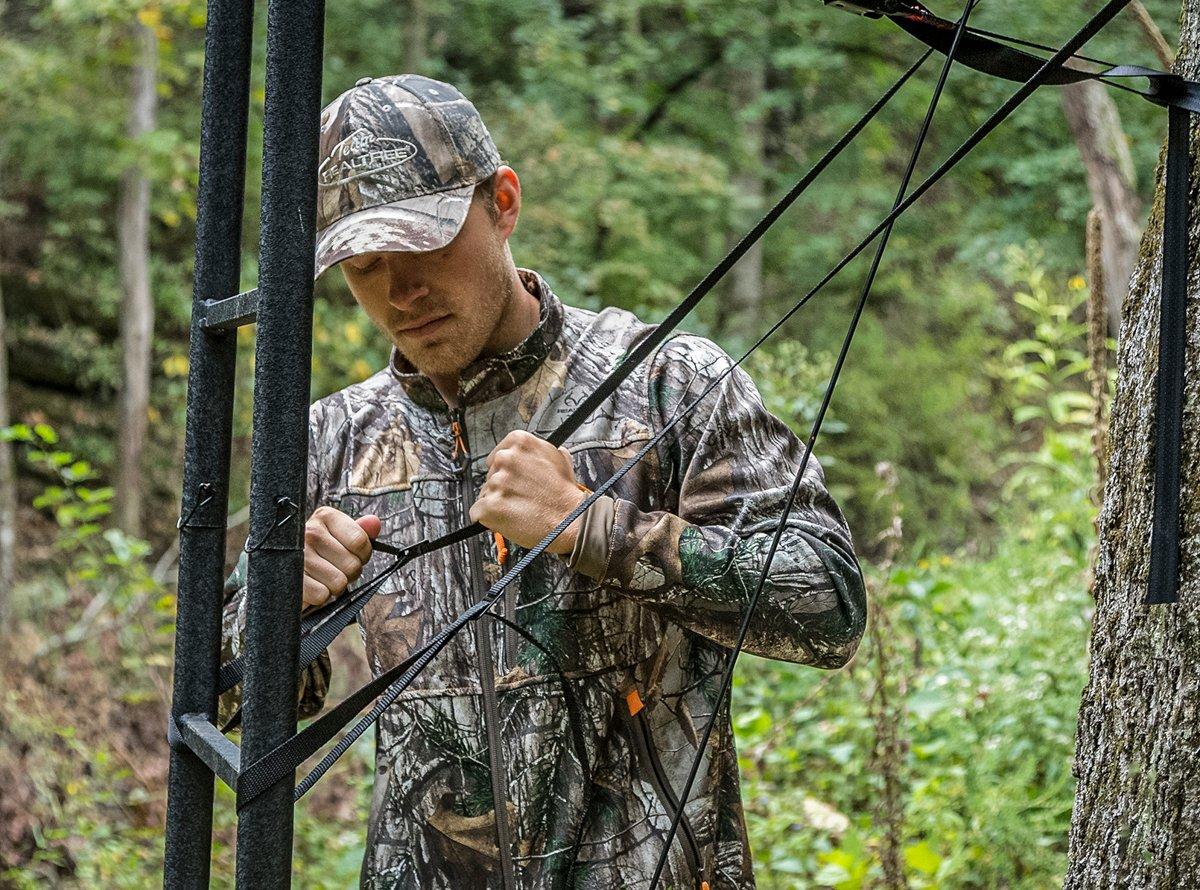 Get Dressed
Where your hunting clothes a bit snug last season? Yeah, mine too. They seem to shrink for no reason from one year to the next. Now you could go on a diet and hit the gym … or even better, shop around for some new clothes in the latest Realtree Edge or Timber patterns.
The off season is a great time to catch some steep discounts as retailers seek to clear shelf space for spring and summer merchandise. Hit up some local hunting stores. The folks behind the counter are just as bored as you are and will be happy to see a customer. Now is a great time to wheel and deal for some closeout prices. Don't forget to check online as well. They want to move leftover merchandise and often offer great sales this time of year.
Think back to the just finished season. Did you need lightweight clothing for those hot early season hunts? How about more cold-weather gear? What about footwear? Did your boots leak and your feet freeze as you sat in your stand daylight to dark back in November? New boots take time to break in, so get started now.
Stay Safe
Hunter Safety Systems recommends replacing harnesses every five years. How long has it been since you replaced yours? Ever had a fall that was stopped by your harness? Replace it now, even if it looks fine. Harness systems withstand a lot of force, even in a short fall, and they may have damage to the fibers that you can't see with the naked eye. While we're on the subject of safety, did you have a Lifeline for every hang-on or ladder stand you put up last year? Pick up extras now so that every stand you or a family member or buddy climbs has a Lifeline to attach to before ever leaving the ground.
Still have lines attached to trees? Go take them down now. Lifelines aren't made to be left out in the elements year-round. Store them out of the sunlight in a dry spot so they are ready for next year. HSS recommends replacing lifelines after two seasons of use.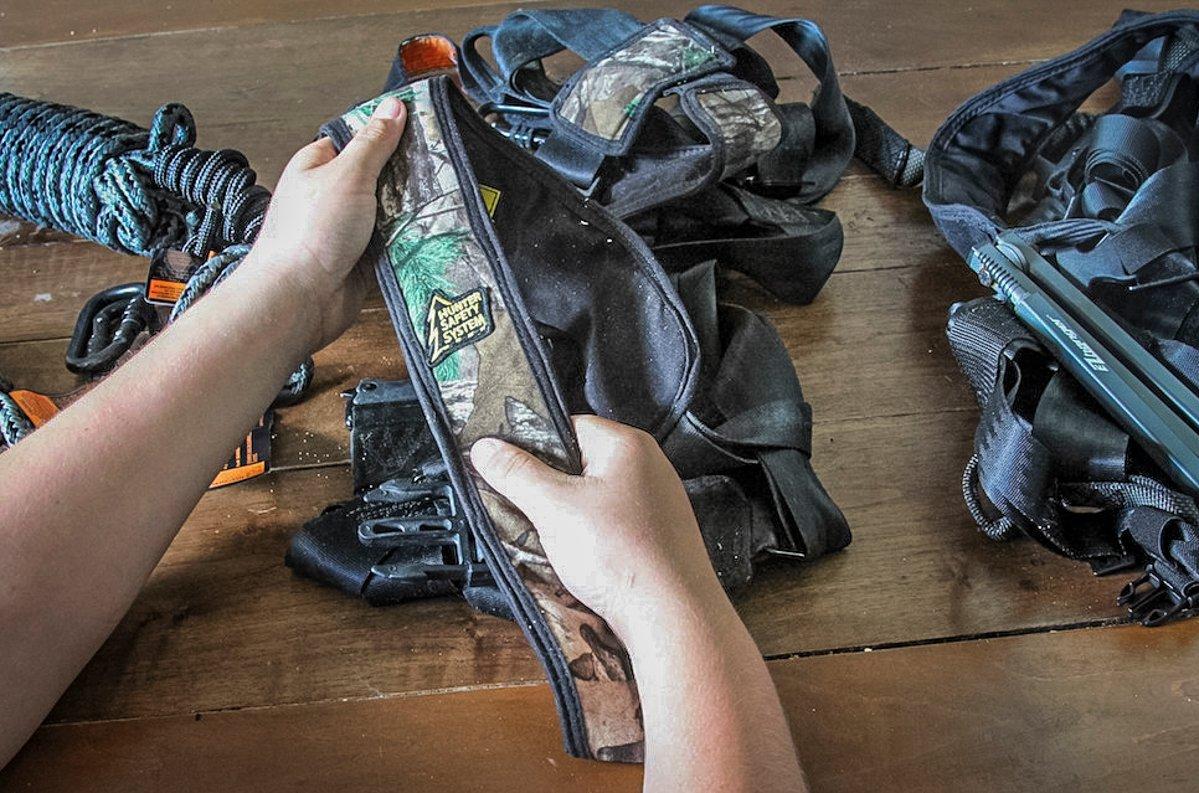 Are your hang-on and ladder stands still in the field? Have they been for a few years now? If the answer to either question is yes, you need to take them down and give them a good inspection. Bob Ransom, owner of Primal Treestands, recommends taking down your stands at the end of each season. As part of the yearly general maintenance, we recommend taking down the stand at the end of each season and replacing the straps, he says. Primal sells exact-fit straps for their stands on their website to make replacement quick and easy.
Along with the strap replacement, Ransom recommends giving moving joints and pivot points a good application of WD-40 or other lubricant of choice before storing. Stands are metal, and metal rusts when left exposed to the elements, Ransom says. Lubricating the stands before storage will keep them in top condition for next season.
Inspect the stand's frame for any hairline cracks or rust damage. The amount of time it takes to take a stand down and give it some TLC will be way less than the time you might spend in the hospital if a stand fails.
Get Shooting
Did you spend part of your time in the stand last year wishing you had a new rifle or bow? If you are seriously considering an upgrade or change, do it now so that you have all summer to practice and familiarize yourself with your new equipment.
How about optics? Did you miss a big buck one damp morning because your scope was fogged up? Or fail to notice the tall tines sticking out from behind that distant tree because your binoculars weren't up to snuff? Just like clothing, the off season can be a great time to upgrade optics at a discounted price.
What about arrows and broadheads? Is your quiver a little light after a few does—or squirrels? Go over your existing arrows to check for cracks, broken nocks, or damaged fletching. Check your broadheads to see if they need new blades or a bit of time on the sharpening stone. You have a lot more time to do those things now than you will during the two days before season.
Of course, none of this will make February itself suck any less. But maybe it'll help pass the time. And when season comes around again next fall and you are comfortable and safe in your stand, you'll be glad you did.
Now, just where did you leave your turkey calls when season went out last spring?
Don't Miss: Hunt Prep: New Stands, Blinds, Trail Cams and More from ATA 2020
Check out more stories, videos and educational how-to's on deer hunting.