Rack Report Details
Buck:
188-inch non-typical
Time of Year:
October 2013
Place:
Gibson County, IN
Weapon:
G5 Quest Bow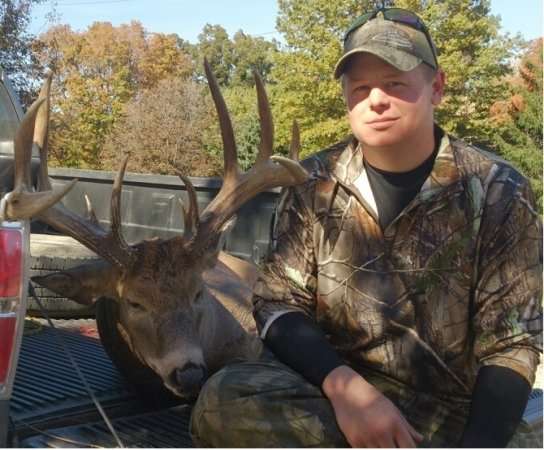 Most bowhunters are presented with only a chance or two per season at a buck. Seven bucks in a season would be something to remember. Seven in a day? That's something you'd never forget. But it happened to Indiana hunter Nathan Spalding, who put in the work and bagged his biggest deer yet after passing on seven other bucks in a single sit.
Spalding hunts on some bottom land about 50 yards from the Wabash River, and this fall he sweetened his area by making a few mock scrapes. He picked a location that had a small tree where two doe trails met, roughly 20 yards from where he planned to put up his ladder stand. He made a scrape and used some Tink's #69 and a Wildlife Research dominant buck scent. He completed his setup on a Thursday night. On Friday, he watched patiently as seven bucks hit his scrape, one after another. He passed on them all.
I waited, he said. I made a deal with myself that I wouldn't take a buck smaller than what I had killed last year - a 128-inch buck. There was only one buck out of those seven that might have been a shooter, but the others were smaller, so I waited.
He went to his stand again on Sunday morning, knowing the mock scrape was probably still hot. The first frost of the year was the night before and the temperature was around 30 degrees with no wind - perfect for deer movement. Around 7 a.m., he spotted a much bigger buck that came right up to the scrape. This one was definitely bigger than the buck he got last year. The buck was about 35 yards away when Spalding saw it, and it moved to within 20 yards, right by the scrape, and turned broadside. Spalding drew and shot, hitting behind the shoulder.
I heard the impact of the arrow hit it, but I wasn't sure it was a good shot, he said. He ran into some brush and I didn't see exactly where he went.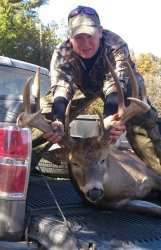 Spalding waited about 20 minutes before leaving his stand to look for the buck. There wasn't much of a blood trail, but after 45 minutes of looking, he found the bloody arrow. But it would take a nerve-racking two hours before he finally found the massive buck.
I knew he was a big buck when I shot him, but had no idea he was a giant, he said.
The buck green-scored 188 1/4 inches with 11 points. It had a missing G4 on one side and had developed a bone knot in its place, but still had more than 50 inches of mass measurements.
I don't hunt much, but I hunt hard, he said. I've only been hunting for about 5 years, and to get one this big after only 5 years, I'm just blown away.
Have a big-buck story you want to share? Nathan Spalding did. E-mail yours to us at [email protected].
Watch all the latest video episodes