Butcher's October bow kill is the new Kansas state record and the second-largest hunter-harvested buck of all time
Rack Report Details
Buck:
343 4/8 inches (official gross) / 321 3/8 inches (official net)
Time of Year:
October 11, 2019
Place:
Chase County, Kansas
Weapon:
Mathews bow Bowhunting
Last fall, Brian Butcher shot a crazy-looking buck that is now the fourth largest deer in the record books, and the second-biggest hunter-taken buck behind Luke Brewster's Illinois stud. It's also the new Kansas state record non-typical whitetail. But what's the story?
Butcher started bowhunting about 13 years ago. He shot some does each season, but it took several trips around the sun to get his first buck. This world-class deer was the fourth one he's ever taken. I'm still proud of the other deer and their hunts, but this one will always be the one most talked about, Butcher says. I shot does each year, but it was a lot of trial and error learning how to hunt mature deer.
Fortunately, the hunt for this giant whitetail all went down on the property where Butcher learned to hunt. I've been lucky enough to hunt this same property for 13 years, he says. It's a diverse piece of ground consisting of pasture, crops, a hay meadow, and some ground that's been left alone for cover.
He didn't have much history with the deer, though. His first photos of it came on April 25, 2019. I only had two trail camera pictures of the deer this year, Butcher says. It was evident at that time that he had a lot more growth on one side. After a few months, we forgot about him, as there were no other pictures of him.
But things changed on October 11. A cold front was pushing through, bringing a chilly wind with it. The high that day was 52 degrees, a 20-degree drop from the day before. And it got colder as the day wore on. Butcher decided to go to a new area and trim some shooting lanes. He and his friend, Clint, road out on a four-wheeler to get the job done. When they pulled up to the area, two or three deer ran off through the woods. They trimmed lanes for a ladder stand they'd moved the week before. About 4 p.m., Clint left, and Butcher climbed right into the stand, in hopes of glassing up a buck.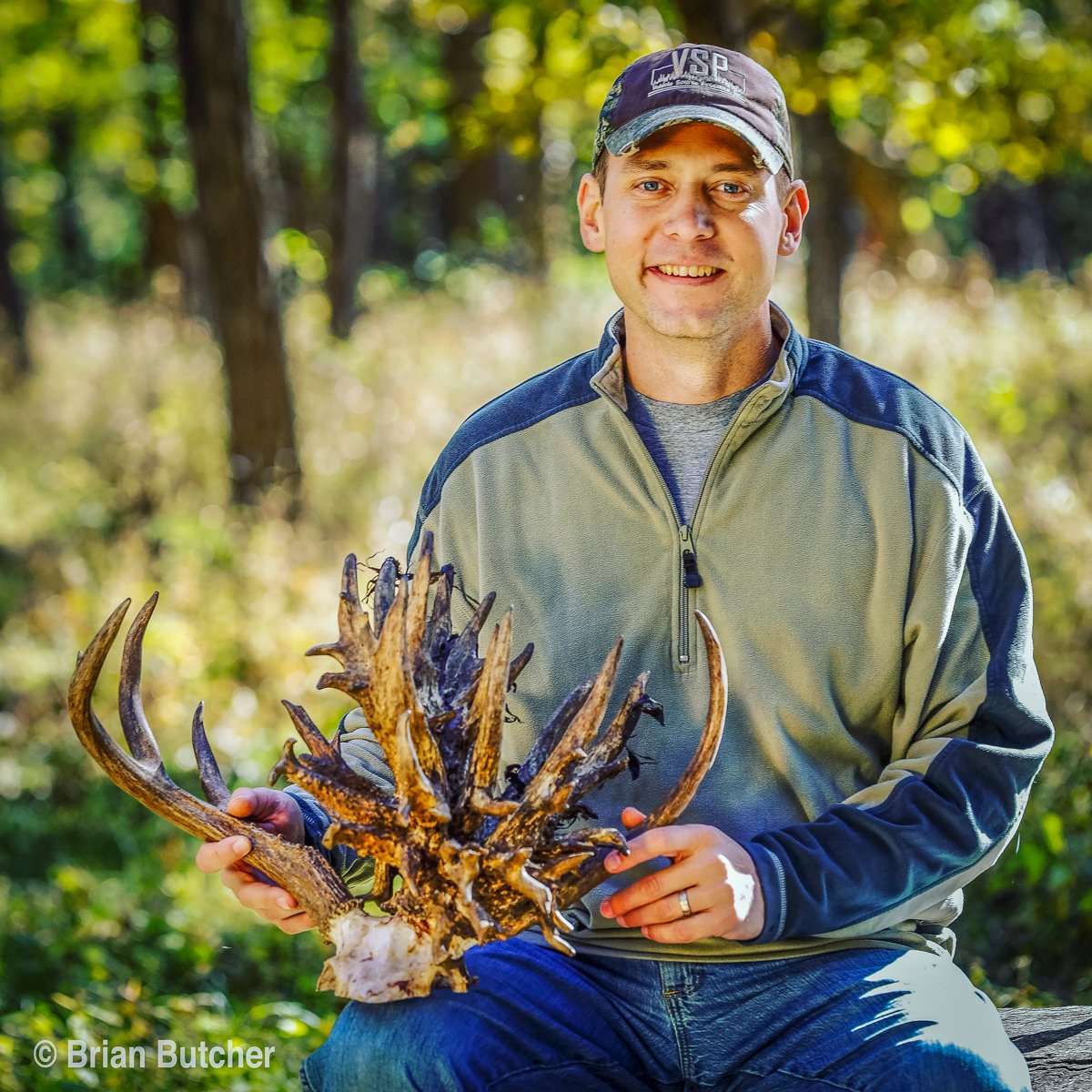 He sat facing a small creek. It was about 30 yards away — the perfect yardage marker if a deer came from that direction. On the other side of it was a pasture and an adjoining milo field. An overgrown field with small trees and tall grass sprawled out to the east. And a CRP field stretched out to the west. It was a beautiful spot to sit, even if deer didn't move that day.
But within about 15 minutes, a small buck worked to within range, and then quickly moved on. The action was slow for the next 30 minutes. The wind finally died down and a decent 9-pointer came into view behind the tree. It hung around for about 40 minutes — feeding on the freshly cut limbs — and then walked off through the timber.
Five minutes after that, Butcher caught sight of two more deer in his peripheral vision. He could tell one was definitely more mature than the other, but he couldn't be sure about the antlers. I thought there were branches or twine stuck in his rack, Butcher says. As he continued toward me, I realized it was a bunch of antlers. At that moment, I knew it was a deer worth shooting. From that moment on I never looked at the antlers again. I was a little nervous and knew that I wanted to take the first opportunity. The buck continued toward me until it was about 30 yards away.
The buck turned, walked to Butcher's left, and offered a 25-yard, broadside shot opportunity. He took it, and the arrow went right through the boiler room. The deer took off and ran a short distance before expiring.
Butcher realizes he was fortunate to get a shot at this deer. He didn't know the buck was still in the area or even that big, for that matter. Plus, what are the odds of a buck like that walking through on October 11 after cutting a bunch of limbs? My intentions were geared toward an early observation hunt, Butcher says. I didn't have any real expectations. All I did was spend some time in the stand and stayed focused. I think about the hunt and shake my head every time. I've hunted countless days, and it never works like this. We were in there trimming limbs two and a half hours before I shot this monster. He came in and presented the perfect shot for me on my first hunt of the year.
After the shot, Butcher called his uncle, John. He, his friend, Lynn, and Butcher recovered the deer and drug it out of the woods. Then, another friend named Luke helped process it. After that, the celebration began.
Everyone has been surprised and confused by this deer, Butcher says. It is like nothing anyone has seen. Some people who saw pictures of it early on thought that it was photoshopped. This deer has meant a lot to me because of where it has landed in the record books and the opportunities it has created. It tastes great, too.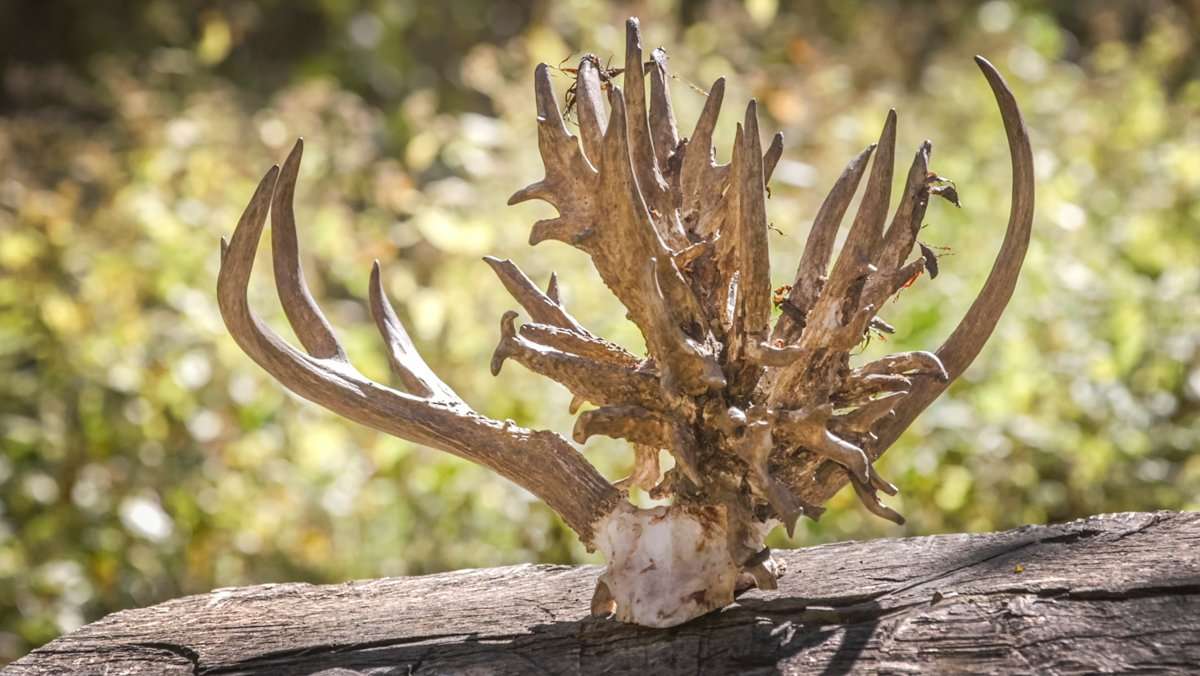 There are a lot of reasons why hunters go afield each year, but killing a record-book buck isn't common enough to serve as motivation for most hunters. Butcher loves the adventure, peacefulness, camaraderie and of course, the healthy venison.
Deer hunting has turned into a passion for me, he says. Hunting is so much more than killing an animal. The amount of time spent in nature as an observer can be just as rewarding as a successful hunt. It's challenging and when you're so close to these animals, nothing gets your heart pounding quite like it.
This giant buck, aged at between 4 ½ and 5 ½ years old, was officially scored at 343 4/8 inches gross, and 321 3/8 inches net. Since it's such a large, record-breaking deer, it will be panel scored in 2021.
Don't Miss: Guner Womack's Huge 16-point Oklahoma Typical
Check out more stories, videos and educational how-to's on deer hunting.
Watch all the latest video episodes