It isn't every day that you see a 180-plus-inch buck in the Peach State
Rack Report Details
Buck:
186 inches (green gross score)
Time of Year:
Oct. 11, 2020
Place:
Troup County, Georgia
Weapon:
Thompson/Center Bone Collector Muzzleloader Muzzleloader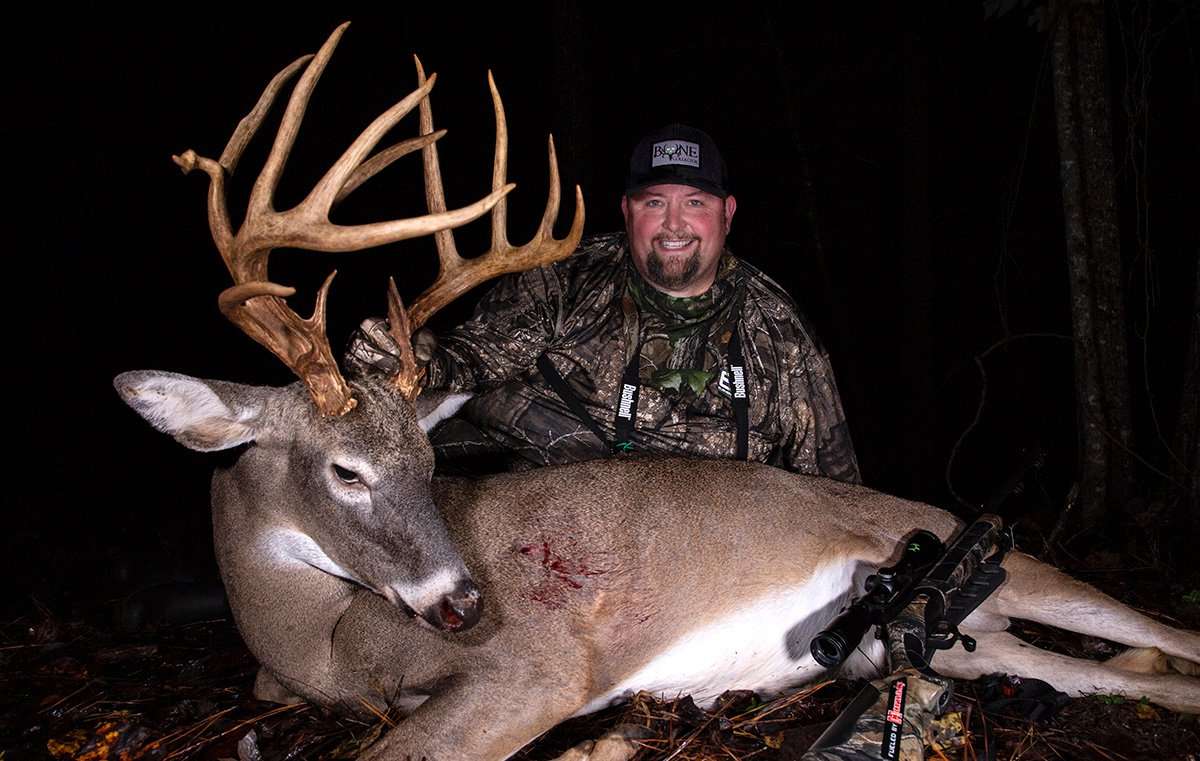 Rarely do hunters have four years of history with a deer they tag, but it happens, and Bone Collector's Travis T-Bone Turner experienced it this season. He closed the book on a 6 1/2-year-old Georgia giant. To make it even better, it was on a farm he's owned since 1999.
This deer was reminiscent of a buck that lived on the Turner farm years ago. We called him Hands of God, or HOG, Turner says. With really long tines, it almost looked like a set of hands and fingers. Most people think we named that deer Hog, but it's actually Hands of God.
Fast-forward to 2020. This buck looks very similar, but much bigger. I've known him since he was 2 years old, Turner says. When this deer started showing up, my son called the deer HOG 2.0.
Early in the season, Turner had a not-so-terrible dilemma: Two monster bucks frequented his property, and he didn't know which one to hunt first. He tagged the smaller of the two — a 160-inch typical 10-pointer — on Sept. 25. Then he focused on the remaining buck.
These two deer were showing up on cameras 400 yards apart, and never did I get them on the same camera, Turner says. As far as I know, they didn't see each other. It's the craziest thing. It's like they divided my property in half.
The bigger deer followed the same early-season and pre-rut patterns each year. The problem? He wasn't hitting most cams until after dark. Days passed, and Turner kept receiving photos of HOG 2.0 on a trough feeder at the front of the farm, but only after dark. Turner eventually pushed in and set up camp closer to the buck's bedding area.
Ultimately, he put out a corn pile and camera near the buck's daytime lair. Fortunately, the buck started hitting the new cam in daylight. So, Turner continued freshening up corn piles and monitoring those cams.
Based on where HOG 2.0 lived, Turner didn't feel confident in getting the job done with a bow. Given the circumstances, moving in to hang a bow stand or blind seemed likely to apply too much pressure.
I think I might have gotten one or two hunts, and then pushed him to be nocturnal, Turner says. The best thing I could do was set a ground blind 80 to 100 yards away, because he was coming into this huge drainage ditch, and there was no way I could get in there without boogering him.
Given the low archery odds, Turner patiently waited for muzzleloader season. That way, he could hunt the buck from a distance for multiple days in a row.
I knew I needed to try it, because acorns were starting to drop, Turner says. Then, of course, the later into October we get, the more bucks start to roam. Plus, we start traveling a lot then, too, and I wouldn't have many days to hunt him.
Unfortunately, Hurricane Delta and a bad wind direction prevented him from hunting on opening day of the primitive weapons season. The next day, bad weather and winds pushed out, creating a window of opportunity.
Once in the field, Turner slowly walked along a low-risk entry route to his blind. Upon arrival, he closed the hatch and settled in. He was about 100 yards away from the bulk of deer movement.
Deer emerged almost immediately, and several does entered the open. Over the course of the evening, a total of 15 does and three young bucks meandered in front of the blind. This reassured him that pulling back and hunting with a muzzleloader was the right call. Trying to set up within 30 yards of the deer-activity focal point would have spooked other deer before the giant ever walked out.
There's a lot of woods around there, and so they're in and out, Turner says. I guess they think they need to get their carb fix before the big boys get in there.
After days of patience, and many sleepless nights, he finally spotted the buck. About 40 minutes before the end of shooting light, the stud stepped out of cover and slowly walked toward Turner. He turned broadside at 86 yards. A cloud of smoke filled the air, and the giant bolted, disappearing just inside the brush.
Turner gave the deer some time, and then he and a couple of friends took up the blood trail. Although he didn't see the deer fall, it ran just 30 yards before expiring. Of course, they celebrated the 186-inch giant.
Looking back, it would have been easy for him to get photos of this buck and just go bowhunt. Instead, he waited until the opportune time.
Let the cameras tell you what to do, Turner says. I hunted this deer for one day, but if you count sleepless nights, watching trail cameras, and strategically placing corn piles, I've been doing that since July. I'm so appreciative, lucky, and blessed.
Don't Miss: A Velvet Booner in October?
Watch all the latest video episodes