Doug Hampton passed up a record-class buck when it was 3 1/2. The Rival team member got another crack at him two years later. He'd grown — a lot.
Rack Report Details
Buck:
213 5/8 inches (Buckmasters composite score)
Time of Year:
Dec. 8, 2020 (first firearms season)
Place:
Appanoose County, Iowa
Weapon:
Marlin .45/70 Rifle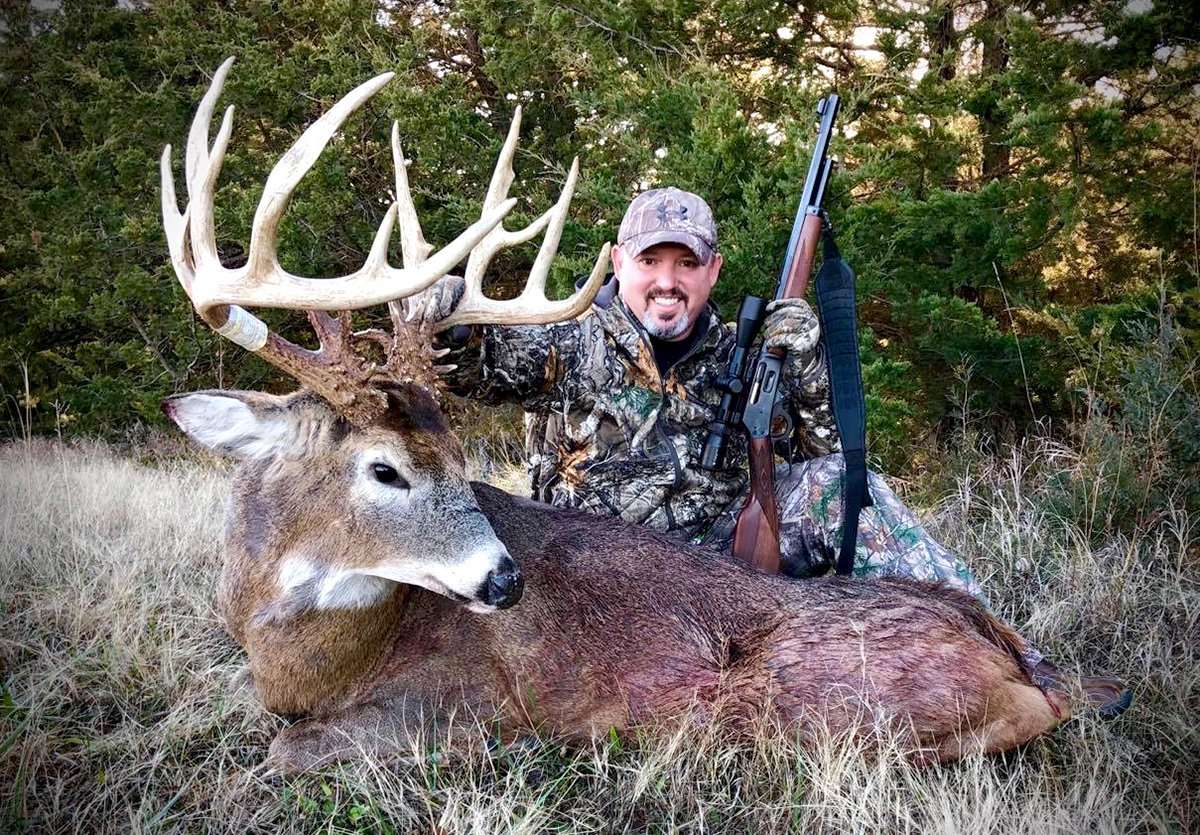 Doug Hampton, a member of The Rival team, has had a grudge match with one particular buck for the last three years. And that deer recently came to be known as Full Curl.
Hampton hunts with friends Jeremy Ward and Scott Sebolt of Fat Racks Outfitters, where he had multiple encounters with Full Curl over a few seasons. In 2018, Hampton and Full Curl had their first meeting. He drew a late-season muzzleloader tag and decided to go in January. As difficult as it was, the outfitter asked him to pass the buck, and it was already really big as a 3 1/2-year-old deer.
I'm not good at passing 170s, Hampton says. They showed me a picture of him, and I couldn't believe my eyes. He truly had 200-inch potential. Iowa is the land of giants for a reason.
He prepared himself mentally to keep the safety on if the giant walked out.
Don't worry, you'll probably never see him, the outfitter said as Hampton jumped out of the truck.
That afternoon, the giant youngling lumbered all the way to within 30 yards of his ground blind and started feeding. Being the good soldier, Hampton never raised his gun. Although it was upsetting at the time, his future self would thank him.
In 2019, they never saw the buck. No sightings. No trail camera photos. He was gone. This only made me more unsure of passing him the previous season, Hampton says.
(Don't Miss: Iowa Muzzleloader Buck has "Ground Growage")
Then, in 2020, the buck returned as a 5 1/2-year-old with a monstrous rack. They guesstimated the deer to have at least 25 scorable points, if not more.
We were in awe of the trash that he had grown around his bases, Hampton says. In the back of my mind, I knew it would be a long shot, but I'd set my sights on him.
Because the whitetail was fully grown, they nicknamed him Full Curl, like a sheep hunter would refer to a mature ram. A bowhunter nearly arrowed Full Curl at 40 yards in early November, but couldn't get a shot off.
That was good for Hampton, though. Still, there was a problem. When he arrived at camp, he learned that the standing corn hadn't been cut yet. That can make for a challenging deer hunt. He had one play, to hunt the fringes of timber bedding areas, and a five-day window to get it done.
Day No. 1 of the hunt brought a beautiful sunrise and lots of hope. The latter was quickly squashed like an ant under the heel of a steel-toed boot. Around 10 a.m., slow movement was met with a sudden flurry of madness.
That's when the war started, Hampton says. Neighboring hunters were driving deer and weren't hitting anything. It sounded like a public-land duck hunt. Every deer in the bedding area ran past me like the British were coming.
He hoped for better the next day, but day No. 2 was an exact repeat. Deja vu hit hard.
The third day of the hunt wasn't much better. There were no more deer drives, but there was very little movement. (Likely a result of heavy pressure from all of the commotion.) It could only get better from there.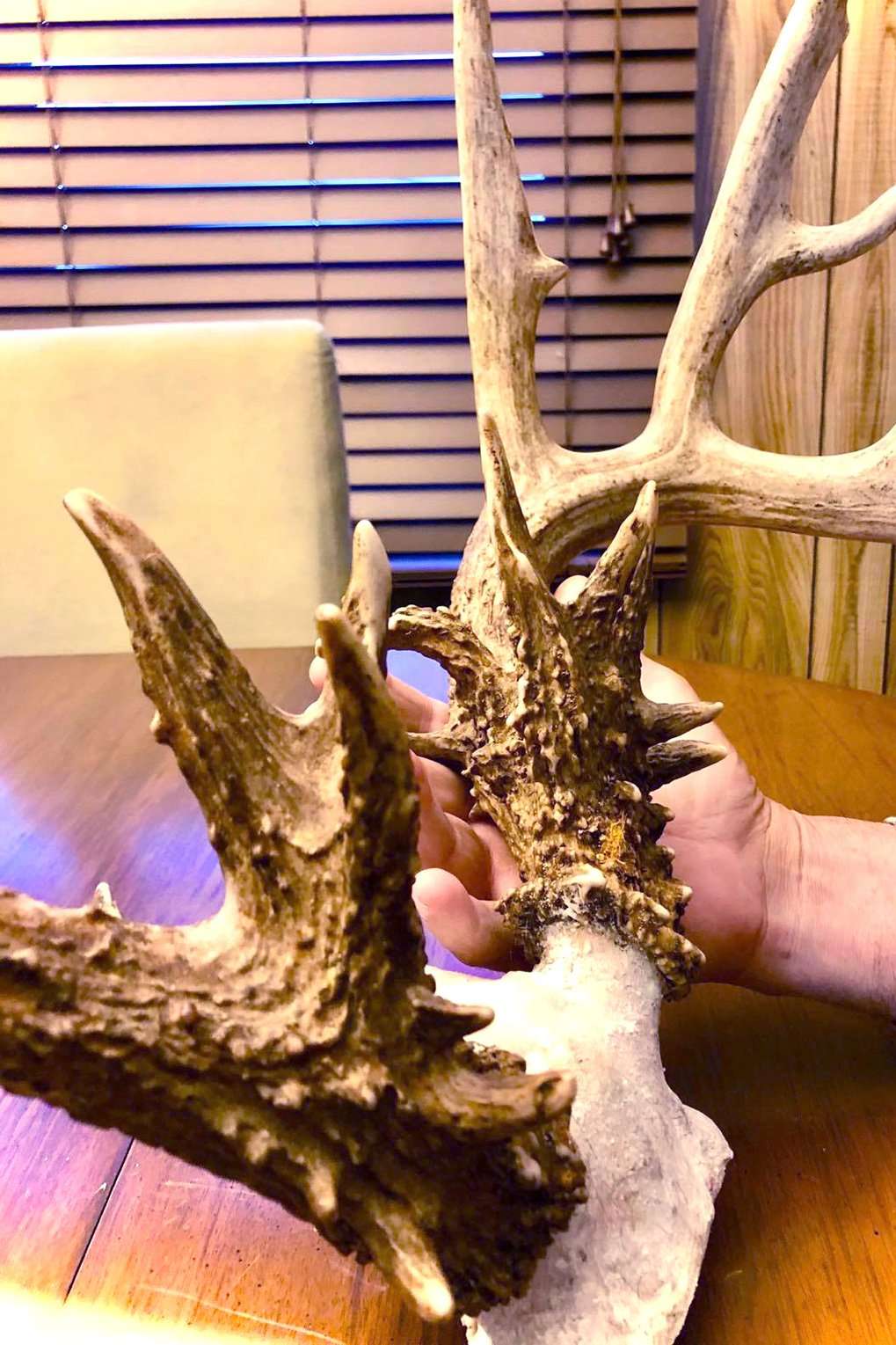 Round No. 4 began, and Hampton had a renewed sense of hope. With little time left on the clock, he decided to get aggressive and pushed deeper into the bedding area (and further from the previous deer drives). He picked his spot.
I had a sneaking suspicion that Full Curl was bedded in the deepest ditch in that particular block of woods, Hampton says. At 11 a.m., I met up with Jeremy and Scott to go over my plans for the evening. There was one hickory tree that stood out. It looked like the place to be.
An hour later, he was relocated and ready. A heavy trail led right past him. Plus, if the deer came out of the ditch to the north, he'd have the wind in his nose, which would likely give him the confidence necessary to emerge during daylight.
Big deer use the wind to survive, Hampton says. To get the best of them, you have to beat them at their own game. At this time of the year, surviving is their only concern.
Around 2:30 p.m., a doe and fawn walked into view. A half-hour later, a young 6-pointer jumped up out of the ditch, worked a scrape, and browsed off into the distance. Minutes passed, and just as he turned to look over his shoulder, a twig snapped directly behind him. Another doe and fawn.
(Don't Miss: Cody Kelley's Mississippi Stud)
I eased my head back around, and a glimpse of white caught my attention, Hampton says. There was a buck coming out of the ditch. I literally lost my breath as my eyes focused on what I immediately recognized as the biggest wild whitetail I have ever seen.
Just 125 yards away, the mammoth deer paralleled his position. Self-filming, Hampton got the camera on him and grabbed his grunt call. Just as he did, the doe, still only eight yards from the tree, pegged him. Normally, he wouldn't have moved with a deer that close, but he couldn't let the big fella get away.
The doe bounded off a few yards, stopped, and looked up. She started stomping, and the sudden flurry of events caught the buck's attention. He turned to survey the scene, then started to walk downwind of them.
The buck made it to within 80 yards and directly downwind of the setup. Finally, he stopped and turned broadside. After a few seconds, he threw his nose in the air, then started bobbing his head up and down.
While the buck and doe distracted each other, Hampton slowly grabbed his gun, a Marlin .45/70, raised it up, and cocked the hammer. He controlled his breathing and settled the crosshairs.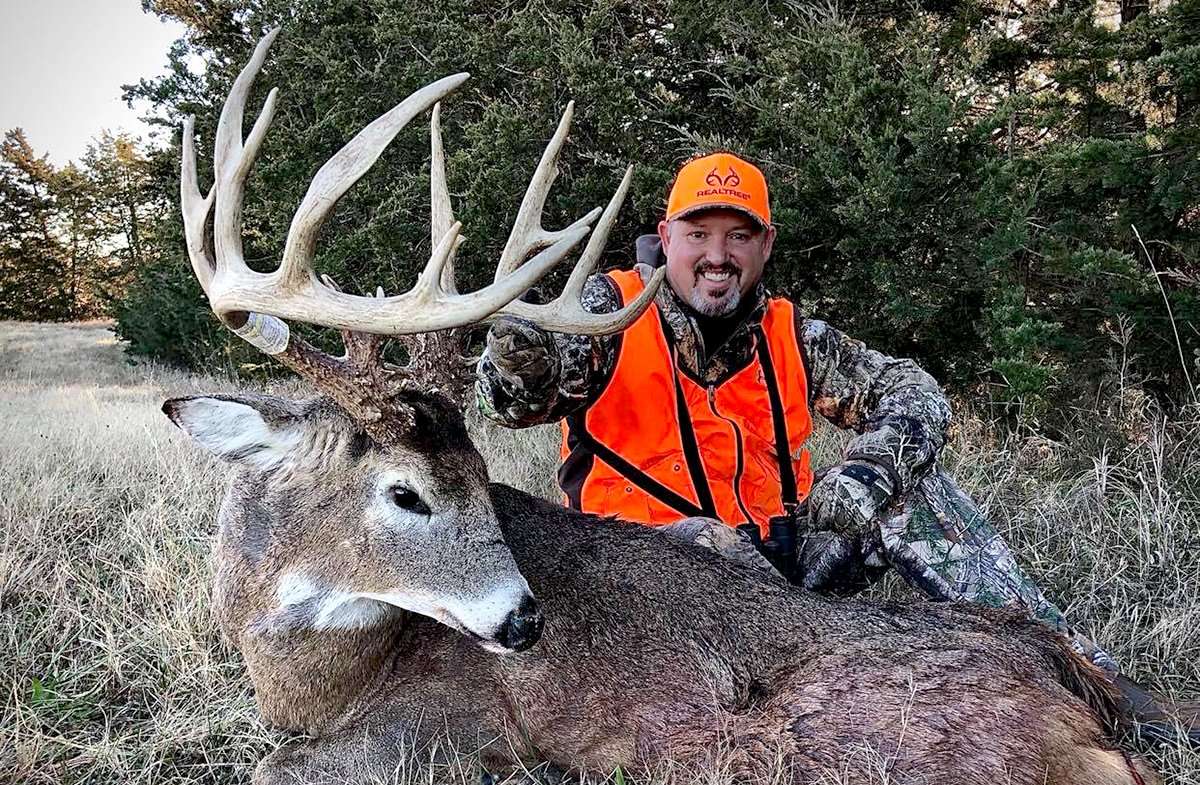 The gun barked, and the blast echoed throughout the ravine. The buck dropped. The other deer ran off. Then, complete silence. The woods stood still.
I watched in amazement, Hampton says. The deer fell to the earth in an instant. I began to panic. I was losing it mentally. After 10 minutes of holding him at gunpoint with no sign of life, I texted the boys.
After regaining his composure, he safely descended the tree and crept toward the downed buck — gun at the ready. He wanted to be prepared if the deer got back up. It didn't, though. It was done.
Flooded with emotions, he reached his son on FaceTime on the first ring.
(Don't Miss: Sleeping in the Blind for a Drop-Tined Hoss)
I got him. I really got him! Hampton remembers telling his son. He recalls, I switched the screen around, and he was losing it on the other end of the line. We spoke for a few minutes before Scott drove up. I walked out to meet them, and we walked back in and began the celebration.
That night, he and his friends scored the 26-point buck, which stretched the tape to 213 5/8 inches (Buckmasters composite score). What had been a difficult pass to make two years prior yielded an incredible return with a whole lot of interest.
I don't deserve it, but I thank God for the blessing, Hampton says. I prayed to have an opportunity at this buck. I'd love to take the credit, but it all goes to God. A 26-point, wild and free-ranging whitetail well over the 200-inch mark is beyond a dream for any hunter. I had an awesome time chasing Full Curl, and in the end, it came full circle.
Watch all the latest video episodes