John Earhart III hunted a new 70-acre chunk of ground and got a shot at this monster buck on the first day of bow season
Rack Report Details
Buck:
161 5/8 (non-typical)
Time of Year:
September 10, 2021
Place:
Somerset County, Maryland
Weapon:
Elite EnKore bow Bowhunting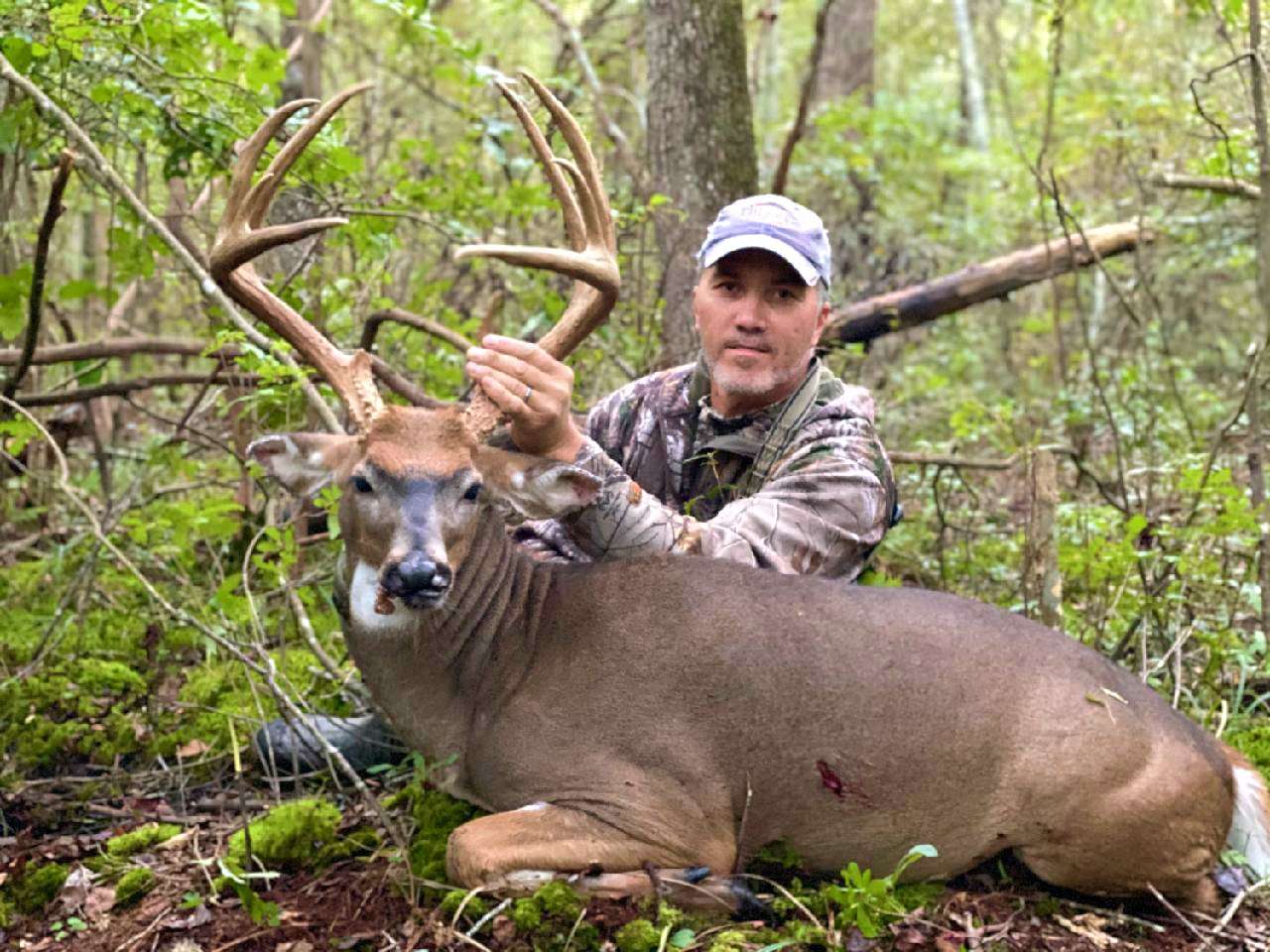 If you glance at the Rack Report distribution map, you'll see that a small fraction of Rack Report bucks come from the Northeast. When one does make the cut, it's time to lean in and start reading, because you're probably in for a good deer story. That's especially true when the buck in question is a 22-point nontypical like the one John Earhart III arrowed on September 10 this season in Maryland.
You might recall seeing Earhart's name in a previous Rack Report, which published in November 2020. Last season, he arrowed a beautiful typical buck grossing just shy of 160 inches. But nothing is typical about Earhart's 2021 buck, which he killed on opening day.
To begin, Earhart picked up a new parcel to hunt this year.
It's a small, 70-acre piece, he says. But, it's in the right area to be productive. I knew it had potential because big deer are always in that area, it seems. I started baiting (legal in Maryland) on the property earlier this summer with Big Tine Protein Plus.
Soon, Earhart's suspicion that mature bucks were in the area was confirmed. I had pictures of a really big 10-pointer with some kickers at that location, he says. He disappeared pretty early on, and then I wasn't getting much on the camera other than a few does and two spikes. Then, a big nontypical started showing up regularly. He was the only branch-antlered buck I was getting on camera at that location.
(Don't Miss: A Velvet Bow Kill from the Ground)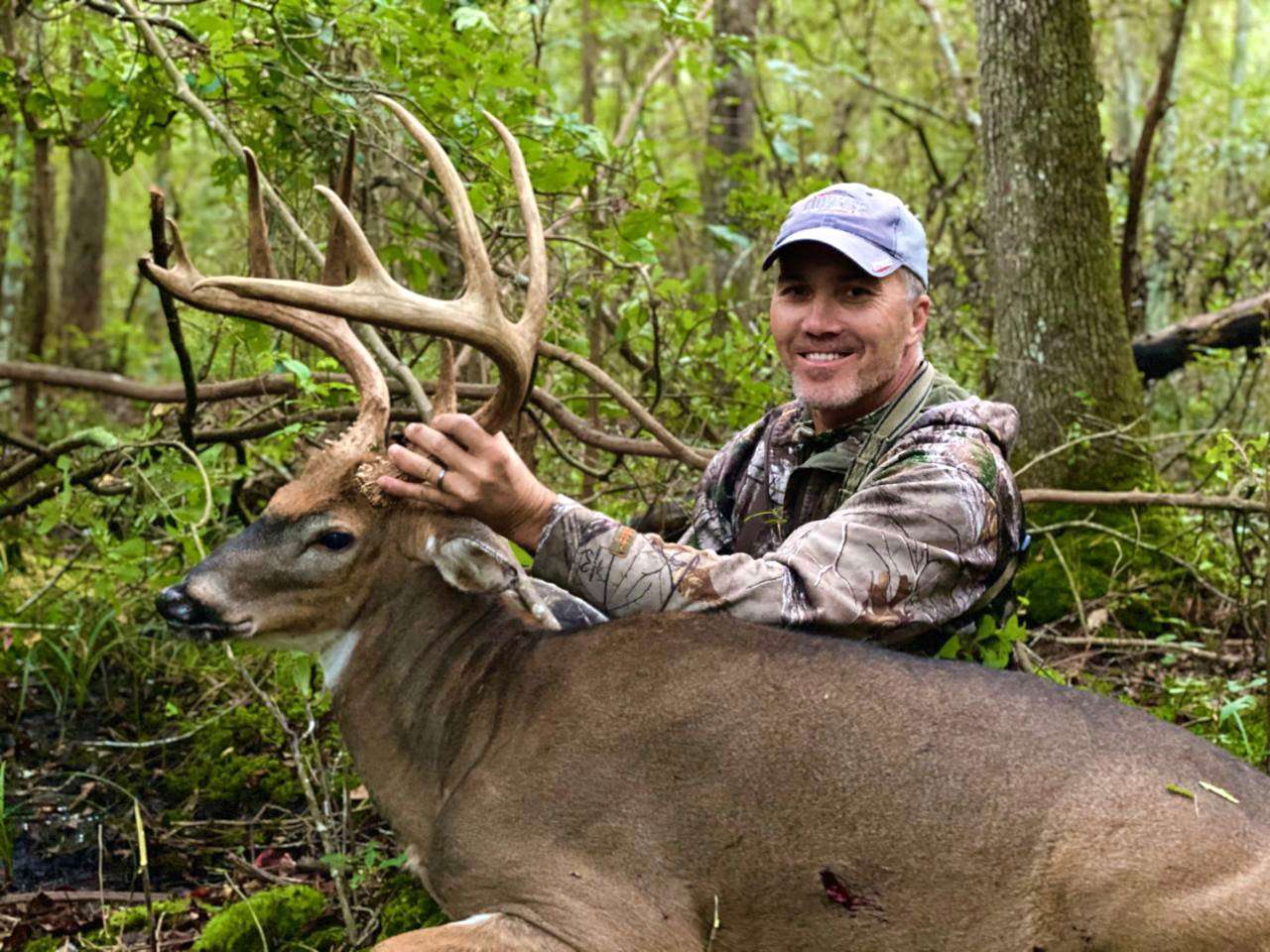 To make it even better, the buck was moving around in shooting light. About one week before archery season opened, he started daylighting, Earhart explained. I think he missed only one day during that week. I felt good about my chances for opening day.
The September 10 opener rolled in with perfect conditions for Earhart to target the large nontypical. I arrived at my stand early, he says. I was all set to go just after 3 p.m. The afternoon was uneventful, but right around 7:10 p.m., I heard a deer walking through the water nearby. I looked and immediately knew it was the nontypical. I'd gone in there unsure if I was going to shoot him or not. Sometimes, trail camera pictures can fool you, making bucks appear larger than they actually are.
But seeing the deer in real time was all Earhart needed to hook up his release and preparing to shoot at the buck of a lifetime.
He came in and gave me a good broadside shot, Earhart recalls, and I took it. I felt good about the shot, thinking that I'd smoked him. When I got down, my arrowed was covered in blood. So, I rounded up a couple of buddies to help with tracking.
But 40 yards away, the blood trail disappeared. We couldn't find any blood at all. I decided that it was best to leave and resume the tracking job the following morning, Earhart says.
(Buy Alert: EZ Bow Sling)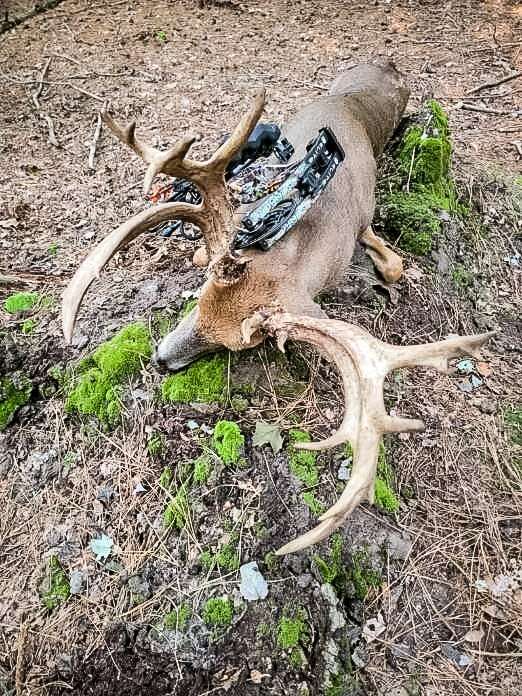 Earhart self-films his hunts for Red Rising TV, and that proved invaluable in making the decision to wait. When I replayed the hit on the camcorder, I saw that it wasn't perfect, but it was certainly a decent shot, and I had a lot of confidence that it would do the job. When we hooked the camcorder up to my TV for a better look, we all felt sure that it was a liver hit.
Pending a sleepless night, the chase resumed at about 9 the following morning.
We recovered the buck about 300 yards away from where I shot him, Earhart said. It felt great to find him, and putting my hands on his antlers, I realized just how massive he is. My pictures do the mass no justice. With 22 points, the buck green scored 161 5/8 non-typical, and made for a pretty good start to the 2021 Maryland deer season.
(Don't Miss: Giant Kentucky Velvet Buck with a Longbow)
Watch all the latest video episodes