A year's worth of online scouting led to this Kansas monster for Pennsylvania hunter Chad Priest.
Rack Report Details
Buck:
189 6/8
Time of Year:
Nov. 11, 2021
Place:
Lyon County, Kansas
Weapon:
Hoyt Fireshot
Chad Priest, along with his hunting buddies Dave Johnson and Ray Pollum, love to bowhunt their home state of Pennsylvania. But they also love to travel to bowhunt new states together.
Last fall, the trio hunted Ohio. While they didn't kill a big buck, they enjoyed their time afield so much that they immediately started planning another trip. Through a work acquaintance, Dave got a lead on a farm in Kansas, a state none of the three had previously hunted.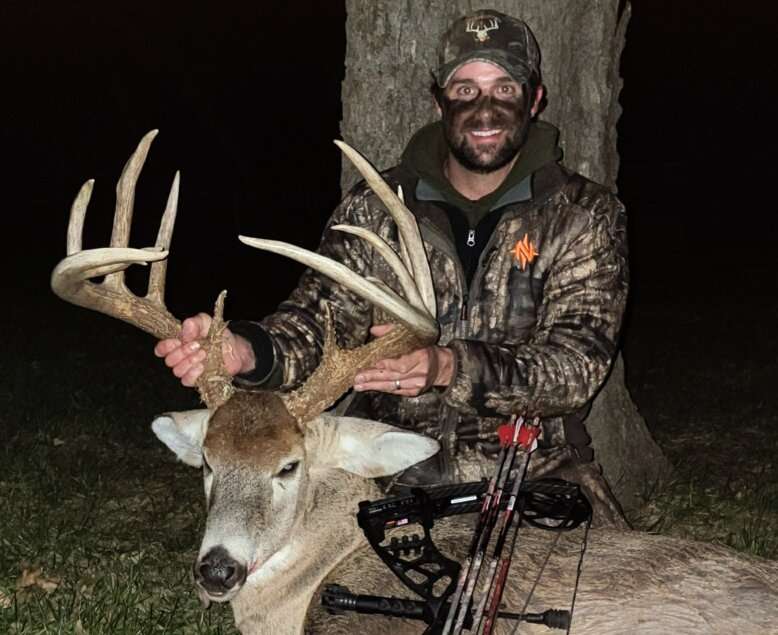 Once they had obtained permission, the three hunters immediately began planning this year's hunt. Using online hunting apps and maps, the three friends started remote scouting the farm they planned to hunt. When they found a likely looking spot like a draw or funnel, they would mark it for a possible stand location. This went on for nearly a year. By the time the hunt rolled around, the three were confident that they were as familiar with a piece of land that none of them had ever laid eyes on as they could possibly be.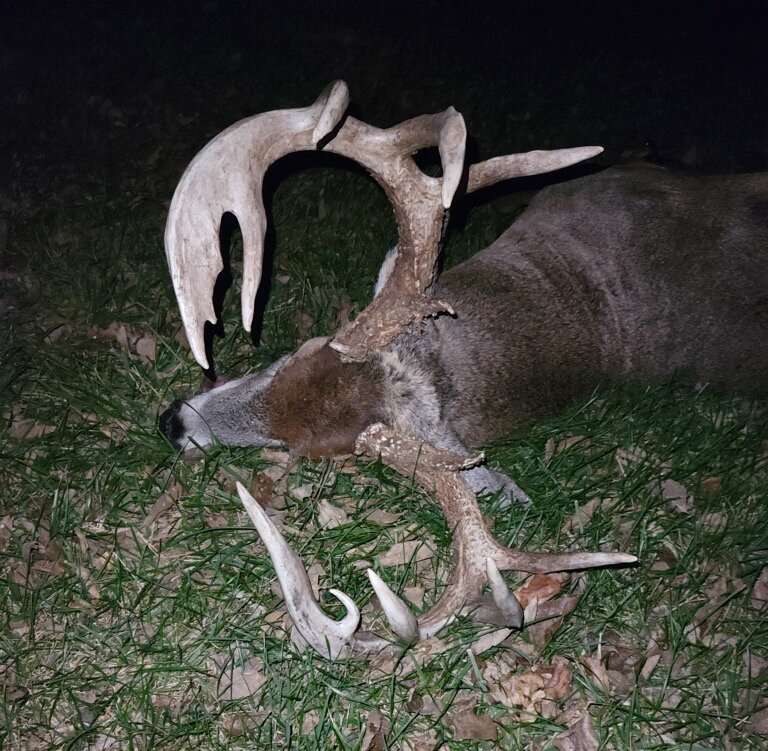 On Nov. 9, 2021, almost a year to the day since they had started planning the hunt, the group arrived at the farm. They spent the day physically checking each of their marked stand possibilities and hanging stands on the ones that looked as good in person as they did on the map.
Priest felt particularly good about one of his spots. It was a funnel leading from a wooded creek bed into a cut soybean field. The amount of sign in the area told Priest that this was a spot that deserved his attention.
The next morning, Priest used his climber to get into a tree that overlooked some good trails. He saw deer all day, including some good bucks. We see a lot of deer in Pennsylvania, but these bucks were on a different level, Priest said.
(Don't Miss: A 183 Typical Buck on Halloween)
Priest saw enough deer that first day that he knew he needed to go back to the same spot the next morning. After his morning sit, he was concerned that one of trails that saw the heaviest use was behind his tree. After climbing back up for the afternoon hunt, I made the decision to turn my stand on the tree so I could shoot that trail if a big buck came through, Priest said.
After seeing a pair of young bucks and one mature buck that didn't offer a shot, Priest noticed a doe making her way down the trail he had turned his stand to see. When she stopped in an opening, he ranged her so he would know the distance if a buck stopped in the same opening. A few minutes after the doe moved through, Priest heard another deer making its way down the trail.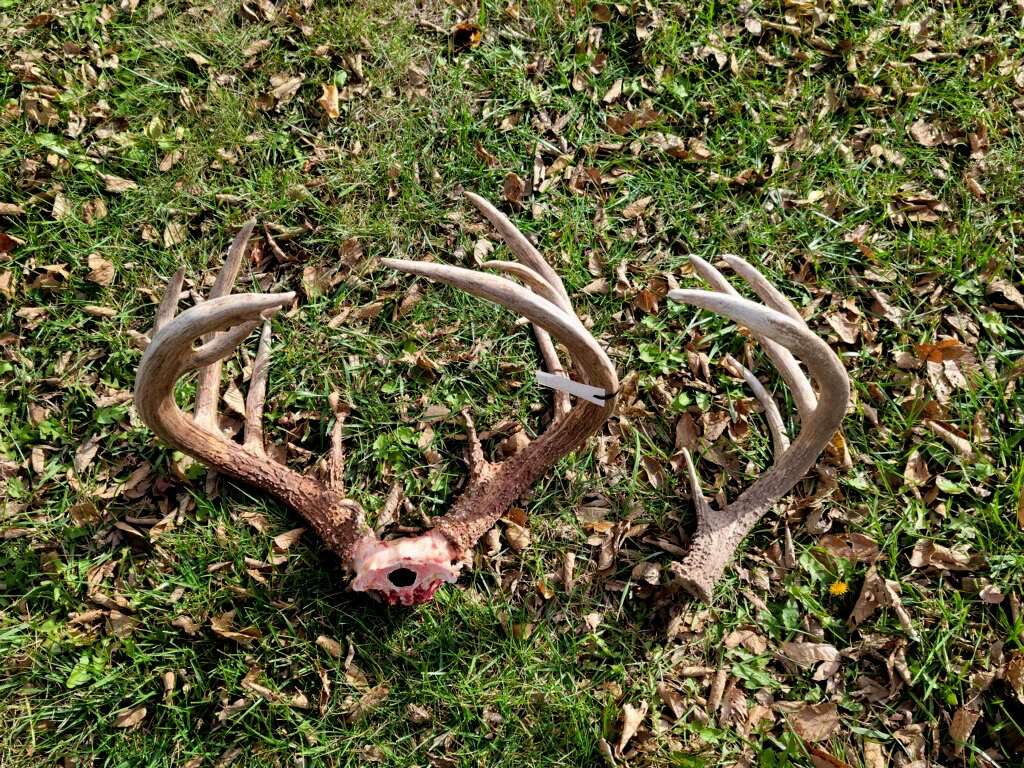 It was a buck, a huge buck. Priest knew right away that he was looking at one of the biggest deer he had ever seen.
The buck followed the script. As the deer moved along the trail, Priest grunted at him with his mouth, stopping the buck in the same spot as the doe he had ranged earlier, giving Priest an open 54-yard shot. He came to full draw with his Hoyt bow and squeezed the trigger on his release.
The shot was good. The buck mule-kicked and bolted into the nearby thick cover. Priest gave the buck plenty of time, then climbed down to check for blood. The double lung shot left a heavy trail. The buck had gone less than 80 yards before piling up. Without moving my stand around, I'd never have been able to make that shot, Priest said. The buck featured a heavy 6x5 frame with incredible mass that ended as a heavy blade on the right main beam. The rack green-scored 189 6/8 inches.
While Priest was the one to make the shot on the buck, he is quick to point out that he never would have been in that position without the help of his hunting partners. I've got to thank my buddy Dave. Without him, this trip would never have happened. We got this deer as a team, Dave, Ray, and me. We scouted together, hung stands together, and hunted our butts off to make this happen, Priest said.
After killing the buck early in the hunt, Priest was lucky enough to find one of his sheds from the previous year while scouting for his buddies. Once the farm neighbors found out he had killed the buck, one of them shared a photo of the buck from their trail camera. It was history after the fact, so to speak, and a great way to cap off a hunting road trip.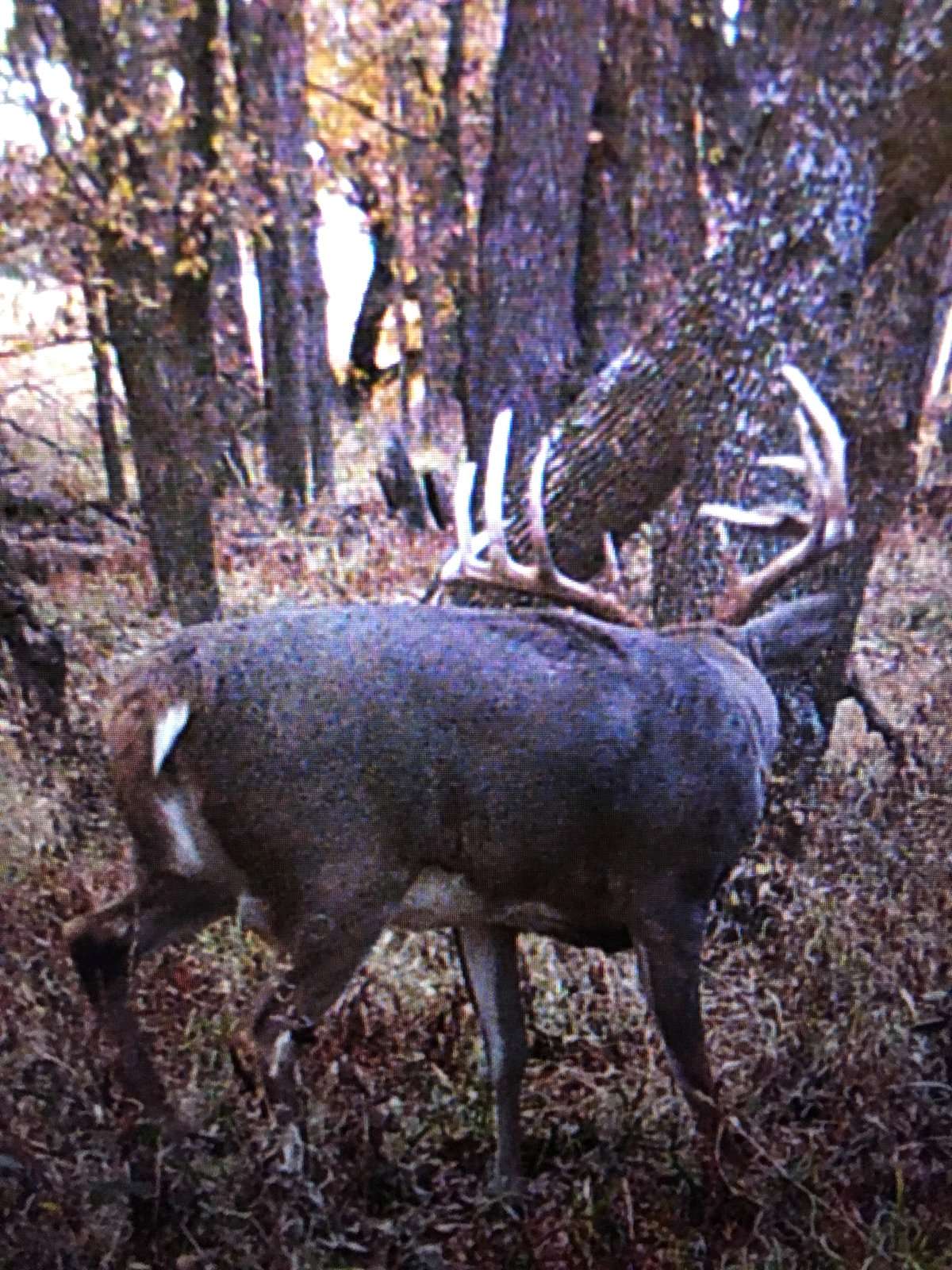 Watch all the latest video episodes