Door knocking, summer scouting and teamwork helped a youth hunter kill a suburban stud
Rack Report Details
Buck:
175-inch (gross)
Time of Year:
Sept. 19, 2022
Place:
Northeastern Wisconsin
Weapon:
Hoyt Carbon Defiant Bowhunting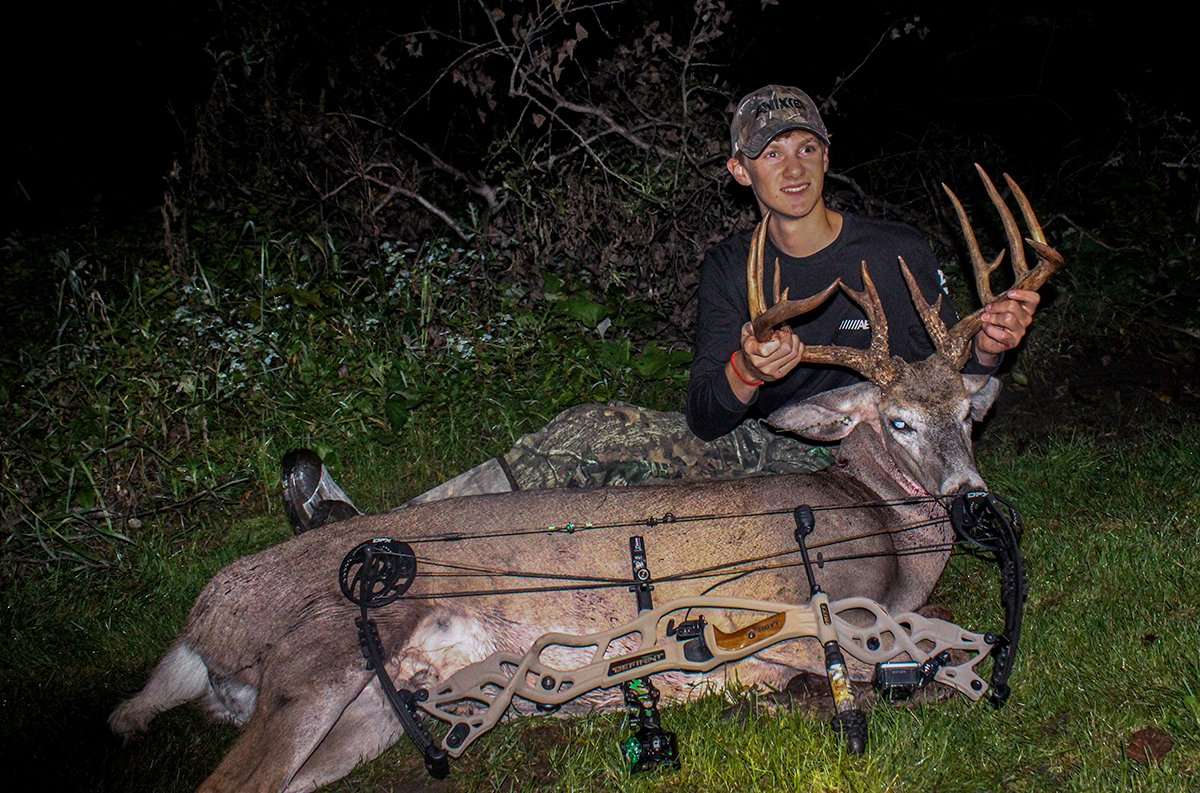 Jacob Bowman and Ryan Curran developed a friendship soon after meeting at a summer job in Summer 2021. It didn't take long for them to discover their mutual passion of hunting, fishing and all things outdoors. They even realized their mothers were college roommates and stood up in each other's weddings some 20 years ago.
Despite attending separate high schools in northeastern Wisconsin, the pair didn't let distance affect their ability to team up and hunt. Little did they know their friendship would lead to a 175-inch whitetail in suburban Wisconsin.
The Search
Curran lives and hunts on a few acres in northeastern Wisconsin. Although his family owns a larger property elsewhere, the suburban area surrounding his home is a goldmine for mature bucks. The neighborhood is comprised of a large section of timber, and various landowners have 2- or 3-acre sections of woods.
Curran and his family spotted a few great bucks in the area during Summer 2021. Glassing from roads and crop fields yielded a few sightings of deer larger than 160 inches. The Curran family is no stranger to big deer, as Curran's dad, Glenn, has taken his share of mature bucks in the area. By 12, Curran had already shot a handful of deer with a compound bow.
(Don't Miss: Retired Cop Bags 175-Inch Velvet Buck)
Although Curran and Bowman met at their summer job in 2021, busy schedules didn't let them to team up and start hunting together until the 2022 season. They began knocking on doors during spring and summer of 2022 and gained permission on a few properties that ended in a handshake deal.
Target Acquired
Curran and Bowman's main focus for 2022 centered around relocating a giant deer they'd captured on camera in 2021. That buck had been run off the property by a more mature deer Curran shot later that season. Although that bully buck scored just more than 130 inches, he was aggressive and forced the younger deer out of the area. The real question was whether the younger giant would resurface in 2022.
Fast-forward to September 2022. It was game on for Bowman and some unfortunate luck for Curran, who was sidelined from hunting and sports because of a dislocated shoulder he suffered during football.
Despite warm temperatures, the pair got aggressive the opening weekend of archery season, with Curran behind the camera hoping to catch some footage for their growing Instagram account, h.and.f outdoors.
Ryan and I had hunted behind his family's house on Saturday and Sunday night, and we decided we were going to give it a rest for a while, Bowman said. So I just decided on Monday night that I was going to this other property we had permission on just down the road, even though we hadn't had trail camera pictures of a deer in there in like a week.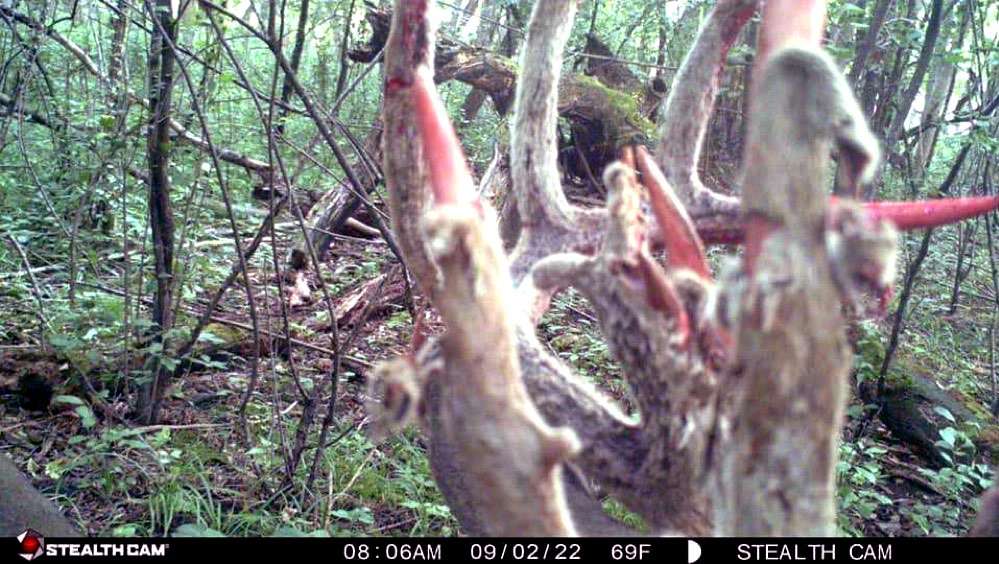 Bowman and Curran had run a few cellular cameras during summer and early fall to maximize their time in the woods. They had received some great photos of a giant main-frame 12-pointer during summer, but sightings dwindled by mid-September. Despite not getting a photo of the buck for two weeks, Bowman picked the right night to slip in for a solo hunt the evening of Sept. 19.
Patience Pays Off
Bowman dove into the heart of the permission property that night, even though there was only about 1 acre of timber to hunt. Although there are some crop fields in the general area, he wasn't pinpointing a specific food source, such as acorns or an apple tree. He just hoped to catch the monster in an early-season pattern.
Not long after settling into his double ladder stand, Bowman spotted a giant buck feeding just more than 50 yards away, some 20 yards off the landowner's manicured lawn. It was the monster they had seen that summer, and Bowman recognized the deer as the one that was run off by Curran's late-season 2021 buck.
As the buck meandered around just inside the timber's edge, Bowman stood and was ready with his Hoyt bow, only to have the giant bed down for the next 30 minutes just 50 yards away, sending Bowman's pulse into overdrive.
(Don't Miss: A Big NoDak Buck with a 10-Year-Old Bow)
I stood up right when I saw him and for the first 15 minutes or so of him bedding down, but then I sat after a while and was able to text Ryan and some other friends about what was going on, he said.
Despite being a young hunter, Bowman displayed incredible composure, knowing his opportunity was within reach if he stayed patient.
I sat there with my bow the whole time, he said. I was only hunting 20 yards off this guy's lawn, and eventually I watched him stand up and walk into the lawn to look around. And then he walked back toward my stand, and I got the shot.
The buck dropped slightly but never made it out of the 1-acre woods. Then the celebration was on for the Bowman and Curran families.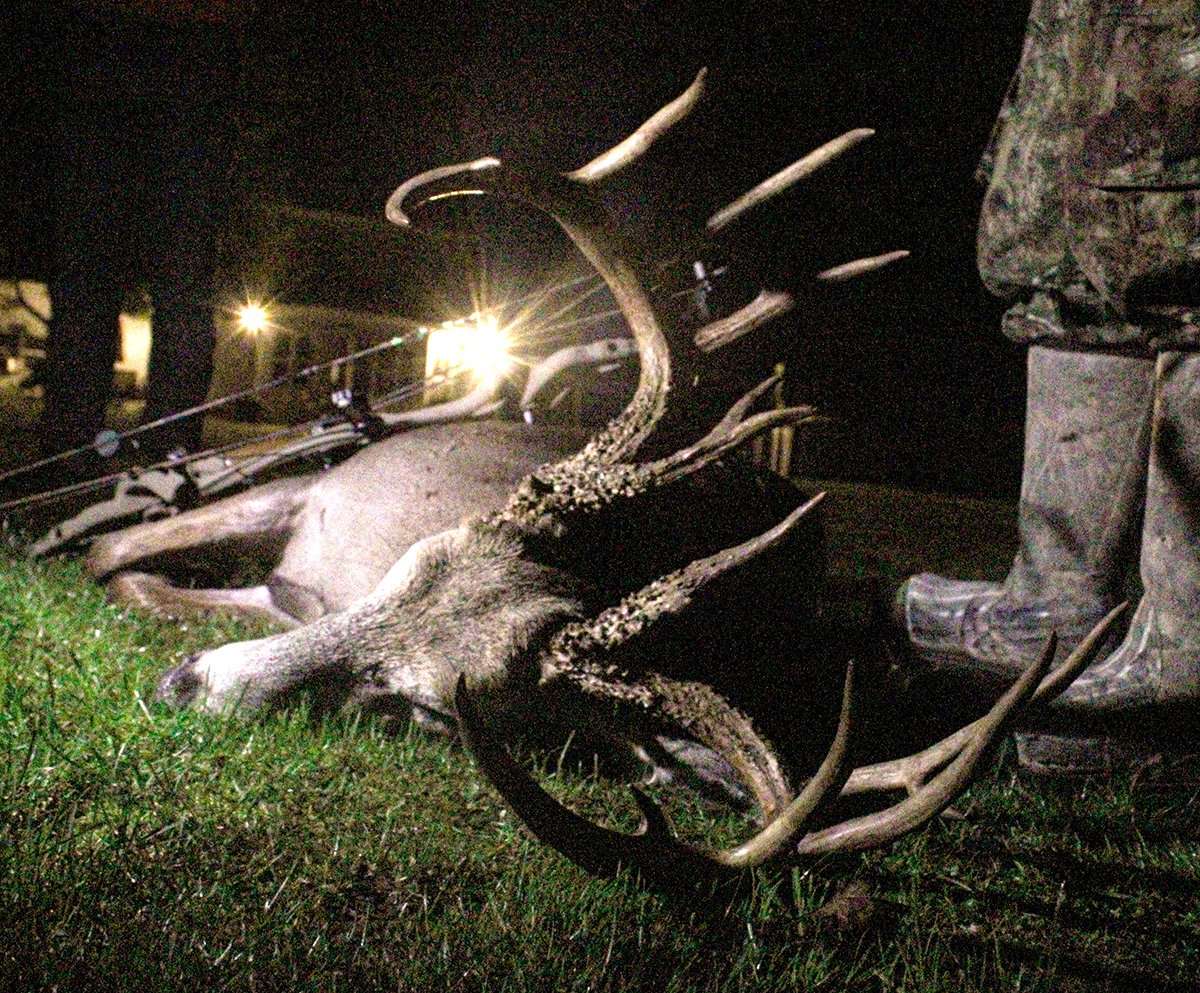 Despite his shoulder injury not letting him archery hunt, Curran said he's just happy that Bowman killed the suburban giant.
Honestly, I just wanted either him or me to kill it, Curran said.
It should be noted that Curran's shoulder injury was severe enough that he couldn't lift a crossbow if he wanted to use one.
I asked my parents if I could skip football practice (to film Bowman), and they said you can skip either Monday the 19th or Thursday the 22nd, Curran said. I chose Thursday because it looked a little cooler.
(Don't Miss: Waterhole Sit on 90-Degree Day Yields Super Wide Buck)
Unfortunately, Curran wasn't there Sept. 19 to capture the moment for Bowman, but it didn't put a damper on the excitement he felt for his friend.
After the high-fives and hero shots ended, the landowner pulled Curran's father, Glenn, and Bowman's father, Chad, aside and told them how well the pair had communicated and kept the landowner informed of where and when they would be hunting.
I just want you guys to know that I'm very impressed with your sons and how polite and articulate they are, the landowner said. They shook our hands, looked us in the eyes and did what they said they were going to do.
The future of hunting is in good hands with youth hunters such as Bowman and Curran. It seems their story meeting randomly at a summer job in Summer 2021 was destined for greatness.

Watch all the latest video episodes