One way to make a good beach vacation great is to load up on fresh fish, right from the sand. Here's how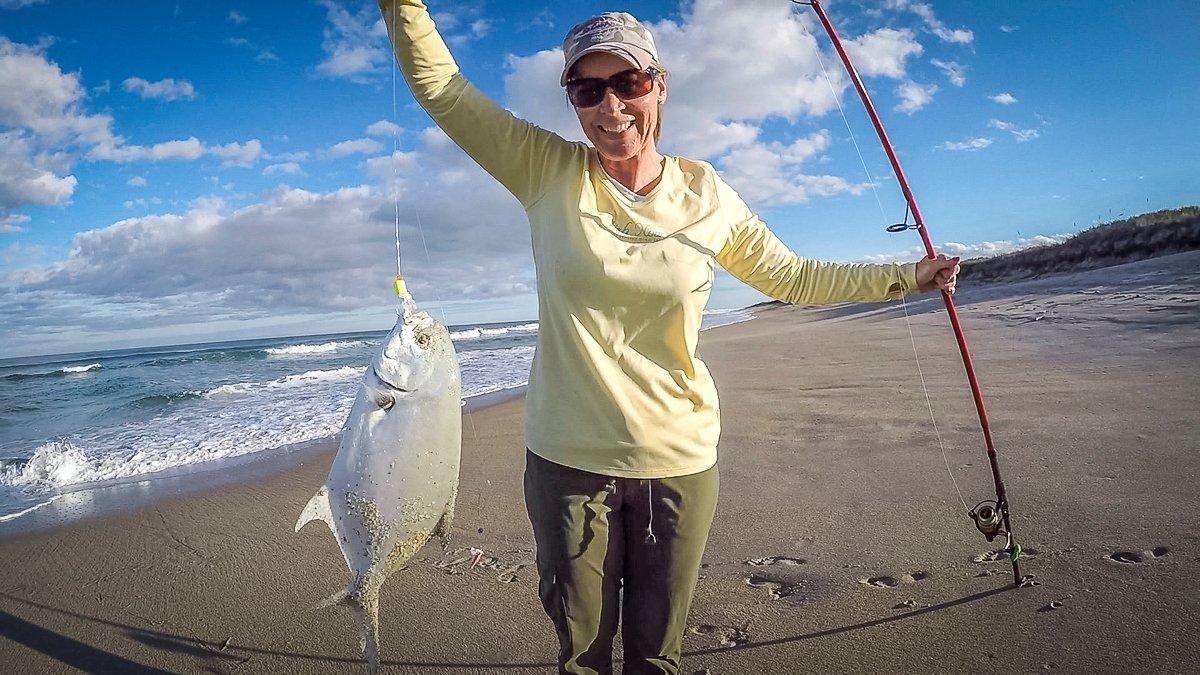 Plenty of outdoors fans, ready to put lousy weather behind them, will hit the road for a few days in the South's warm sunshine. It's hard to beat a trip to the beach to brighten your day, especially when it's snowy and cold at home. But after a few hours of laying around in the sand, boredom sets in. If you're anything like me, thoughts inevitably turn to fishing.
Now if you've ever been to the beach, you've likely noticed a few folks fishing. You've also noticed that most of them look like they don't know what they're doing, and few catch anything worth writing home about.
Such a scene turns most potential anglers off immediately. The fish, they figure, are out there swimming around in that vast ocean. What are the chances of catching anything from the bank?
Pretty good, as it turns out.
(Don't Miss: The 3 Biggest Catfish Ever Caught)
When I first moved to Florida, I knew nothing about surf fishing. But after a few tips from friends and family, a little online research and time spent trying, I now find it rare to fish more than a few hours and not come home with dinner. And the simplicity of surf fishing makes it a favorite. Everything you need can be carried in one trip, there's no boat gas to worry about, and you can do it from a lawn chair. Beat that.
I want to give you a quick starter course, because I wish I'd had one. Granted, you can take this sport as far as you'd like, and there's a bunch of gear out there that may be key to your region or species. But my point is to get you started if you've never surf fished, and offer a few tips if you've tried and failed. I'm confident you'll shortly be reeling 'em in.
Gear You Need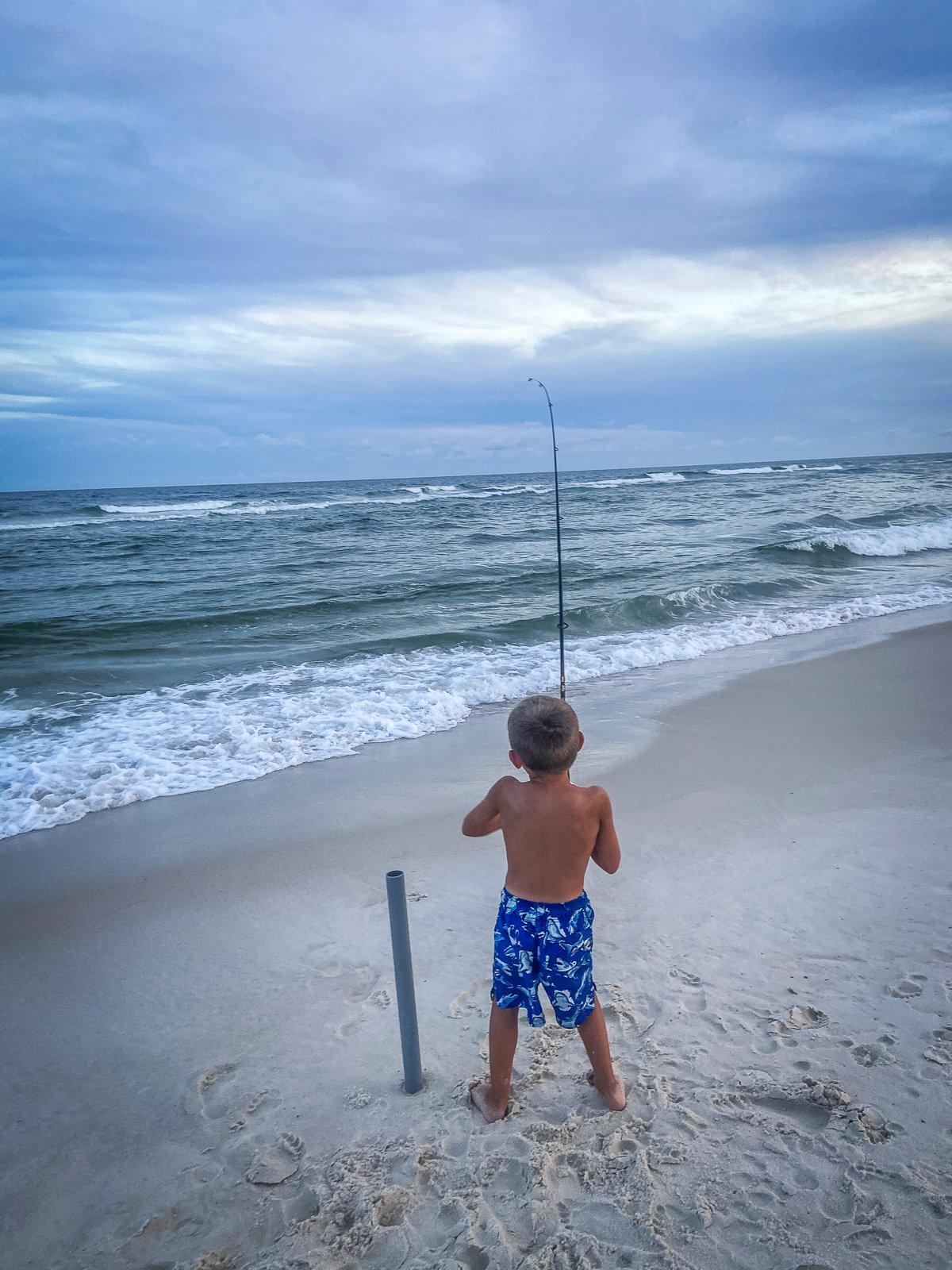 The biggest mistake I see most new surf anglers make is attempting to use an everyday fishing rod. Quite simply, they don't work. For a rod to be worthy of the surf, if needs to be extraordinarily long — starting around 9 feet. The reason for this is twofold. One, the rod needs to be able to cast a heavy weight a long distance, as we'll see. Secondly, the same rod needs to be able to get your fishing line well up in the air during the cast. The more the line is elevated up above the breaking waves, the less those waves will influence the presentation. That can only be accomplished by a long rod.
Many commercial surf fishing anglers use rods in the 14-foot range, but a 10-footer will get the job done, and is less cumbersome to handle and transport. Your rod need not be terribly stiff, but should be manufactured specifically for surf fishing. If it's a little heavy compared to your bass pole, that's OK. When surf fishing, you rarely hold the rod for very long, anyway. Conventional baitcasters are used some, but spinning reels are much more user-friendly.
(Don't Miss: 10 Reasons Why Fall Fishing is Better Than Deer Hunting)
Spool up with a quality braided line, 20- or 30-pound range. Any color line is OK, and in fact, many anglers prefer bright line so they can see it easier.
You'll need a rod holder, or sand spike. Don't worry about getting too fancy here, but I do recommend one that has a metal rod that pounds into the sand, rather than a plain PVC tube. It makes for an easier set.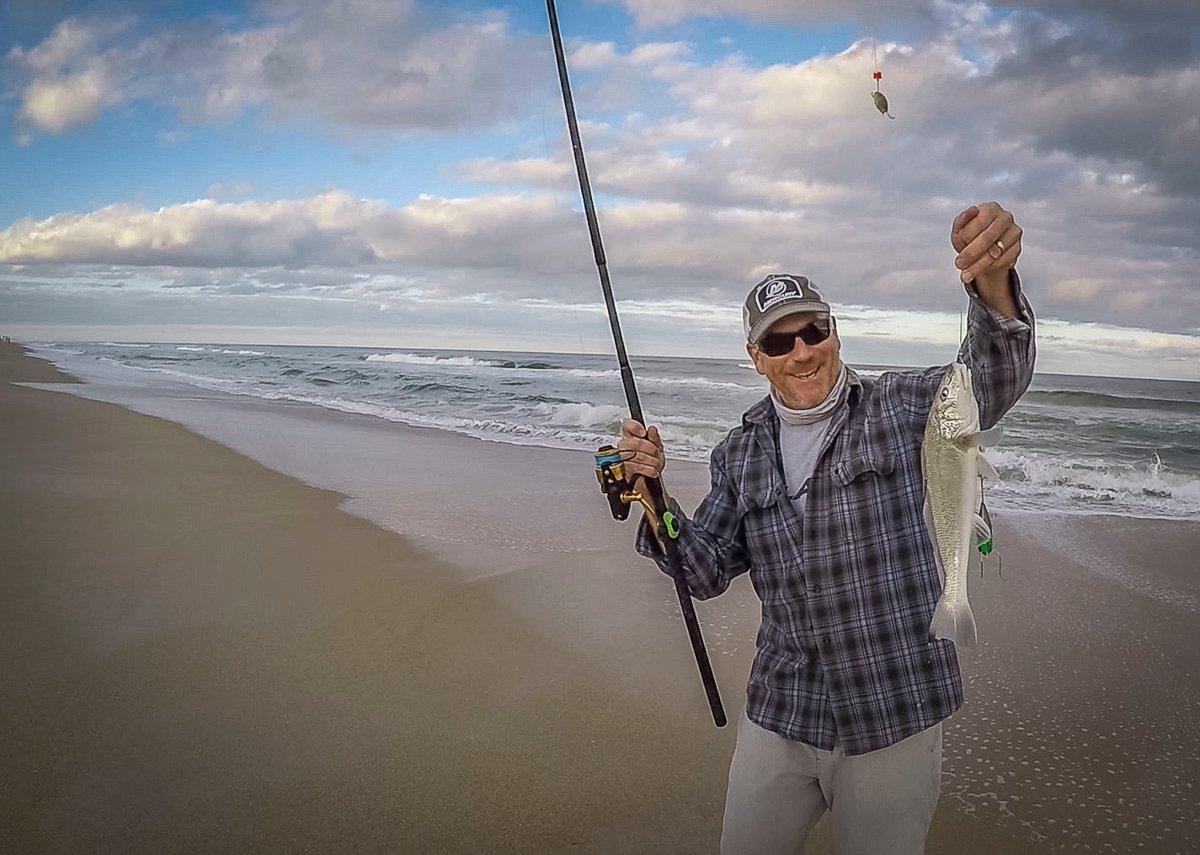 Tackle and Rigs
Your choice of tackle will depend on the species you pursue. Believe it or not, there are a ton of fishing options for the surf angler. Most places, whiting will be a top fish. This smallish bottom dweller looks a bit like a cross between a redfish and a freshwater sucker, and it features beautifully flakey, white meat. With a mouth on the bottom, they feed off the bottom, and regularly take crabs and shrimp, as well as cut baits.
Pompano make up another top fish choice; these are likely the most treasured take of the catch-and-eat surf angler in Florida. Pompano belong to the same family as jacks and permit; they're a flat fish, but taste like the saltwater version of a butter-basted Thanksgiving turkey when prepped correctly. Many veteran anglers place pompano at the top of the list in terms of table fare.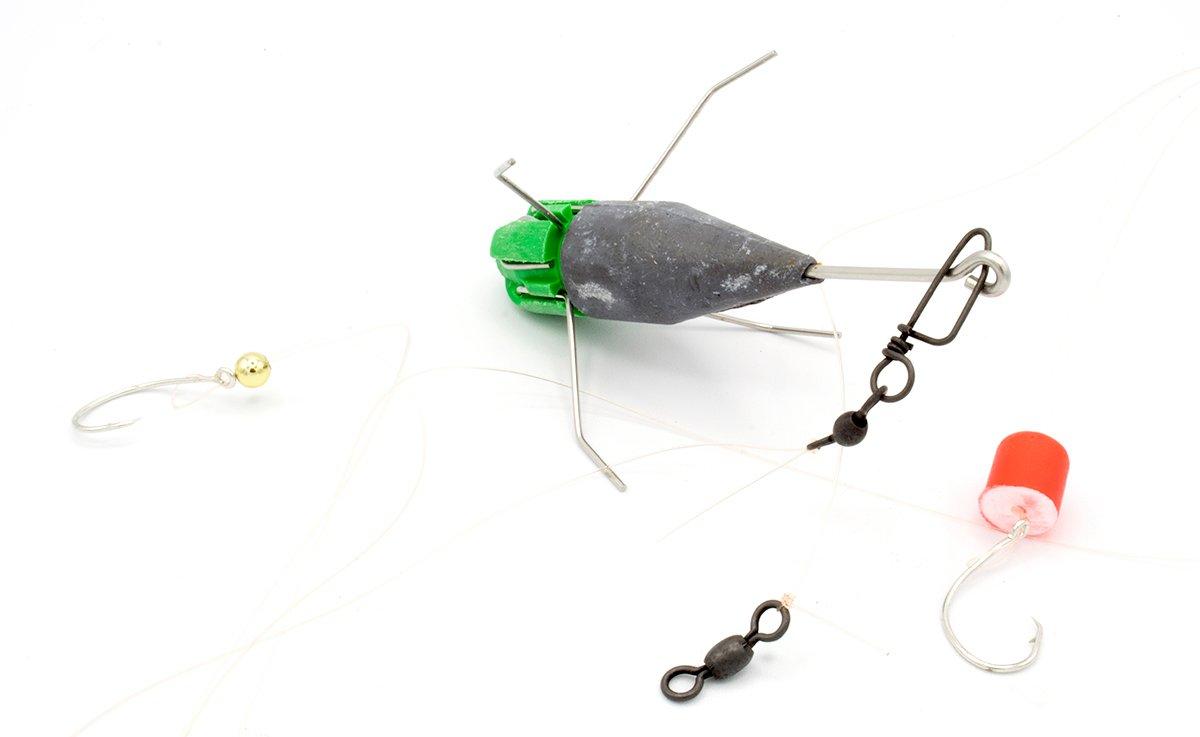 For both species, as well as occasional redfish, sheepshead and black drum, a traditional two-hook bottom rig is the best way to go. Anglers can tie these themselves using mono in the 14-pound range, or buy them, as I do, from a knowledgeable surf fishing tackle shop or angler. The rigs are cheap; local versions use the proper hook, and often feature small floats to keep your bait off the bottom. We'll talk bait in a minute. Tie your main line directly to the swivel on the top of the rig.
On the bottom, you'll need to attach a sinker. There are a bunch you can buy, but only one you need: a satellite, or Sputnik version. These adjustable weights feature spider-like arms that fold out and hold bottom well, but then collapse once a fish is hooked. The sinkers sound more sophisticated than they are. But Sputniks are fairly expensive. It's best to shop online before your trip, as store prices can get outlandish. I use a 4-ounce version almost exclusively, but most days, can get away with a 2- or 3-ounce model.
With this, your bottom fishing rig is set, and should keep you as busy as you want to be at the beach. However, if you're more the active type, beach fishing options exist for the hard swimmers. Snook are always an option, and they often feed right up on the beach in the first set of waves. You'll need to hit the sand early, though, as throngs of tourists inevitably push fish out. Nice thing about the beach, though, is that few people use it before 10 a.m. For snook, standard artificial baits on standard inshore gear work best. The fish are hunting for baitfish tossed around by the waves, so stick to jerkbaits and paddle-tail swimmers.
Bluefish are an option at times. These toothy schoolers are prized in the Northeast, but mainly serve as something to catch in the South. They are fun, no doubt, and will absolutely attack a flashy spoon. Be careful with your fingers when holding them for a photo.
Sharks are the target of the most hardcore surf fishers. Here, you may have to up your rod strength, and attach a wire leader before your hook. Reeling in a shark is always a way to gather a crowd on the beach, as most sunbathers are oblivious to the fact that they share the water with sharks on a daily basis. Be sure to check regulations in your area when pursuing sharks, as many are protected.
Bait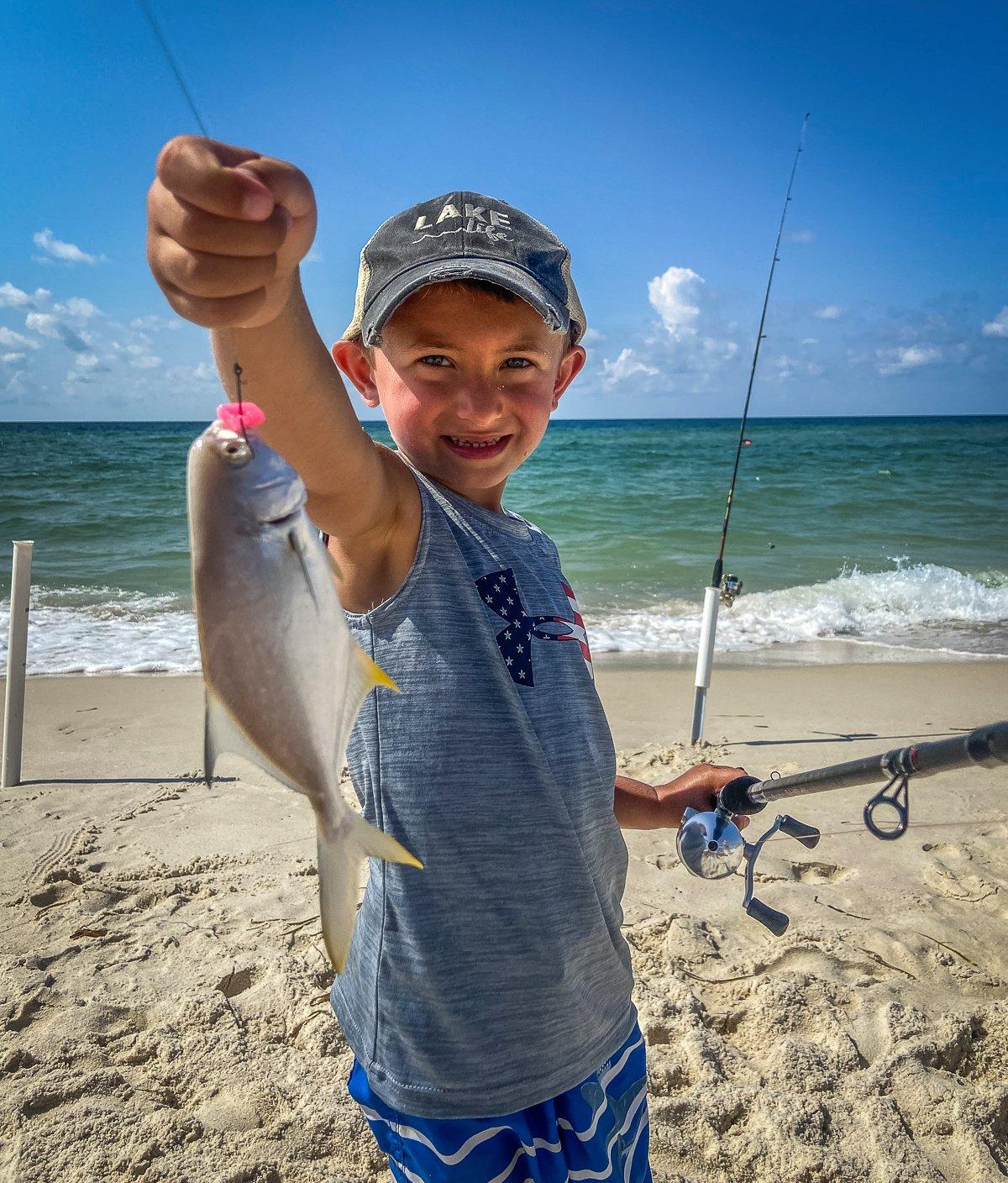 Like any other fishing method, it's best to bait up with the local forage. Shrimp catch everything, but can also be a target of small bait-stealing fish, so buy extra. It's best to have fresh, live shrimp, but frozen ones can work. Always save any leftovers in the freezer for next time. In a pinch, even frozen shrimp from the grocery store can work. Here, save the extras for a shrimp cocktail.
Around much of Florida, the ultimate surf fishing bait is the mole crab, known locally as the sand flea. Catching them is easy if you find yourself on a beach with loose sand, as the fleas burrow in as each big wave recedes. It just takes a little digging. Sand fleas can be bought some places. They're fairly expensive, but you can get mileage out of them, as the flea's hard shell keeps them on the hook well.
Clams are great bait, but difficult to find in stores. Frozen clams routinely disappoint, and fresh clams are usually only found at hardcore local seafood dealers. Much of the clam is slimy and falls off the hook, leaving only a small, bait-worthy portion. That portion, however, is a real fish magnet at times.
Synthetic baits are all the rage these days, the leader in the industry being Fishbites. Made of real, biodegradable fish product molded around a mesh weave, the strip baits simply catch fish. Whiting seem to especially prefer them (more so than pompano), but the synthetics offer a real way to always keep bait handy. I've spent many days on the beach comparing live bait to the synthetics, rod to rod, and found Fishbites to usually hold their own. And they stay on the hook, regardless of the tap-tap bites of junk fish.
Tactics
Once rigged and baited up, much of the work is done. Picking a spot on the beach is like other types of fishing: look for something unusual. Areas where waves seem to crash together, or where you watch receding waves being drawn out, likely stack up fish and are a good place to start. High tides bring fish in closer to shore, so don't worry about casting a country mile. At low tide, walk out a bit before casting to ensure your rig gets beyond the shallow bar.
Finally, dig in the spike, keep your line tight, and let the action of the waves do the rest. If you're not catching much, don't be afraid to move around. Again, like any other type of fishing, surf fishing has its hidden hotspots.
It's hard to beat the simplicity and relaxing atmosphere fishing on the beach. Catching a phenomenal dinner is a real option, and the only ice out here is in the cooler. All the more reason why it's tough to beat a wintertime trip to the beach.