You don't need to be a full-time farmer to manage your ground for deer
Today's deer hunters are more focused on managing their hunting properties than ever before. But habitat improvement isn't always easy, and it rarely comes cheap. But there are tricks and tools you can use that cost a little less money, but still help get the job done.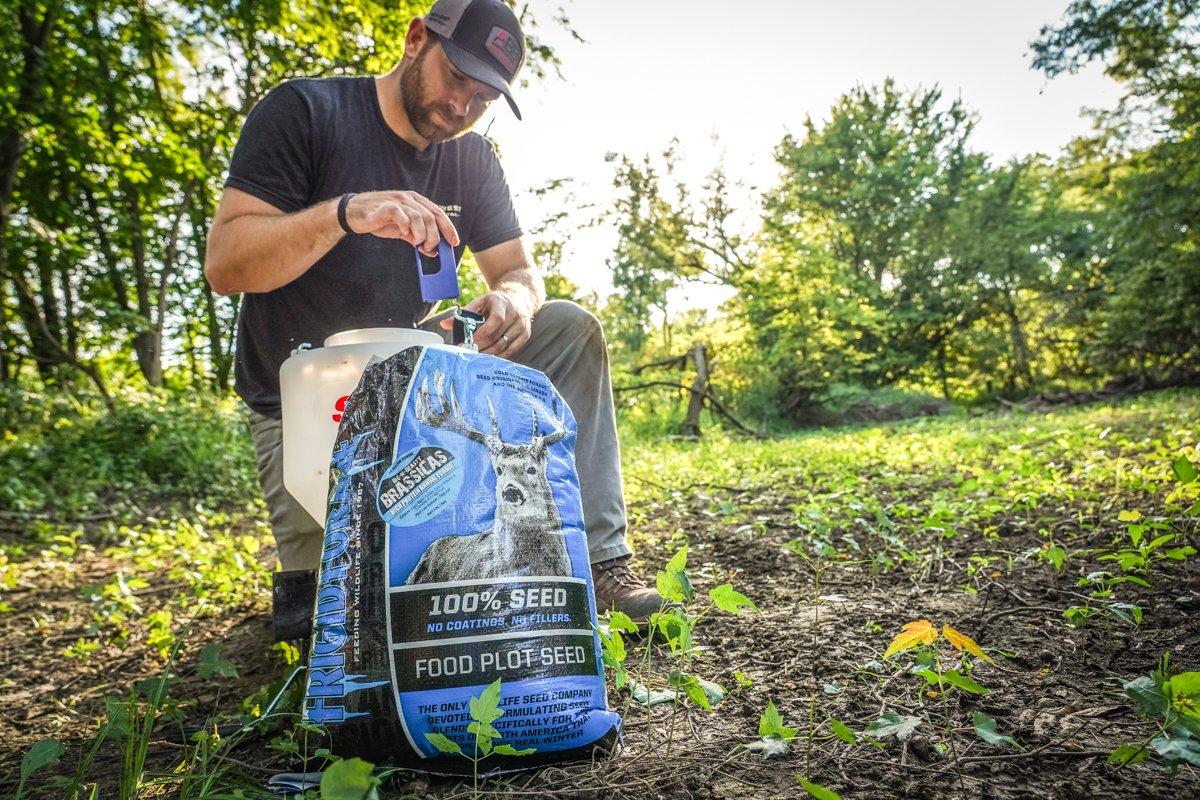 First, the Basics
Driving a tractor from the barn to a food plot is a make-believe scenario for many hunters. Instead, they're limited to trucks, ATVs, UTVs, or even hand tools to break ground.
Fortunately, if you're part of this low-tech group, you're not alone. There are plenty of implements at our disposal that we can simply hook up to an ATV or UTV to make growing food plots easy and affordable.
To create and manage a food plot, you'll need a mower, a disc or harrow to break the soil, a spreader to evenly disperse seed, a drag and the cooperation of Mother Nature to provide the right amount of rain after planting. No amount of money will buy rain.
If you already have a four-wheeler, it's possible to compile the remainder of the ensemble for approximately $2,000. If you don't have one, and you'd rather buy new than used, the Yamaha 2020 Grizzly EPS XT-R, 2020 Kodiak 450 and Yamaha Viking EPS are all good workhorse options.
Haul the Stuff
Food plot work requires hauling a lot of stuff around including seed, fertilizer, lime, herbicide, hand tools and more. Sometimes you'll also need to haul out sticks, limbs and other debris from food plot sites. A small trailer is a big help, and one good option is Oxcart's Half-Ton, List-Assist and Swivel Hauler. It's a utility dump cart with 12 cubic feet of space. The hydraulic lift-assist tub helps empty the load much easier, too. Plus, it swivels 55 degrees to either side and is load tested to 1,100 pounds. It converts to a heavy-grade wheelbarrow if you need that instead, and rings up at a relatively affordable $450.
Mow the Grass (or Trees)
Maintaining open areas such as small plots and trails can save a lot of hassle. With a tractor, you can use a rotary cutter (most people call it a brush hog) to mow invading vegetation. But you don't have a tractor. Fortunately, you can purchase a brush mower to pull behind your ATV or UTV that will handle many mowing tasks. These don't work off a power take-off, and so they use their own motor. They have to be rugged, with a good deck, handle heavy brush.
If possible, invest in something like the Swisher Rough Cut 11.5HP, 44-in. Classic pull-behind trail cutter. The Rough Cut offers single-point connection to your ATV/UTV and is made to drag over stumps and cut stems of up to 3 inches in diameter. And in a world where similar mowers can run nearly $3,000, this model ships for half that.
Another cool option that slips in at under $1,000 - but will do the same task on overgrown areas - is the DR Tow-Behind Trimmer Mower Pro XLT. The Trimmer Mower features a spring-loaded trimming head that feeds up to 225-mil cord. The cutting width is only 22-inches, though, so you'll save money but spend more time working.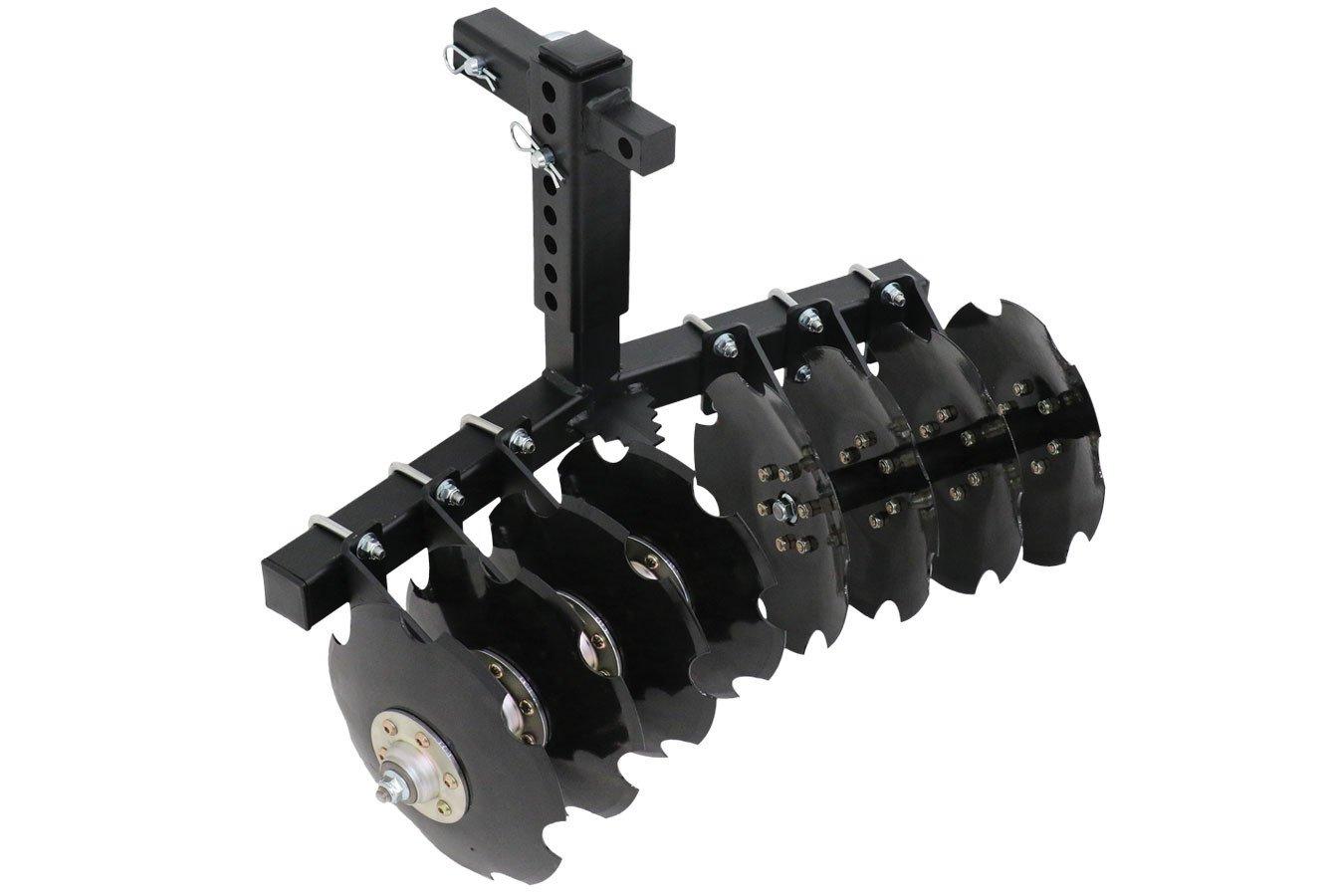 Break the Ground
With mowing out of the way, the next critical piece of equipment is a good disc to break soil in preparation for planting. The Groundhog Max is a beast that gets the job done in even hard soils, and the best part is that it doesn't require extra weight. Instead, the disc uses the downward force and weight of the ATV to push into the soil and break it up with each pass. With the hitch kit, it retails for only $400.
The GroundHog Max fits within the wheel width of your vehicle, but if you want a slightly wider cut, consider the Battle Armor Big Buck Food Plot Plow, which cuts a 38-inch wide swath with two individual gangs of four discs that are adjustable for different cutting angles. This model does not require additional weights since it also works from the weight of the ATV/UTV. The Plot Plow retails for $380.
Sow the Seed
Once the soil is busted and smoothed, it's ready for seed. While a man can walk a plot with a hand spreader, making use of your ATV or UTV makes the process faster and more efficient. With any type of ATV-mounted spreader, you can seed a half-acre plot in less than 10 minutes.
Moultrie Feeders makes a great ATV spreader with an electronic feed gate. The handheld controller allows for six different settings to control dispense rates. The hopper holds up to 100 pounds of seed for more efficient seeding and sells for $329.
Moultrie also offers a basic unit Food Plot Spreader that holds 50 pounds of seed and features a 12-volt motor. You have to set your seed rates manually, but that's a small trade-off for a model retails for less than $150.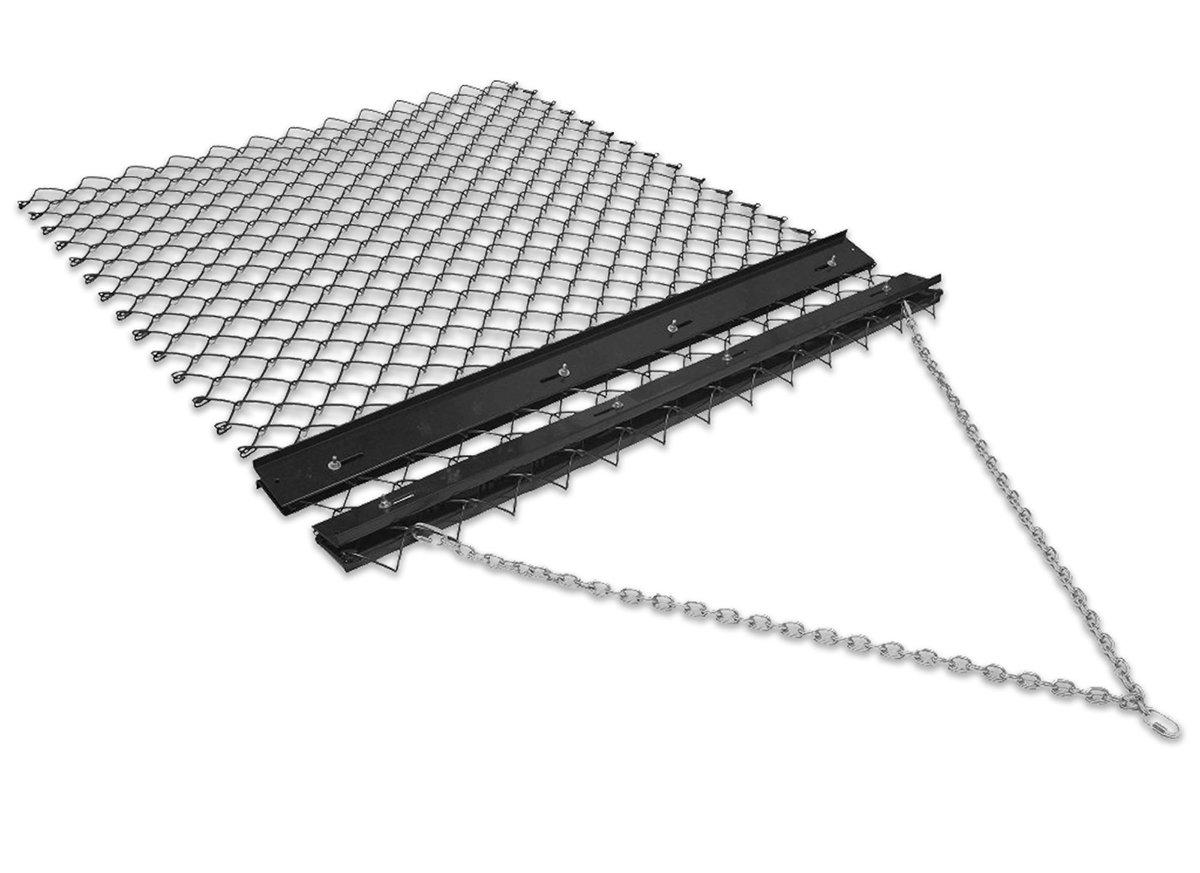 Drag it In
Even small seeds require good soil contact for optimum germination. Many people use a 3-foot-wide piece of chain-link fence and attach a couple of two-by-fours at either end for this. Then, they use a piece of cable to fasten it behind the ATV and drag it over the plot.
If you prefer something a little less redneck, several companies make harrows that you can choose from. One such drag is the Drag Harrow from Copper Ridge Outdoors. This is as basic and effective as an implement can be. It's a heavy-duty, flexible steel grate with a galvanized steel frame for rigidity. It attaches in seconds to any ATV/UTV hitch with the provided chain. At only $119, the cost is worth the hassle of handling a cut-up piece of chain-link fence, and with a durable powder-coated finish, it'll surely hold up longer.
The Extras
All these implements are essentials, but if you plan on doing a deeper dive into ATV land management, there are plenty of other items you might be interested in. Sprayers are great for applying liquid fertilizer or pest-control efforts. Cultipackers are like drag harrows on steroids, with a textured roller designed to press seeds into freshly turned soil. King Kutter makes a 4-foot Kulti-Packer that fits this bill nicely. Depending on how hard your soil is and other requirements, there are also chisel plows, landscape rakes and any manner of items you can spend money on.
But even if you get a good mower, disc, spreader and drag, you'll have the basics to build award-winning food plots year in and year out. You'd better start looking for deals on good gear, because planting season will be here before you know it.
Don't Miss: Do Poor Man Food Plots Really Work?
Check out more stories, videos and educational how-to's on deer hunting.