Is a Soft Gun Case in Your Future?
When it comes to traveling with, and protecting, firearms, the options today are nearly endless.
There are thousands of soft, hard, and a combination of those available. Before you open your wallet, you'll need to open the gun vault, the trunk of your car, and possibly your state's regulation books. More and more states have differing laws on how a firearm can be transported. When you check state laws, look for key wording about secured, stored or locked.
Before Shopping
Before you shop you will also need to zero-in on the firearm you wish to protect and transport.
Will you need a case for a long slender shotgun, possibly a case to hold a rifle with a big scope installed, or a shorter case for an AR/MSR rifle? Some cases only hold a specific type of firearm. It's always safe to measure the firearm for length and for height with any scope installed.
Once you gather the details, the shopping for a soft case can begin. Before you buy, however, especially when ordering online, check the company's return policy and warranty. Some online retail sources will not take returns or make exchanges on gear related to firearms.
When shopping for a soft gun case in person, inspect how the handles are installed (wrap around or simply connected by a ring), and what type handles are offered. Once you include a firearm, and possibly ammunition, the weight of the case goes up and thin plastic handles are quick to cut into your hand — or fail and break.
Next, check shoulder-strap construction details, especially if you need to carry the gun case out to a duck blind or across the pier at a boat ramp. Also, do you need a case that floats, or one that is camouflaged so you can place it on the ground outside a duck blind and have it blend in and not spook wary game? You have many options.
When possible, look for a case with a clear-coated PVC polyester shell that's durable and waterproof, and designed for the worse conditions, states Ryan Ward, Browning's product manager of shooting accessories. A case that closes on itself with a fold-over flap is better at maintaining an air pocket inside and possibly floating longer. Check also to determine if your hand will fit inside the carry handles while wearing bulky hunting gloves.
While you inspect the quality of the gun case being considered, two things should bear attention. One is the type of inner lining that will be next to the firearm, and the second consideration is how accessible that liner is in case you need to dry it because the case took a dip in water or the firearm was encased while wet. Wetness near metal gun surfaces soon leads to rusting.
On a final note, look closely at zippers. YKK zippers tend to be the better ones. If a case seems to be really cheap, the manufacturer probably cut corners on construction. One soft case with a nylon exterior I purchased was promoted on sale. The first time I used the case the muzzle of the shotgun became exposed because the case unzipped itself on the muzzle end. The zipper would never stay together so the bargain became not a great buy and was tossed. I should have looked closer at the zipper before buying.
Here are some soft cases for hard consideration.
Browning Rugged Flex Rifle Case
This durable and protective rifle case incorporates a heavy-duty PVC tarpaulin spine and muzzle cap on the tip. Top features include a contoured zipper pocket, detachable shoulder strap and padded carry handle. The firearm inside sets against a soft, quilted lining. Flotation is provided by a closed cell-foam interior. The case measures 48 inches long, has Realtree Xtra camo added to a solid black exterior design, and is designed to hold a single long gun. The case weighs approximately 2 pounds and has a MSRP of $55.
Go here for more on the Browning Rugged Flex Rifle Case.

Drake Side-Opening Floating Gun Case
This unique case does not have a zipper, but does have Velcro and brass snaps to secure the firearm inside — while permitting full opening for drying. This case is available in Realtree Max-5 camouflage, has a handle and shoulder strap to aid with carrying, and is enclosed with rugged HD2 (Heavy-Duty/Hydro Durance) material. Closed cell foam inside permits floating with a firearm enclosed. Suggested retail price is $40.
Go here for more on the Drake Side-Opening Floating Gun Case.
Boyt Harness Company's Floating Rifle Case
This soft case is designed to float, will hold a scoped rifle, measures 46 inches long, and is cloaked in Realtree APG camouflage. Other features are a heavy-duty nylon shell, dense closed cell-foam liner inside and durable web handles. A storage pocket is located on the exterior. MSRP is $46.
Go here for the Boyt Harness Company.
Rig 'Em Right Primer Floating Neoprene Gun Case
If you are serious about hunting waterfowl and protecting your shotgun, this case will need to be considered. This floating case features multi-layer construction with a water-shedding neoprene outer shell and integrated EVA armor at the stock and barrel. A dense layer of foam for flotation is covered with a quilted lining for added protection of your shotgun. Other features are a full-length rainproof zipper, metal hardware, large gusseted EVA pocket for storage and a padded adjustable shoulder strap to aid with carrying. To aid with concealment, the 53-inch long case is cloaked with Realtree Max 5 HD. MSRP: $89.99.
Go here for the Primer Floating Neoprene Gun Case.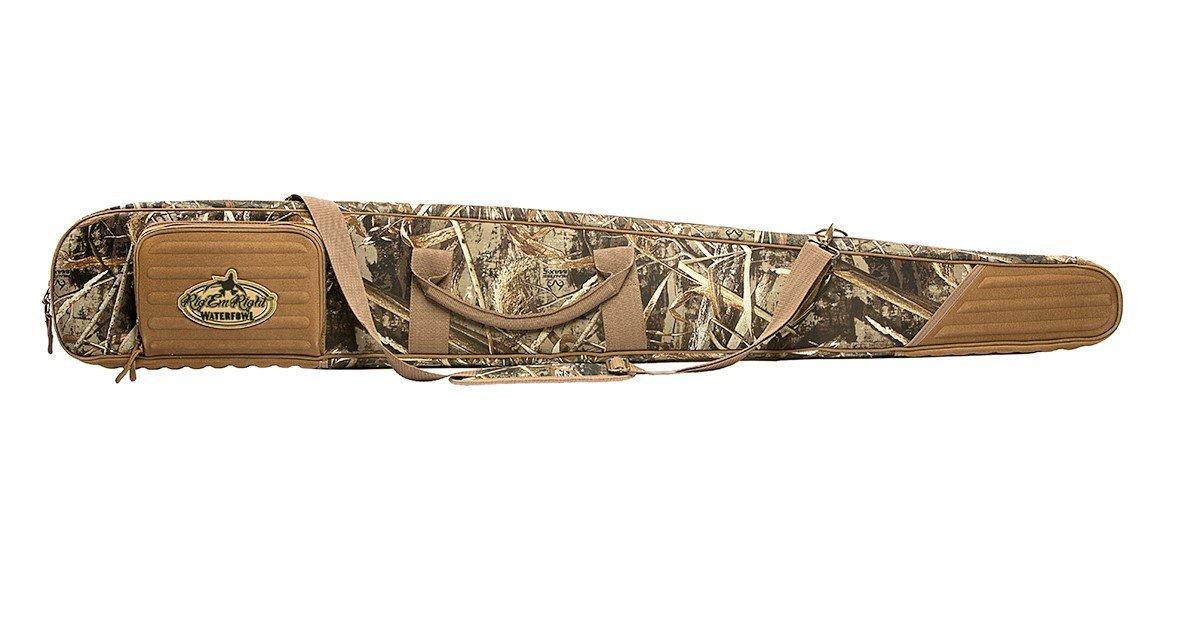 Plano Realtree Xtra Rifle Soft Case
Plano offers at least a half-dozen soft rifle cases cloaked in various Realtree patterns, including the Rifle Soft Case — 300 Series. This case offers a full-length zipper and durable wrap-around handles for added protection when on the go. The inside has high-density foam to pad the firearm and there's a loop on the tip to aid with hanging the case during storage. A large zippered side pocket aids with storing and taking extra gear. The exterior layer has Realtree Xtra camouflage on the surfaces.
Banded Impact Gun Bag in Max-5 Camouflage:
Waterfowl hunters everywhere will want to set their sights (or level the bead) on the floating Impact Gun Case from Banded. Construction includes a heavy-duty 900-denier fabric exterior covering a layer of non-absorbing, closed-cell foam. The end result is reliable floatation along with durable protection. The inside liner cradling the firearm is made of soft 210-denier, PVC-coated polyester. This case includes a side storage pocket along with padded handle and shoulder strap. It's designed for transporting firearms up to 54-inches long. The case is available for less than $30 via some online outlets.
Cabela's Northern Flight Deluxe Double Floating Gun Case
This Cabela's soft case is cloaked in weather-resistant polyester with Realtree MAX-5 camouflage to help it blend into most fall situations. The case floats thanks to closed cell-foam lining and will keep two firearms afloat. Other features are a padded adjustable shoulder strap, double-canvas-strap carry handles wrapping around the exterior of the case and joining, and full-length zipper to provide quick access or aid in closing. Also has an exterior pocket and long goose flag pocket. The case is 52 inches long and designed primarily for shotguns. Retail price is $40.
Avery Floating Gun Case
This Avery soft case has a water-resistant Duramax exterior shell with cinch-strap closure. The closed cell foam behind the 200-denier polyester lining ensures the case and enclosed firearm floats. The adjustable shoulder strap has a Friction Lok shoulder pad that stays where you place it, and helps keep it on your shoulder and not slipping and sliding. There are three choke tube holders in a side pocket. This case will fit shotguns up to 52 inches long, is cloaked in Realtree Max-5 and retails for approximately $35.
Go here for more Realtree Guns and Shooting posts. Follow us on Facebook.