These choices made (or blew) some of the author's most memorable trips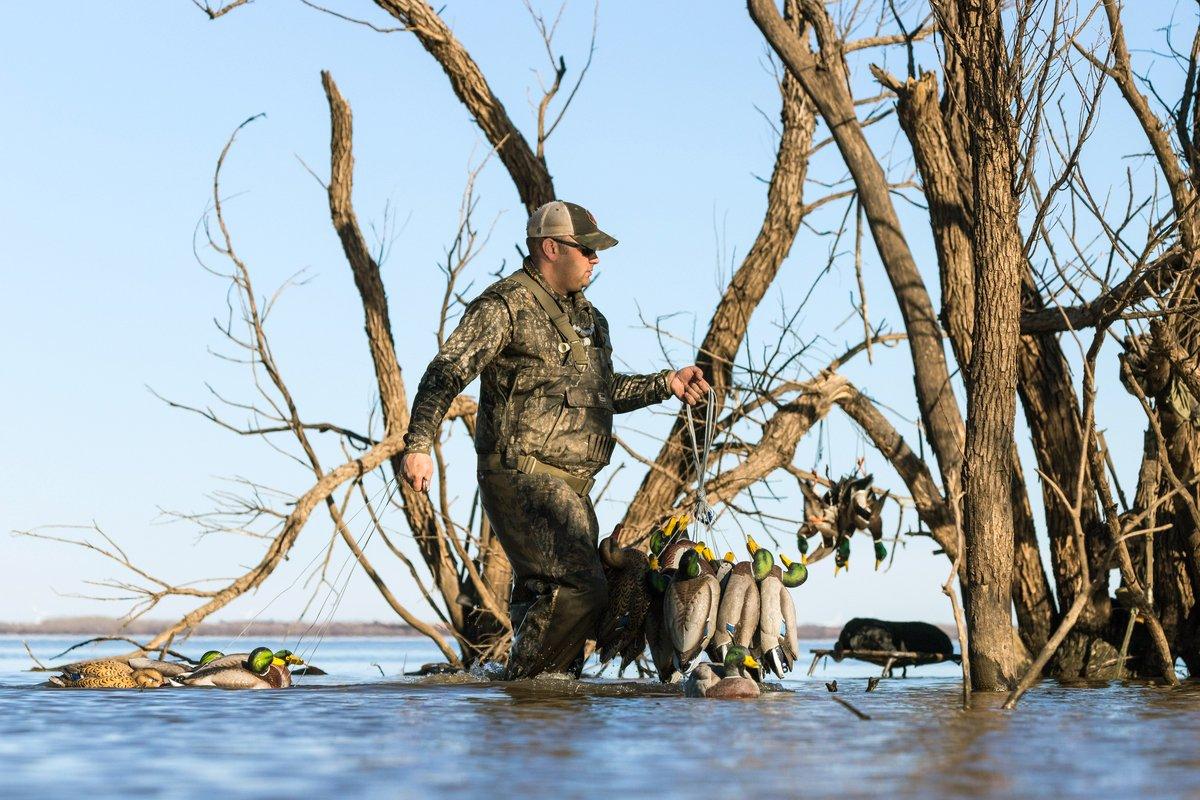 Duck hunts often hinge on one critical decision. If you choose correctly, you're a hero. When you mess up, however, you'll probably kick yourself all the way back to the truck.
To complicate matters, you must usually make these decisions quickly, and you won't get many second chances.
Been there. In fact, while paging through my hunting journal recently, I reflected on some notable duck hunting dilemmas I've faced. Some worked out. Others? Not exactly.
Your Other Left
My favorite late-season spot has two spring holes that remain open when other waters have frozen, and mallards love to loaf and feed there. Hunting the place is straightforward, but you must decide which pond to watch. Ducks there typically approach from the south, so the southernmost pond is usually the best option, as you can shoot mallards that finish there or take them overhead if they head to the northern spring.
That was my plan this past season, but I didn't consider the wind, which was blowing hard from the south that day. Sure enough, a flock approached at daybreak but sailed high overhead, banked in the breeze and then pitched down in the northern pond, about 100 yards from my hide.
Yeah, I tried to jump-shoot them. No, it didn't work. And they never came back. Did I mention that I hate that place?
And Now the Weather
Bluebill hunting had been pretty stale one November. My favorite lake was holding plenty of ducks, but they'd been there for three weeks and knew the program. When forecasters called for a big northeast wind one day, however, I figured a buddy and I might cash in.
But wait. The weather change was supposed to occur at midday, and birds would likely fly like nuts when the shift occurred. I figured it made little sense to sit through a morning of light westerly winds and slow action. Instead, my friend and I could catch up on work before noon and then set up just before the front hit, hoping to capitalize on the frenzy.
For once, I was right. We had four lines of decoys in the water when the wind began to spiral and increase. And as the blow built into a November gale, we watched hundreds of bluebills pile over our decoys. The 12 we took (the scaup limit was six apiece that season) were almost incidental.
Blind Side
Divers can make you look smart, but they'll also expose you as a fool. Two years ago, I found a huge concentration of bluebills using a large bay during evenings. A friend and I motored out one afternoon to intercept some flying off larger water and into the shallows.
As we set up, however, I realized we were directly in front of the shoreline blind owned by an acquaintance. Not wanting to cut him off, we pulled in our dekes and motored 500 yards south, figuring we'd still be near the main flight line.
Wrong. Oh, we saw thousands of 'bills that afternoon, but most of them followed a path directly over — you guessed it — our initial setup by the blind. And our measly 75 decoys didn't change their minds. We scratched out five ducks that evening but felt soundly whipped as we headed in.
Little Flight Delight
Anticipating the actions of other hunters might be the toughest game. Three years ago, after the second split opened in my area, I planned to hunt a large walk-in slough that usually attracted loads of early migrants. I couldn't hunt Saturday and worried the spot might be burned out by Sunday, as it's fairly popular and easy to access. Still, the weatherman called for a perfect wind, and I longed to see what the place might offer.
To heck with it. I got up early and hit the slough before daylight. And when the wind picked up, a variety of ducks brought steady action. Two hours later, I hoofed out, carrying a great strap of mallards, gadwall and wigeon. And I didn't see another hunter or hear any shooting.
Sometimes, I guess the toughest decision might be convincing yourself to get out of bed and try something new. That's one of duck hunting's greatest appeals: You never know.
Click here for more Realtree waterfowl hunting content. And check us out on Facebook.