Use These Tips to Recruit New Hunters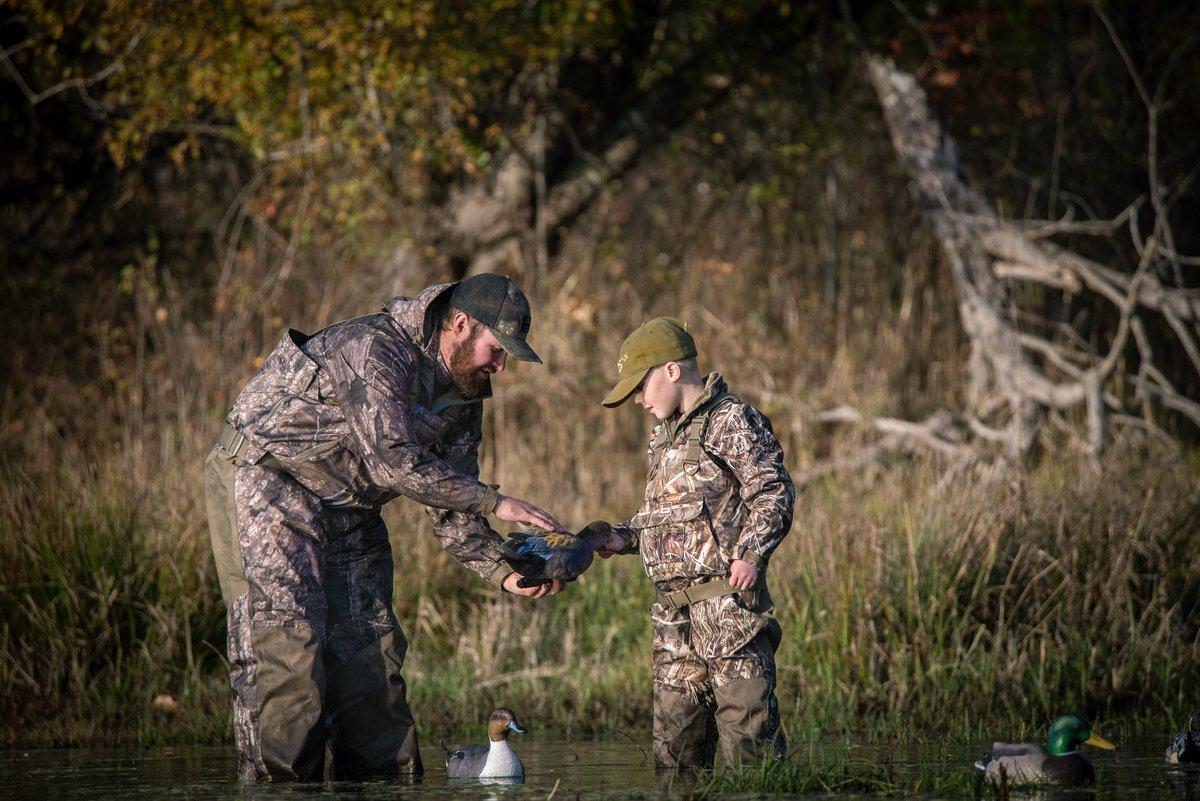 We talk often about introducing youth and other newcomers to waterfowl hunting. Yet when the time comes to go afield, that job can seem intimidating.
Aside from the logistical concerns of transporting extra gear and people, you must find ideal situations that let newbies stay comfortable and engaged in the hunt. That is, you don't want them to freeze their tails off while suffering chronic boredom while staring at empty skies.
Let's examine five (relatively) easy ways to get youngsters or nonhunting adults into duck and goose hunting.
Special Youth or Adult Learn-to-Hunt Programs
State-sponsored events often provide the perfect forums for low-stress first hunts, whether you guide a child during a special youth season or take your neighbor to a learn-to-hunt event. These settings focus on newcomers, eliminating competition from other hunters and maximizing guidance from mentors. Plus, they often allow access to spots you cannot hunt during the regular season, as landowners who otherwise refuse permission might be willing to let a first-timer hunt.
Some folks criticize youth seasons, especially in states where special hunts precede regular seasons. Such condemnations are exceptionally shortsighted. Sure, a weekend youth hunt at a small marsh will create tougher hunting for the general opener a week later. But are those critics so concerned about shooting one or two more young-of-the-year birds that they'd deny youngsters a quality introduction to the sport? Apparently, they're more focused on getting their birds than helping to stem the decrease in hunters and hunting participation. That attitude is regrettable.
Early Season Field Goose Hunts
Combine warm weather, comfortable field blinds and abundant birds and you have a nice recipe for a first-time hunt. Newbies can help set decoys and brush in blinds without worrying about freezing or getting wet. Then, they can learn about calling and watch honkers approach. Further, the pit boss can communicate constantly with neophytes, clearly calling the shot. You don't need to shoot a limit. Putting someone on their first goose or two might be enough to light the fire.
Shoreline Diver Hunts
Large, heated blinds filled with experienced hunters can also be ideal jumping-off venues. Set the decoys, and then escort newcomers to the blind. They can converse with veteran waterfowlers and have an easy view of the action. When easy incomers approach, let the first-timers shoot, and then back them up. Keep the enjoyment level high with laughs, snacks and hot coffee. Yeah, the shooting can be more difficult, but the experience is often unforgettable.
Canoe Jump-Shoots
Place a first-timer in the bow of a canoe, and then paddle your charge down a stream filled with wood ducks. The new hunter can focus solely on watching for birds and shooting. Meanwhile, you can whisper instructions and put them in prime position to shoot flushing ducks. Plus, you don't have to get up at dark-thirty. Yeah, you probably won't fill the boat with woodies, but a golden fall afternoon and a plump bird or two can hook folks for life.
Cuisine
Sometimes, you don't have to step outside to interest a youngster or nonhunter in waterfowling. Cooking sumptuous ducks or geese displays the benefits of acquiring your own protein and knowing its history. Duck poppers or a roasted mallard might convince nonparticipants that they should investigate waterfowling. Plus, you can assure them it's much more enjoyable than raising chickens.
Click here for more Realtree waterfowl hunting content. And check us out on Facebook.