Painting of Emperor Goose Chosen from 53 Entries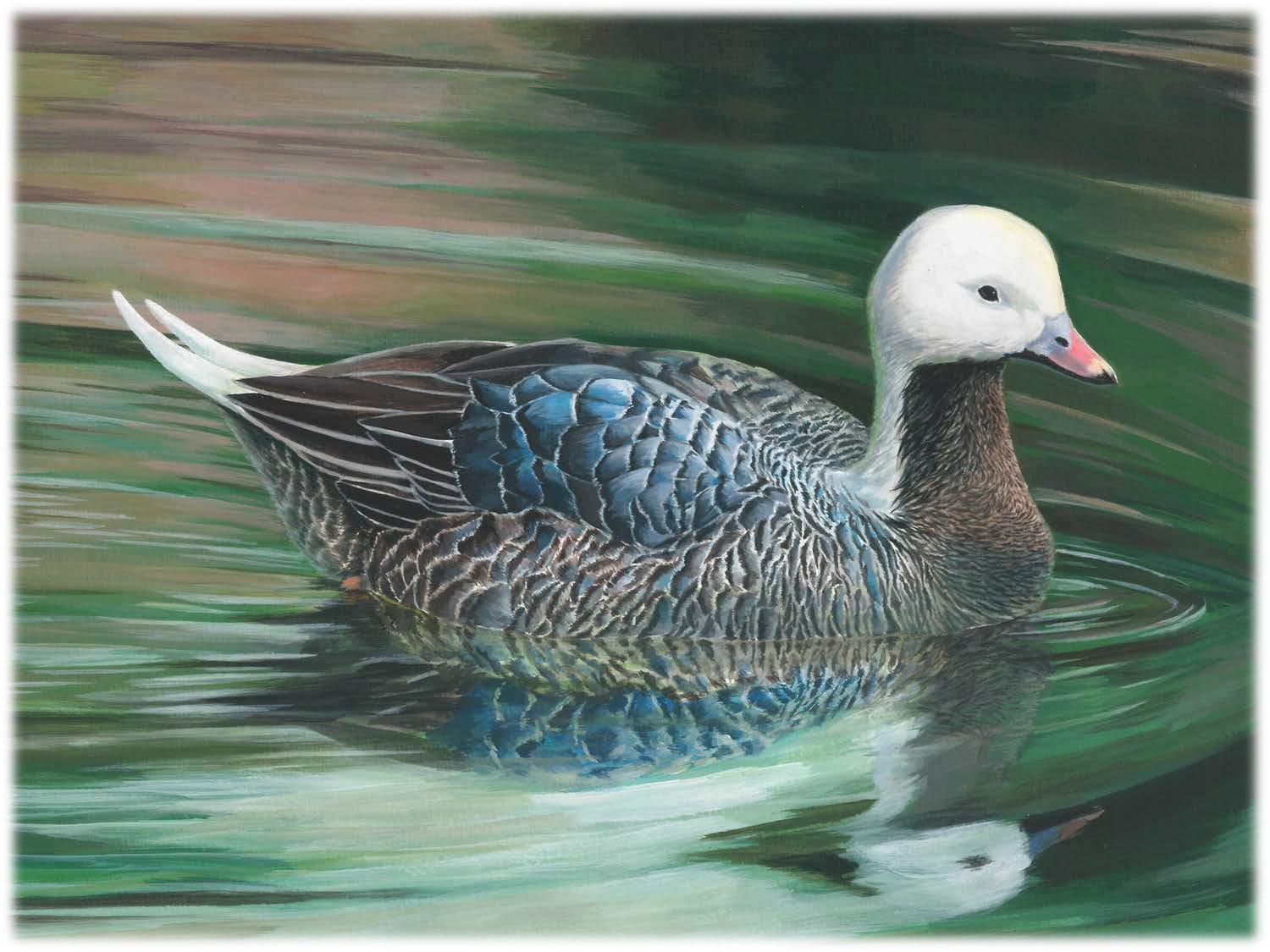 An acrylic painting of a swimming emperor goose by 18-year-old Rayen Kang of Johns Creek, Georgia, recently topped 52 other entries to win the National Junior Duck Stamp Art Contest.
Kang's image will appear on the 2019-2019 Junior Duck Stamp, which raises money to educate and engage youths in outdoor recreation and wildlife and wetlands conservation.
Connecting kids to the outdoors and getting them involved early in hunting, fishing and conservation is incredibly important, Ryan Zinke, U.S. secretary of the interior, said in a U.S. Fish and Wildlife Service press release. Programs like the Junior Duck Stamp help create future conservationists, hunters, outdoor enthusiasts — and maybe even the next Teddy Roosevelt.
According to the release, the Junior Duck Stamp program began in 1989 as an extension of the Migratory Bird Conservation and Hunting Stamp, commonly called the federal duck stamp. The first national junior art contest was held in 1993. The Junior Duck Stamp encourages students to explore the natural world, participate in outdoor recreation and learn wildlife management principles. About 3,000 Junior Duck Stamps are sold annually for $5 apiece.
A five-judge panel chose Kang's painting from best-of-show entries from 50 states; Puerto Rico; Washington, D.C.; and the U.S. Virgin Islands. Daniel Billings, 17, of Gallatin, Missouri, took second place with an oil painting of a redhead. Third place went to Larissa Weber, 17, of Anderson, Indiana, for an acrylic painting of trumpeter swans.
Also, the release said, an associated Junior Duck Stamp Conservation Message Contest encourages students to expresses the spirit of what they have learned through classroom discussions, research and planning for Junior Duck Stamp Contest entries. This year's winner was Abigail McIntyre, 16, of Manhattan, Kansas, who wrote, Conserving our wetlands is as important as conserving our art. It is our history, our inspiration, our life and our future.
The contest winner will receive $1,000. Second nets $500, and third receives $200. The Conservation Message winner receives $200.
Students participate in the Junior Duck Stamp Program at school, at home, in after-school groups and at refuges, parks and nature centers, the release said. After learning about wetlands, waterfowl and wildlife conservation, they express what they've learned through drawings or paintings of ducks, geese or swans.
Through the Junior Duck Stamp Program, tens of thousands of students each year learn principles of wildlife conservation, connect with the outdoors and spark a love of hunting, fishing, bird watching and other wildlife-related recreation activities, Greg Sheehan, service principal deputy director, said in the release. Using science, art and language, the Junior Duck Stamp Program kindles that spark, creating the hunters, anglers and conservationists of tomorrow.
People can buy Junior Duck Stamps online through Amplex and the U.S. Postal Service, and at some national wildlife refuges, the release said. Proceeds from Junior Duck Stamps go toward awards and scholarships to competitors who submit winning designs in state or national competitions, and for awards to schools and other participants to further education related to the program's conservation education goals.
Click here for more Realtree waterfowl hunting content. And check us out on Facebook.