Recalling Memorable Final Hunts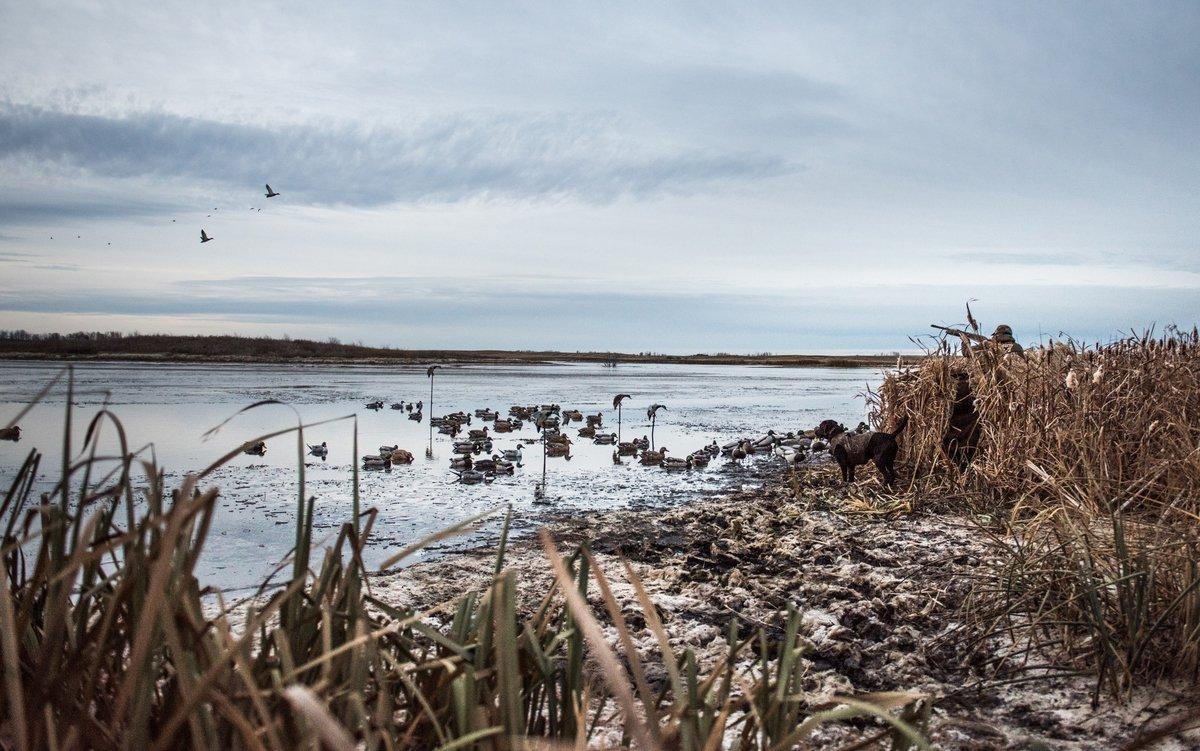 Most duck and goose hunting action occurs between the opener and the final bell — those days when migrations peak and we're locked onto hot patterns.
So why do we seem to remember the first and last hunts of the season so vividly?
I can understand the opener, as it's the first waterfowl foray after a long season of boredom and preparation. That total recall of final days, however, always mystified me. Maybe we realize another year has passed and we're staring at a long wait until the journey resumes. Or perhaps the event just lets us reflect on the season and wring one more bit of enjoyment from our passion.
Either way, last-day hunts seem to stick in my mind.
Silver Deluge
We'd enjoyed our best open-water diver season to date. Everything had worked almost every day, and the action had lasted until the final weekend. Ultimately, however, most of the birds left, and the weather turned sour. In fact, the forecast called for heavy rain the final day.
Come on, one more trip, a buddy said.
I wouldn't argue. We had all winter to dry off. So we went … and got soaked.
The remaining ducks didn't fly much in that weather, but we managed a few goldeneyes. And when a pair of geese sailed by, I rose and doubled, finishing my year. My buddy netted them and then spun the boat straight toward me. Then, he held a goose leg high, revealing a band. With rain dripping off his hood and an incredulous look on his ruddy face, he shook his head and started picking up decoys. I couldn't think of a better ending.
Cold Transitions
Not all finishes go well. Years earlier, another buddy and I were eager to continue our late-season streak of good diver hunting. Single-digit temperatures threatened to lock us out.
Whatever. We chopped some ice at a boat landing and broke through a few floes toward open water. Then, we set our decoys and watched an impressive morning flight begin.
We never fired a shot, though. Soon after shooting light, our decoys began to freeze in large sheets of ice and then move and twist in the wind. Before long, a tangled mass of blocks and ice had replaced our pretty spread. Worse, ice banged against our layout boat, creating a dangerous situation. Clean-up time arrived early that morning, and we watched clouds of ducks fly here and there as we retreated to the landing and safety.
Flight Line
I feared a similar finale two years ago, when the same buddy and I launched during a cold, calm final day. Temperatures must have been just warm enough to avoid a large freeze-up, though, as we avoided ice after leaving the harbor.
And although the lake's surface resembled a mirror that day — a rarity on any big water — we'd finally stumbled onto the flight line of some goldeneyes that had frustrated us for a week. Actually, shooting was crazy, and we filled the boat rails with whistlers and some bonus bluebills before 9 a.m. We smiled at the great finish but secretly wished the season would last another week.
Ahead of the Push
My buddy Jeremy Dersham guides on Pool 9 of the Mississippi River, where the season lasts two days longer than in my home zone. When he extended an invite for a long pre-dawn drive and a frigid, windy day in the boat, I didn't hesitate. A large front was forecast to push east that day, and we figured it would surely drive every remaining mallard in the Midwest past his decoys.
The push stalled a bit on its way toward the river, but action was solid and steady. By afternoon, we were just a few birds shy of a three-person limit, with some dandy greenheads and a bonus banded ringneck. As we prepared to leave, however, the real action began. Winds howled, and the mercury dropped, as we watched flock after flock of every type of waterfowl — mallards, swans, divers and even pelicans — fleeing southward ahead of the storm. Yeah, we'd missed hunting the final push, but we'd witnessed its spectacle.
Frozen (The River Edition)
Everything was frozen, save Lake Michigan and some spring-fed trout streams. And with snow and a howling east wind forecast for the final day, the big water wasn't an option. So off I went, trudging more than a mile up a swift-flowing creek to a tiny hole mallards sometimes frequented. And the trip went well — until I reached the hole, slipped on a rock and went neck-deep into the frigid water.
Tired and facing a long walk back, I vowed to hunt at least an hour. Snow blew sideways against my frozen cheeks, and I figured birds would move nonstop in the gale. Perhaps I could pour the water out of my shotgun barrel and get a final-day mallard or two to ease the chill.
Nope. An hour later, with my clothing white and frozen stiff, I clumsily hobbled downstream, skunked and half hypothermic. There'd be no last-day glory; no photograph of green heads in fresh snow. Instead, a hot shower and memories of hunts gone by had to carry me through another off-season.
Click here for more Realtree waterfowl hunting content. And check us out on Facebook.