Lion's Mane Mushroom Fritters
While wild mushrooms like morels, chanterelles, and oysters get the most attention from foragers, there is another mushroom that deserves a look. Lion's mane, also known as bearded tooth mushrooms, grow all over the lower Midwest and South. They can be found growing on living hardwood trees, often several feet in the air, or on fallen, dead hardwood timber. Lion's manes can grow as large as 10 inches across, but older, larger specimens can be bitter. My favorite eating size ranges from 2 to 5 inches across.
Lion's manes are white or cream colored and can vary in appearance from small fuzz over the exterior to long furry fingers that hang down from the mushroom body itself. Unlike many of their spring and early summer cousins, these mushrooms are most often seen from late fall through early winter. They make a great starter mushroom for the beginning forager because there aren't many look-alikes in the woods. If you find a large, furry white mushroom without a stem growing on a hardwood tree in the fall or winter, chances are good that it is a lion's mane. As with any wild edible though, it is always wise to cross-check your finds with at least two reliable reference books before eating them. Even better, go with an experienced forager who can teach you what to look for and what to avoid in your area.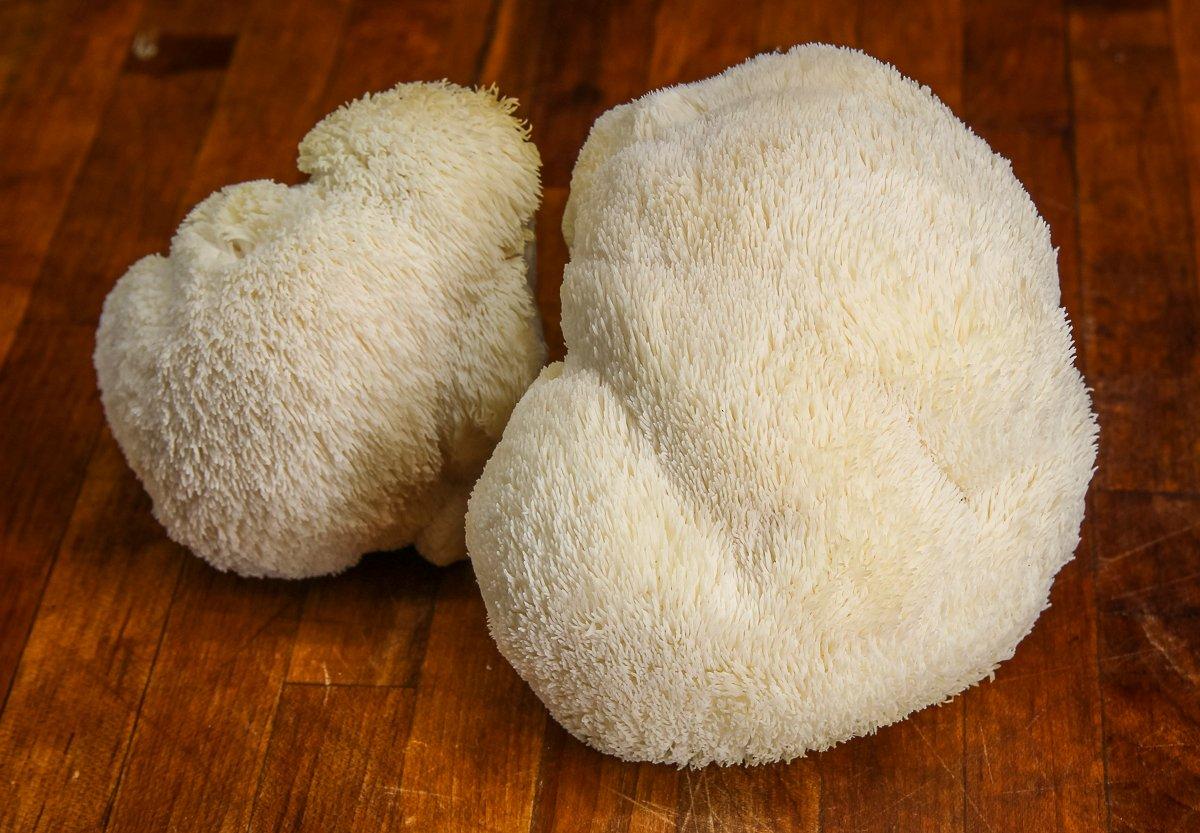 The great thing about lion's mane mushrooms is the fact that they share a remarkably similar flavor with lobster or crab meat when cooked. Because of this, you can substitute sauteed lion's mane in many recipes that call for these seafoods to make vegetarian versions. While I don't necessarily need vegetarian anything, I do enjoy this mushroom in recipes like these fritters. They make an outstanding appetizer or side dish.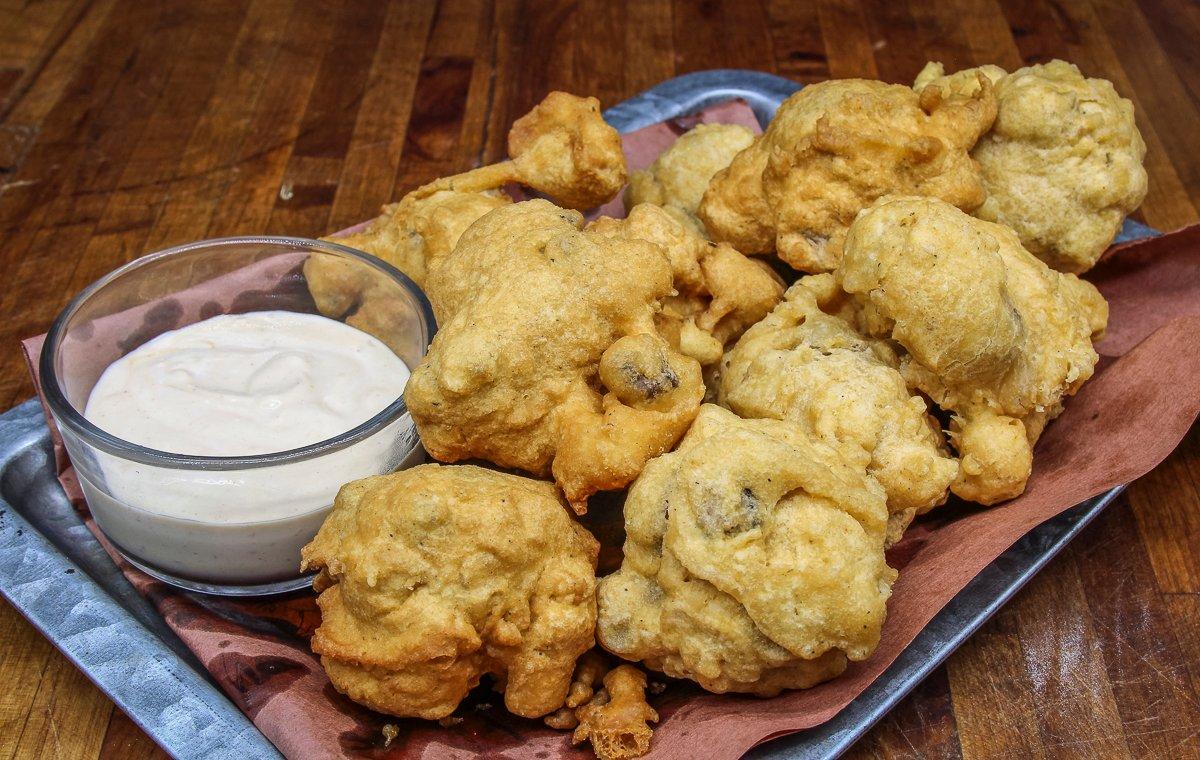 Ingredients
12 ounces of lion's mane mushroom, cut into small bits
2 to 3 tablespoons butter
Oil, for frying
2 cups flour
1 tablespoon baking powder
1 teaspoon ancho chile powder
1 teaspoon salt
1/2 teaspoon black pepper
1/2 teaspoon garlic powder
4 eggs, beaten
1 cup water
Cooking Instructions
Clean the mushrooms well and dice into small bits. Heat 2 to 3 tablespoons of butter or olive oil in a skillet over medium heat. Sauté the mushrooms for 7 to 10 minutes until they have released their moisture and cooked through to soften. Set the mushrooms aside to cool.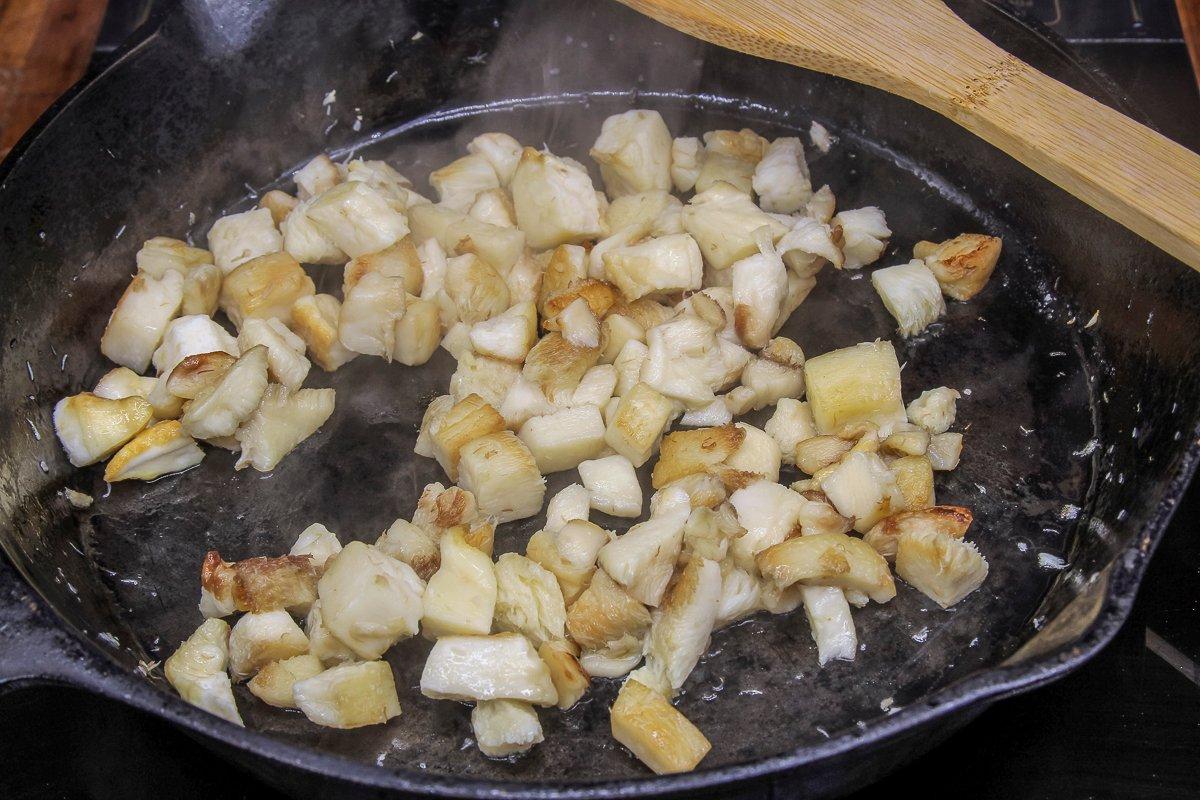 Heat 2 inches of vegetable oil in a heavy pot over medium-high heat until it reaches 350 degrees.
While the oil heats, to a large bowl, add the flour, baking powder, chile powder, salt, pepper, and garlic powder. Stir well.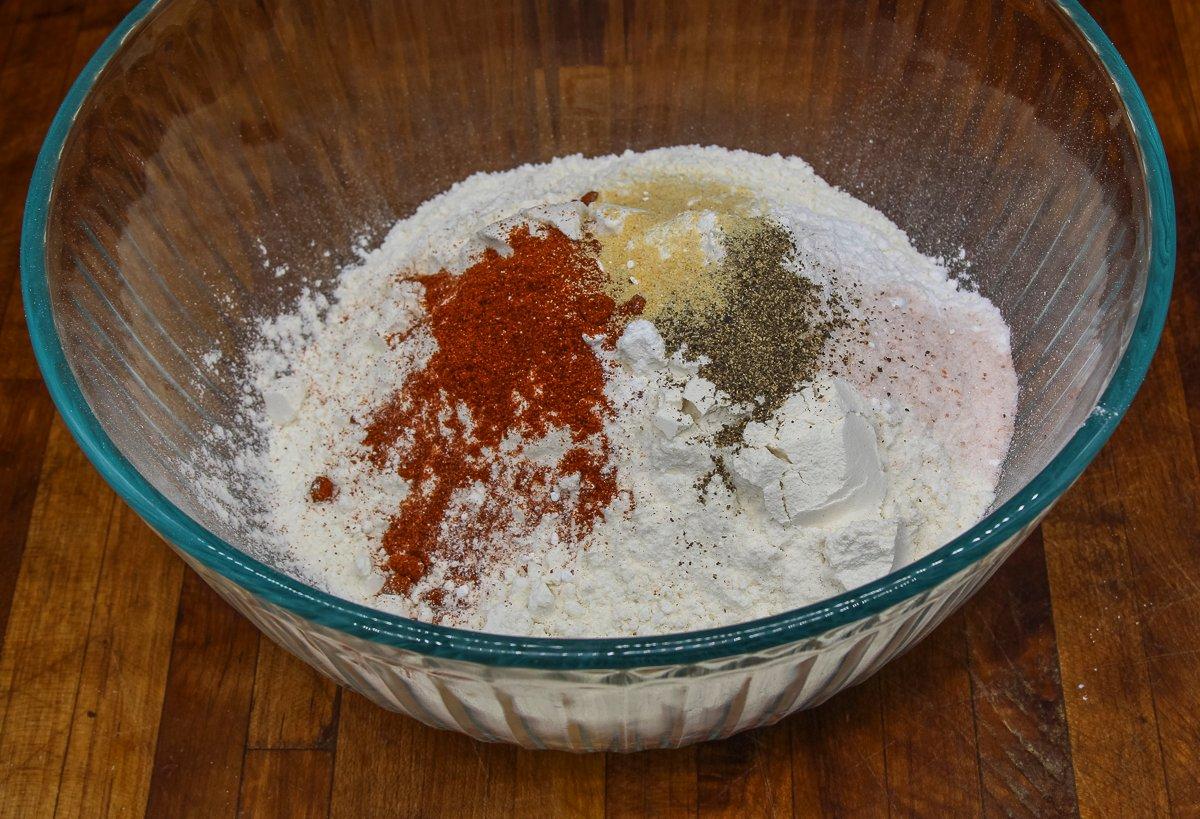 Add the beaten eggs and continue mixing. Add half the water and stir well. You are looking for a thick pancake batter consistency. Continue adding water, a bit at a time, as needed to bring the batter together. Stir in the cooked mushrooms.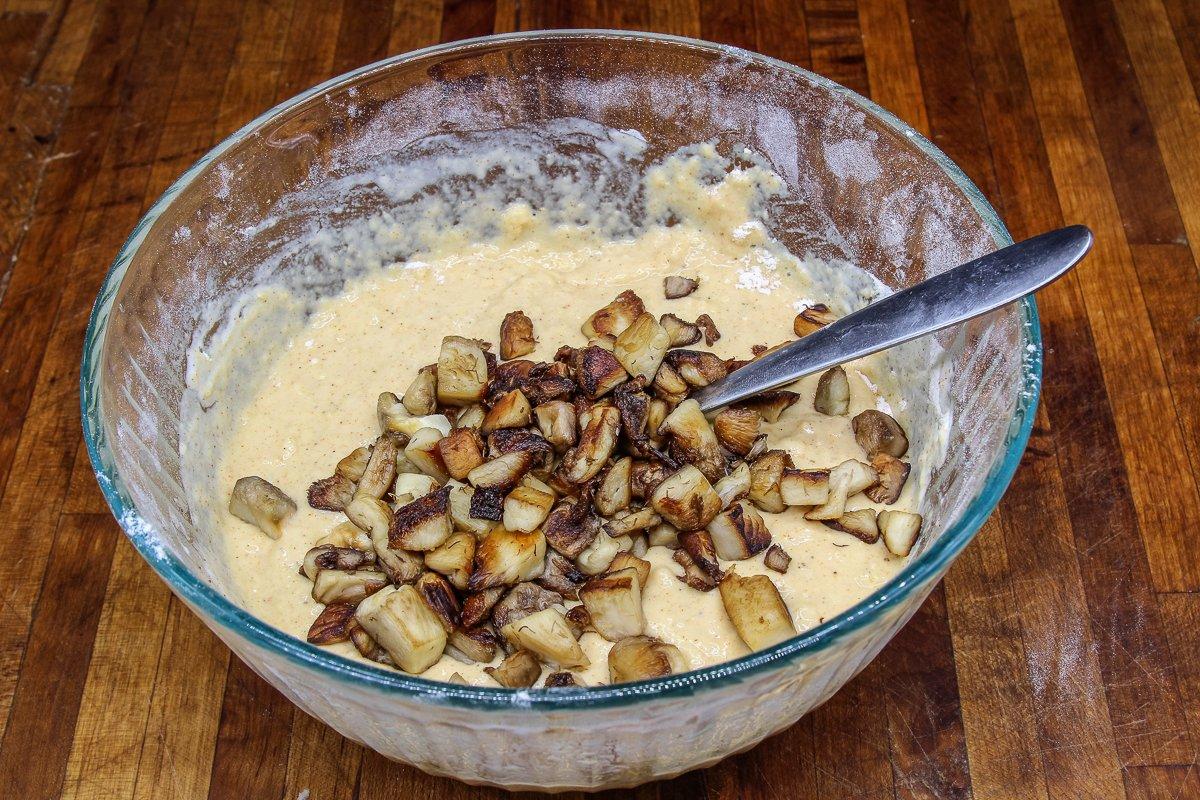 Use a spoon to drop a golf-ball-sized dollop of fritter batter into the hot oil. Continue until you have several fritters in the oil. Use a spoon to turn the fritters so that they cook evenly. Once they are golden brown and floating, about 5 minutes, use a wire spider or slotted spoon to lift the fritters from the oil, allowing excess oil to drain back into the pan. Move the fritters to a paper-lined dish and continue until all the batter has been used.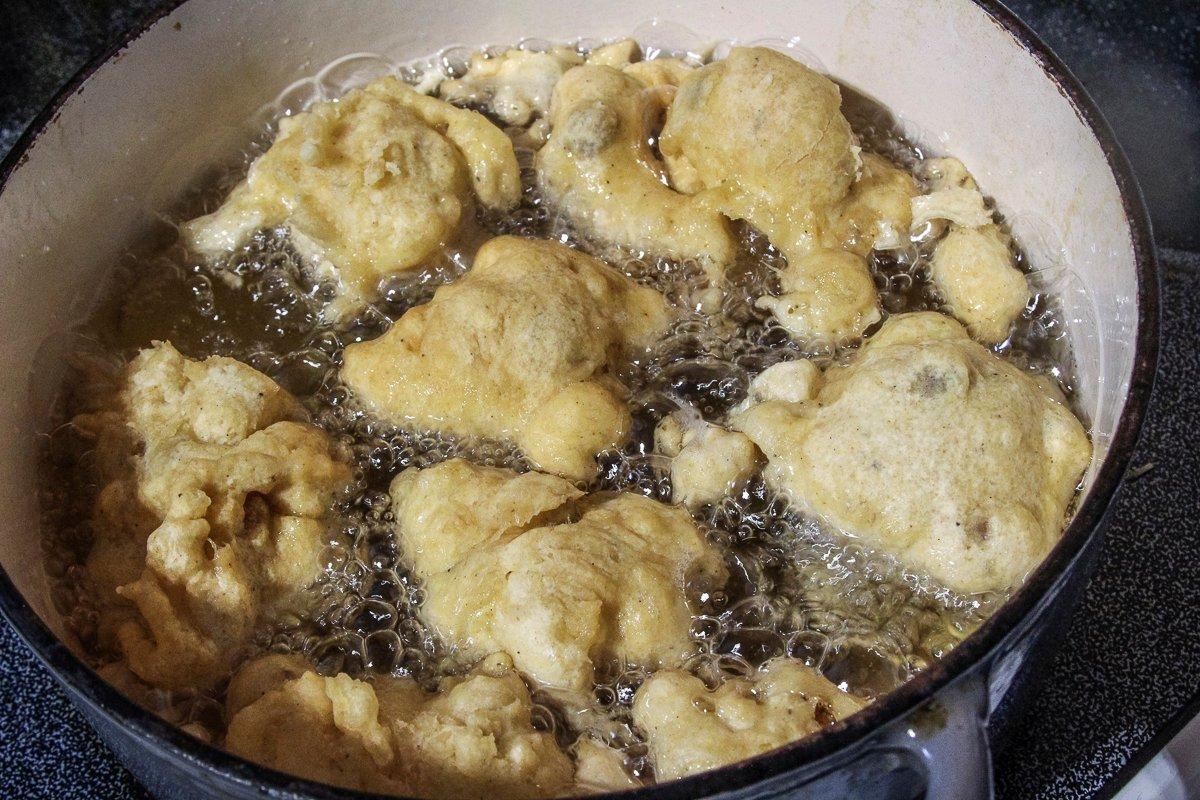 Serve with a spicy remoulade sauce for dipping.