Venison Bacon Smashburger Sliders
Does venison need bacon to make it delicious? Absolutely not. Does bacon, especially home-cured and smoked bacon, taste good when ground with venison for these bacon / venison smashburger sliders? You can bet your last dollar it does.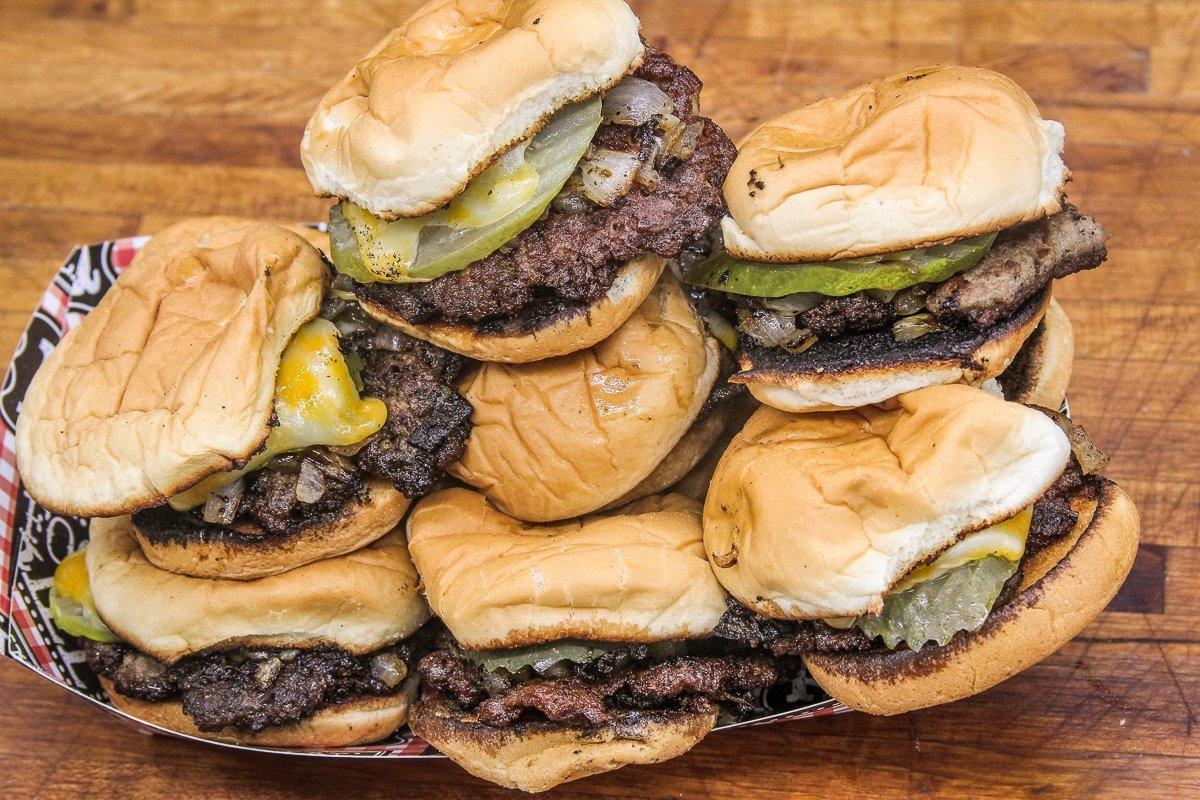 While we usually go 80/20 or so venison-to-bacon when grinding the two together, these sliders kick up the bacon ratio to about half. Seared till crisp on a Blackstone or other griddle (or in a cast-iron skillet) and topped with grilled onions, Colby jack cheese and a pickle slice, these little sliders will quickly become one of your favorite appetizers or snacks (or dinner if you eat enough of them).
The secret to a good smashburger is the sear. Use a large, heavy spatula, a bacon press, or even the bottom of a small cast-iron skillet and really press down on the ground meat. Get it down to about a quarter-inch thickness and hold the pressure for a good 8 to 10 seconds to really get that good sear and crunchy edge required of a quality smashburger.
Ingredients
12 ounces venison, cut into cubes to fit your grinder
12 ounces bacon (Ends and pieces leftover from slicing are perfect)
1 large Vidalia onion, diced
12 dill pickle slices
12 slider buns
12 slices of Colby-jack cheese (The 2-inch-square, cracker-cut size is perfect if you don't want to cut your own)
Cooking Instructions
Start by grinding the meat together at an equal ratio of bacon to venison. Run the mixture through a second time to get everything blended well.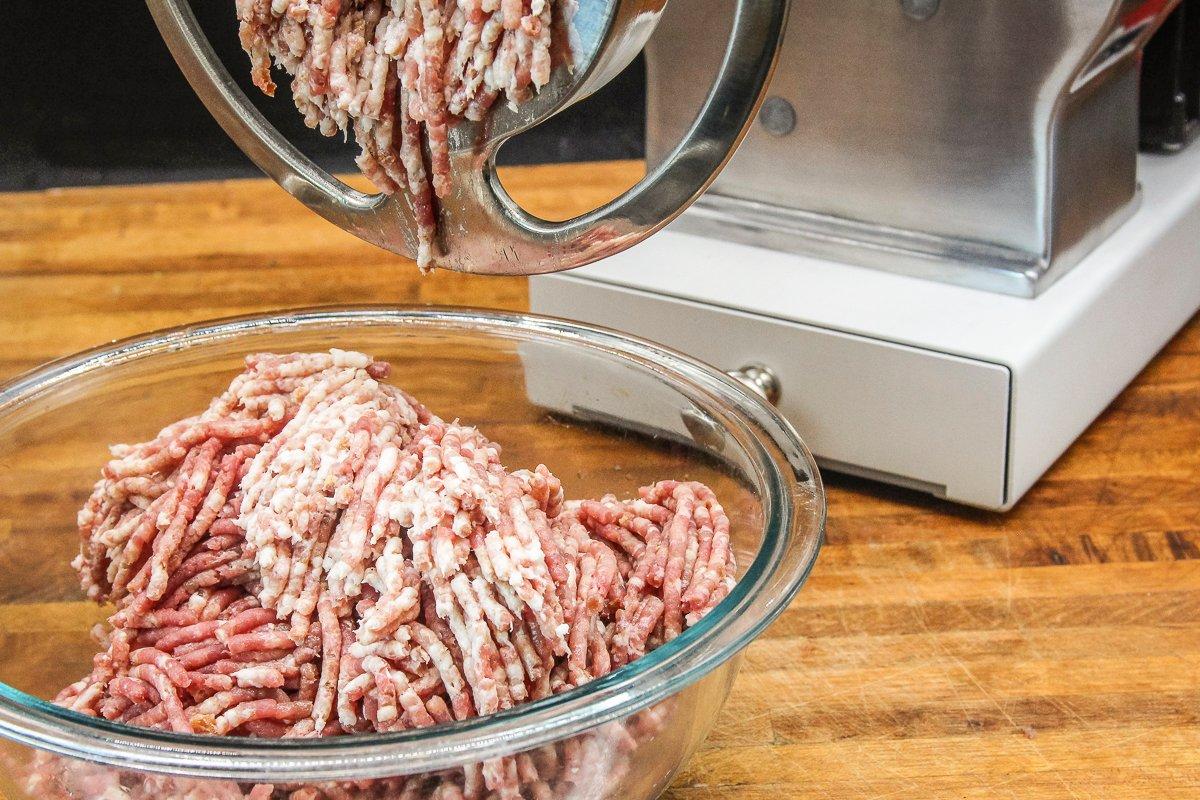 Heat your griddle to medium-high. Along one side, add the onions. Season them to taste with salt and black pepper. While the onions cook, evenly space the meatballs on the grill. Give them 30 to 45 seconds to sear on bottom.
Use a heavy spatula, bacon press, or heavy iron skillet to press the meat down onto the hot griddle. Get it down to about 1/4-inch in thickness and hold for 10 seconds or so to form a good sear. Allow the burgers to cook for 1 to 2 minutes then flip, making sure to scrape the griddle surface to keep all the sear on the burger. Add the buns, cut side down, to the griddle to toast.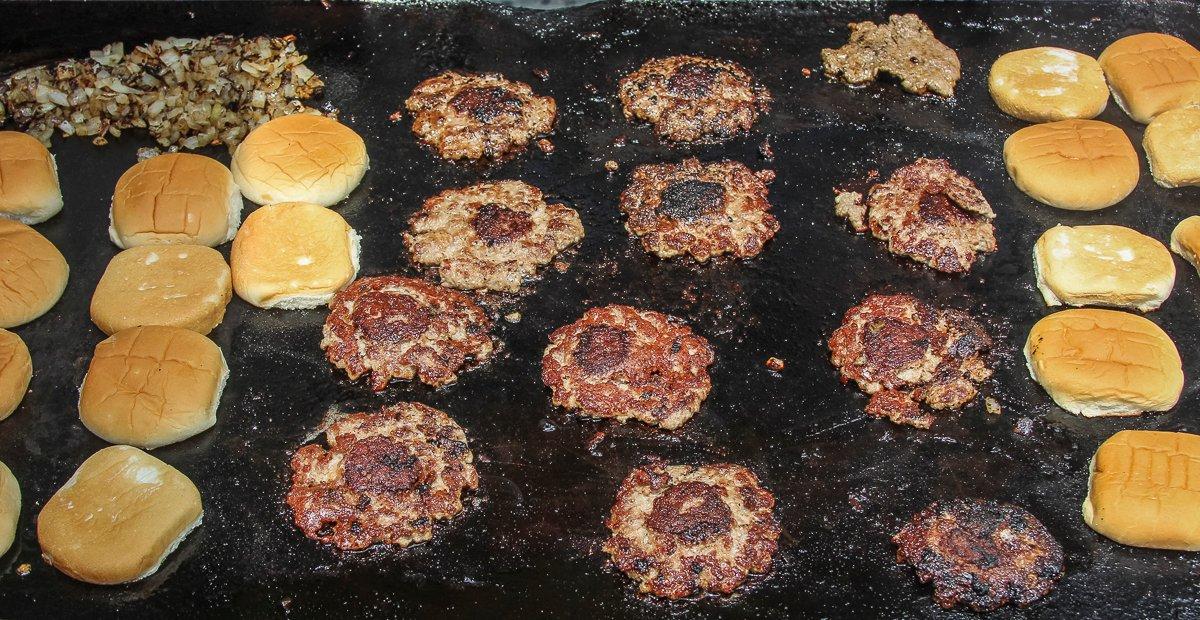 Add a pickle slice and a slice of cheese. Top each slider with the top half of a bun. Cook for another minute or two to melt the cheese, then scoop up the burgers and place them on a bottom bun half. Serve immediately.