Stacked Grilled Venison Nachos
This method for making nachos accomplishes a few things normal nachos just can't. First, it gets cooked on a pellet grill for a delicious smoky flavor. Next, it keeps dishes to a minimum since it cooks in a disposable aluminum pan. And third, it turns out melty, gooey, delicious loaded nachos with crispy chips, which isn't always easy.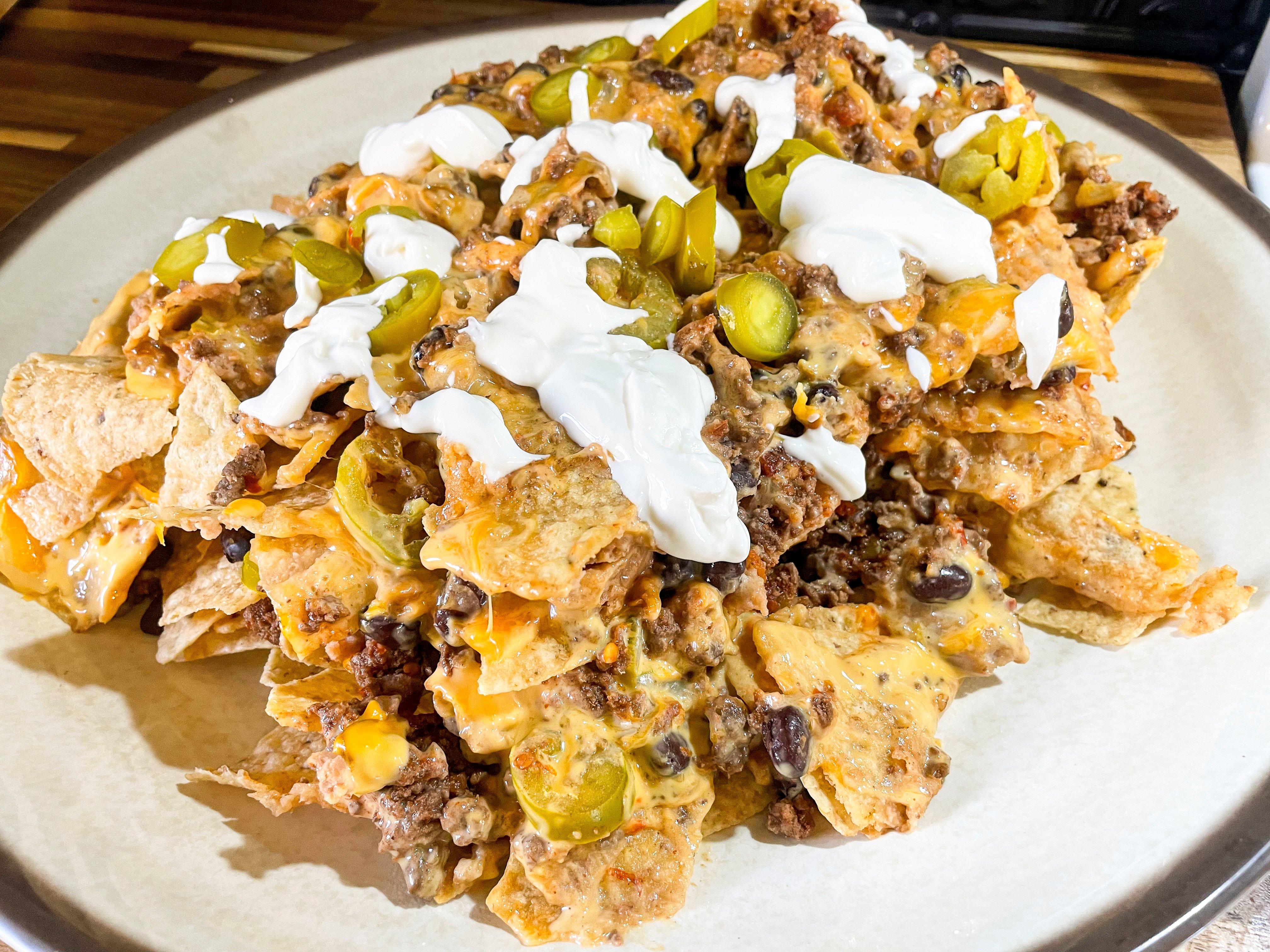 These grilled venison nachos are easy to make and have a light smoky flavor you won't find in other nachos.
Start with the ground venison. In my book, a good loaded nacho always has lots of tasty meat. We start by browning the ground venison in a large skillet. Once the meat has browned, stir in the taco seasoning and garlic powder. Add the salsa, bring to a simmer, and stir well until the meat mixture thickens. Remove from heat.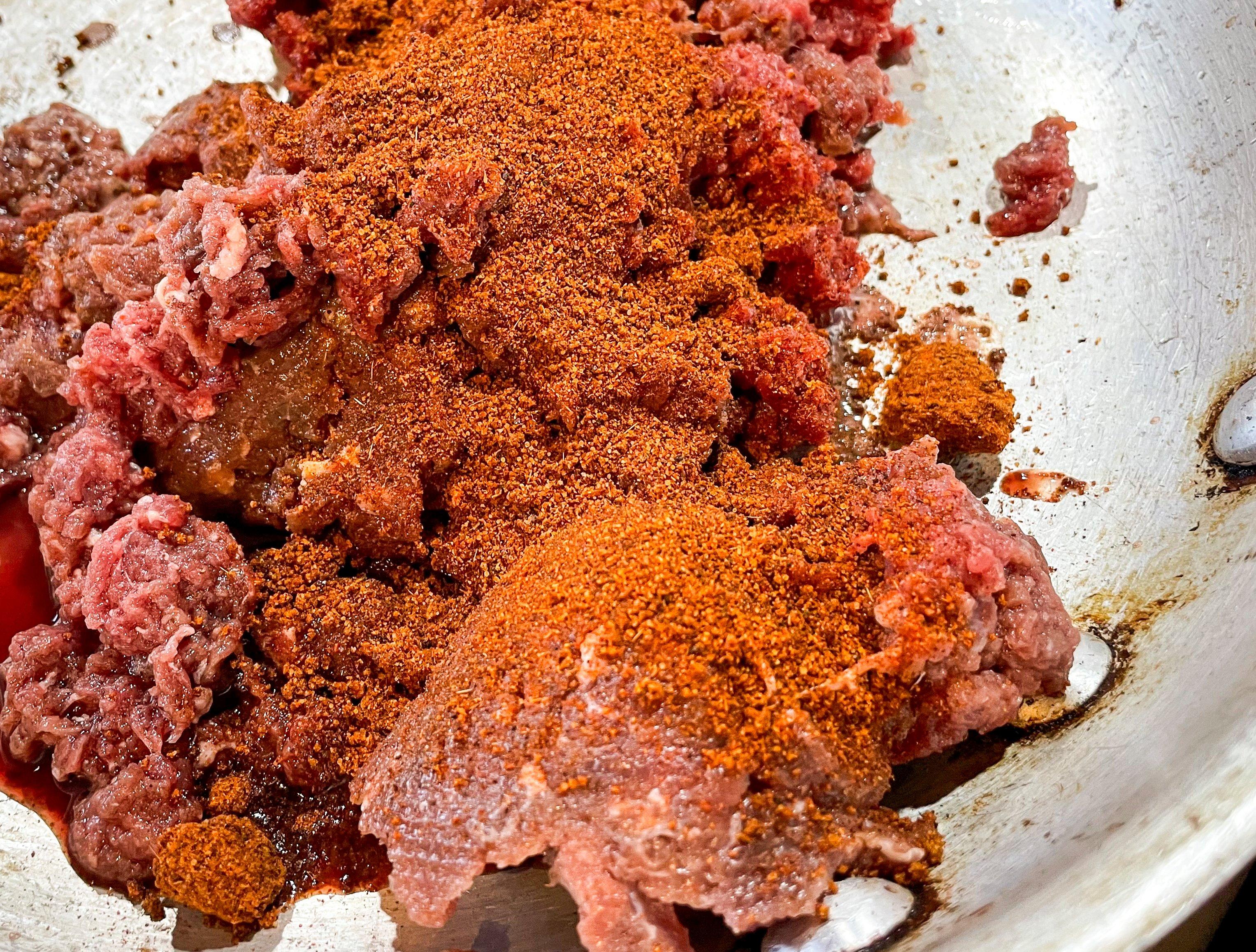 Season the ground venison with your favorite taco blend.
To a large disposable aluminum roasting pan, add 1 cup shredded jack cheese evenly over the bottom. Spoon on a quarter of the taco meat. Add a quarter each of the black beans, refried beans, jalapeño peppers, and warm nacho cheese, evenly distributing them over the bottom of the pan. Top with a thin layer of chips.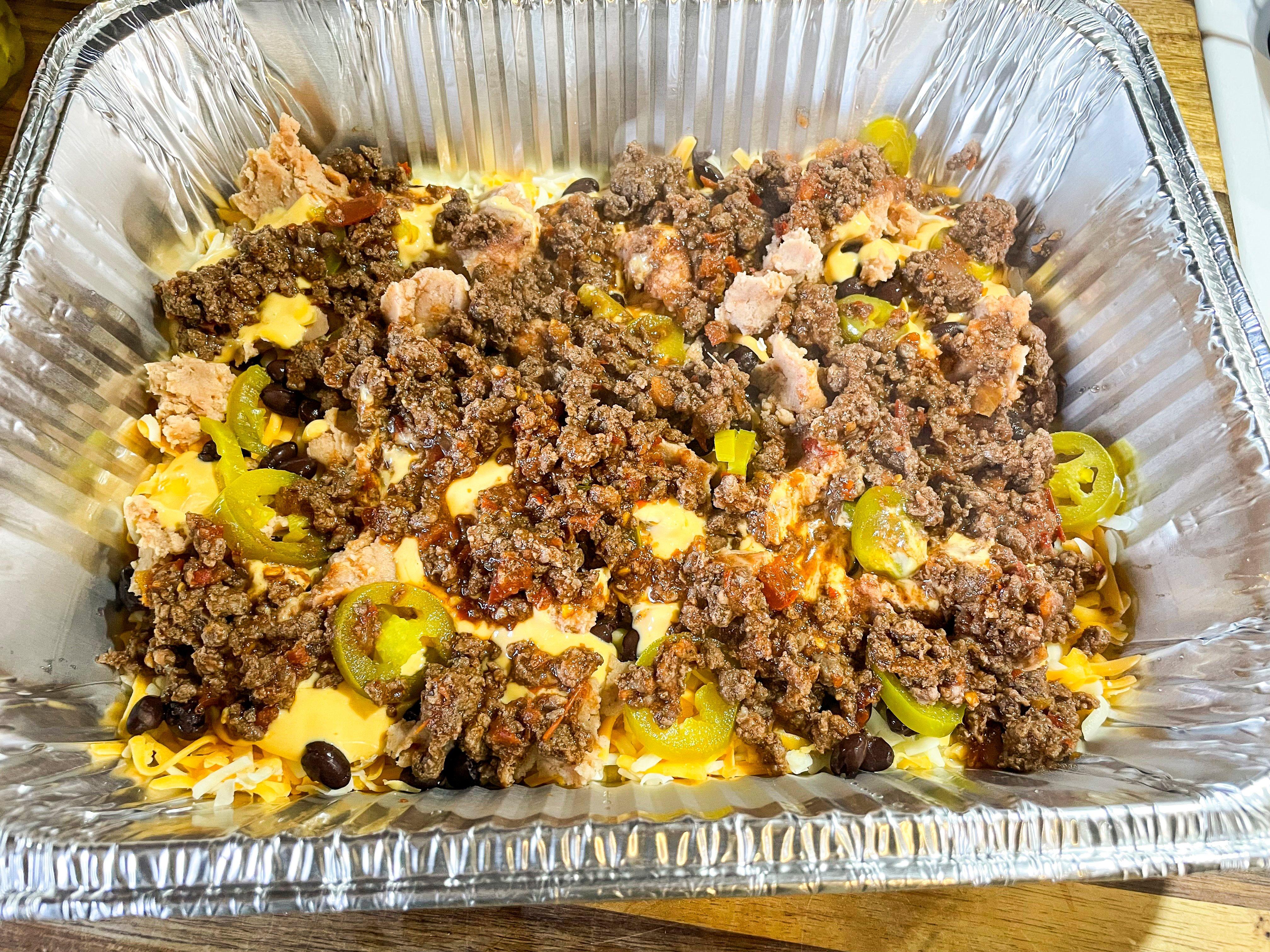 Layer the ingredients in a disposable aluminum roasting pan.
Repeat the process until all those ingredients are in the pan, ending with a layer of chips on top.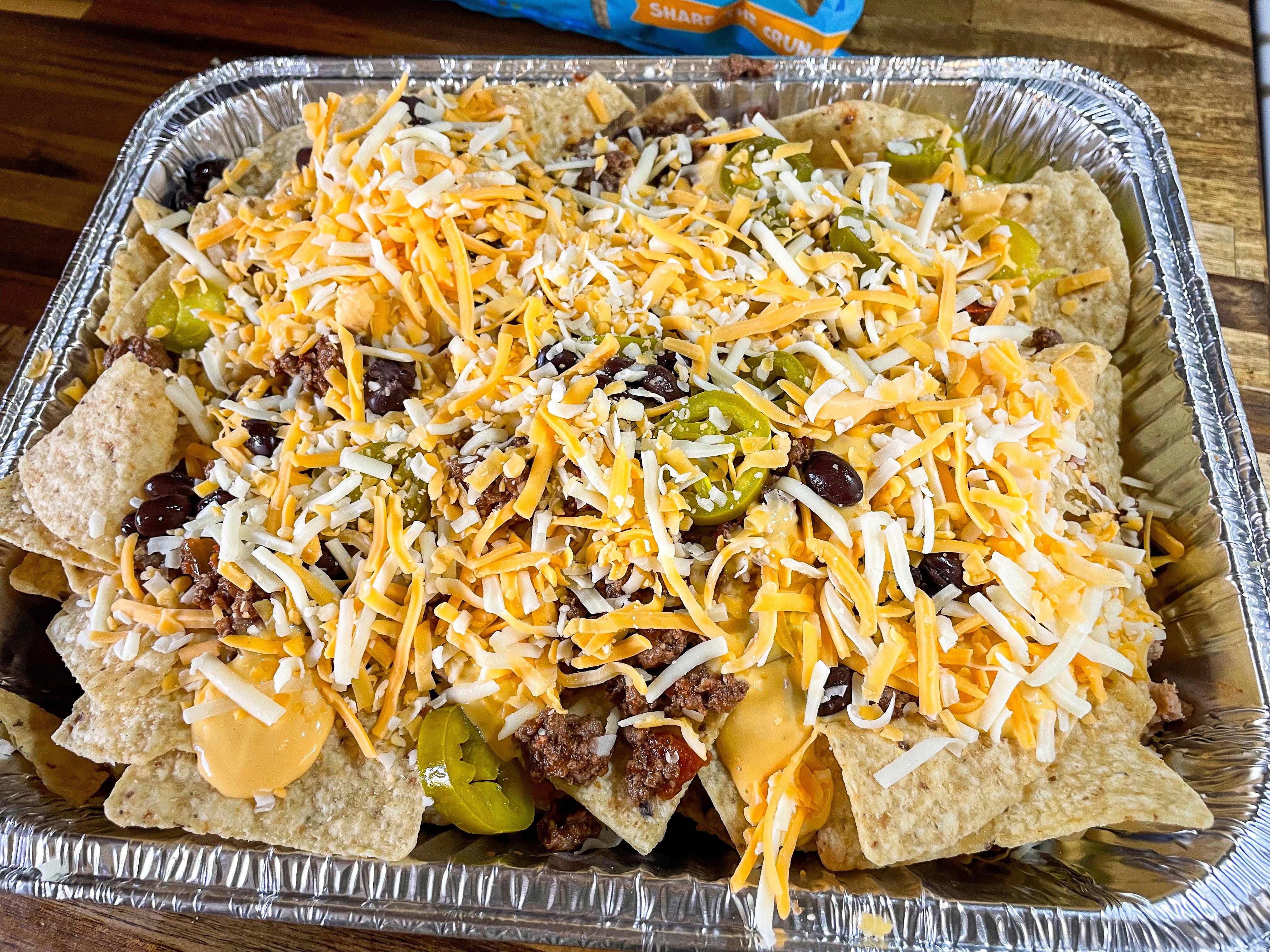 Continue layering the chips with the other ingredients to fill the pan.
Place the pan on a preheated pellet grill at 300 degrees. Cook for 20 minutes or until all of the cheese has melted.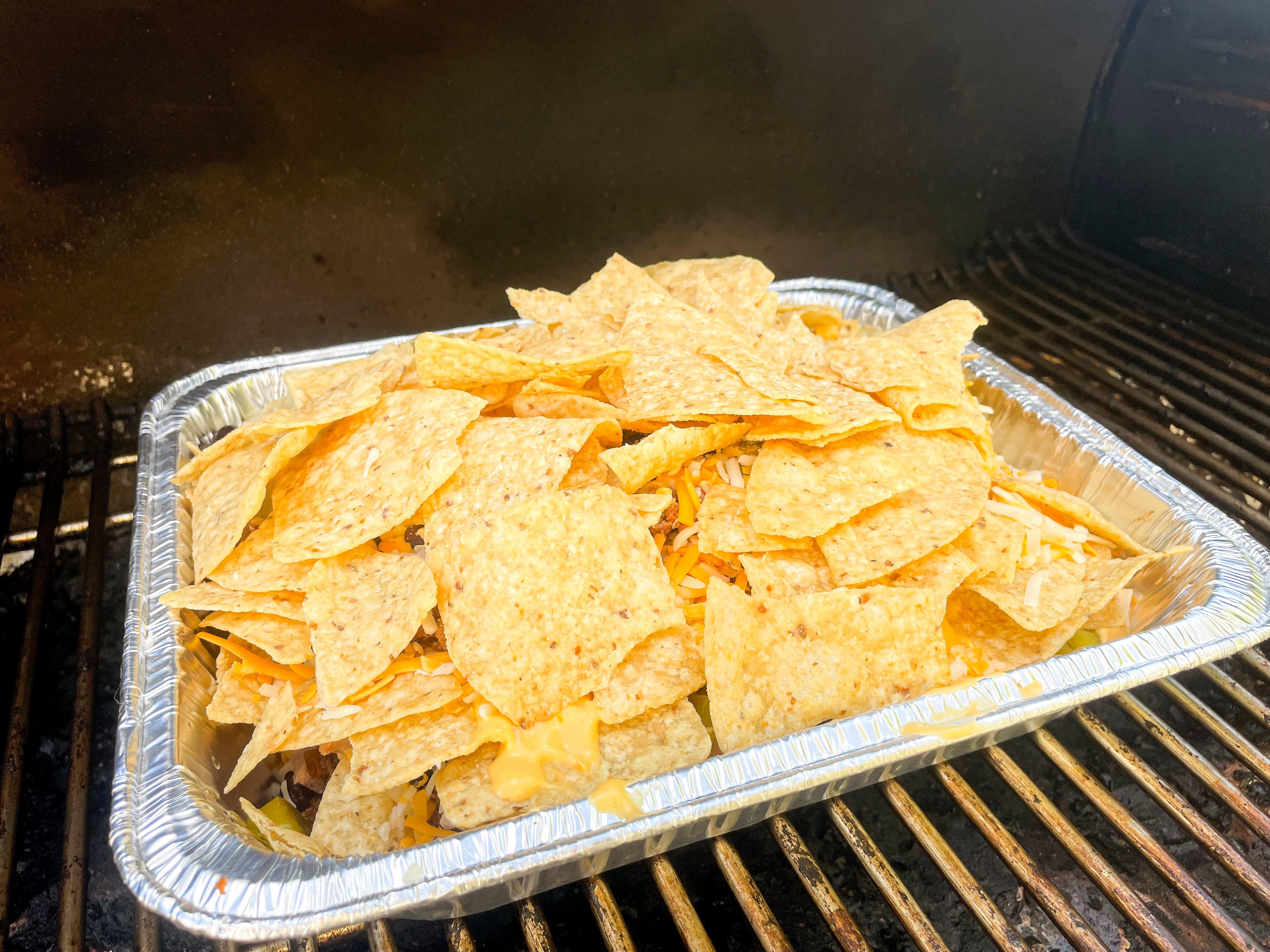 Grill for 20 minutes or until all cheese has melted.
To serve, place a large platter over the top of the pan, then flip, dumping all of the contents. The result should be a multilayer mountain of nachos, topped with melted cheese. Top with sour cream, diced green onions, additional salsa, guacamole, whatever your nacho heart desires.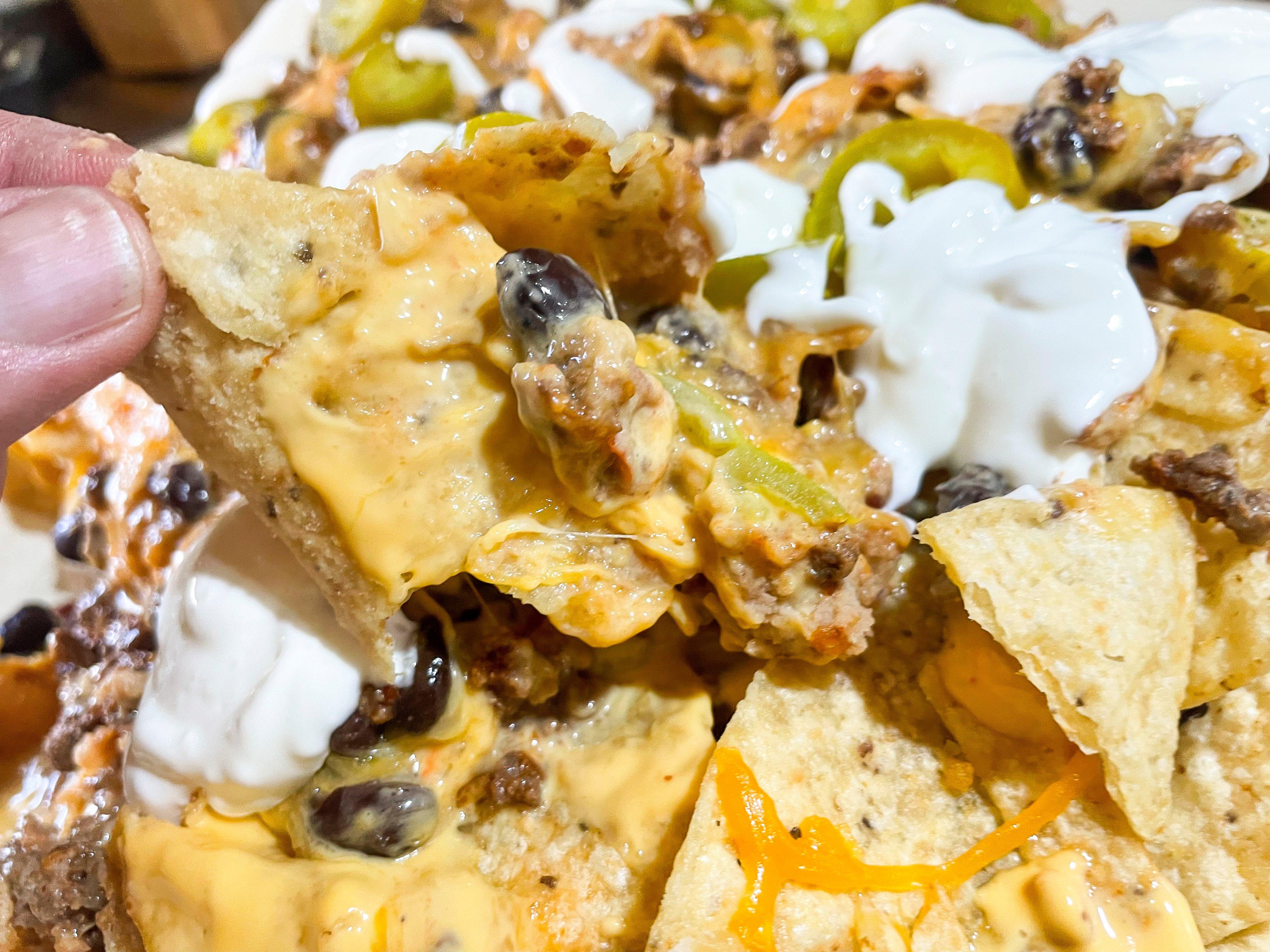 Top with sour cream, green onions, more peppers, salsa, or whatever you like on nachos.
Ingredients
2 pounds ground venison
2 tablespoons taco seasoning blend
1 teaspoon garlic powder
1 cup smooth salsa
4 cups shredded Monterey jack cheese
1 can black beans, drained and rinsed
1 can refried beans
1 cup sliced pickled jalapeño peppers
16 ounces of canned or jarred nacho cheese sauce, warmed
14-ounce bag white or yellow tortilla chips
ADDITIONAL TOPPINGS
Chopped green onions
Guacamole
Salsa
Sour cream