How are the prospects for spring gobblers looking down South? Read on
In the Southeast, as with some other regions of turkey country, flock populations are trending downward. Disease, habitat challenges, management variables and predator influences are all factors, including sadly, poaching. That said, there are some bright spots.
Want to know where to go in the Southeast, get some insider intel along the way, plus details on the current state populations of turkeys and last season's spring kill? Sure you do. Get your read on with our turkey hunting forecast for the dozen southeastern states.
Florida
Got a strong desire to hunt Osceola spring gobblers? Florida is your only option.
Where to Go
A reputable outfitter will put you on birds they've worked hard to gain access to, often on leased agricultural land. Public ground is available and holds turkeys, too, but it's hard hunted.
The Osceola is the most narrowly distributed of the wild turkey subspecies, but much sought after despite this. After all, you need one for your Grand Slam. The so-called "intergrade" line in northern Florida is widely discussed as the border of demarcation for the Osceola.
Conventional thinking over the years, along with biological data, has put Easterns in the Panhandle and Osceolas to the south. Truth is, wild turkeys, best we can tell, don't read such game-management literature. They go where they will. Some Florida turkeys wander north; some Easterns drift south. That's just what turkeys do, driving biological diversity.
And so, that intergrade line shows some hybridization, at least as far as physical characteristics go.
That said, the predominant black barring in the Osceola's primary wingfeathers, along with skinny, irregular and somewhat broken white bars, are distinguishing characteristics hunters use when eyeing a bird they've just taken.
And in the end, a wild turkey is a wild turkey.
Insider Intel
Book yourself a good reliable outfitter (these folks often lease land from local farmers), or hunt with a friend who has birds.
I've visited the Sunshine State a handful of times for turkeys. Last year, a dandy sharp-spurred, swamp-roosting longbeard flew down after his hens did and all worked to the calls through the opening day fog and sunshine. Strutter in range, I paused to take it all in for a few seconds, and dropped the bird.
There are few better places to start your spring season than in Florida.
Estimated Population
As of this writing, 150,000 according to the Florida Fish and Wildlife Conservation Commission. Numbers have been in decline due to habitat losses, land use practices and predation.
Spring 2019 Kill
Unavailable since no registration is required.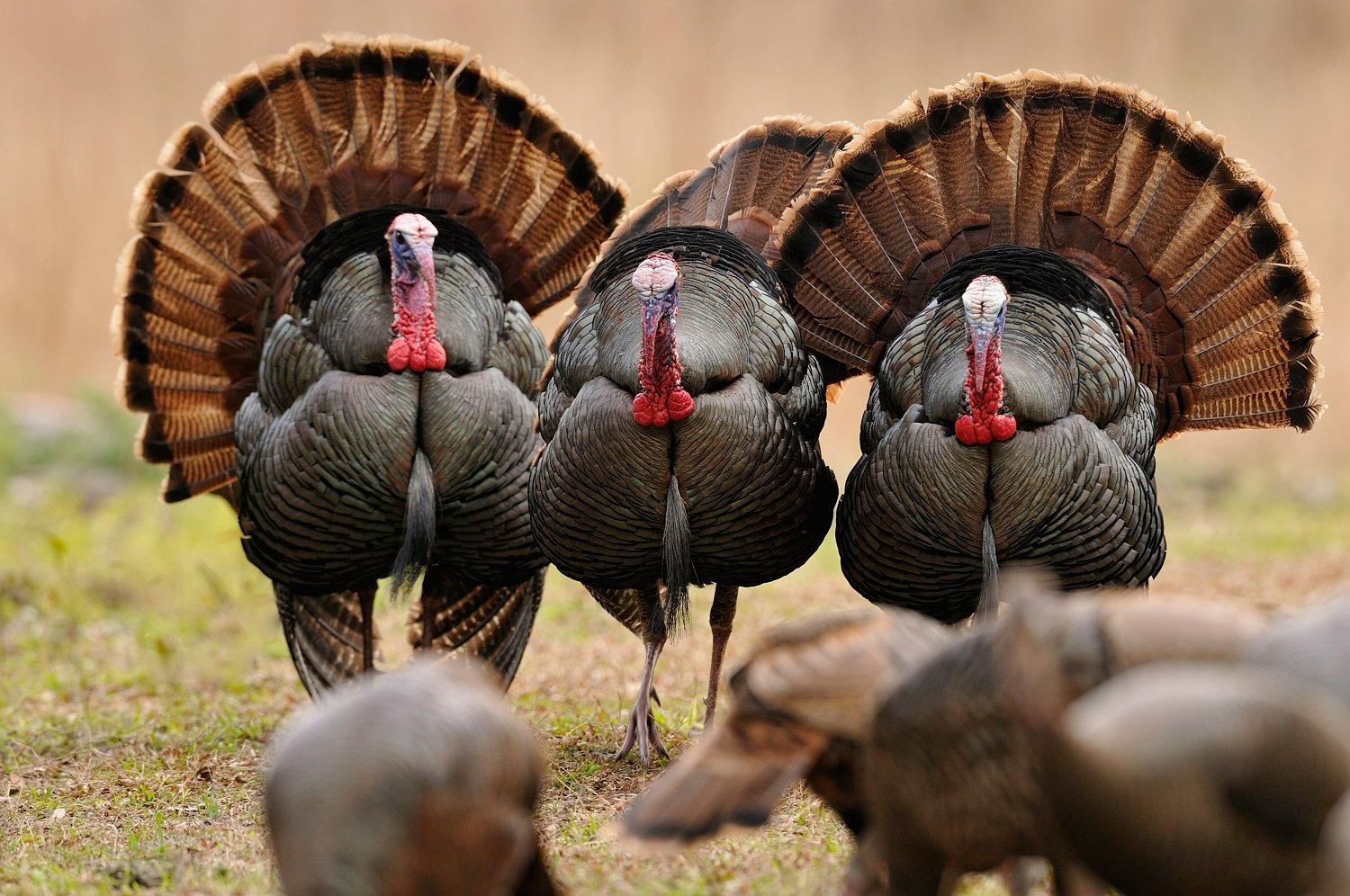 Georgia
Home to Realtree's headquarters, Georgia is one fine turkey hunting state to visit in spring. The limit remains three gobblers.
Where to Go
One aspect of Georgia turkey hunting worth noting is the variety of habitats. From sprawling flatland pinewoods to red-clay farm country, classic Southern swamps and big-woods/Appalachian-style mountain hunting in the North, Georgia is a mosaic of good turkey spots.
Plus, you can find walk-in places to hunt gobblers.
Georgia has decent public-land hunting potential, with almost a million acres of good Wildlife Management Area land spread over 90 properties.
There's also the sprawling and remote Chattahoochee-Oconee National Forest in northern Georgia, offering 867,000 acres of opportunity for the hunter willing to work a little for a bird.
Insider Intel
Management of Georgia turkey hunting is strictly a spring-oriented deal, and has been for a long time. No fall turkey hunting seasons are offered there.
Estimated Population
Good hatches the last few springs have kept Georgia turkey populations strong, and about 300,000 turkeys are estimated to roam the state now (that's compared to 17,000 in 1973, when the Peach State started its turkey restoration program).
Spring 2019 Kill
Georgia hunters took 17,073 gobblers.
Alabama
Alabama has a fall season in a few counties, but the spring season is when most of the turkeys are taken.
Where to Go
Where can you hunt? About 76% of the state (22.7 million acres in all) is timbered, providing endless habitat for the wild turkey.
Estimated Population
Alabama has historically led the nation in turkey populations, though ballpark estimates have declined in recent years. Down from the 500,000 birds traditionally, 'Bama's numbers have been adjusted by wildlife officials to a conservative 400,000. That's still a lot of turkeys. Easterns roam the Yellowhammer State.
Insider Intel
If there's drawback to turkey hunting in Alabama, it's that the birds are as hard-hunted and cagey as you will find anywhere. You probably won't just step out of your truck and shoot a gobbler here.
Spring 2019 Kill
A decline in populations? Maybe so. Some wildlife officials (and hunters) would agree. While spring gobbler chasers have historically taken up to 60,000 or more birds some years, this number dropped to just 25,652 for the 2019 spring season.
Mississippi
Upside in Mississippi is there's plenty of diverse land to turkey hunt.
Where to Go
According to Department of Wildlife, Fisheries & Parks (MDWFP), the Mississippi Wildlife Management Area (WMA) system includes 55 areas encompassing over a thousand square miles. WMAs are located from the upper edge of the coastal marshes in Jackson County to the lower reaches of the Appalachians in Tishomingo County. They range from the rolling hardwood hills of southwestern Mississippi to the deep, rich soils of the Delta. The MDWFP owns some WMAs and manages many others under memoranda of understanding with the U.S. Forest Service or private corporations. Others are operated through long-term license agreements with the U.S. Army Corps of Engineers.
Insider Intel
First off, before you read any further, Mississippi has a no-jake rule. Only gobblers with 6-inch or longer beards are legal. And yes, even if a sharp-spurred, full-fan adult gobbler stepped up with a dinky beard it broke off in a turkey fight (spurs, after all, are the best age indicators), you'd have to let that bird walk. Is what it is.
That said, youth hunting laws are more open. The current regulation permits hunters 15 years old (and younger) to take one gobbler of choice (any age) per day, three per spring season.
Estimated Population
Currently an estimated 250,000 turkeys roam the state. As with other states in the Southeast, Mississippi's turkeys have been on the decline since 2005 due to poor hatches and habitat challenges, which means fewer gobblers to hunt.
Spring 2019 Kill
Hunters took 25,513 birds.
Louisiana
We love Louisiana for its people, lifestyle and culture. The state has a solid duck hunting tradition. Turkeys? Read on ...
Where to Go
The Louisiana Department of Wildlife & Fisheries (LDWF) maintains more than 1.6 million acres of Louisiana's land and waterways as wildlife management areas, refuges, and conservation areas.
Insider Intel
The LDWF is looking to address ongoing turkey management challenges this with adjusted hunting regulations.
We now have a 'no jakes' rule for adults, for instance, said Jeremy Wood, the agency's turkey program coordinator. During our record years, jakes made up 25% or more of the overall harvest annually. Now they make up 4% or less ... That by itself would show a dramatic reduction in total birds checked by hunters that was caused by regulations to protect next year's flock.
Estimated Population
When you consider the declining turkey population, Louisiana is a challenge for hunters. Just several years ago, the official estimate sat at 80,000 birds. It's now at 40,000 to 50,000. The season limit is two gobblers.
Spring 2019 Kill
Hunters took 3,200 turkeys last spring.
Arkansas
This great state is known for greenheads, not gobblers, and maybe there's a reason for that. In some ways, as with Lousiana, the lifestyle and culture is rich with waterfowling tradition. Turkeys, not so much.
Where to Go
Arkansas offers more than 3 million public acres, with 650,000 overseen by the Arkansas Game and Fish Commission (AGFC).
Insider Intel
Many management concerns prevail about Arkansas turkey populations. It started back in 2009 when the AGFC voted to abruptly cancel the fall turkey season, even after it was officially listed in the lawbook. Low kill numbers and poor hatches were cited.
Estimated Population
This hinted at declining flock populations, now down to an estimated 100,000 birds according to the National Wild Turkey Federation, down from the previous estimate of 130,000 to 140,000.
Spring 2019 Kill
Some 8,240 turkeys were taken here last spring.
Tennessee
If you can picture a southeastern setting in which to chase gobblers, Tennessee probably has it.
Where to Go
Wildlife Management Areas are good places to start. Low-lying river bottoms are found throughout western Tennessee. Central Tennessee is full of crop fields, cattle pastures and rolling hills. East Tennessee is mountain country.
There's good public land - and plenty of turkeys - in all three regions, although central Tennessee is the shining star when it comes to quality habitat.
With abundant public land, long seasons, liberal bag limits and plenty of birds, the state offers some of the best Eastern wild turkey hunting in the country.
Insider Intel
You can take one bearded turkey per day, not to exceed four per season. That's one of the most generous season limits in the country. License fees are a bit expensive for out-of-state hunters, but if you buy an annual all-game license and hunt year-round, you have everything you need for deer and fall turkey hunting, too.
Estimated Population
Some 300,000 turkeys.
Spring 2019 Kill
Last spring, hunters took 31,193 birds.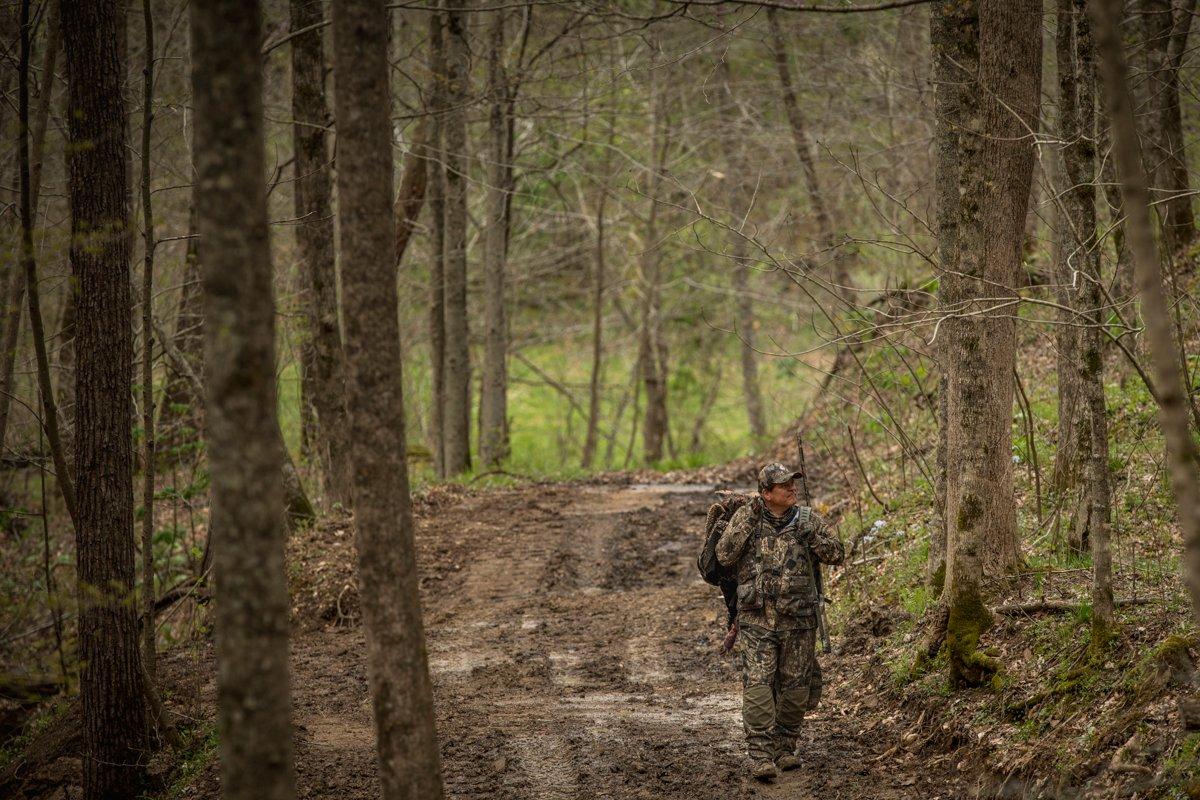 Kentucky
If you haven't heard, Kentucky has some of the best turkey hunting in the country, with apologies to resident turkey buds for this reveal,.
Where to Go
Though 95% of the state is privately owned, there are some good Wildlife Management Areas and public spots where you can turkey hunt, including Land Between the Lakes in the west and Daniel Boone National Forest in the east.
Insider Intel
I first turkey hunted Kentucky in the late 1990s, riding the wave of the restoration effort for the big birds, and enjoying all the Bluegrass State had to offer. I filled both tags then, on hard-gobbling birds. My buds did, too.
And so I returned the next year, and did the same thing. Turkeys were everywhere.
Each visit to this great state has resulted in memorable turkey hunting experiences, and in different locations around Kentucky. From mountain birds to those haunting agricultural land on which we had permission, my memories of hunts here are all good.
In all honesty, connections with friends in places I hunted made all the difference, though Kentucky also has some public lands where anyone can chase gobblers. There's mountainous big-timber hunting in the east, rolling pasture and farm country in the heart of the state, and river-bottom birds to the far west.
Estimated Population
Kentucky has an estimated turkey population of 250,000 to 400,000, depending on who is talking. You can kill one per day; two per spring season.
Spring 2019 Kill
Under the state's mandatory reporting system, spring hunters took 29,500 birds.
South Carolina
All in all, South Carolina turkeys can be exceedingly tough - these are cagey Easterns indeed.
Where to Go
if you're willing to hike a little, you can find seclusion in the state's 630,000 acres of Wildlife Management Areas.
Insider Intel
South Carolina hunters had long enjoyed a generous bag limit of five spring turkeys. That's changed. It's been cut to just three gobblers per season for residents; two for nonresidents (check Wildlife Management Areas and the state website for other regulations).
That's still an average season limit when compared with other spring states around the country, perhaps owing to the fact the state offers no fall turkey hunting.
Some brief history. Legislative changes that went into effect in 2016 provided an earlier starting date and increased number of days in the turkey season in 34 of 46 South Carolina counties. The result of this season change was a 50% increase in opportunity (days) for the majority (74%) of the state. Although the harvest was up a combined 24% the first two years of the new framework, it has been down 10% the last several years.
This apparent up-and-down cycle under the new season framework may be explained in two ways. First, turkey numbers initially increased when the new season went into place, leading to an uptick in total kill because more birds were available. Alternatively, more hunter effort associated with the new framework may have increased the kill numbers regardless of the number of turkeys available.
Estimated Population
Some 120,000 Eastern wild turkeys roam the state.
Spring 2019 Kill
Approximately 50,000 turkey hunters take to the woods annually in South Carolina with hopes of taking a gobbler, and the recent season was no exception. The 2019 spring kill was 17,374 birds.
Turkey Hunting in South Carolina
North Carolina
Places to hunt are available, and both turkeys and turkey hunters take advantage of it.
Where to Go
From swamps and coastal lowlands to farm country, rolling hills and full-scale Appalachian ridges and mountains, North Carolina has a range of diverse turkey habitat. The state's extensive network of Game Lands - more than 2 million acres in all - is open to public hunting.
The Nantahala, Pisgah, Uwharrie and Croatan National Forests are included in this list, as is the Roanoke River National Wildlife Refuge. Traditionally, the Tar Heel State's top turkey country includes the northern Piedmont and the foothills, but all counties have at least some birds.
Insider Intel
In South Carolina, turkey hunters can't use dogs during the spring wild turkey season, any type of handgun or rifle to hunt wild turkey, take wild turkeys from an area in which bait has been placed (an area is considered baited until 10 days after the bait has been consumed or otherwise removed), or possess live wild turkeys or live birds that are indistinguishable from wild turkeys.
Estimated Population
As of this writing, North Carolina has a little over twice the estimated wild turkey numbers (265,000) as its aforementioned southern cousin South Carolina (120,000). And the numbers are steady following some challenging years. Recent information shows flock sightings have increased just slightly in some areas of the state.
Spring 2019 Kill
The annual spring take runs around 16,000 turkeys or slightly more, with a rise in the kill data last year (18,730 bearded birds). Wildlife managers hope for 20,000 or so from a state this size, but mountain hunting is a challenge.
Turkey Hunting in North Carolina
Virginia
Virginia has a great turkey hunting tradition, spring and fall.
Two things that spring immediately to mind regarding my Old Dominion hunts are plenty of gobbling turkeys to chase, and abundant morel mushrooms for picking when we weren't after birds. We filled our hats to the brim with the latter, and fried them in butter that evening.
And what's not to like about that?
Where to Go
Some 2 million acres of public land are available, making it a top state for Easterns. The George Washington and Jefferson National Forest in central Virginia covers more than 1.7 million acres of hunting opportunity, not only for spring gobblers, but for small game, fall turkeys, whitetails and black bear as well.
Located near the town of Saltville, the Clinch Mountain WMA offers good turkey hunting too. Look hard enough, and ask the right people, and you'll find plenty of land to turkey hunt.
Insider Intel
Some good news and some bad. First the upside.
And poult production was average to good during recent years, so this should be a productive season for those older gobblers we love to encounter each spring.
According to the Virginia Department of Game & Inland Fisheries (VDGIF), breeding activity begins in late March and early April. Egg laying starts around the middle of April. Peak nest incubation is normally the first week of May (May 5). Hatching takes place 28 days later, often during the first week of June. Peak gobbling in Virginia normally occurs in early May based on field surveys.
Now, the downside. During VDGIF research to determine survival rates of wild turkey hens, it was discovered that at least 6% of the hen population is poached during the early part of the spring gobbler season. The rate could be as high as 9% if birds with transmitters that disappeared under suspicious circumstances are included. They believe accidental kills of hens primarily occur early in the season when hens are with gobblers. The risk that a hen will be shot drops sharply when they begin incubating a nest.
Virginia's management efforts include delaying all-day hunting until most of the hens are incubating nests, ideally reducing potential additional incidental or intentional kill that would likely occur with all-day hunting early in the season.
Estimated Population
Some 175,000 turkeys roost in Virginia. The limit is three per season.
Spring 2019 Kill
Virginia's hunters took 17,929 birds.
West Virginia
West Virginians love their turkey hunting, and there's a significant tradition here for it, spring and fall.
Where to Go
West Virginia does have good public land opportunity with 500,000 state-owned acres and another million under U.S. Forest Service supervision.
Insider Intel
They call it "The Mountain State" for a reason. It's not flat, so keep this in mind if you're a visiting turkey hunter.
Estimated Population
Biologists and veteran hunters alike will tell you that West Virginia's turkey population is less than it was a little over a decade ago. The limit sits at two bearded birds.
Here's why. Poor poult production over this time period, with inclement weather being the principle blame factor, is in large part responsible for what appears to be a statewide decline in hunting quality.
Spring 2019 Kill
Hunters took 11,215 turkeys.
Turkey Hunting in West Virginia
2020 Midwest Turkey Hunting Forecast
2020 Southwest Turkey Hunting Forecast
2020 Northwest Turkey Hunting Forecast
2020 West Turkey Hunting Forecast
2020 New England Turkey Hunting Forecast
2020 Northeast Turkey Hunting Forecast
More Realtree turkey hunting.