How are the prospects for spring gobblers looking for these four states? Read on
The Southwest region of the United States includes Texas, Oklahoma, New Mexico and Arizona. Each state has its own unique character, and four subspecies can be hunted across the entire region. The news is good regarding hatches and low hunting pressure (either due to the challenge of rugged terrain and/or that you're paying for private land opportunities).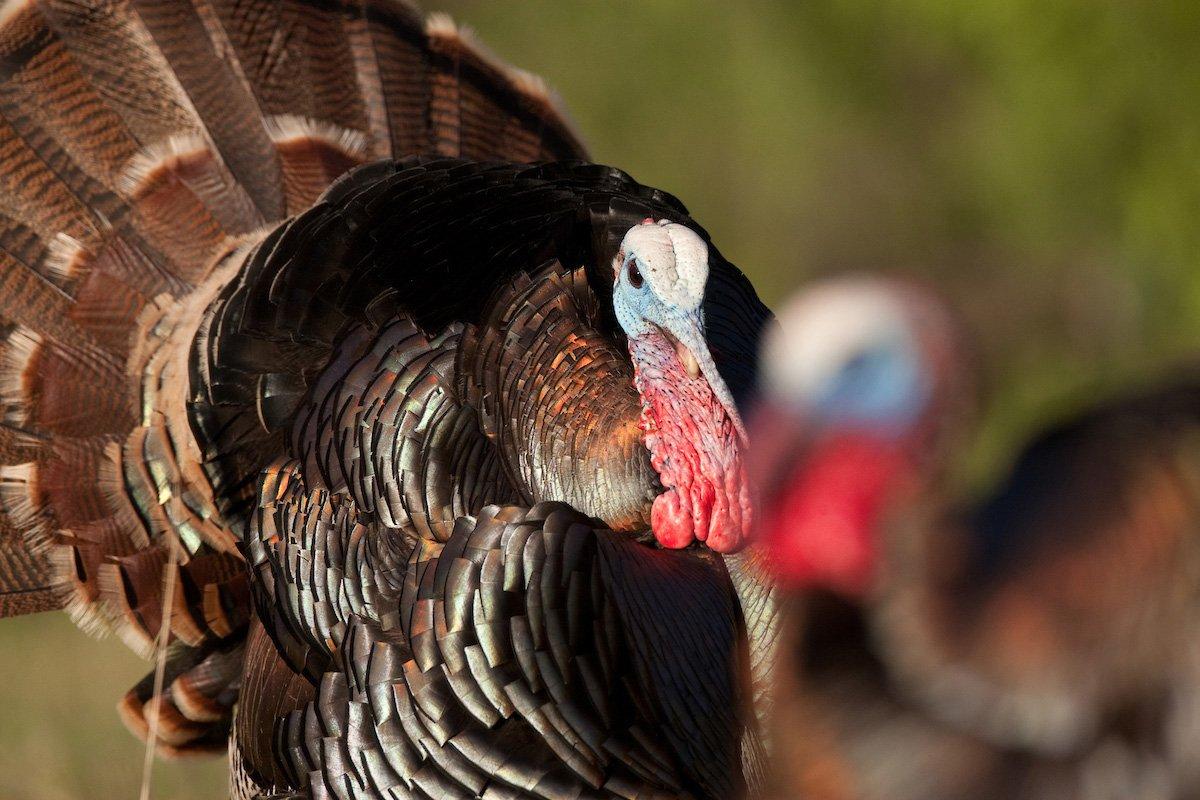 Texas
Every serious turkey hunter deserves Texas in their spring plans at least once. Many of us have made a habit of it.
Where to Go
For the most part, the Lone Star State is a pay-to-hunt stop. On the best ranches, locals hired by the outfitter, if only as drop-off/pick-up guys, will put you on birds and let you have at them in semi-guided style. Looking to hunt on the cheap? You can do it with well-earned connections and visit as the guest of other like-minded turkey hunters. However, non-residents typically employ the services of an outfitter, which is often more expensive than a traditional DIY gobbler hunt, but far less costly than booking, say, a Texas whitetail trip. Some ranchers view turkeys as annoyances.
Yep, there's some public ground - if you consider less than 1% of the state's total landmass being publicly accessible as some. Wildlife Management Areas and federal ground in East Texas are also available.
Insider Intel
I've hunted Texas for 20 years (including last spring; don't blink, kids), be it in the gorgeous blue-bonnet Hill Country, or right down on the Mexico-United States line, with twinkling border-guard headlights off in the distance. This includes West Texas and way up in the Panhandle. The food, the people, the historical sites (The Alamo, for instance), and yes, the birds, all keep me going back.
Texas turkeys usually aren't hard to find, as roost cover is often limited on big cattle ranches. Birds roost in thick-branched oak motts, small groves which surround open fields, and even on power lines or old windmills. Roosts are almost always a short walk to a water source, and since it's Texas, full disclosure: there are feeders.
Texas ain't a walk in the park. Get yourself some snake boots. As they say down there, if it doesn't bite you, it'll sting or prick you, etc., etc. In addition to snakes, even the prickly pear has a way of grabbing hold and not letting go.
And bring a good pair of binoculars, as Rios like to move long distances from where they started the day before looping back to fly up for the night.
Estimated Population
The upside is the Texas turkey population is coming back after some off-and-on production years. Current estimates sit at half a million.
As for this season's forecast, Texas Parks & Wildlife says that for the first time in several years, last year's hatch was good. Adult gobblers from the 2017 and 2018 hatches, and jakes from last year, will be available.
To the half million Rios, add another 10,000 Eastern wild turkeys, available in 13 East Texas counties in late April through early May, well after the other state's seasons have started. See the TP&W website for details.
Also, according to the National Wild Turkey Federation (NWTF), some Merriam's even roam the extreme western and northern fringes.
Spring 2019 Kill
Some 18,004 turkeys were taken, the NWTF reports. Texas has a four-bird annual limit, though many pay-as-you-hunt ranches set this to one or two turkeys in my experience. And none of us have ever complained. The people are too nice and the food just too dang good.
Oklahoma
It's stark country, downright breezy at times. As a result, wind turbines dominate some western open spaces, including those you'll hunt. But you'll get used to it all once that first turkey gobbles - a kind of throaty warble at times if you asked me when compared to intense Eastern longbeards. But turkey hunting is turkey hunting and we love it all.
Where to Go
The Oklahoma Department of Wildlife Conservation officially states: Turkeys are no longer confined to river systems, since roost sites are now available in tree rows, shelterbelts and upland timber, which was not available before man settled the Oklahoma prairie. This has dispersed populations of birds across the western three-fourths of the state and made them more accessible to sportsmen. Turkey hunters have a legitimate chance to bag a spring tom on many of the Department's lands open to public hunting.
And it has more public land than its neighbor to the south.
To the west, the Black Kettle Wildlife Management Area has good Rio Grande turkey populations. Some of the better public hotspots for the Eastern subspecies are Three Rivers, Honobia Creek and Pushmataha Wildlife Management Areas. Some Merriam's are even found in the state, especially in the Panhandle region (Cimarron County), including hybrids.
Insider Intel
As with neighboring Texas, baiting wild game with feeders is common practice. That said, ODWC regulations firmly state: Turkeys may not be hunted or taken within 100 yards of any bait. The key to hunting these Sooner State turkeys is to locate vocal toms and hunt them in legal fringe areas. You can cold call and strike birds in run-and-gun mode. You can blind up and wait for some to cruise by, catnapping as you do. Both approaches work.
Estimated Population
The overall forecast for Oklahoma spring hunting, like Texas, is better than in several years' past. The ODWC's winter flock surveys place most turkeys in the westernmost section of the state (more than 2,000 birds per county), with far fewer in the Panhandle (less than 750 turkeys per county). The NWTF currently estimates bird numbers at a little over 100,000 Rio Grande turkeys and Easterns (in the easternmost counties), with no sure read on Merriam's. Where Rios and Easterns mingle, hybridization occurs.
Spring 2019 Kill
According to the NWTF, 18,482 Rios and 12,013 Easterns were taken. No specific data was available for Merriam's or hybrids. Season limits vary for specific locations, so study the ODWC website.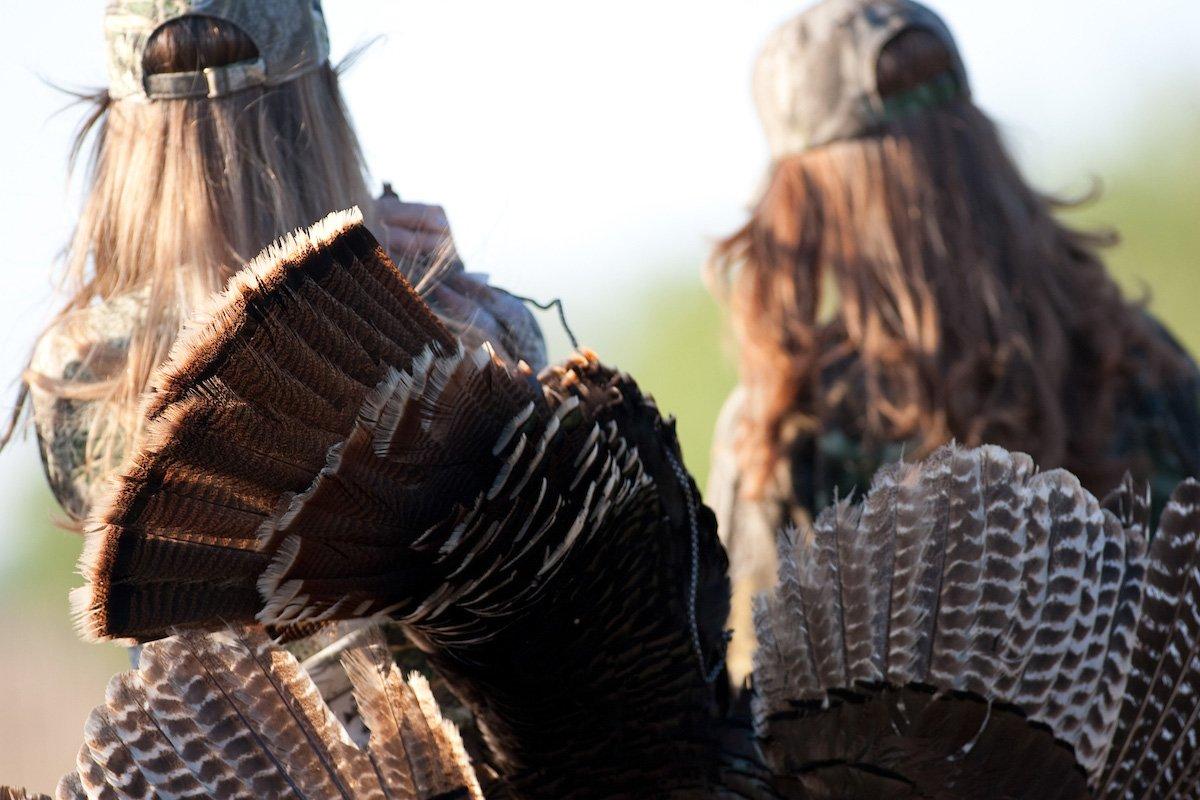 New Mexico
Turkey hunting in New Mexico is the result of collaborative NWTF and New Mexico Game and Fish (NMG&F) capture and transplant efforts. Merriam's and Rio Grande - and even Gould's - wild turkeys have been relocated across the state. This has created and sustained the wild turkey populations serious New Mexico hunters enjoy today.
Where to Go
Most mountain ranges in New Mexico support healthy numbers of Merriam's gobblers, which make up most of the turkey population, as indicated by population estimates.
Some of the more popular areas for finding longbeards are the Sacramento Mountains in south-central New Mexico; the Gila National Forest out West, and the Zuni Mountains in Unit 10. The north-central regions hold birds as well.
Success rates in these regions are usually well above the statewide average, and they offer excellent public-land opportunities.
Rio Grande turkeys are less distributed and are primarily located along the Rio Grande River south of Albuquerque and the Canadian River Basin north of Tucumcari.
You'll also find Gould's wild turkeys living in the extreme southwestern tip of the state (see the NMG&F website for details).
Insider Intel
Hunting pressure, compared to most other spring turkey states, is low. Overall hunter-participation numbers lean heavily toward fall big-game hunting.
Estimated Population
Hatches have been stable over recent years, the NMG&F reports. The NWTF indicates the New Mexico turkey population includes Merriam's (25,000-30,000), Rio Grande (3,000-6,000), Gould's (300) and hybrids.
Spring 2019 Kill
According to the NWTF, 2,789 birds were taken. Limit, two bearded turkeys.
Arizona
This one isn't necessarily part of most turkey hunter's plans, but it's a sure destination for Super Slammers, and those looking for something different, like a Gould's turkey. On this, more shortly.
Where to Go
Rio Grande turkeys were recently introduced on the Arizona Strip at Black Rock Mountain (similar terrain to where the birds were transplanted from in Utah). According to Arizona Game & Fish (AG&F), This turkey subspecies prefers areas with drainages and stream beds in relatively open brush and scrub country, up to 6,000 feet in elevation.
AG&F reports Merriam's turkeys can be found not only in ponderosa pine forests but also other vegetation types in elevations ranging from 3,500 to 10,000 feet. The best populations occur in the ponderosa pine forests north of the Gila River.
Gould's occupy habitats in southeastern Arizona, one of the state's two native wild turkey species (Merriam's are the other). This subspecies now occupies only a few remote mountain ranges in Arizona, AG&F indicates. However, these birds are making comeback tracks in the Huachucas and other mountain ranges in southern Arizona.
Insider Intel
Although there is plenty of public ground to hunt wild turkeys in the Grand Canyon State - and some of the units do offer good hunter success rates - getting a tag through their limited license system can be tough.
Depending on the unit, it can take three-plus years to draw, which makes Arizona a difficult destination for the out-of-state hunter. On average about 13,000 hunters apply for tags. About half this many are successful in drawing one. So that's an upside.
The hunter success rate has been around 18% statewide the last half-dozen years; however, the better Merriam's turkey units will provide a 25- to 30% chance.
Estimated Population
The Gould's turkey was at one time was widely distributed in southern Arizona. History tells us overhunting in the early 1900s depleted their numbers within the region. Each year a handful of hunters are lucky enough to be a part of recent turkey conservation history when their limited tag arrives in the mail.
Current NWTF estimates for all three subspecies here are as follows: Merriam's (25,000 to 30,000, as in neighboring New Mexico), Gould's (1,500) and Rio Grandes (500).
The 2019 turkey hatch was better than the last few years, the AG&F reports, so jakes - as well as longbeards from the 2017 and 2018 broods - should be available.
Spring 2019 Kill
According to the NWTF, 1000 turkeys were taken. Limit, one bearded turkey.
2020 Southeast Turkey Hunting Forecast
2020 Midwest Turkey Hunting Forecast
2020 Northwest Turkey Hunting Forecast
2020 West Turkey Hunting Forecast
2020 New England Turkey Hunting Forecast
2020 Northeast Turkey Hunting Forecast
Check out Spring Thunder, Realtree's video turkey-hunting series.