And All of Them in Realtree Camouflage
Snakes can be a challenge during turkey hunts in the Deep South, Texas and elsewhere. Fortunately, snake boots provide some protection against striking fangs and even sharp and prickly cover you move through.
We've pulled together some snake boots, all of them in Realtree camouflage, for your turkey hunter this Christmas and the coming spring season.
Game Winner® Men's Snake Shield Defender II Hunting Boots
Game Winner® Men's Snake Shield Defender II Hunting Boots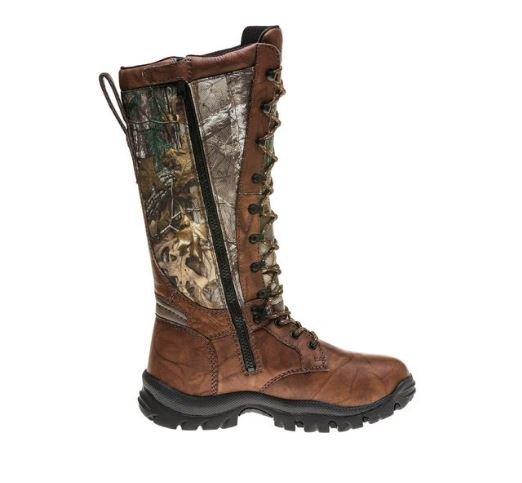 Featuring Tufftex Snake Shield protection, the Game Winner® Men's Snake Shield Defender II Hunting Boots have leather and polyester uppers for durability, and the Dura-Proof waterproof technology helps keep your feet dry.
The rubber outsoles offer durability and traction, and molded PU insoles give you long-lasting comfort. Dura-Block scent inhibitor. Agion® antimicrobial technology.
Lace and side-zip closures. Realtree Xtra® camo pattern.
Bonus Read: Snakes! Turkey Hunting Encounters
Game Winner® Men's Snake Shield Armor II Hunting Boots
The Game Winner® Men's Snake Shield Armor II Hunting Boots feature leather and 900-denier textile uppers with Tufftex Snake Shield protection.
These boots offer Dura-Proof waterproof technology with three layers of protection for dry wear and scent-inhibiting Dura-Block technology. Rubber outsoles provide durability and traction, while EVA midsoles offer lightweight comfort. Molded PU insoles.
Convenient pull-on design. 27.4 oz. per boot. Realtree Xtra® camo pattern.
Game Winner® Men's Snake Shield Armor II Hunting Boots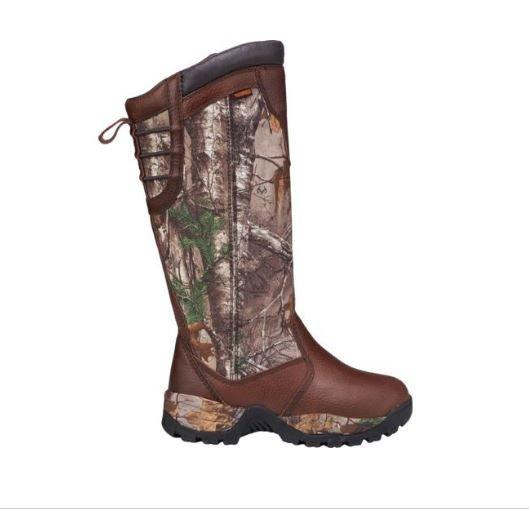 Bonus Boots: Go here for the Game Winner® Kids' Snake Shield Armor III Camo Hunting Boots.
Irish Setter 17-Inch Deer Tracker with SnakeGuard
This versatile boot can be used in fall and during spring turkey hunts.
All Irish Setter Deer Tracker Big Game hunting boots feature StableFlex® technology, which combines welt construction in the heel for stability and cement construction in the forefoot for added flexibility.
The Deer Tracker sole with an aggressive lug pattern provides superb stability and traction on the toughest terrain.
Maximum underfoot comfort is delivered by a triple-density, RPM lightweight sole and polyurethane footbed.
The boot features premium US-Made Trout Brook leather with a variety of camo options, proven UltraDry™ waterproofing and ScentBan™ scent control. Additional features include Armatec™ toe and heel protection, Achilles Comfort Panel and a CuShin™ Comfort tongue. Insulated versions provide warmth with long-lasting, hydrophobic Primaloft® insulation.
Offered in Realtree Xtra® Green camo
Irish Setter Deer Tracker with SnakeGuard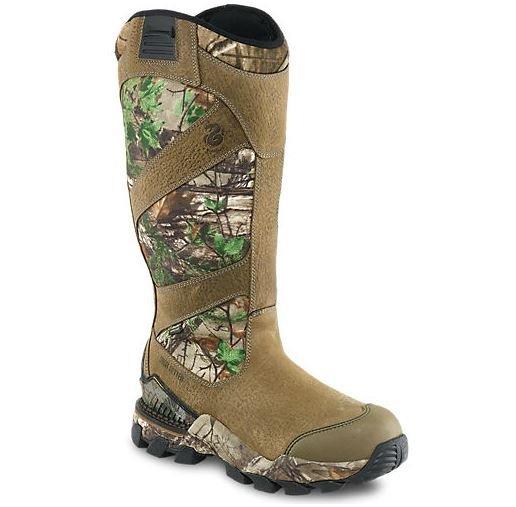 LaCrosse Venom Snake Boot
The Venom's got an ultra-flexible SnakeGuard and a 100-percent waterproof liner for crossing creeks and long sits in the spring rain during turkey hunts.
The boot is also offered with extended sizing for women and is available in a youth style as well.
Snake Boots and Turkey Hunting
Wearing snake boots in rattler and cottonmouth country will give you peace of mind, for sure, and often enough blisters if they aren't broken in well enough (the lesser of the two evils).
It's best to slip them on anyway, even if snakes can sometimes still do damage.
While a lot of snakes where we turkey hunt aren't venomous, plenty are of course. As the notion goes, snakes would rather avoid you than have to deal with you, but people still get bitten. Statistics vary. Sources routinely indicate thousands of folks suffer snakebite injuries each year. And some die.
Be careful out there, turkey hunters.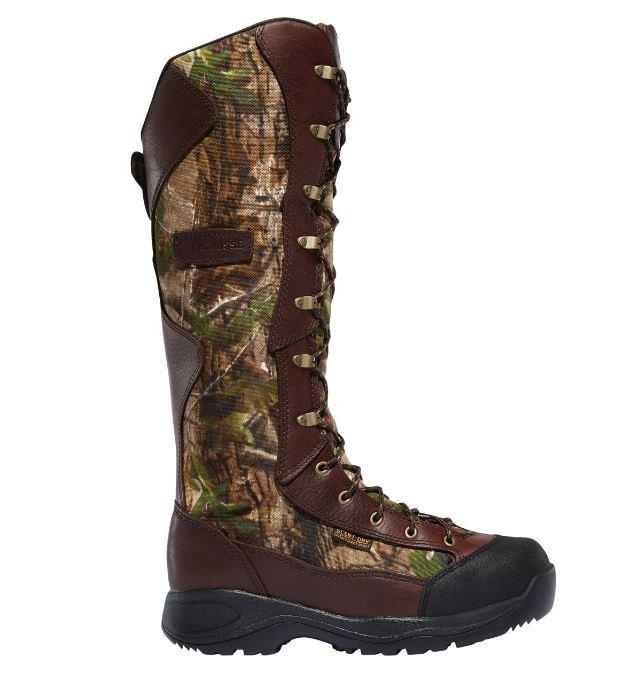 As a kid, at the suggestion of my dad, we routinely carried a canary-yellow plastic snakebite kit when outdoors hunting or fishing rural north-central Pennsylvania (plenty of rattlers there), which for the record was never once opened.
Then there was the time I didn't have it stashed on me and almost reached down to pull myself up on a big rock where a timber rattler was innocently sunning itself on a warm spring morning.
It looked at me like: You just caught a break, bud, now scram.
Go here for more Realtree turkey hunting.
Follow us on Facebook.