Is a handmade yelper worth the extra money? That depends on what you want out of the hunt
Sure, a mouth call pocketed for the cost of a fast-food burger with fries can yelp up plenty of birds. They're cheap, effective, and all that. But for traditionalists, custom turkey calls embody a certain elegance and history, and that's reason enough for the hardcore turkey hunter to opt in. And in truth, many handcrafted options run better than cheaper mass-produced calls. You'll pay a bit extra for all that beauty, tradition and high-end quality - but for some hunters, the extra expense is well worth it. This is for those folks who want to take their turkey calling game to another level.
Friction Calls
A quick history lesson …
In 1897, Henry C. Gibson patented his famous box call. His structural style - a handheld, coffin-shaped, sound-chamber box operated by running the lid across either side-panel lip - has been tweaked by many callers in the years since then. Custom callmakers owe a lot to Gibson, including folks like the legendary Tom Turpin, and of course the infamous M.L. Lynch, who began marketing his calls in the 1940s.
And let's not forget about Neil Cost, who influenced any number of modern call makers.
Many modern practitioners build box calls, of course. Some custom box calls are handcrafted directly from wood, from start to finish, and truly hewn with some serious man hours. Other box calls are made from machined parts, assembly line style, with less of a personal flair, but no less effective in the woods. Some too are built with assorted parts anonymously machined by others. Then branded.
Make of this what you will. It's all part of the callmaking tradition.
Exotic woods define modern custom box calls. That beauty alone is analogous to that found in high-end double guns, with their lovely gunstocks and engraved receivers.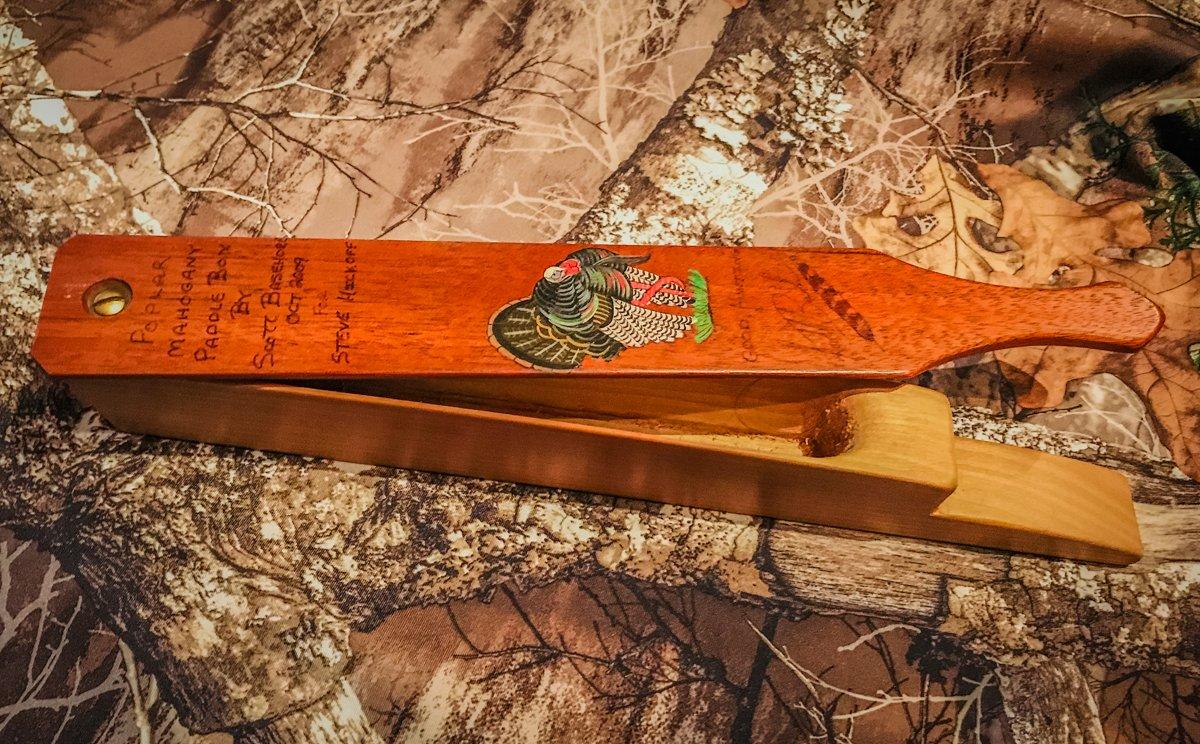 Callmaking takes tangents as callmakers extend traditions, moving forward through time, turkey season to turkey season, incorporating innovative approaches to known styles, and adding personal flair.
Historically, Jeremiah Stevens is credited with developing the first scratch box back in the 1800s, and for this reason, the National Wild Turkey Federation has a Grand National Callmaking Competition slot named for him (in the scratch box category).
Nowadays, folks like Ohio's Bob Fulcher, who won that competition in 2017, among others, have extended this tradition, creating beautiful scratchers with both exotic and rough-cut woods layered with history.
"It was always a passion to work with wood," Fulcher says. "When I was five years old, we got a box call in the mail built by my grandfather. Well, that put the fire in me."
Pot and Pegs
These days, Pat Strawser is one of the more well-known builder of pots and pegs. His award-winning designs connect with the late callmaking legend D.D. Adams, whom he knew as a Pennsylvania kid, visiting Adams in his shop.
In the 1980s, D.D. Adams was on the cutting edge, Strawser says. His flat plastic slate and glass calls were innovative at the time.
Strawser thinks a lot about the history of calls and materials used to make them. My father and uncle tore down the springhouse my great-grandfather had built around 1900. This left a huge pile of chestnut. I salvaged it.
One of those chestnut pot calls won the 2016 Grand National Calling Championship friction contest.
These custom calls are built with true-to-ear turkey sounds in mind. Denny Gulvas really helped me out with that, Strawser says. I listen to his live turkey recordings all the time. I play his stuff nonstop in the shop. That's crucial for tuning calls.
History. Tradition. That's what you're buying and carrying afield when you hunt with one of these.
Air-Operated Calls
By the late 1800s, Charles L. Jordan published how-to articles on turkey hunting and making calls from wingbone and cane. After Jordan's murder by a poacher, his writing on wild turkey hunting - and instructions for building a wingbone yelper - were compiled by Edward A. McIlhenny in the first published turkey book, The Wild Turkey and Its Hunting (1914).
The Charles L. Jordan yelper in its original form included bone, silk, nickel and cane. Jordan preferred a hen's radius bone for the mouthpiece. Some might safely say the modern trumpet yelper's origins as well - in general form profile and air-operated function - owes plenty to the Jordan yelper ... just as the Jordan yelper first evolved from early wingbone calls.
In the end, it may only take one turkey call to yelp in and kill a bird. Sure. All this history and tradition may not mean much to some, and that's a shame. Owning, using, collecting and enjoying many custom calls enhances your experience as a serious turkey hunter.
Nowadays both Jordan style and trumpet call makers aim for simplistic but effective builds, while other versions include exotic woods, all of which aim to retain realistic tonal qualities to call up wild turkeys.
And while native Americans first used wingbone yelpers - tools of pure utility, obviously devoid of modern marketing intentions - Jordan's work, like that of Gibson and Stevens, kickstarted what we might call the beginnings of custom callmaking.
Innovations
Andy Snair - an award-winning call maker and avid turkey hunter - creates wildly imaginative calls. His work is often made with a decidedly personal touch, infused with a sportsman's enthusiasm. He gifts his creations to his wide circle of turkey hunting friends and acquaintances.
Like me. He'd asked, slyly: What's your favorite trout and trout fly? Snair aimed to build a creative call based on my response.
Well, my dad - an avid fly tier, angler and the man who'd introduced me to turkey hunting - had passed away recently, so the answer was easy: brown trout and a Kelso wet fly he'd tied. I'd caught a big brown on this fly pattern the last time we'd fly-fished Pennsylvania together.
As ever, Snair's personal touch added meaning to his gifted cane call, as he included the fly I sent him in the yelper, along with a brown trout sticker.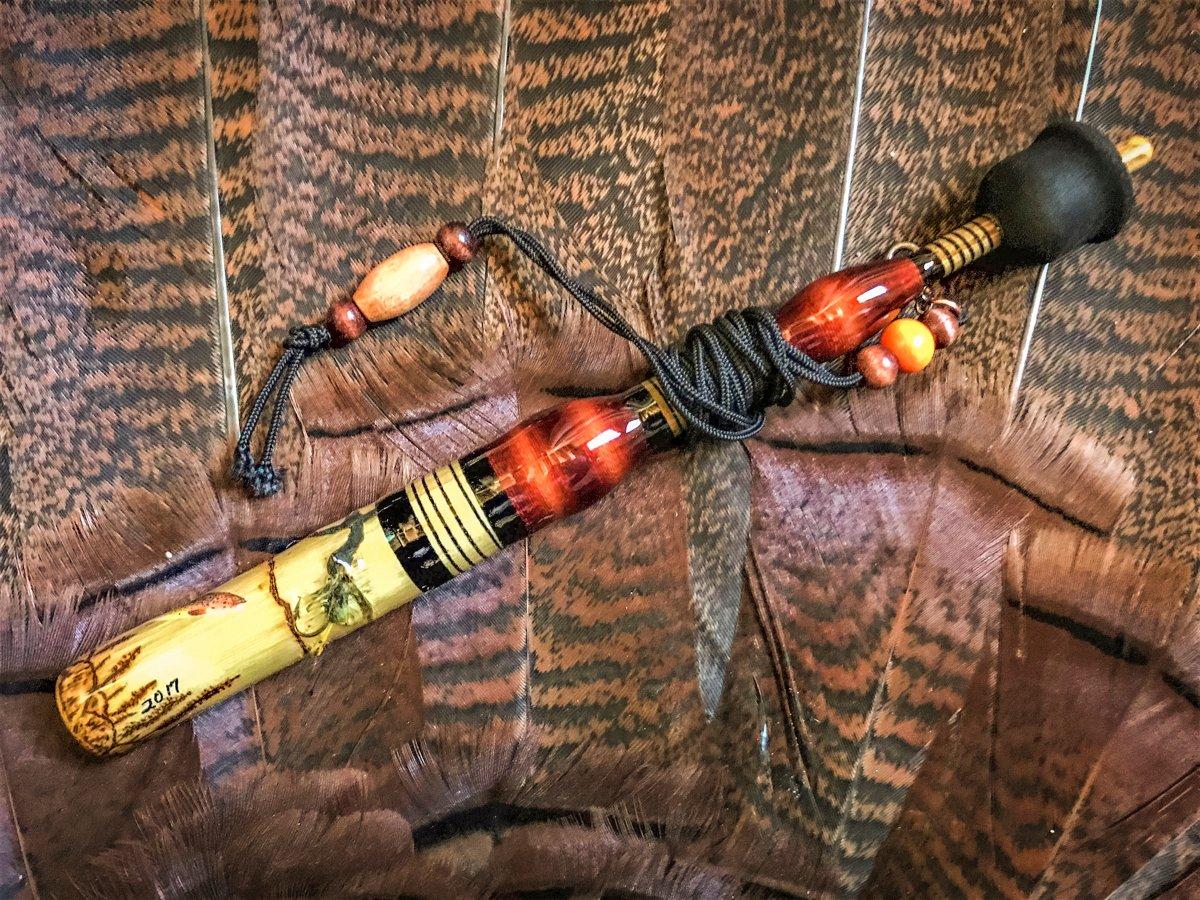 Keep It Going
Owl hooters and crow calls, springtime gobbler locators, are also crafted by custom callmakers. And gobble calls. And more.
You can even buy mouth calls built and tuned by turkey pros these days.
In the end, it may only take one turkey call to yelp in and kill a bird. Sure. All this history and tradition may not mean much to some, and that's a shame. Owning, using, collecting and enjoying many custom calls enhances your experience as a serious turkey hunter.
And the addiction might be so strong, you start crafting turkey calls yourself.
[Build a Wingbone-Style Yelper]