Some thoughts on staking out a spot for autumn flocks
Some of us love to fall turkey hunt by running and gunning birds, scattering flocks, then setting up for the call-back, as gregarious birds regroup and offer better shots at single turkeys. It's a fair-chase tradition for many.
But for other autumn turkey hunters, a leisurely long sit might be in order. If so, this one is for you. Deciding where to claim your setup location can make all the difference.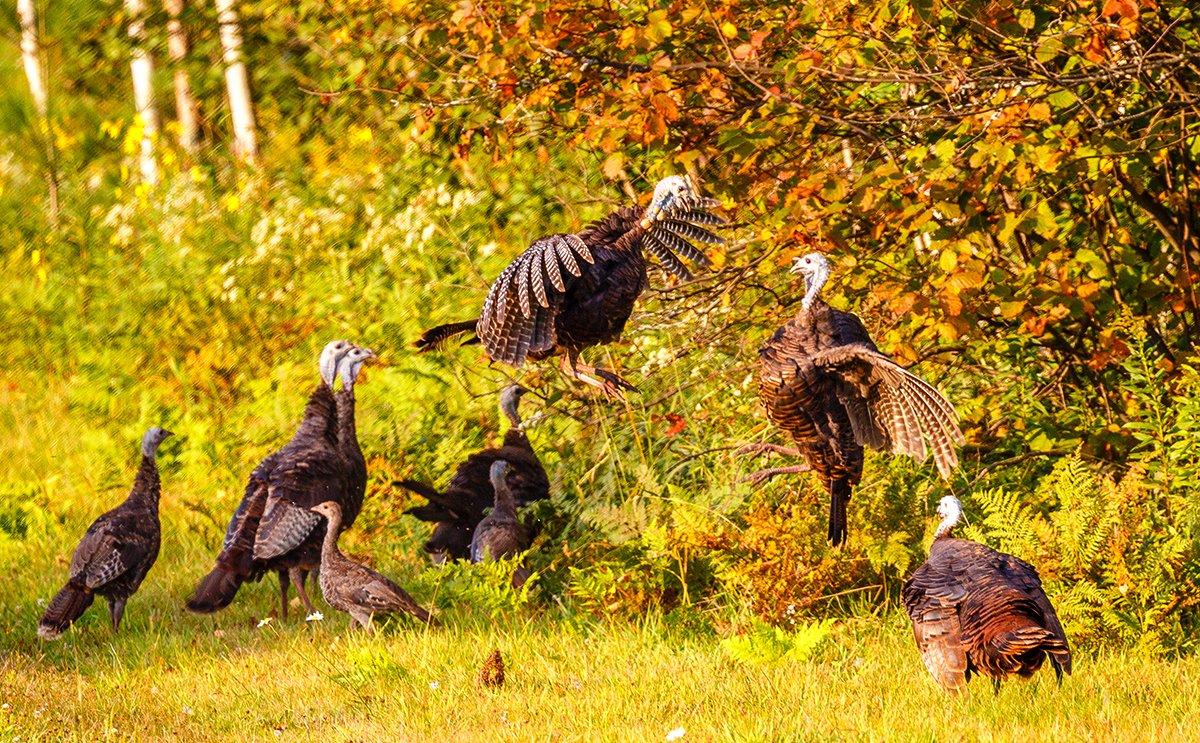 Setup Sense
You can't call a turkey to where it doesn't want to go.
In early fall, there's a window of hunting opportunity (seasons providing) when autumn turkeys are spending time hitting nearby fields for insects. This bugging frenzy seems to last until the first heavy frosts, even longer sometimes. Your setup should be somewhere between the turkey roost and where birds feed.
Your blind location can be based on two conditions: You know where turkeys roost and have patterned where they walk. Your calling position can also be made at the scatter site.
[Sit Still: Realtree Timber XL Swivel Blind Chair]
There's an old hunting adage that scattered fall gobblers might return in a day or two. In my experience, it can happen faster. I've seen separated gobbler flocks start working back to the setup in under an hour. Either way you go, to make clucks and yelps, effective fighting purrs (imitations of turkeys contesting pecking order), and sounds to lure birds in that aren't calls (such as leaf scratching), be in a position where turkeys will hear you.
Sometimes this involves knowing exactly where fall gobblers will fly down. To score this information, you can spend time in the woods watching them fly up to roost, ideally the night before you hunt them.
Setup Tip: You've got to make your setup where turkeys can approach your position naturally. Try to sit down along predictable routes of turkey travel. This might be in a pinch point between a roost and a farmer's field. It might be along a game trail, near a water source, or right where you found an abundance of flock activity. A good bit of turkey hunting is imagining what the bird will do. Pick a setup position you'd come to if you were a fall gobbler.
Destination Decoy
Using turkey fakes is a tricky subject in fall. Either-sex turkey hunts dominate autumn seasons, and having a decoy at your position — especially hyper-realistic profiles — might not be the safest option. Still, staking out some decoys in front of your blind in a reliable private-land situation might be just fine.
Setup Tip: When using any turkey decoy, placement rules. This tactic might work if you want a fall gobbler or gobblers to see evidence of a turkey at the other end of your fighting purrs. Put it where those gobblers will fly down. Add excited cutting (aka fast clucking/yelping), gobbles, and leaf scratching for realism. Use turkey fakes sparingly, if at all, and with a heavy dose of caution.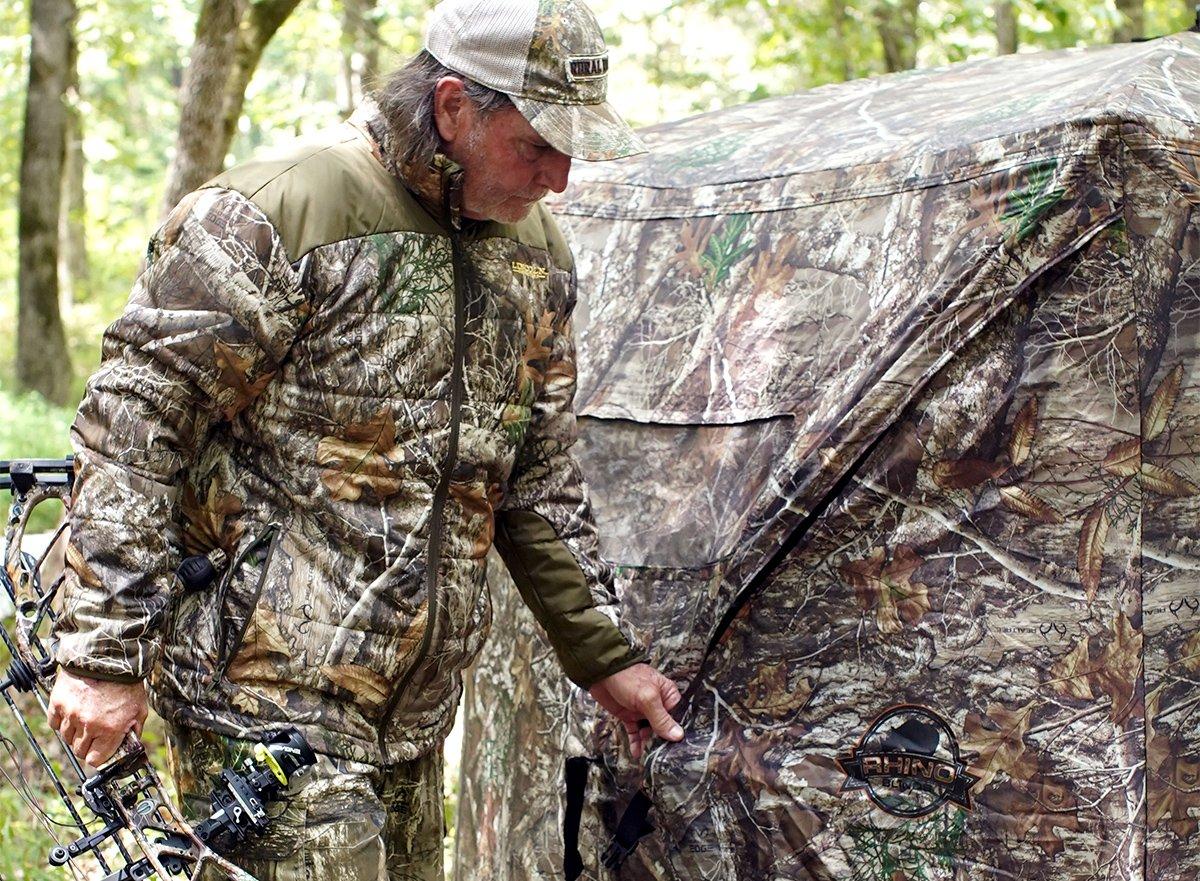 [Double Up: Hunt Fall Turkeys During Deer Season]
Final Blind Thoughts
When sharing the blind, keep the whispered conversation light and fun. Don't rant or vent. Politics, job worries, family concerns don't have a place in the blind. Sure, these things matter, but remember, you're also spending some blind time trying to get away from life's challenges. Enjoy it.
Don't wear all your camo apparel as you walk in. Carry some in a backpack, then slip on a jacket once you settle in the blind. Sweaty base layers can chill you fast.
Stake out territory in the blind — your shooting lane; and mine. Think about your hunting buddy's best view and yours. Are you both right-handed? Is one of you left-handed? It matters as shooting goes.
Always help haul your share of the gear in and out. There's nothing worse than a perfectly fit hunting buddy who watches you lug the portable blind and fold-up chairs. Don't be that person.
If you've got a first-time turkey hunter with you, offer them the first shot.
Read the autumn woods by listening and watching to see what calls you need to make, when you need to make these, and where your vocalizations might work. Real fall turkeys can teach you plenty.
[Hit the Road: Fall Turkey Hunting on Public Land]
What makes Realtree.com the best online resource for turkey hunters? See for yourself. We cover all things turkey right here.