Jumping into the sub-gauge craze? We join CVA's Rick Taylor for tips on patterning and setting up one of the best .410 turkey guns going
This turkey season, several of the distant shots I've heard have been little pops in lieu of big booms. The .410 turkey gun is definitely trending right now, and I've had several buddies make the switch themselves to the littlest legal turkey gun. Many are toting .410s for the extra challenge, but also because the guns are lightweight, easy to carry, and have minimal recoil. With today's TSS turkey loads, they'll drop a gobbler at 40 yards and beyond, too.
A couple years ago I got my son, Anse (6 at the time), a CVA Scout .410, which is a break-action single-shot built exactly how a .410 turkey gun should be built … at least in my opinion. It's lightweight with a short barrel, Jeb's turkey choke, optics rail, and CrushZone recoil pad. The stock will accept spacers for an adjustable length of pull and is finished in Realtree Timber. I put a scope on Anse's gun, and he used it to bag his first squirrel with his first shot with it in the field.
(Don't Miss: The Box Call is the Deadliest Turkey Yelper You're Not Using)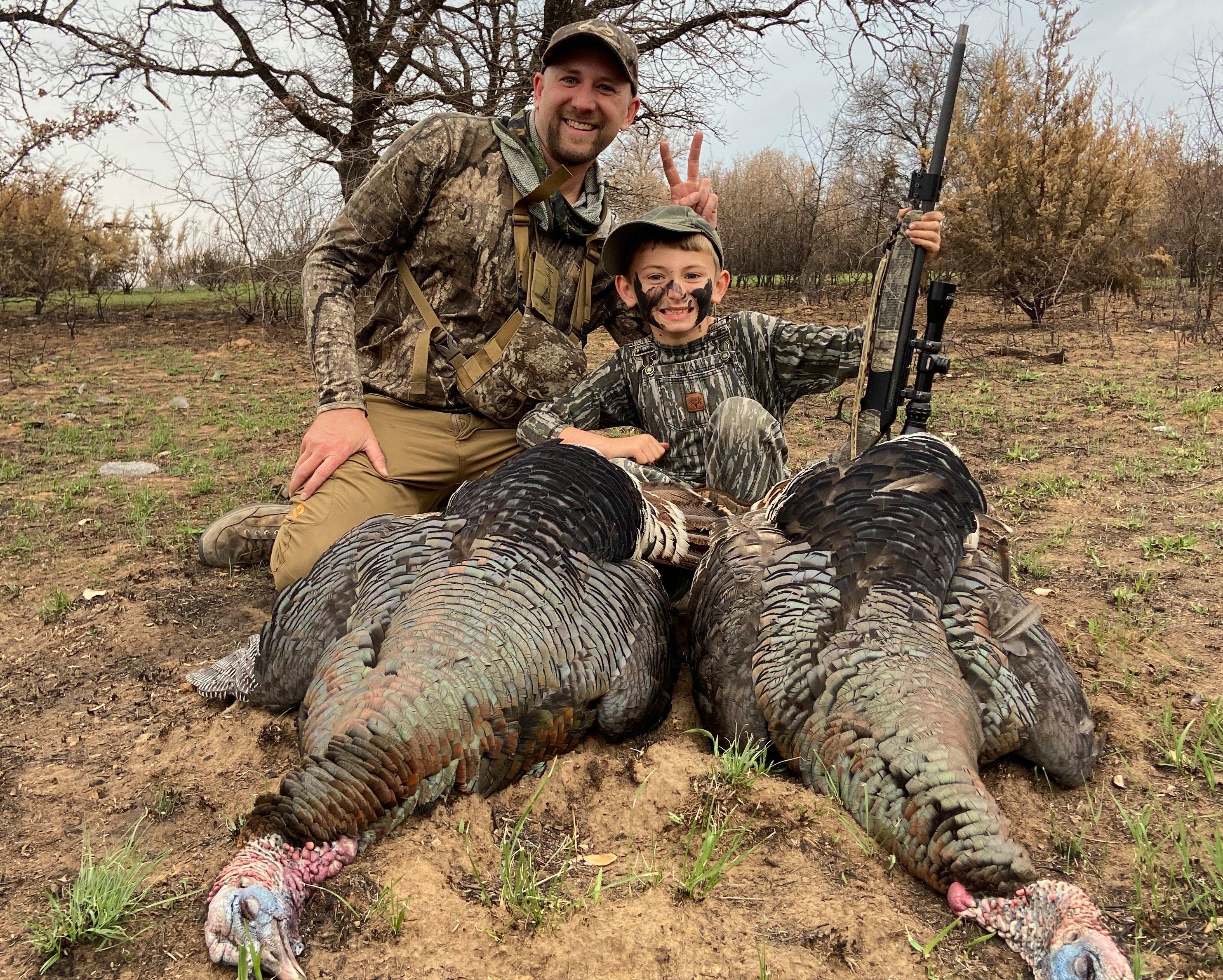 Last spring, after patterning our Scout with a few different TSS loads, we took it to Texas for opening week of turkey season. Anse shot a jake with it at 25 steps — his first turkey — and he's followed that bird up this spring with two more. I added a Swagger Bipod to our gun and a sling, and altogether they comprise a near perfect shotgun for young hunters. Anse likes to shoot but like many kids, he's extremely recoil shy. I let him practice with the Scout by popping cans and clay birds with light 2 1/2-inch loads, and then I load it up with 3-inch shells while out hunting. He'll graduate to a bigger gun one day but for now, within reason, the Scout is just right.
(Don't Miss: Turkey Hunting the Evening Shift)
In this episode of the Outpost podcast, I interviewed CVA's Rick Taylor, who's a gobbler-chasing nut from Tennessee. Taylor himself hunts with the Scout exclusively, and says with proper patterning, he's confident with it on gobblers to 50 yards. Here, he shares a little history of the product, plenty of turkey stories, his tips on patterning the gun, and his favorite hunting accessories to pair with it. If you've been bitten by the sub-gauge turkey gun craze, you won't want to miss this one.