Wood ducks dominate early action, but other birds are showing up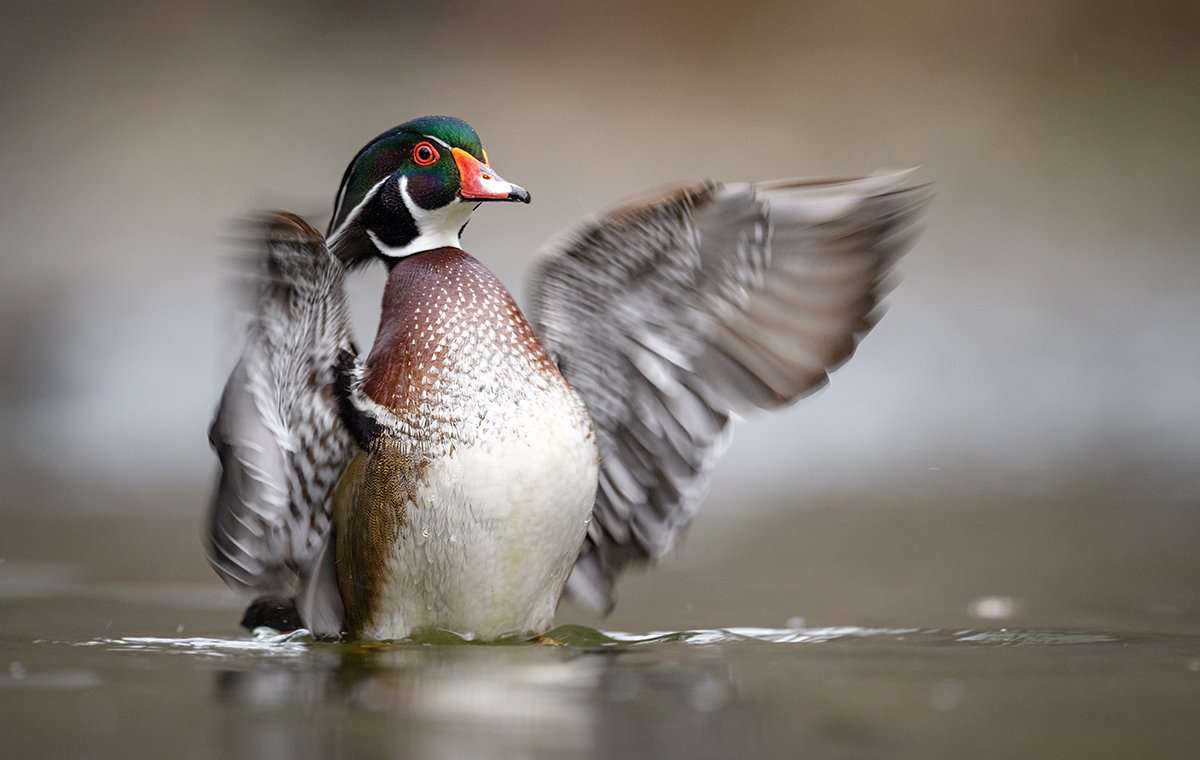 Water levels and warm weather have plagued hunters in the Atlantic Flyway so far this fall. Early in the season, drought throughout most of the Northeast concentrated ducks on bigger bodies of water, but recent surging rains spread those ducks out, making it hard for hunters to find the X. Despite that, opening day was largely successful. The dominant species hunters I spoke to coaxed into their spreads were mallards, black ducks, wood ducks, and green-winged teal. I heard of a few pintails that were taken, but those were few and far between.
Despite the warm temperatures, the October full moon has caused some waterfowl to stir. Geese throughout the flyway took wing on bright nights and started their journey south. Puddlers such as mallards, pintails, teal, and black ducks have also started to move. The ducks that rely on photoperiod instead of temperature have also begun to take wing, with the shorter days kick-starting the migration of scoters, eiders and brant.
Though the coastal zones are starting to come alive, it will be at least a month before populations peak in most of those areas. And folks at the bottom of the flyway probably still have plenty of waiting to do. Hopefully there are enough local birds to keep their trigger fingers from getting too itchy when those seasons open. But there's good news: With North American pond counts up 4%, we should be in for a good fall flight.
(Don't Miss: Avoid These Deadly Decoy Mistakes)
Andrew Gibbs of Marsh River Outfitters has been busy with moose season but has noticed plenty of ducks still hanging tight in northern Maine. The season so far has been a success for waterfowlers there, as they've taken a mixed bag of mallards, black ducks, woodies, and greenwings. If you want to get in on the action, he recommended scouting marshes, beaver ponds and other small bodies of water that hold plenty of duck foods. Sea ducks haven't made a strong showing on the coast yet, but he expects that to change in the coming weeks.
Randy Drago of Codfather Charters has had a difficult time dragging himself away from the epic tuna bite off the Massachusetts coast, but the recent influx of ducks is changing his mind about switching gears. Inland ponds are holding enough mallards and wood ducks to make hunts interesting, though Drago thinks they still haven't seen the bulk of the woodies yet. He expects dropping temps in the next two weeks to bring a big push of the colorful speedsters.
Ringnecks are abundant, making up most of the divers on freshwater ponds, but it will probably take some serious cold to push other divers down. Teal numbers seem to be down from years past, which might correlate to lower water levels in the state. The Massachusetts coast is starting to welcome the first white-winged and common scoters, and just received a big push of black ducks. Things should only get better.
I found plenty of wood ducks during Saturday's opener in New York's Southeast zone, but the handful of big ducks I saw must have had other places in mind, and they ignored my spread. Teal were suspiciously absent on the tiny creek, though I have seen plenty on the salt in recent days. Speaking of the coast, black ducks and, to a lesser extent, mallards have made a good showing in the brine, though those zones remain closed. Brant numbers continue to grow, but only a handful of sea ducks have appeared.
Though wood ducks dominated bags throughout most of the Empire State, hunters that took advantage of freshly flooded areas created by heavy rains found plenty of hungry mallards. They seemed to have keyed in on the previously inaccessible food sources, and those that made the effort to push into them have been rewarded. Try to get on new food sources for success wherever you are.
Colder temperatures are predicted in the coming week, which should help push ducks toward the lower half of the flyway. Traditionally, duck, goose and brant numbers along the New Jersey coastline, Delaware Bay and farther inland start building at the end of October. Let's hope history repeats itself and hunters are greeted with full skies.
(Don't Miss: Success Secrets from 4 Great Public Hunts)

Click here for more Realtree waterfowl hunting content. And check us out on Facebook.