Hunting off to fast start, but wet conditions have birds spread out
Date: Oct. 8
Location: northern portions of the flyway
Overview
Excellent habitat conditions and strong numbers of ducks and geese have set the stage for a successful season across northern portions of the Central Flyway. It won't be easy, however, as potholes in the Dakota have been inundated with water, giving waterfowl plenty of options for loafing, roosting and food sources as they head south.
Major Weather Trends
An early winter storm the last week of September brought heavy snow to northwestern and north-central Montana, and also dusted southern parts of Prairie Canada.
The Great Falls and Freezeout Lake areas got 10 to 14 inches of snow, and other areas got 2 feet or more, said Jim Hansen, Central Flyway coordinator for Montana Fish, Wildlife and Parks. The ponds at Freezeout Lake had ice around the edges, but that will eventually melt. No early snow geese or tundra swans have arrived at Freezeout yet.
Hansen also reported hunters in eastern Montana met with rain and cold temps during the first days of the state's regular waterfowl season, which opened Sept. 28.
Some highs were 20 to 25 degrees below average, barely getting above freezing in many areas, he said.
That swath of cold Canadian air seeped into the Dakotas the first week of October, bringing plenty of rain and cooler temps, with highs in the 40s and 50s.
We've had lots of rain the last half of September until now, said Brett Andrews, an avid waterfowler from Aberdeen, South Dakota. With a night or two of frost and a few days with highs temps around 50 degrees, a lot of the resident blue-winged teal and wood ducks have pushed south.
In Nebraska, September was warmer than normal, said Mark Vrtiska, waterfowl program manager for the Nebraska Game and Parks Commission.
Things have changed now here in early October to more average temperatures, and we're still receiving some rain in places, he said.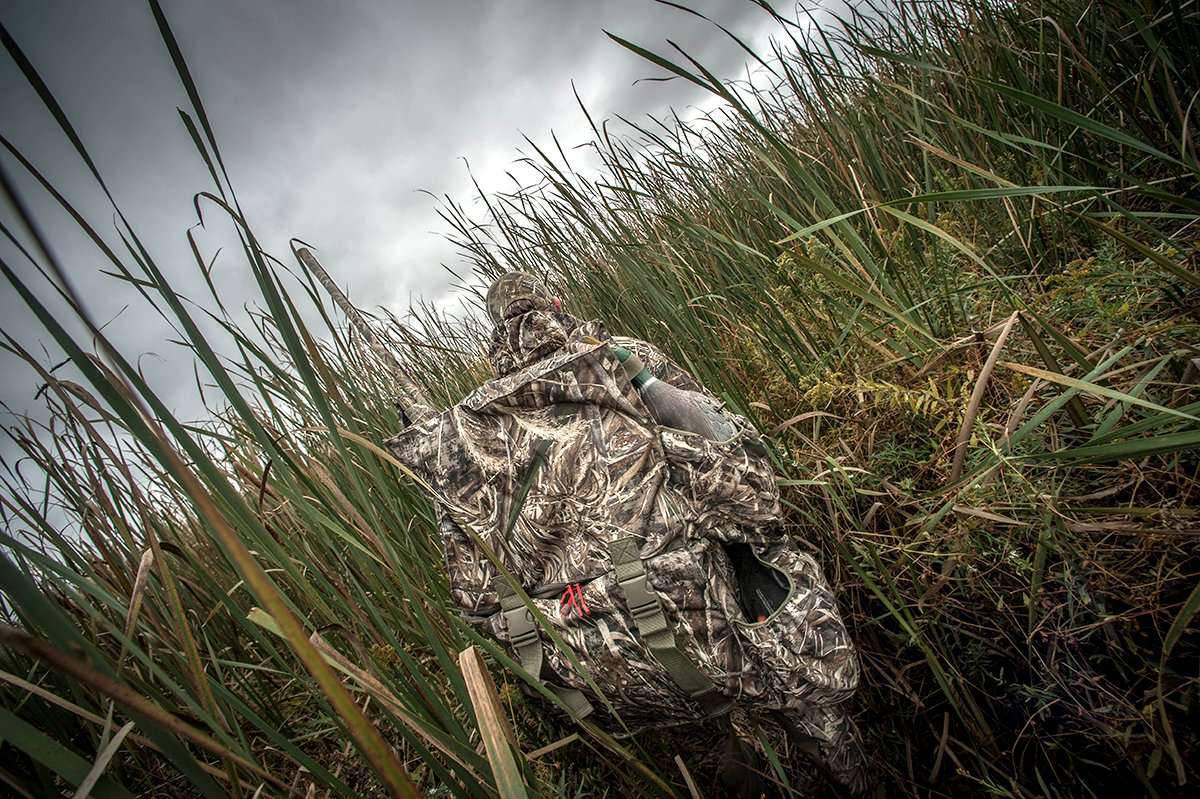 Habitat, Water Conditions and Crop Harvest
Habitat conditions in eastern Montana and the Dakotas are off the charts thanks to record precipitation levels that replenished a thirsty landscape.
Overall, Hansen said, water and habitat conditions in eastern Montana were good to excellent heading into the 2019 season. However, wet weather has delayed the wheat and barley harvest, and he expects that will also hold true for corn.
Farther east, the North Dakota Game and Fish Department's annual fall wetland survey indicated there would be good to excellent conditions for duck hunting throughout the state.
We actually do the fall wetlands survey about a week before the duck opener, and it really is a duck hunter survey that we started in 2003 to give guys a better idea of habitat conditions, said Andy Dinges, NDGF migratory game-bird biologist. The south-central and southeastern portions of the state are super, super wet and shattered the record, as the survey showed they're about 300 percent above average. Lately, we've also been getting a lot of rain in the northwest, especially in September.
North Dakota's cereal-crop harvest is behind schedule, Dinges said. Wet, flooded conditions made it hard to plant on schedule — if at all — during spring, and the soggy conditions continue to hinder farming timelines into fall.
I just looked at a report from Sept. 24, and the wheat harvest was about 10 percent behind, he said. Anecdotally, I'm seeing a lot of wheat standing that's usually gone by mid-September. If we get more rain, some wheat and other cereal crops might not even get harvested.
Most of eastern South Dakota is soaking wet, according to Rocco Murano, chief waterfowl biologist with the South Dakota Game, Fish and Parks Department.
Most traditional wetlands are probably as wet as they've ever been, and the James, Vermillion and Big Sioux rivers in eastern South Dakota are still at record levels, he said. Ducks will have access to a lot of novel habitat — such as fallow, flooded fields and flooded river valleys — that's not available in a normal year.
Not surprisingly, Murano said South Dakota's crop harvest is way behind schedule.
In my area around Brookings, hardly any crops are out, he said. I finally saw a combine in a soybean field for the first time the other day, but then it started raining again. A majority of silage in this area is normally cut by mid-September, but they're just starting that now, too, and it's October already.
In northeastern South Dakota, Andrews said farmers have taken out some wheat and small grains.
Very few bean fields have been harvested, but some are ready once things dry up, he said. The forecast for the next two weeks predicts drier and warmer conditions than the last two weeks, so silage cutting and soybean harvest should soon be in full swing.
Despite spring flooding that delayed planting, the crop harvest seems to be on track in Nebraska, according to avid waterfowler Chris Daniels, from Norfolk, Nebraska, who said area farmers have started combining soybeans and cutting silage in the northeastern part of the state.
I am seeing birds feeding pretty regularly at this point in harvested beans and silage, he said. I haven't seen much of an influx of birds, though. I think South Dakota being so flooded is impacting this greatly, and it's something Nebraska will be fighting all season, in my opinion.
Species and Numbers
Excellent habitat conditions paved the way for a bumper crop of ducks in Montana, Hansen said.
Montana produced a lot of ducks this year, and I would expect the same for 2020, he said. That good local production was true for just about all species of dabbling ducks, especially gadwalls, shovelers, mallards and blue-winged teal. There were still some bluewings around on opening day, although most had headed south. There have been some green-winged teal and some of the other mid-migrants moving into the state.
Dinges said North Dakota's May spring breeding duck survey showed an index of 3.4 million birds, or about 20 percent higher than in 2018. It's the first time the index has been north of 3 million since 2016. Mallards were up 16 percent from 2018, he said.
Dinges said high numbers of resident ducks and geese were evident when North Dakota duck season opened the last weekend in September, but he believed continued cool and wet conditions might have kick-started the migration.
A lot of guys are telling me that birds are kind of spotty already, he said. My sense is our migration might be a little ahead of schedule this year, and I think we're at the tail end of the blue-winged teal migration already. However, we didn't really see an influx of birds when Canada got some snow, as I think it's still a little early to see much movement from a storm like that.
In South Dakota, duck production was high, but Canada geese had a rough nesting season, Murano said.
The Canada goose index was at 188,000 this year, which is up about 30 percent, but goose reproduction this year was pretty low, actually, he said. We lost a ton of eggs in early May during a blizzard.
Murano believes the fall flight is somewhat on schedule, even with the wet weather, but he said ducks and geese haven't bunched up yet.
Driving across the eastern part of the state you can see five or six ducks sitting on nearly every wetland, but they have no reason to concentrate as water and food are everywhere you look, he said. Most of our blue-wings have cleared out, but there are still a few stragglers around.
Andrews agreed, saying he's also noticed that most of northeastern South Dakota's resident blue-winged teal and wood ducks have pushed south.
Numbers are definitely down from two weeks ago when I was scouting to prepare for our annual Delta Waterfowl Jim River Marsh Masters chapter youth hunt, he said. Canada geese numbers remain high throughout the region, and we should see an increase in goose numbers after this cold front pushes through.
In Nebraska, Daniels said the current waterfowl population consists largely of local breeding mallards and other puddle ducks, with a few migrating teal and Canada geese.
I would expect the early portion of the Canada goose season down this way to be strong as the early migrators make their way south out of South Dakota in the coming weeks, he said.
Hunting Reports/Advice
Scouting will be paramount this year, as abundant water and a smorgasbord of food will spread waterfowl out and challenge hunters.
The birds are going to be like barnyard rats with all the food available, Murano said. They'll definitely take advantage of flooded crops or the seeds from moist-soil vegetation that hasn't been available in the past.
Dinges said hunters must be aware that many seasonal wetlands across the Dakotas are cycling for the first time in years, as flooded, fallow fields and semi-permanent wetlands have produced new annual plants for the first time in years.
Those birds are going to be out there sampling a lot of different wetlands, Dinges said.
Until this year, we've been losing wetlands every year since 2015, but now that stuff that hasn't been inundated for a few years finally has water and is going to be a duck magnet.
Water conditions will also vary widely from the past few years, so traditional hunting locations in many parts of the eastern Dakotas might be too deep for waders, Murano said.
I almost exclusively water hunt on public land, and I can't hunt a lot of the places I normally do because the water's simply too deep this year, he said. Keep in mind birds aren't going to head to traditional areas, either, because they're going to find the best conditions for them, not you, and they have so many options to choose from right now.
Boat Ramp Chatter/Upcoming Patterns/Hotspots
The scouting Andrews did for the local Delta Waterfowl chapter's youth hunt paid dividends, as the young hunters enjoyed steady action during South Dakota's two-day youth waterfowl season Sept. 21 and 22.
The youth hunt was a huge success, he said. Lots of puddle ducks and even some Canada geese were harvested. The following weekend for the state's regular opener, we had foggy and rainy conditions, which led to awesome hunting. We shot a five-man limit of mallards, two pintails and 28 geese in a freshly cut silage field. Fellow hunters around the area had success in flooded corn and wheat fields.
Andrews also reported there were still high numbers of mallards, gadwall, pintails, wigeon, green-winged teal and northern shovelers in northeastern and north-central South Dakota.
You can hunt them anywhere from flooded crop fields, rivers, lakes and sloughs right now — they are everywhere. he said. As October progresses, it's my guess we will start to see diver ducks showing up on lakes and larger sloughs, and field hunting for ducks and geese will keep improving throughout the region. Specklebelly geese will start showing up in mid-October, as well.
Murano said a cold snap that freezes smaller, shallower wetlands will eventually kick the migration into high gear. If that happens in mid- to late October, he said hunters should have their guns and gear ready.
Until the small stuff locks up, you won't see those big concentrations of ducks, but if we do get cold enough, it wouldn't surprise me if those non-mallard ducks start moving earlier than normal, he said. The further into October we get, it wouldn't hurt to look at the opportunities available up and down the flooded James River Valley or a little farther west on the Missouri Couteau, which could be lights-out this year.
As the season progresses, we'll follow the migration deeper into Nebraska, Kansas points south. It promises to be a great year in the Central Flyway.
Click here for more Realtree waterfowl hunting content. And check us out on Facebook.