Hunters Scoring on Honkers, Mallards, Gadwall and Greenwings
Date: Nov. 16
Location: Entire Atlantic Flyway
Summary
What a difference a little cold snap can make. Atlantic Flyway hunters groaned through another marginal first split throughout much of the East Coast, but an early November cold front has things looking good. As in, really good.
Temperatures dipped into the teens as far south as Virginia, bringing a wave of ducks and geese to traditional hunting areas in New York, the Chesapeake Bay region and the coastal marshes of the Carolinas. Even hunters in Georgia and Florida were reporting decent numbers of ducks.
Weather conditions were even more promising in prairie Canada and the upper Midwest, where ice and snow have pushed large numbers of birds south. That weather hasn't just been a windfall for hunters in the lower reaches of the Mississippi and Central flyways. Plenty of birds that summer in central Canada trickle through the Atlantic Flyway.
Weather Trends
A strong cold front in early November brought lots of ducks and geese south, but temperatures have since stabilized and are expected to be more normal for the foreseeable future. New York will continue to see typical November weather, with highs in the 40s and lows dipping into the mid-20s. That likely won't be enough to ice up bigger water, but beaver ponds and coves might skim over at night and thaw during the day.
High temperatures will hover in the 50s throughout the mid-Atlantic, with lows dropping into the high to mid-30s or even high 20s for the next several weeks. That might not bring new birds from the north, but it should keep those ducks and geese that are already in the area around for a while.
Reports from Maine also show a steady weather trend, but lows in the 20s have started to produce some skim ice on smaller waters, swamps and backwaters.
Water and Habitat Conditions
An extended period of steady rain has filled rivers, swamps and reservoirs throughout much of the flyway, from Maine to Florida, which means hunters will have plenty of places to toss out a decoy spread. It could also mean birds will be scattered. Wood ducks in particular have plenty of available habitat, making them a bit more difficult to find.
We've had rain like two weeks straight, so our swamps are filling back up, said Darren Becton, North Carolina Ducks Unlimited eastern region vice-chairman. We really needed it, and the timing was perfect.
Higher water spells good news for Piedmont reservoir hunters, who dealt with low water levels and a lack of waterfowl food during the first split. Now that lake levels have risen, ducks will find abundant food and flooded cover.
Maine hunter and Avery Outdoors pro-staffer Eric Bartlett said habitat conditions are ideal in New England, too. Abundant rain fell in October, just in time to fill up the lakes and swamps that were low from summer drought.
Almost all of the corn is cut from Virginia north into New England, so goose hunters will have to spend more time scouting to find concentrations of birds.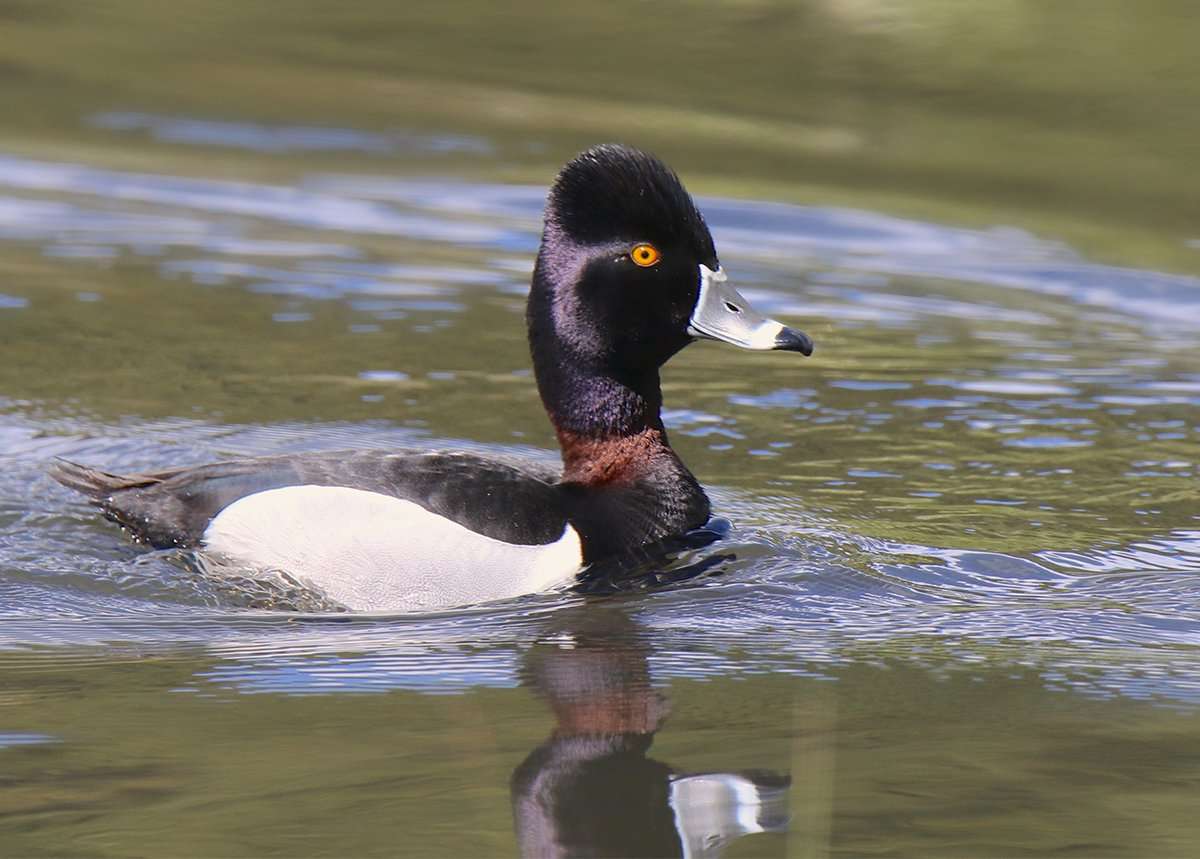 Species and Numbers
The good news is that when they find birds, hunters are seeing lots of geese in some parts of the flyway. Western New York hunter Daniel Stultz had good hunts since the season re-opened in late October.
They are pretty scattered, but they are bunched up in pretty good groups, so once you find them, you've found a lot, he said.
Canada geese are showing up in good numbers throughout eastern and central Pennsylvania and Maryland. Reports from the Eastern Shore and the farm country of central Maryland are promising to outstanding.
I'm seeing lots of birds, and I'm hearing of guys doing really well on ducks in eastern North Carolina, Becton said. Some buddies hunted open water on the opening day of the second split and shot a mixed bag.
Lots of green-wing teal are still around, and numbers of mallards, gadwalls and even pintails are improving on a near-daily basis. Geese are even abundant in Maine, Bartlett said, who hunted northern Maine in early November and had a banner day.
There were thousands of geese and a lot of mallards, too, he said. There are also good numbers in southern Maine.
Although Bartlett is seeing a few divers and the occasional eider along the coast, the push of sea ducks has not occurred yet. However, divers are showing up along coastal regions up and down the flyway, but the biggest migration likely won't occur until another cold front hits. In the meantime, hunters who find pockets of ducks in the salt are scratching down a mix of scoters, redheads and a few canvasbacks.
Wood duck numbers remain strong in many regions of the flyway, especially from Virginia south into Georgia. A handful of snow geese are showing up in Delaware, and tundra swans are trickling in to Virginia and North Carolina.
Boat-Ramp Chatter
As with duck hunting anywhere, success can be hit or miss in the Atlantic Flyway. After all, it is the Atlantic Flyway. Some hunters are seeing gobs of birds already, but others are reporting low or moderate success.
The good news is that it's only November. Seasons run into late January in the southern reaches of the flyway, so things will only get better as the season progresses.
The fact that we are having pretty good hunts now is a good sign that we should have a really good season, Stultz said. I would imagine guys farther south will have a great season once we freeze up or get buried in snow here in western New York.
Be ready. Predictions are calling for a cold, wet winter. That could mean a banner season for anyone willing to spend some time finding birds.
Click here for more Realtree waterfowl hunting content. And check us out on Facebook.