Some regions report good action, but weather and conditions have played havoc at other areas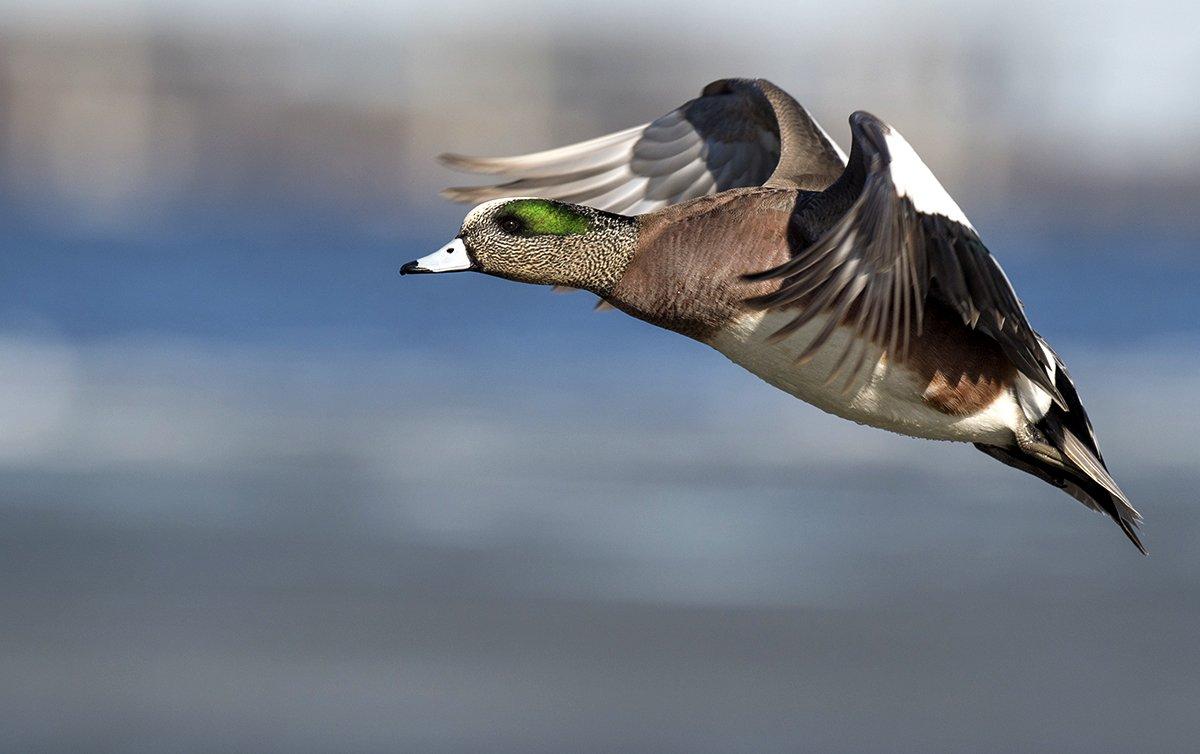 Good numbers of wigeon and bluebills are congregating in northwestern Washington. Photo by Ray Hennessy
This installment will wrap up the Pacific Flyway reports for the 2022-23 season, which has received mixed reviews during the 10 weeks since the October openers. However, with January to go, Western 'fowlers might be looking at some of the best hunting to come.
But where are we at currently?
Southwestern Washington
I'll step to the plate first and report from the area around our home in southwestern Washington. Good friend Tony Miller and I hunted geese in the Grays River Valley December 17 and didn't fire a shot. In fact, we only saw a pair of Canadas all morning, with little shooting from the Lower Columbia and none from the valley. A brief conversation with the landowner revealed almost no goose activity in the immediate area the past two to three weeks. They're there — somewhere — but we apparently weren't in the right place at the right time.
While we were out, Miller mentioned something about a lull in the season. I'd been thinking the same thing for the past couple of weeks. We haven't had much ducky weather. It's been warm and relatively dry, with little sheet water, and the birds seem to have disappeared. Or rather, the puddlers have disappeared. There are plenty of bluebills, buffleheads, and common mergansers on the Columbia, with a smattering of mallards and a handful of sprig.
Of interest is the number of hooded mergansers in the area. Each year for the past four or five, I've noticed more of the handsome white-crested birds on the sloughs and still waters locally, indicating to this non-professional biologist that these secretive cavity-nesters have been enjoying good reproductive success. Also interesting is that mallard numbers appear to be up a bit this season, as predicted by Washington's lead waterfowl biologist, Kyle Spragens. However, wigeon and green-winged teal seem to be down, per the USFWS species population figures. I'd say quite noticeably down. The good news? We still have six weeks of duck season left to go, plus the late-February/March goose season. It ain't over yet.
Northwestern Washington
Fellow 'fowler and friend Jeff Lander gave this report from northwestern Washington and the Puget Sound/Hood Canal area.
At the beginning of December, there was an increase in the number and variety of sea ducks, mostly surf scoters and goldeneyes, with a handful of long-tailed ducks, in the area. Lander said larger numbers of wigeon — a direct contrast to what I've seen — and bluebills have been gathering on the near-shore open water. Winter rains swelled local creeks and smaller rivers, spilling onto lowland farms and valleys and creating beautiful habitat, albeit fleeting, for the influx of new birds. Snows and heavy rains in the Hood Canal and Olympic and Kitsap peninsulas, though, made for too much of a good thing, and the birds spread widely across the area. However, Lander said recent windstorms, with gusts up to 50 mph, forced puddlers inland, with improved numbers of mallards, wigeon, green-winged teal, and pintails. Predicted below-freezing temperatures, with the possibility of snow and ice the week of December 19, might make for better hunting.
Lander also noted a flock of Pacific (black) brant that winter in the Hood Canal region annually. There is no brant season on the canal, but the birds provide excellent observation opportunities for hunters and nonhunters.
Northern Idaho
Lander's eldest son, Ben, a dedicated waterfowler from Moscow, said snow across much of northern Idaho and sub-freezing temperatures have marked a return to the area's typical late-season hunting conditions.
"The ducks are congregated on any moving water, along with the bigger bodies of still water," he said. "I've shifted my focus to these bigger waters, where I'm finding plenty of redheads and goldeneyes. Some wigeon and gadwall, too. I've enjoyed a few really good diver hunts recently, even taking a couple of Barrow's goldeneyes."
The inclement weather in northern Idaho, Lander said, has made waterfowling in the Treasure Valley — the Boise area — exceptionally good.
"Friends down there are seeing and shooting a lot of birds — mostly mallards and goldeneyes," he said. "A buddy did say that while there are a lot of birds in the region now, they've been there a while and know the program. It's all about what I'd expect [to be happening] this time of year."
Western Nevada
Moving south into Nevada, Banded/Avery pro Travis Lyle tells of "mainly puddle ducks, primarily green-winged teal and northern shovelers, along with a few divers." He said the area has seen cooler temperatures in recent days, but there are no "real weather systems" and little wind predicted for the near future. There's a little ice, but not enough to drastically alter the birds' feeding conditions or patterns.
"We're seeing a stalled migration right now and a lot fewer birds than we'd typically have," he said. "I'm going to say we have roughly 30 percent of the birds now that we'd normally have. It's been tough to scratch out a limit. We've been coming out with three to five birds per man on average."
Central Arizona
When I talked to Banded staffer Chris Staffeldt in November, he said everything was gravy in terms of ducks.
"It wasn't a problem to shoot two- or three-man limits every time we went out," he said. "The teal were — and still are — thick as thieves, and the hunting was exceptionally good."
The situation has changed somewhat.
"We had so much rain a couple of weekends ago that it raised the water level on the lake [we hunt] more than 18 inches," he said. "There are a ton of new spots for the ducks to be. I can't remember when we've had rain like that."
Further, the storms came from the south and didn't bring new birds, which has made hunting tough lately.
"We're hunting the same birds we were hunting a month ago," Staffeldt said. "[But] the big ducks are coming in. We have some wigeon now. Three buddies hunted yesterday and shot a three-man limit, including three redheads, which is a little strange, as they're hunting backwaters. But scouting is even more important now than ever."
The good news? "There are some new geese showing up," he said. "Some friends in the Phoenix Valley killed a mixed bag of Canadas and, uncommon for us, five specklebellies a couple of days back."
(Don't miss: Season Splits: Do They Help Duck Hunters?)